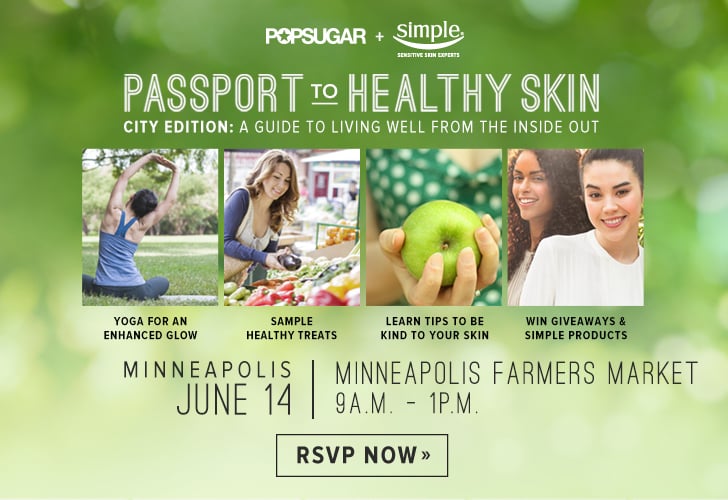 If you live in or near a bustling metropolitan area, you probably consider yourself pretty street smart. But do you have city skin smarts? Simple® Skincare surveyed* women in the top 40 cities across the country to uncover the truth about their holistic skincare habits. Although nearly 9 in 10 (89%) women describe their skincare habits as "healthy," their actual behaviors show there is room for improvement.
For starters, 50% of Minneapolis women are unaware that exercise can influence their skin's health, and 75% confess to thinking they exercise less often than they should. A Simple® solution? Forgo public transportation and walk or bike to work instead. Roughly 10-20 blocks equals one mile. Exercise increases blood flow and helps flush cellular debris – contributing to the overall appearance of skin.
Want to hone your city skin smarts even further? Join POPSUGAR and Simple® Skincare for the "Passport to Healthy Skin" event in the local Minneapolis area! You'll learn how to better incorporate holistic habits into your city routine through:
Yoga workout sessions from Breath of Life Coaching & Yoga
Stress-relieving massages from Infinite Massage
Healthy treats and detoxifying teas
Skin-loving beauty samples
. . . Plus, get first-hand tips from our POPSUGAR editors and the Simple® Advisory Board.
Date: Saturday, June 14
Time: 9 AM - 1 PM
Place: Minneapolis Farmers Market
*An online survey of 201 women ages 18+ in the Minneapolis DMA; Margin of error is +/- 6.9 percentage points at the 95 percent confidence level
1x1: