How to Decide What to Wear and How to Shop
Are You Suffering From Shopping Paralysis? Here's How to Tell
I have nothing to wear. I could fix this problem if I purchased something to wear, but I can't do that, either. With Fall finally approaching (I live in LA; we're on a little bit of a delay here, people) and a closet in dire need of a revamp, I'm in the midst of a serious style malaise. That's right — I have fashion paralysis: the inability to move or act when faced with an overwhelming onslaught of style options.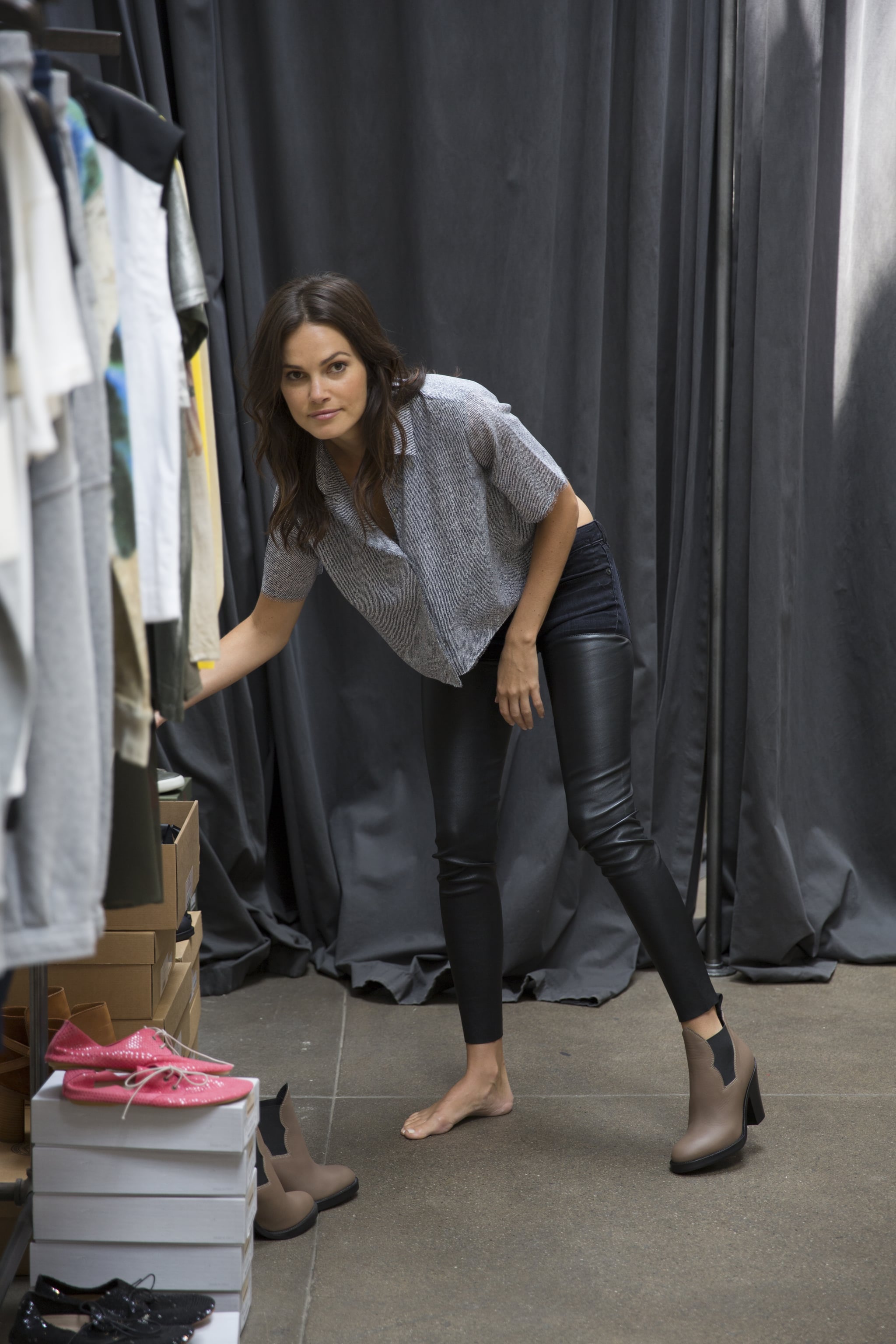 The Fall/Winter runways delivered so many potential templates for dressing it would take a woman with the brain power of Scarlett Johansson's character in Her (or Lucy, now that I think about it) to process them all. Should I choose to be an athletic ingenue, like the motocross honeys at Marc Jacobs or the streetwear mavens in wedge sneakers at DKNY? Or should I model myself a mod, '60s type, like the sweet minidressed masses at Miu Miu and Valentino? I could always embrace my boho-hippie side and emulate the be-layered models at Burberry in their piles of shearling coats and Fair Isle knits.
As I browse the racks at Barneys and scan the offerings on Asos, I am overcome by the feeling that any piece I purchase will not only equal a missed opportunity — what if there's something better? — but also define me as a person. After all, clothes are expressive. The best pieces in our closets serve dual purposes: they fulfill a basic and utilitarian need by covering our naked bodies and protecting us from the elements, but they also serve an arguably larger and more complicated one by speaking something essential about who we are and who we hope to be. In the words of Virginia Woolf, clothes both "change our view of the world and the world's view of us."
In his 2003 book The Paradox of Choice: Why More Is Less, psychologist Barry Schwartz argued that the modern consumer is inundated by so many options that, instead of feeling freed and invigorated by all our choices, we're depressed and anxious over the myriad possibilities. According to Schwartz, every time we make a decision about something, we look at it as a trade-off. This extends from decisions great, like what career to pursue or whether to commit in our relationships, to relatively small, like what we eat for lunch and what to wear each morning. This rings true for me. Just a few weeks ago, I found the current-season Rag & Bone Trafford slingbacks of my dreams, inexplicably marked half-off. But my excitement over the style score was tempered by a nagging feeling that maybe they weren't the best of all the available bootie options out there. Had I really done my homework? What else could I have devoted the still-sizable chunk of change toward purchasing?
Now, with designers churning out more collections than ever — resort! pre-Fall! proto-Spring! — and the Internet, fast fashion and tools like our own Shopstyle proffering a seemingly endless stream of clothing and accessory options, it can feel almost impossible to pull the trigger on any one item. So I turned to superstar stylist Caley Rinker, who has dressed women as stylistically opposite as Gwyneth Paltrow and Kelly Osbourne, for a dose of fashion therapy.
Caley and I meet at Intermix on a Thursday afternoon. She arrives toting a shopping bag from the store and lifts it in front of her apologetically. "It's a fur vest I'm thinking about exchanging," she says. Instantly, I feel better. See? I think to myself. Even world-class stylists can be indecisive.
I explain to her that I'm overwhelmed, can't make any decisions, and feel like I must not be the only one suffering. Thankfully, like most stylists, Rinker is a calming force. Because her job is all about curating tons of options into one perfect look, I tell her, I figured she'd be able to help me be not just decisive but confident about those decisions. As we shop, she doles out some sage, practical advice.
1. Shop a Preshopped Selection
The Internet is a vast and scary place designed to overwhelm you. Rinker says this is why she tries to limit her online shopping to Internet boutiques that are already selective about the pieces they carry. "There are two sites I go to: Net-a-Porter.com and Shopbop," she says. "They're well-merchandised, and you also know you're getting the edgy, cool stuff. Other websites? I can't deal. It's just too much." Rinker also suggests Forward by Elyse Walker, where pieces are already styled into great-looking outfits with other items available on the site.
2. Go With Your Gut
My Pinterest board is expertly and aggressively curated. I recently purchased a Sandro snakeskin-print vest, but only after I spent four months debating, mentally pairing it with other pieces I already owned, setting price alerts on it to make sure I was getting the best deal, and generally stalking it with the intensity of someone who belongs in jail. Enough, Rinker says. "You have to allow yourself impulse buys sometimes," she tells me. "Go with your gut." She asks me to remember something I've regretted purchasing, and I pause. On the other hand, I can come up with a long list of items I regret missing the boat on because of my incessant waffling and overthinking. Which brings us to . . .
3. Institute the Two-Week Rule
Rinker says it's OK if you're not completely sure if a style find will be a hit or miss. She institutes a great self-editing rule in her personal life: if she buys something and doesn't wear it within two weeks, it gets returned. Having this self-imposed law in the back of your mind will help you go forward with purchases a little more easily, without worrying that they'll make a dent in your budget only to languish untouched in the back of your closet.
4. Tune Out Trends
It's easy to get whipped into a fashion frenzy after reading a pile of magazines all proclaiming that a different trend is THE look of the season. Ignore the noise, Rinker suggests. "You don't want anything to be too trendy," she says. "We don't all have an unlimited amount to spend. You spend the money on the classic pieces and go to Zara and Topshop for the trendy ones."
Rinker and I hug as we leave the store. She has decided to keep the vest after all, and I leave with a renewed sense of shopping purpose. I am happy to report that I just bought a fringed Topshop LBD on a whim (you could literally put fringe on an old rag someone was murdered in and I'd wear it) along with a few more well-considered Fall staples, like a leather A-line midiskirt that I've worn some version of since high school. I may still fret over fashion decisions way more than I should, but at least now, I feel like I can make a few.
Image Source: POPSUGAR Photography