From belt bags to tiny sunglasses, 2018 is proving to be the year of statement accessories. And while we're 100 percent here for them, we also know that some trends just don't work for everyone's styles or flatter their body shapes the same way. Thankfully, there are a select few that can! Statement earrings are one of them.

Because it's so easy for bold jewelry to look over the top, it's our job to step in and guide you on the path to finding your perfect pair of earrings. One way we're doing that? By including a gorgeous, exclusive pair from NYC-based designer Lele Sadoughi (originally valued at $75) in every Summer Must Have Box! With minimalist-meets-eye-catching features, we're totally convinced this style will suit anyone's hair type or length, skin tone, and personal style. So whether you've already snagged your box or just want some tips for selecting your next set of earrings, read on as we share not only what criteria to look for but helpful styling tips, too.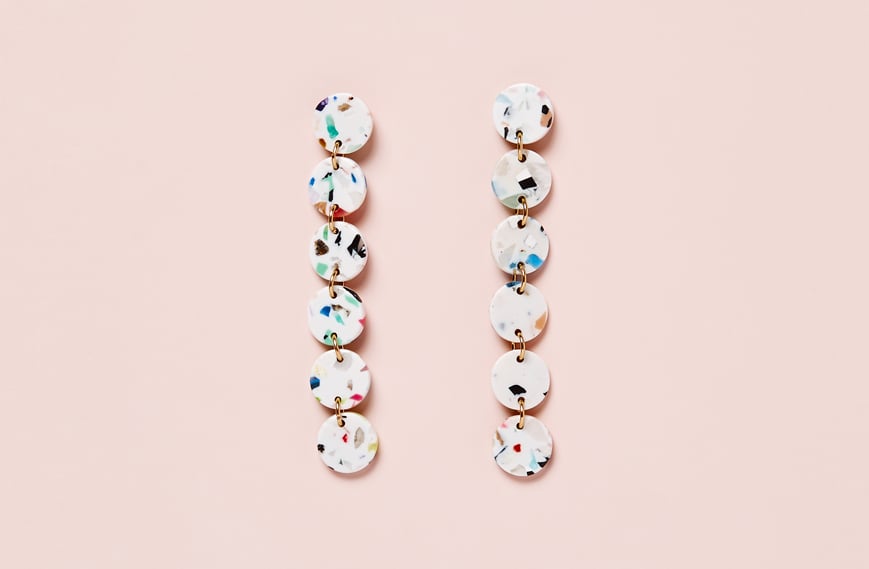 1. Look For a Neutral Color
If you're a fashion maximalist, it can be hard to fathom that some people just don't like bold colors. But there's a time and a place for everyone to embrace neutral shades, and earrings are the perfect excuse. A soft, muted hue will prevent them from clashing with any hair colors or skin tones. Paired with subtle pops of color, they can satisfy both color fanatics and those who are a little more apprehensive about going full-on bold.
2. Prioritize Length vs. Width
Scan through the jewelry section at any store, and one trend you'll quickly notice among statement earrings is that they can be extremely wide and bulky. Contrary to popular belief, this is not the only way to rock the look — especially if you have thinner locks or a naturally slim face. Oversize shapes can overpower your features and make everything look slightly off balance. Instead, we suggest keeping an eye out for styles that are longer vs. wider. This way, you can keep the same vibe going but with a more minimalistic approach, which is ideal for anyone just easing into the trend.
3. Find a Timeless Style
Look, we love tassels, fruit motifs, and cool, geometric shapes as much as anyone, but we can't quite say those are timeless. If you truly want something that'll see you through years (even decades!) to come, make sure to choose an option that'll transcend trends. Whether that's buying earrings in a neutral metal (i.e., gold and silver vs. rose gold), with classic stone embellishments, or even going for foolproof hoops, look for something that feels like it'd match your past, present, and future wardrobe.
Having Summer box FOMO? Get ahead of the game by signing up for our next Must Have Box today!