What moves you? Confident, stylish women are a source of endless inspiration. We teamed up with
Banana Republic
to spotlight female entrepreneurs who turn challenge into opportunity and dress for the lives they want to lead.
Many people worry or panic when they get fired from a job. But when Melissa Ben-Ishay was unceremoniously fired from her advertising firm she went home and baked 250 cupcakes. She had a plan. Then a chance encounter with a PR firm landed her a life-changing catering gig — and the rest, as they say, is history.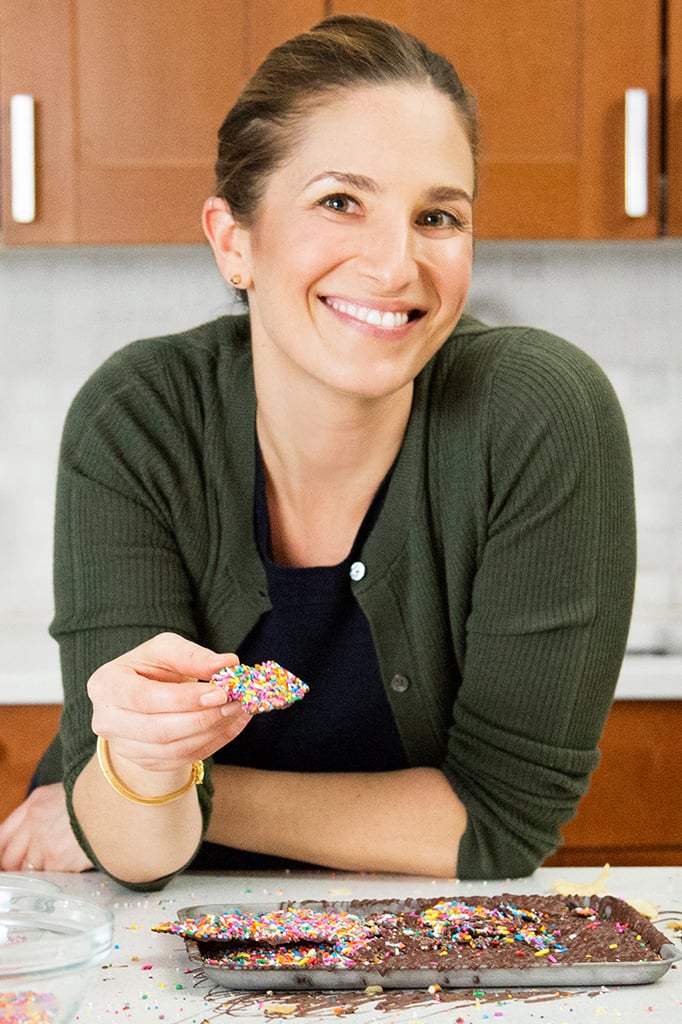 Fast-forward nine years and she now runs a multimillion-dollar cupcake empire. Baked by Melissa, her line of signature mini cupcakes and treats, has 13 shops across New York and New Jersey and is available online for delivery nationwide. What exactly transpired during those nine years? Take note because Melissa's big turn — which wasn't premeditated, planned, or even intentional — could inspire your own.

Without a business plan or investment funding, Baked by Melissa was driven by Melissa's sheer passion for baking. "Baked by Melissa wasn't necessarily this big 'Aha!' moment," Melissa explains. "It was the mindset of doing everything you possibly can to achieve your goal and seeing every challenge as an opportunity."

In the early days, Melissa would bake night and day, seven days a week, as she was getting her business off the ground. Eventually, she landed a window spot at Cafe Bari, where her cupcakes sold out to long lines of people. "I had never even worked in a bakery before and neither had my brother, but we imagined it," she says. "You have to believe it to achieve it, as corny as that sounds."
But imagination wasn't the only thing that propelled Melissa out of her initial rough start and kept her going. "It was the idea that I could do what I love every day," she says. "And I was going to take advantage of every opportunity that came my way to be able to achieve that goal that I had of baking cupcakes for a living."
"It was the idea that I could do what I love every day."
Ultimately, what led to Melissa's big idea was a combination of the confidence shaped by her parents' support and a lifelong love of classic rock, namely The Grateful Dead. That inspiration manifested itself into her now-signature tie-dye cupcake, which she used to bake for co-workers long before starting Baked by Melissa. "The response was an out-of-body experience for me because they made everyone so happy. It was really at that moment that I decided I really need to keep doing this."


To further refine her product, Melissa decided to miniaturize her cupcakes (they're slightly larger than a quarter) so that her customers could taste multiple flavors guilt-free. And it's a good thing she did, because today she offers a bounty of flavors — roughly 30 — of cupcakes, muffins, and macarons. Her offerings are a visually enticing mix of colorful inventions and classic flavors, including red velvet and peanut butter and jelly.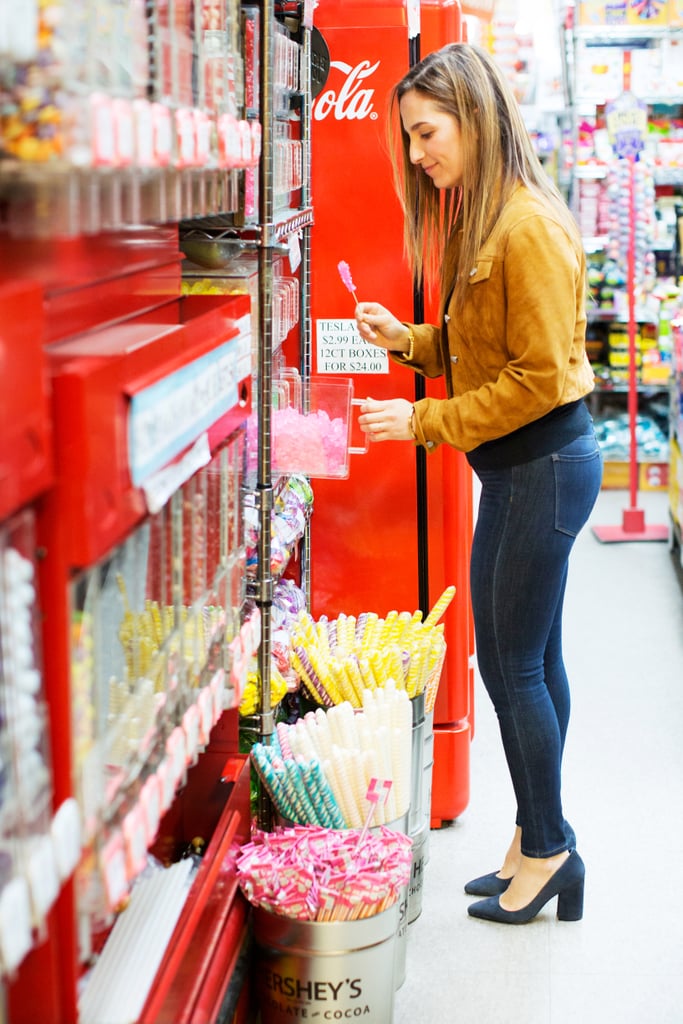 Even when she's mixing large batches of icing and drizzling hot caramel over cupcakes, as she did on a recent Thursday afternoon, Melissa appears clean, chic, and completely in control. Wearing a
Banana Republic
classic olive green
cardigan
over a simple black
tee
, dark blue fitted
jeans
, and comfortable-looking tan slip-on
loafers
, Melissa moved about her test kitchen like the true master of her domain. Her movements were swift but measured, and not a hair was out of place on her sleek ponytailed head.
Melissa is the embodiment of the type of modern woman that Banana Republic loves to dress: fearless, self-assured, and polished, but not afraid to get her hands dirty or laugh at herself. Her wardrobe echoes this with an effortless fusion of sophisticated separates and comfortable Mom-proof staples, punctuated by lively colorful accents. As the founder of her company and mom to a one-year-old, her style needs to reflect her no-fuss, no-muss attitude, and Banana Republic allows her to do that, effortlessly and stylishly. "I need to be comfortable to be my best self," she explains.
Melissa gravitates toward classic cropped
pants
, versatile
sleeveless tops
, and soft
cardigans
in timeless colors like army green, taupe, and blush. To punch up an outfit, she'll throw on a pretty floral
blazer
. For someone who is averse to loud prints, Banana Republic's classic patterns strike the perfect balance between modern and timeless. "I think a pop of color is really great," Melissa says.
Not only is she the boss of her own baking empire and a new mom, but Melissa is also an ardent morning person who wakes up at 4:45 a.m. regularly and stays on her feet until nightfall. Looking put-together is easy, no matter how hectic your day-to-day is, when your wardrobe stands the test of time. "I have some Banana Republic pieces that I've had my whole life. There are certain things that are timeless, and I love that because I think it's so in line with Baked by Melissa. Truly." To show her appreciation for the clothing brand, Melissa has envisioned a cupcake inspired by it. "I think it would be banana cake" — naturally — "with chocolate icing and a pink and yellow drizzle. Because they always have bright, fun colors."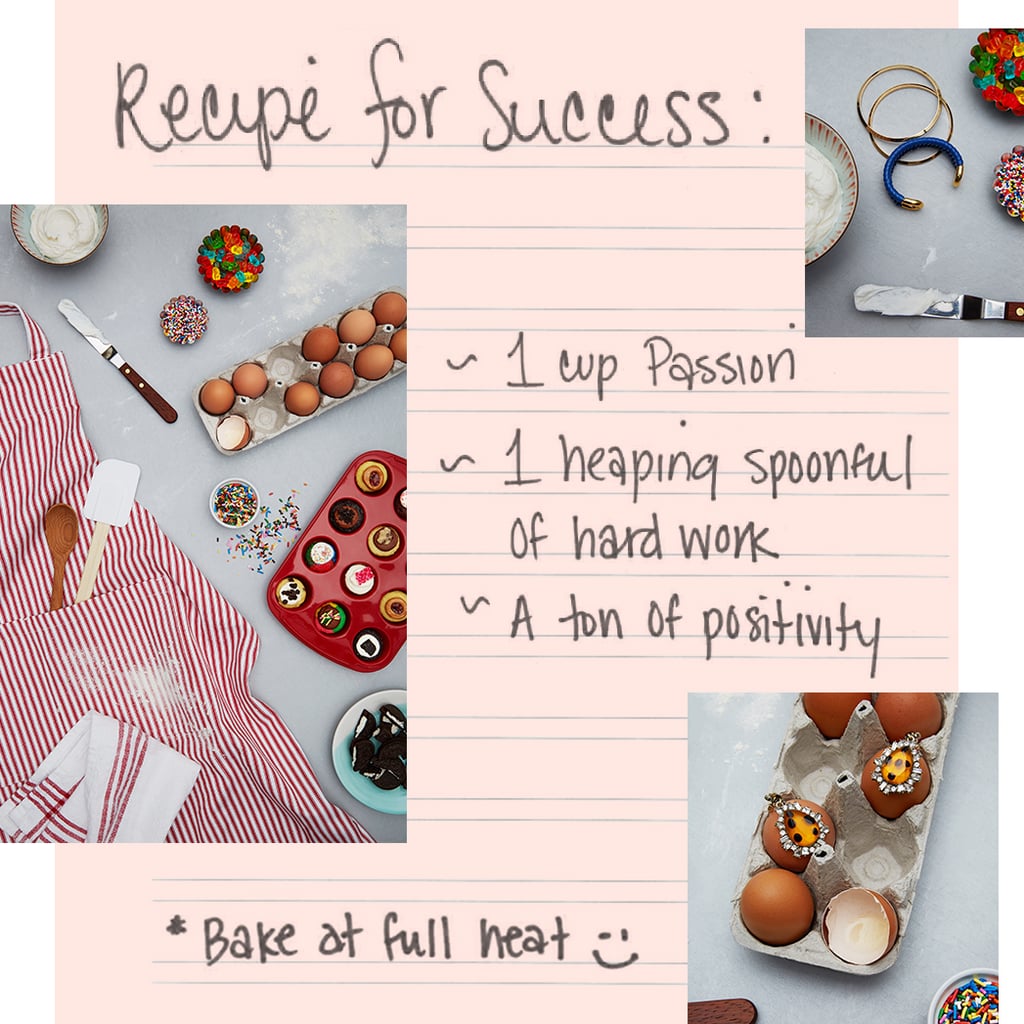 Melissa's story is a testament to the power of positive thinking and how it can turn even the most dire situation into a triumph, as evidenced by her own company ethos: "We are passionate, happy, trustworthy, and imaginative. And our ground is built on my ability to find opportunity in every challenge. We promote an optimistic, free-spirited, dessert-positive lifestyle that fosters innovative thinking and happy people."

But the real recipe for Melissa's success was her unwavering optimism combined with pure, honest hard work. She dreamed big, but her actions were even bigger. "I'm going to continue working my ass off every single day, and I know that's what makes magic happen," she says, palpably exhilarated by her own statement. "I'm living proof of that for the past nine years." Imagine if she had been promoted at her advertising firm that fateful day. Surely, Melissa shudders at the very thought.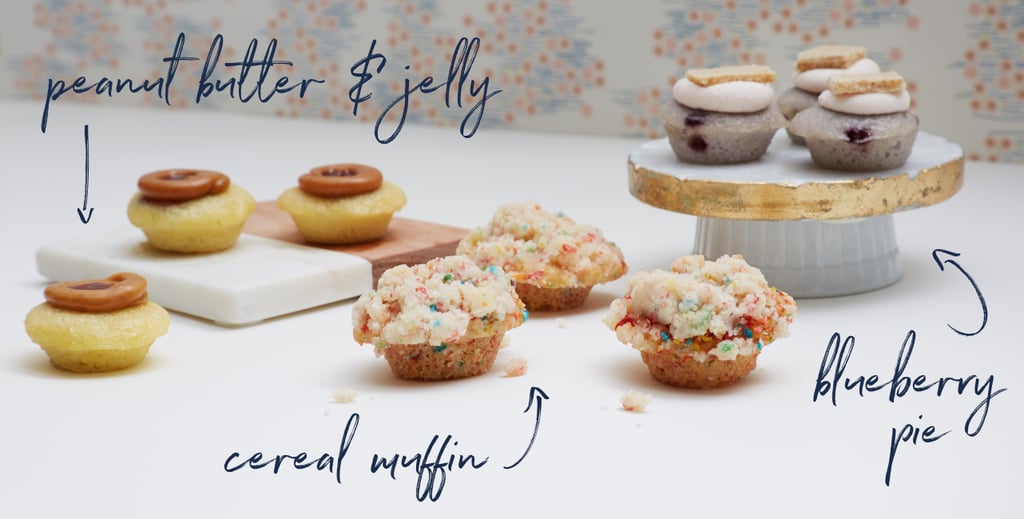 1. Peanut Butter & Jelly cupcake. "This flavor is an OG and one of my all time favorites. I grew up eating peanut butter & jelly sandwiches, and today it's still one of my favorite treats! I'm proud to have transformed this classic into a single bite of heaven."

2. Cereal muffin. "I've always loved cereal, especially Fruity Pebbles, and I've always wanted to create bite-size treats for breakfast. This flavor was one of the first in this category and, of course, it's near and dear to my heart."

3. Blueberry Pie cupcake. "Anytime I walk into a doughnut shop or bakery other than Baked by Melissa, I always look for the blueberry flavored pastries because they're my favorite. I've been inspired by this flavor for so long, and I'm proud to finally offer it."


Ready for a sweet bite? You can taste Melissa's treats while shopping Banana Republic's Summer 2017 collection! Head to one of 35 Banana Republic locations nationwide on May 6 — no RSVP needed.
Product Credits:
Denim Jacket
,
Black Skinny Ankle Jean
,
Merino Scallop Crew Pullover
,
Portfolio Structured Leather Toter
,
Madison 12-Hour Pump
,
Classic Gold Bracelet
,
Giles & Brother Leather Wrapped Skinny Cuff
,
Suede Short Jacket
,
Long-Sleeve Modal Crew Tee
,
Giles & Brother Gold Original Railroad Spike Cuff
,
Giles & Brother Antique Brass Stirrup Cuff
,
Merino Ribbed Crew Sweater
,
Riley-Fit Shirt
,
Avery-Fit Navy Lightweight Wool Pant
,
Demi Loafer
,
Navy Lightweight Wool Blazer
,
Merino Scallop Crew Pullover
,
Stay White Skinny Ankle Jean
,
Demi Loafer
,
Sloan-Fit Floral Pant
,
Square Pinstripe Silk Scarf
,
Delicate Shield Cuff
,
Giles & Brother Silver ID Tag Hinge Cuff
,
Blake-Fit Chambray Wide-Leg Crop Pant
,
Navy Straw Hat
,
Italian Leather Snake Bow Clutch
,
Elizabeth Cole Choker Necklace
,
Irving Sunglasses
,
Leather Skinny Belt
,
Delicate Mixed Shapes Stack Rings