Jeff Koons Balloon Dog in Fashion
How Jeff Koons Is Elevating Fashion to Art
Every week, we bring you the best shoppable fashion and lifestyle stories from the editors at InStyle.com, including this column about one artist's journey in creating chic art.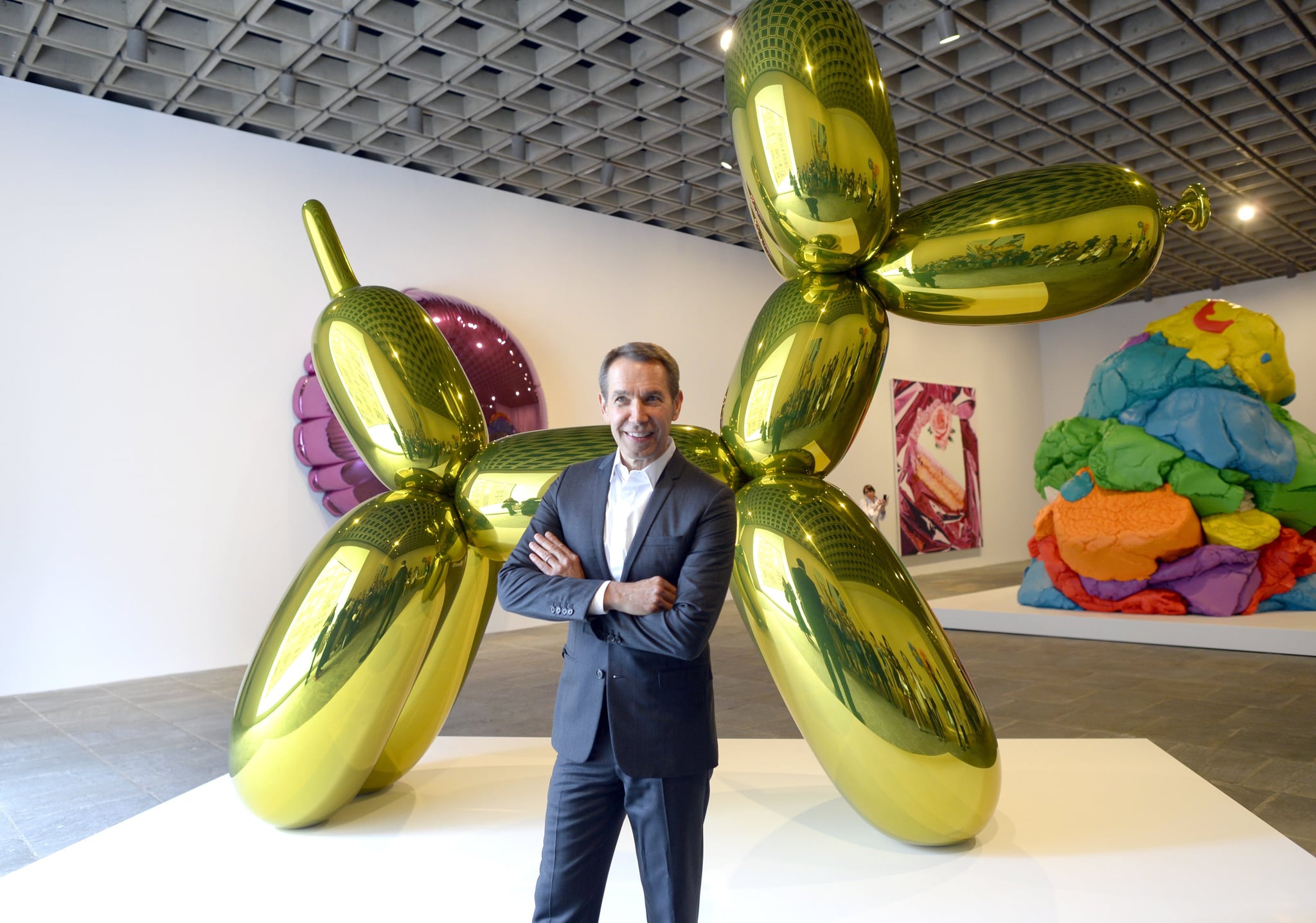 The melding of the worlds of art and fashion, or Artfashion as we'll call it in a nod to Lady Gaga, is an enormous movement that (it is fairly safe to say) has had a more profound effect on art than it has on fashion during the last two decades.
Some would also argue that the effect has been more deleterious on art than fashion, since stratospherically priced contemporary paintings and sculptures are now considered by those who can afford them as commodities that are closer to luxury goods than creative expressions. Fashion, meanwhile, simply appears to have been validated by the association with artists, as designers and luxury titans become their greatest patrons. Collaborations are now commonplace, and designers and models have become frequent subjects of artists like Richard Prince, Tom Sachs, and Chuck Close—a sort of contemporary version of the Medicis.
Jeff Koons, the kitsch-fetishizing artist who is the subject of a major retrospective opening at the Whitney Museum of American Art in New York on Friday (the last before the museum moves from Madison Avenue to its new home in the Meatpacking District in 2015), is probably more keenly aware of blurring lines between art and commerce than anyone since Andy Warhol. His balloon animal sculptures, a granite gorilla and vacuum cleaners encased in plexiglass have frequently been derided as piffle, and yet he holds the world record for the most expensive artwork sold at auction by a living artist; Balloon Dog (Orange) went for $58.4 million last year.
Koons, in the 1970s and '80s, explored the subjects of consumerism, luxury advertising and degradation with relish, from his pristine vacuums to stainless steel cocktail sets and spirits advertisements blown up to the size of paintings. You can detect an arch sense of superiority in his works, and simultaneously recognize the stirrings of your own desire in them, which is basically the same business model upon which the modern luxury goods industry was built. That you can literally watch yourself consuming this exhibition, reflected in the mirror-polished surfaces of many of its sculptures, rather heightens the impression that the Whitney has turned into a Jeff Koons shopping mall. Be sure to explore his Banality series, re-created on porcelain, in the museum store (a Michael Jackson and Bubbles five-piece place setting is $390).
Fashion and art have a long history of peering into one another's mirrors. Schiaparelli collaborated with Dali and Cocteau in the 1930s, Yves Saint Laurent designed a Mondrian collection in 1965, Warhol made paper dresses printed with soup cans in 1966. The recent resort shows included so many references to paintings (Frida Kahlo prints at Valentino, Warhol oxidations at Reed Krakoff, the Arte Povera movement at Sergio Rossi), in fact, that shopping later this fall will resemble a trip to a museum. Karl Lagerfeld had a field day on this point with his spring Chanel collection in a set designed to look like one.
And Koons is no stranger to Artfashion, having designed bags for Fendi, dresses with Lisa Perry, an album cover for Gaga and champagne bottles for Dom Perignon in recent years. Next up: Koons is redecorating H&M's Fifth Avenue flagship for an upcoming collaboration, featuring, what else, a limited-edition handbag with a gold balloon dog motif, available July 17, for $49.95.
— Eric Wilson
Check out more great stories from InStyle: