Sarah Hyland's Favorite Trends
4 Trends You Should Try This Season, According to Sarah Hyland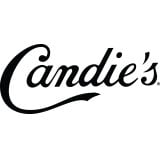 Style stars are a constant source of outfit inspiration. We've partnered with
Candie's
to bring you the celeb-approved trends you'll love through Fall and beyond.
Here at POPSUGAR, we've long been fans of Sarah Hyland's style. If there's any celebrity who's mastered the art of making intimidating trends look totally wearable for every day, it's her. So it's no surprise that popular fashion brand Candie's has tapped the actress, singer, and style maven as its first-ever creative director. With Fall on the horizon, we turned to her to share the standout trends she's excited to tackle. Between flirty accents and statement textures, her shoppable guide ahead will help you make her covetable look all your own.
First up? Pretty detailing. Romantic, feminine features like strappy accents, ruffles, and bows are big on Sarah's radar.
"Ruffles are back!" she said. "They're so fun and flirty, and I wanted to incorporate them in subtle ways that are wearable for the Candie's girl. We have this great red dress with cold-shoulder sleeves overlaid with soft ruffle detailing, so it's really a two-in-one punch! Everyone loves a good ruffle and a cool sleeve to show a little peek of skin!"
Another way she suggests getting in on the sleeve action is with flirty lace.
"I love our Candie's black moto jacket with full black lace sleeves because it adds feminine touch to a traditionally edgy moto jacket," she noted. "Fall is that time of year when you can never really figure out what to wear because the weather is all over the place, so the lace sleeves are also the perfect detail to make the jacket a great transitional piece. You can throw it over anything!"

Billowy fabrics aren't going anywhere, according to Sarah. Some updates to note for Fall, however, are the cleaner cuts and more streamlined silhouettes. She suggests looking for easy, subtle volume in the form of bell sleeves.
"Bell sleeves are such a fun way to update classic styles and a throwback to one of my personal favorite decades: the '90s!" she said. "We updated many of the styles in the Fall Candie's collection with touches like this that add a little something special."
When it comes to textures and embellishments, Sarah is all about high shine and see-through fabrics for maximum impact: the more metallics, sequins, studding, and sheer mesh accents, the better.
"One trend I'm kind of obsessed with is shine and metallic detailing, and our Candie's design definitely worked this in for Fall with what I like to call our mermaid pants!" she said. "It's a great denim with sequin detailing on the front of the legs — you can't miss a girl wearing these!"
Even the smallest elements can make a statement. Take a neckline: a faux-choker detail allows Sarah to add instant cool-factor to any outfit.
"Another trend I love is the choker!" she said. "I worked with the team to incorporate this detail into as many pieces as possible. Our dresses and tops that incorporate the trend have a sexy feel without going overboard, and it just adds extra interest to the piece. Again, I told you I was a '90s girl!"