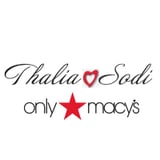 If you're stuck in a fashion rut, maybe it's time to take a few risks. That's why we partnered with
Thalia Sodi only at Macy's
for this post.
You might lean more toward solids in your everyday wear, but your soul may be screaming for more faux snakeskin. And sometimes it's fun to take a fashion risk. Take this fun quiz and unleash your inner print.
What's your favorite morning drink?
Pick a color you're wearing right now:
Heels or flats?
Pick an animal:
Where would you go?
How would you describe your job?
What are you craving for dinner?