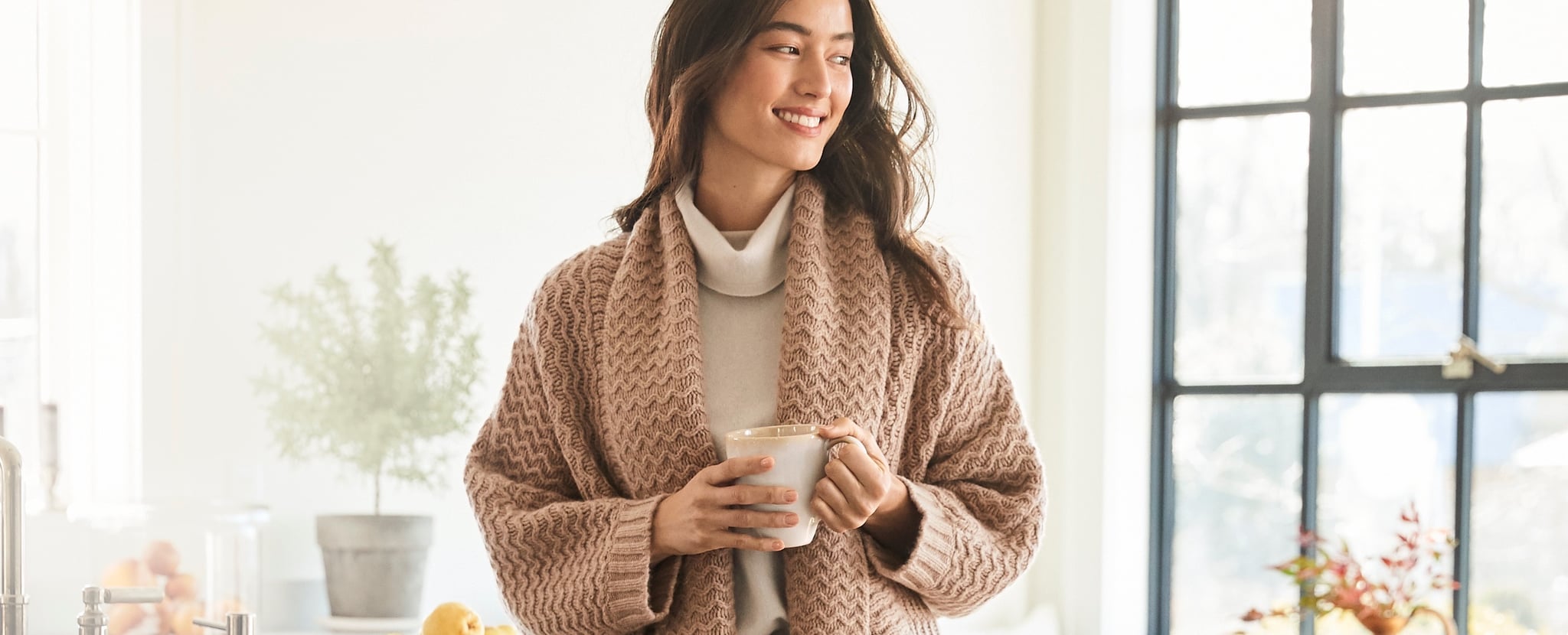 Image Source: Garnet Hill
Best Cashmere Gifts From Garnet Hill
Gift Ideas For Everyone on Your List, No Matter Their Creature Comfort

Winter is a time for indulging in all our favorite comfort activities. Whether it's planning and hosting get-togethers or baking up a storm, how we choose to spend our time can reveal a lot about who we are. Which is exactly why it's our favorite method for determining the perfect holiday gift for someone else. This season, look no further than your loved one's creature comfort to help guide your gift selection. Does a TV marathon bring them joy? Or perhaps they prefer staying active. Whatever the case, we've curated a selection of gift options to make their favorite activity even more enjoyable, starting with timeless and luxe cashmere pieces from Garnet Hill.

If their idea of a winter tradition includes hunkering down to rewatch the same comfort shows or read the literary classics (or both), they'll appreciate all the cozy accoutrements. No marathon is complete without a set of timeless pajamas or a soft throw blanket. These Organic-Cotton Classic Flannel Pajamas bring classic comfort in modern prints, while the Wool & Cashmere Throw will wrap them in warm, soft luxury. Throw in a candle or a temperature-controlled mug, and they'll never want to leave their cocoon.


Whether it's your sister who loves to bake, your niece who's kind of a big deal on TikTok, or your friend who's super into crafts, it's clear your loved one enjoys the act of making something. Lean into their creative side with a gift that will inspire. This Recycled-Cashmere Patchwork Sweater mixes fun patterns and colors in such an imaginative and playful way to match their artistic spirit and get their creative juices flowing. Other ideas: a recipe book, a tripod attachment for their phone case, or any sort of DIY kit.


This person finds joy in bringing people together and showing them a good time. Someone that considerate deserves an equally thoughtful gift. A statement sweater like the Recycled-Cashmere Button Turtleneck Sweater is the perfect hosting uniform — it's simple, easy, and relaxed, but with enough interesting details to stand out. Similarly, the versatile Cashmere Wrap is the ideal outer layer to toss over anything and will be the piece that will take care of the person who's always taking care of others. They'll also appreciate a customizable planner to keep up with all their commitments or a set of conversation-starting cups.


From snow excursions to cabin hangs, adventure always awaits this loved one. Make their time outdoors more comfortable with cold-weather must haves to help them channel those après-ski vibes any time, anywhere. This Cashmere Ribbed Hat and matching Cashmere Ribbed Gloves are soft and warm with a touch of luxury they won't be able to resist. For the ultimate luxury gift, nothing tops the Button-Detail Oversized Cashmere Coatigan. It's the wear-with-everything layering piece they'll reach for no matter the occasion. Lastly, a pair of sheepskin-lined boots will complete their ensemble.