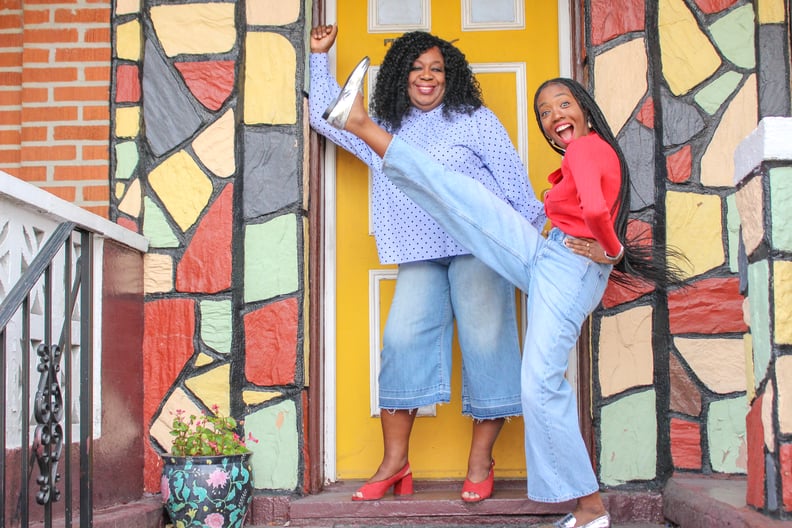 POPSUGAR Photography | Nneya Richards
POPSUGAR Photography | Nneya Richards
Every editorial product is independently selected by our editors. If you buy something through our links, we may earn commission.
From James Dean to '90s supermodels and even the Kardashian-Jenner clan Christmas card, little defines American-cool quite like a T-shirt and jeans. But that perfect pair of jeans is ever elusive. Gap is one of those brands that knows denim, and you can always count on it for the latest trends, as well as your time-honored go-to cuts. One of those recent trends is wide-legged cropped denim.
Moving from skinny jeans in recent years into straight-legged as my go-to, I was reluctant to try wide-legged denim as a petite person. While I occasionally love a wide-leg pant with platforms to give the legs-for-days effect, I thought cropped denim would cut off one of my best assets and make me look stumpy. So, when I got the opportunity to try them out for you, I was excited. I enlisted my mother, a Gap enthusiast, to help me. "I can always count on Gap for a good fit," she said. "They always have my size." I promise, we're not paying her. Really, if Gap headquarters ever needed something to archive, I'd direct them to my mother's closet. She also used to shop different Gap stores in Manhattan, Brooklyn, and Queens, with an impressive memory of the stock! My mom has rocked the culotte-style cropped denim for years and she's not a big jeans person. She can probably count her pairs of jeans on a single hand — and this is someone whose closet is overflowing. We secretly love mother-daughter dressing, so we were excited to give this cut of denim a try!
By the way, Gap is having a major sale right now. You will receive an extra 50 percent off some sale items with the code BIGSALE and an extra 20 percent off your purchase with the code SMILE. That's definitely something to smile about!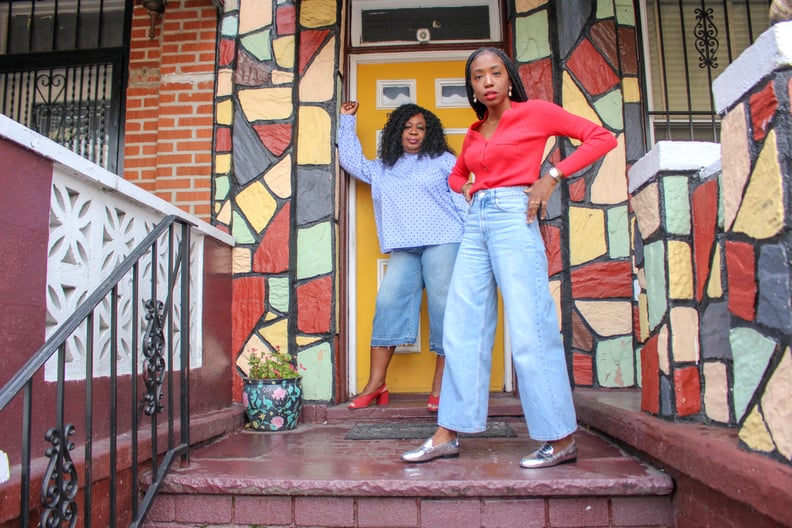 Blue Jeans Babies!
My mom loves these Gap culottes and has owned them for a few years now in a size 14 (32). She likes a softer denim than I do, and so for my size 24, I opted for a thicker denim style from Gap's recent collection. Mom is more of a skirt person, so she loved the culotte cut as it mimics the style and cuts of skirts she would normally wear. "I like the style, and the frayed edge," she said. "You see how you can dress up in them, and I'm not a big jeans wearer so that falls right in the scope. I get a denim skirt look you know, variety." She dresses them up with a heel or a knee-high boot. She also has even worn a long tunic over it!
She likes this style as it's comfortable on her thighs, but she said that as she's not "hippy with much of a waist" she does need to wear a belt with them.
I'm more of a jeans every day person, so I wanted something relaxed but modern. I like this updated cut with a great loafer and fitted henley to play with my shape. I went for the high-waisted option to avoid that stumpy look I feared from a cropped wide leg.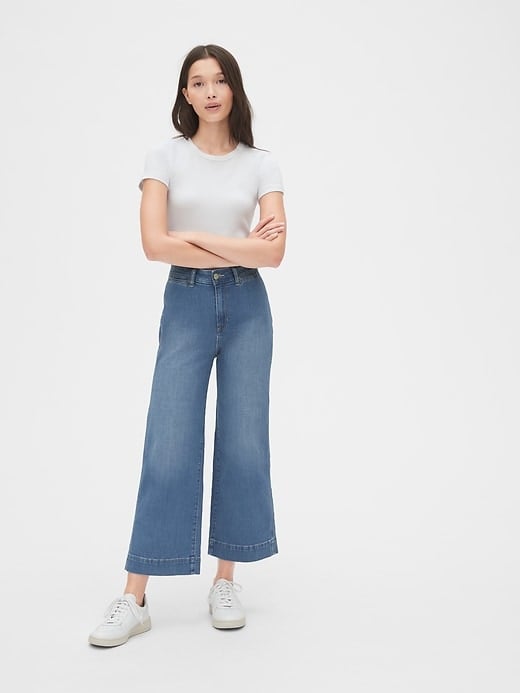 Gap High Rise Wide-Leg Crop Jeans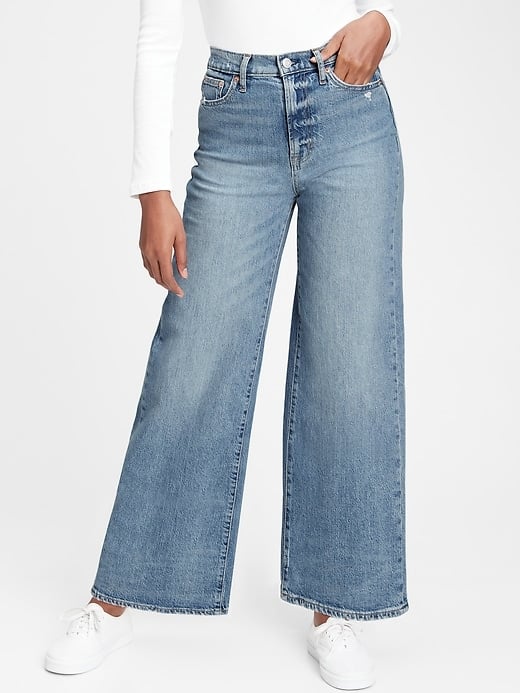 Gap Sky High Wide-Leg Jeans
I love the high-waisted and low-stretch vintage style of these Gap Sky High Wide-Leg Jeans ($46, originally $80). I chose these because of the premium denim look at such a great price!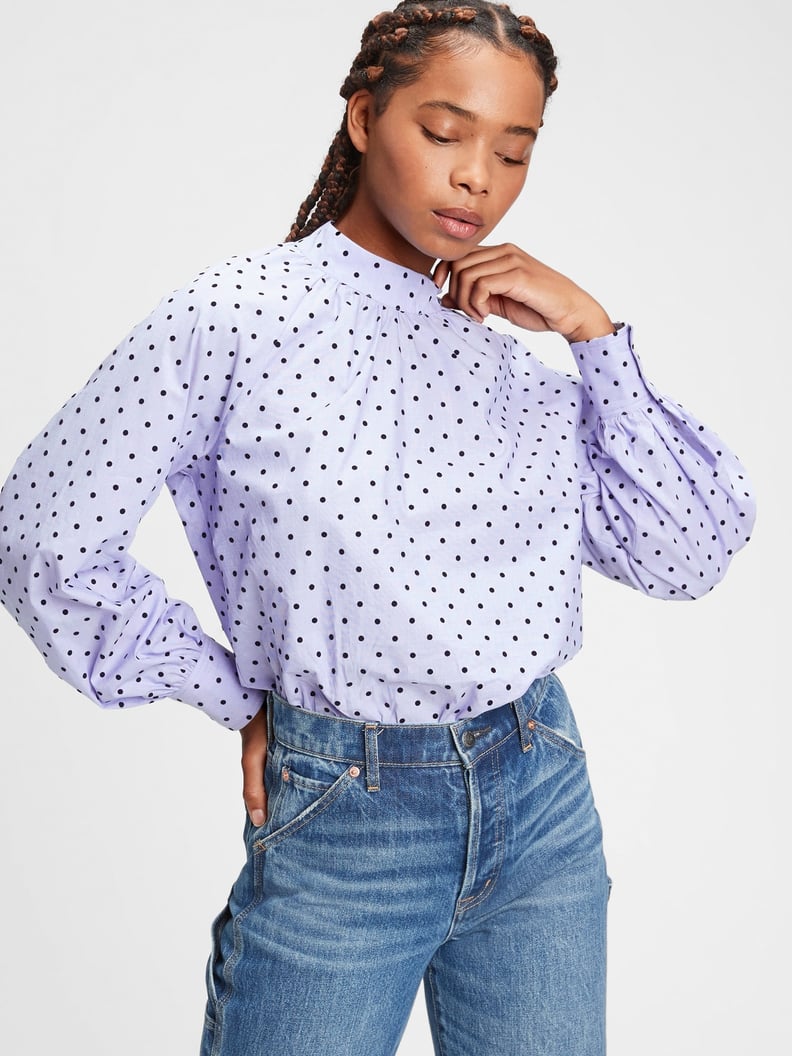 Gap Mockneck Print Top
"I love love polka dots!" my mom said. She chose this Gap Mockneck Print Top ($27, originally $60) because she thinks it goes with so many things in her closet. She loves the mock neck and its free flowing because she doesn't really like body-con dressing. "I'm busty. This shape camouflages yet enhances."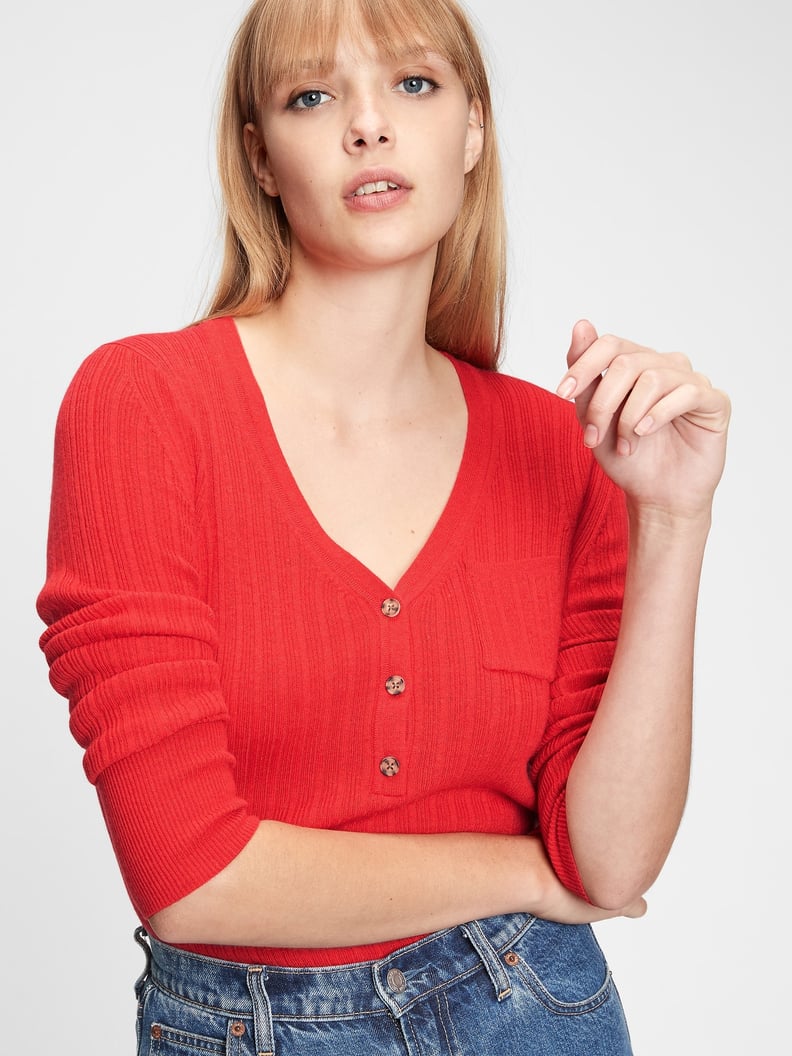 Gap Ribbed Henley Pocket Sweater
Gap High Rise Wide-Leg Crop Pants
I love this light denim look of the Gap High Rise Wide-Leg Crop Pants ($29, originally $70). Pair it with a classic white high-top and denim shirt for a cool Canadian-tuxedo style.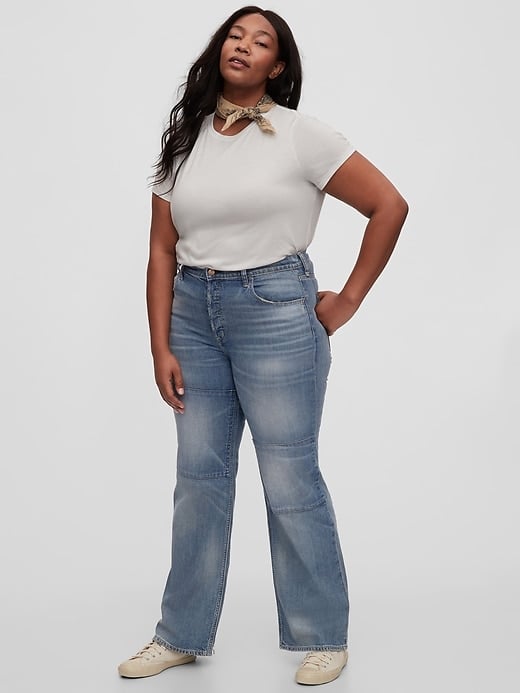 Gap 1969 High Rise Flare Jeans
Not sure sure you want to fully commit to a wide leg? These Gap 1969 High Rise Flare Jeans ($115, originally $128) from the brand's premium denim line are timeless.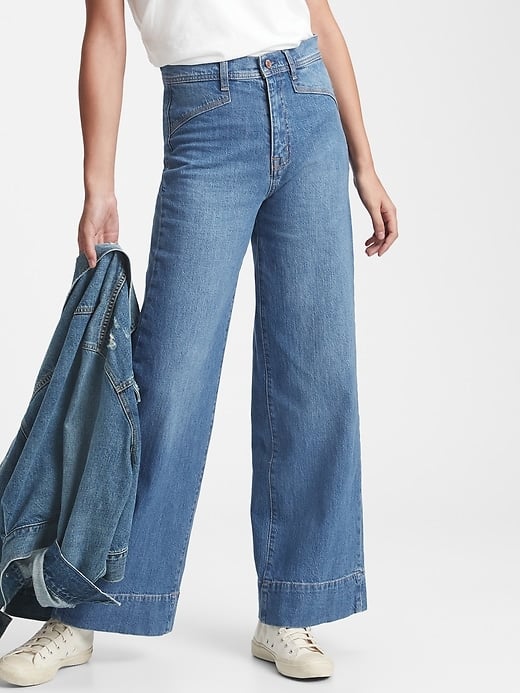 Gap Sky High Wide-Leg Jeans
A medium wash in true blue denim like this Gap Sky High Wide-Leg Jeans ($72, originally $80) is a must for every denim collection. The western-style cut and stitching adds a cool classic touch.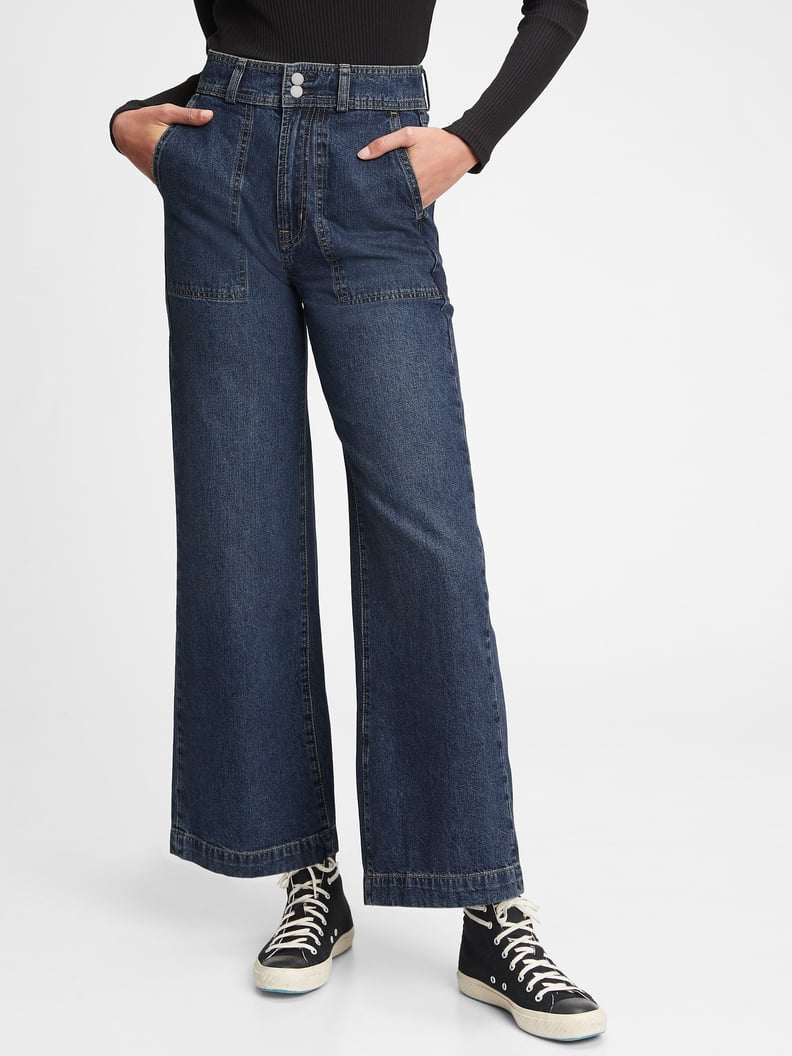 Gap Workforce Collection Sky High Rise Wide-Leg Jeans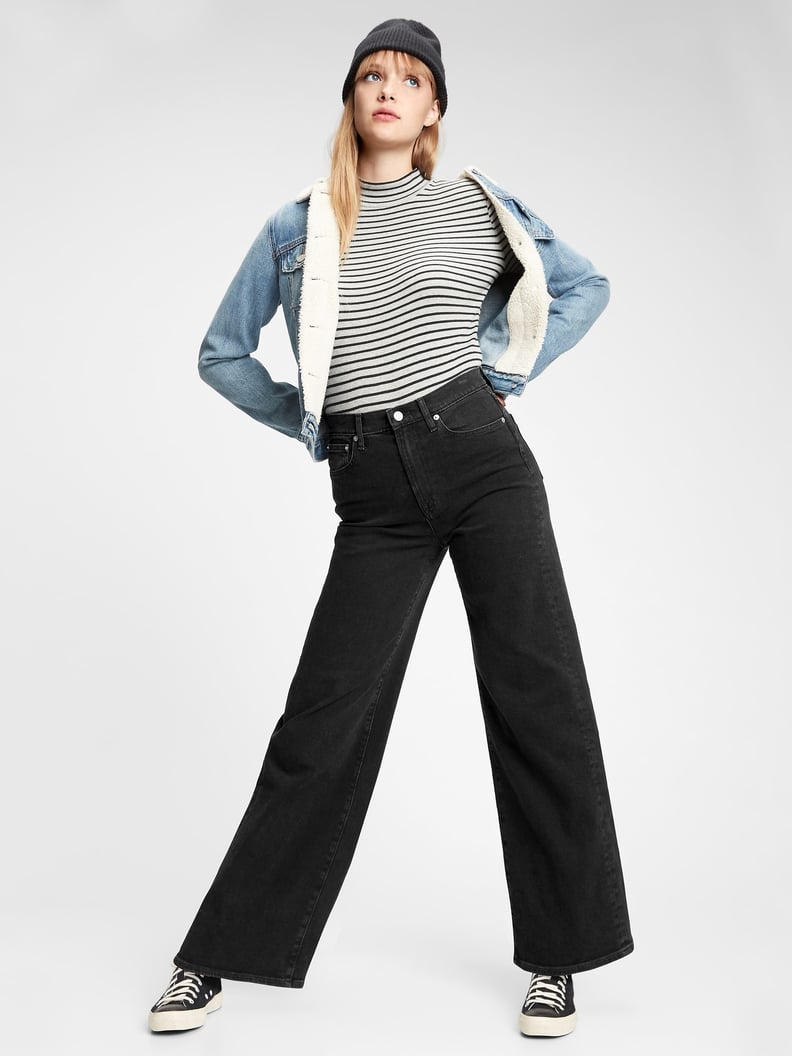 Gap Sky High Wide-Leg Jeans
In the style of athleisure casual, I've embraced the black jean as a great alternative to black pants. I love these Gap Sky High Wide-Leg Jeans ($46, originally $80)!
Gap High Rise Utility Wide-Leg Crop Jeans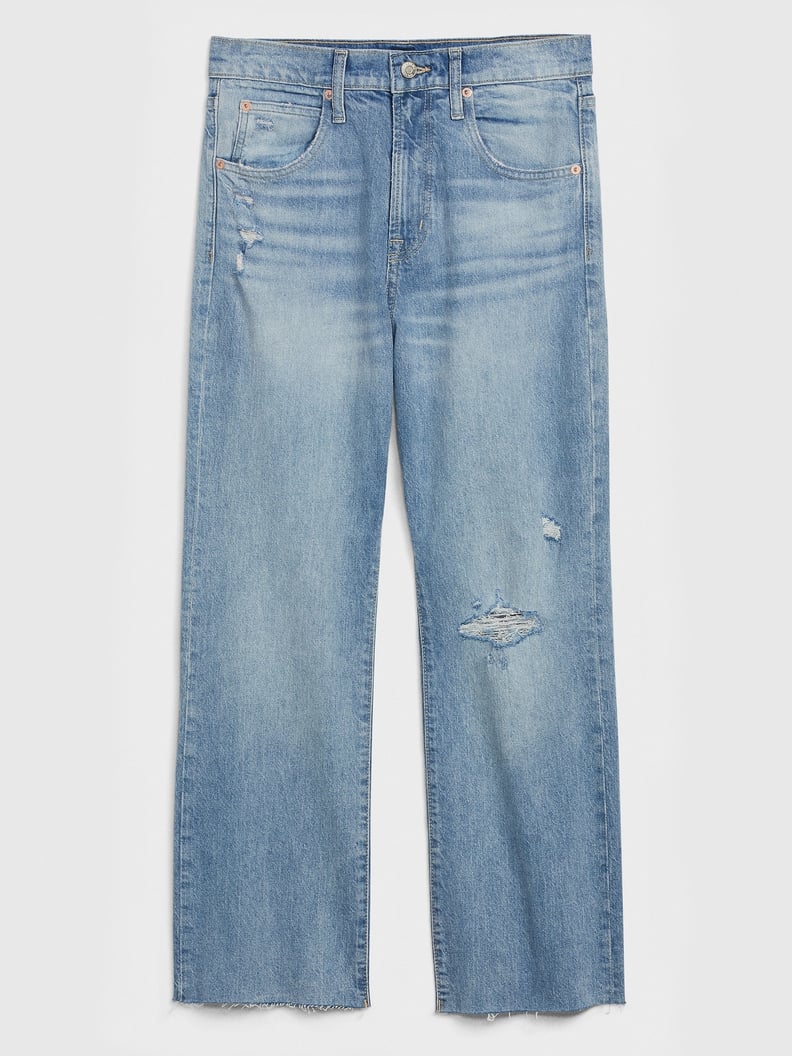 Gap High Rise Destructed Crop Ankle Flare Jeans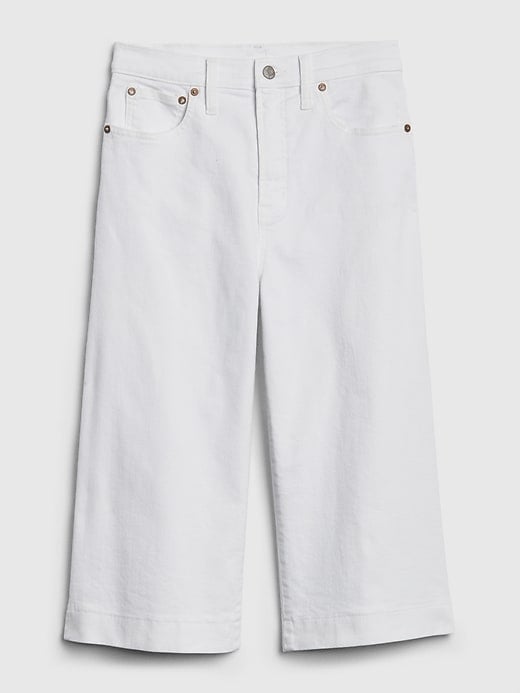 Gap High Rise Culotte Jeans
Perfect for a winter white look with brown suede boots, these Gap High Rise Culotte Jeans ($49, originally $98) can be worn any season!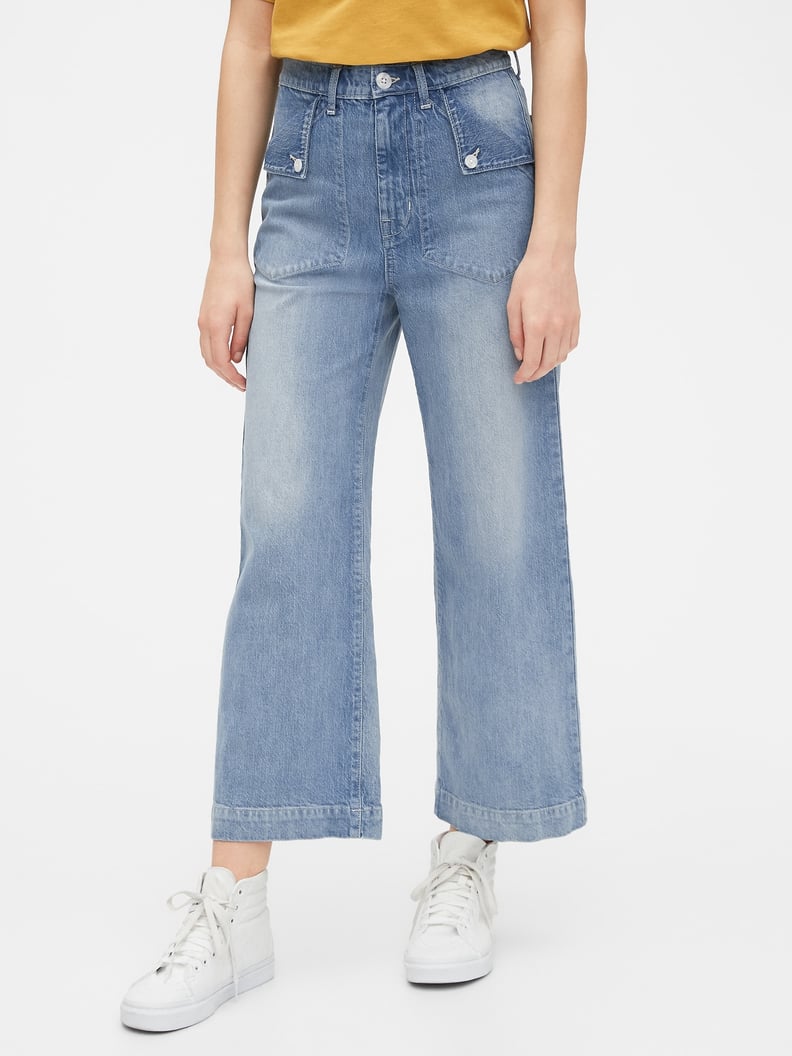 Gap Sky-High Wide-Leg Jeans
What a fun detail of buttoned pockets on the front of these Gap Sky-High Wide-Leg Jeans ($49, originally $80)! Do you actually use the lipstick pocket of your jeans? Well these are truly perfect for safe keeping!