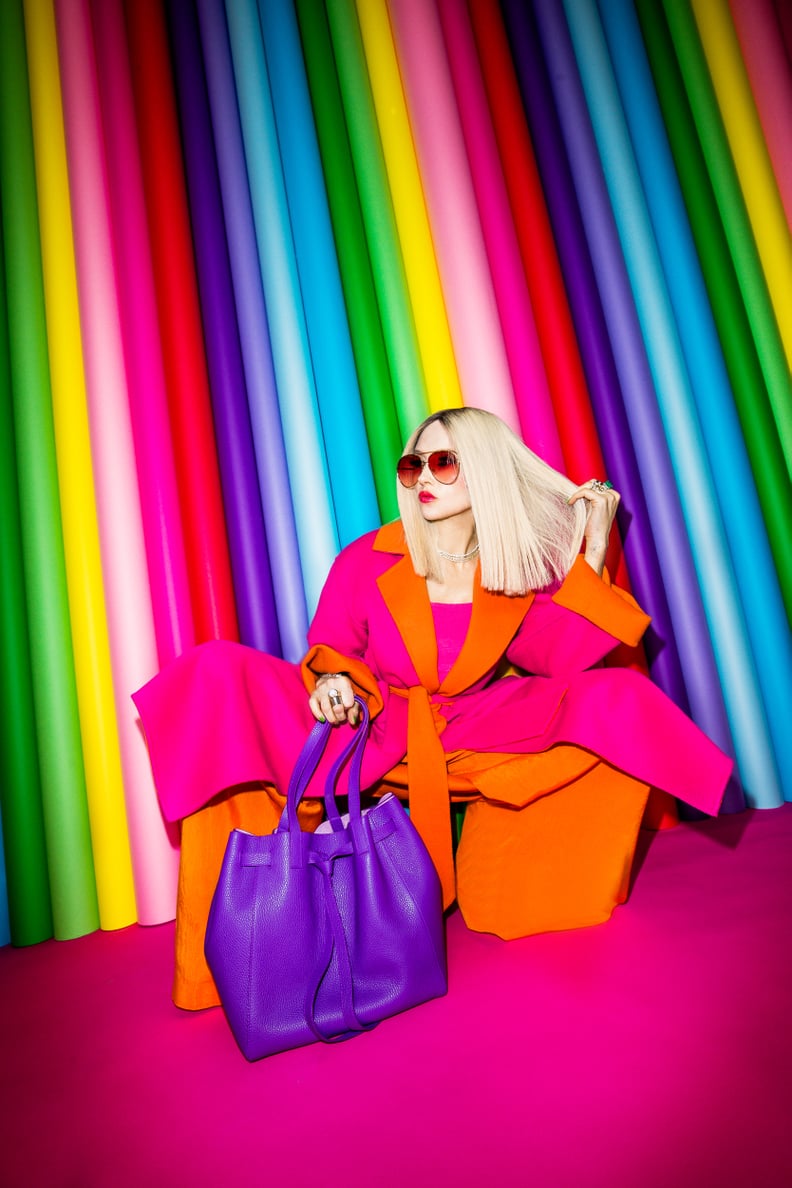 Courtesy of Alice + Olivia
Courtesy of Alice + Olivia
The class of 2020 hasn't had an easy start. With virtual classes and Zoom graduation ceremonies due to COVID-19, they now have to navigate a very challenging job market. It's become increasingly important for applicants to rely on job platforms, but many don't play to the strengths of creative roles. If you are trying to break into a creative industry such as fashion, design, film, photography, illustration, it's difficult to showcase your work on a traditional job site. Alice + Olivia's Stacey Bendet is out to change all that with the launch of Creatively, a new job platform that caters to creatives looking for work.
The idea behind the platform is to discover, connect with, and hire creative talent with a wide range of skill sets across the globe. Last month, the platform partnered with nine art, design, and fashion schools — Pratt, Parsons, FIT, the Yale School of Architecture, the New York University Tisch School of the Arts, the University of Cincinnati College of DAAP, BIC at the City College of New York, the Academy of Art University, and Bronx Community College — to spotlight 46 of the most innovative, talented, and unique diverse creatives at their respective schools. The idea being to kickstart their network with their own Creatively class of 2020.
Today, Creatively will be announcing jobs listings for the first time on their platform, open to all who want to apply, with an impressive roster of companies. We caught up with founder Stacey Bendet for some insights behind launching Creatively and some valuable advice on landing your dream job.
POPSUGAR: Tell us, how did the idea for Creatively come about?
Stacey Bendet: When looking for creative talent at Alice + Olivia, I realized that there was a real need for a professional network built expressly for creatives of all disciplines. Creatively makes it easy for creatives to showcase their portfolios, connect and collaborate, and find work — full-time, part-time, and freelance. Our job listings launch today. They feature an amazing array of diverse opportunities for creatives from dozens of top brands.
PS: In addition to fashion, what sort of creative roles can we expect to find on the site?
SB: Creatively is the job platform for creative talent across all disciplines: photography, film, fashion design, branding, illustration, animation, CGI, app and web design, product development, interiors and architecture, emerging technologies, and much more. Creatively is the only professional network truly geared toward creatives of all different mediums and skills.
PS: What sets creatively apart from other job sites?
SB: Creatively is unique because there's no other platform that allows creatives to showcase their portfolios, connect and collaborate, and find work. Our app and site makes it easy for creatives to apply for jobs, and for companies to search for talent, review portfolios, and recruit.
PS: What kind of companies are you launching with/working with?
SB: Creatively has an impressive roster of 70+ brands signed up and we're growing every day. With our job listings launching today, you can apply for 100+ amazing opportunities — full-time, part-time, and freelance — at top brands including Skims, HBO Max, Lunya, Flighthouse, Westbrook Media, Alice + Olivia, Figs, Ro, Rag & Bone, CNN, and more.
PS: The fashion industry is changing so much right now. What advice would you give talent trying to break into the field? Any tips to help their applications and resumes stand out, or general tips for job searching in fashion?
SB: It is true the industry has been disrupted from supply chain to product. The customer doesn't have the same needs of the past. Business is tough and brands are cutting budgets across the board, but there is opportunity in casual wear and footwear, athletic wear, and a new at-home clothing lifestyle wear. My advice is make your resume its own art! White paper doesn't show your creativity; show your passion through your presentation of your work! And look for work at companies that are thriving during this moment as well as blue-chip brands who have the power to persevere during tough times!
PS: The site has so many amazing tools to upload your portfolio. If someone hasn't had work experience what is the best way to share schoolwork and make sure it looks professional?
SB: We don't know what the job market will look like in the coming year, but we do know that creatives need every possible advantage right now — especially if they're just getting started. Creatively's immersive design doesn't compete with your portfolio — it elevates it. Imagine the most beautiful gallery space available for free. The class of 2020 can showcase their portfolios of work from school and add context and collaborators on our app and site. We've also been working closely with a dozen art, design, and film schools to help their graduates.
PS: What excites you most about the talent that you've seen so far?
SB: Our mission is to champion the creative community and help them find work. Over 40 million people in America have filed for unemployment since March — and this massive number doesn't even include much of the creative community, including freelancers, whose work has been impacted by the pandemic. I've been excited to see the work of the diverse talent who have joined Creatively so far. We're here to help them, give them beautiful ways to showcase their portfolios, make it easy to connect with other creatives and brands, and find jobs.