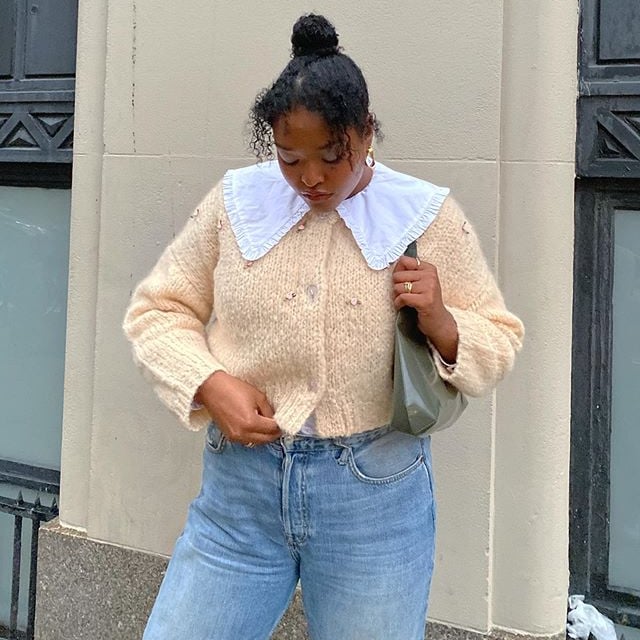 As POPSUGAR editors, we independently select and write about stuff we love and think you'll like too. If you buy a product we have recommended, we may receive affiliate commission, which in turn supports our work.
I'm not the most pragmatic of dressers. Voluminous silhouettes? Love. Heels? More often than flats. Head-to-toe leather? Obsessed. "Ugly" shoe trends? So here for them right now. That being said, I do tend toward my fair share of basics, too. Tissue-thin turtlenecks? High-rise jeans? Impeccably cut blazers? Yes, yes, and yes on repeat. My aesthetic certainly errs on the side of minimal and classic, but that hardly means I'm anti-trend. What I am, though, is conflicted about certain crazes that seemingly take over my Instagram feed, like the recent surge of oversize bib collars. A look! A look that I can't quite decide if I'm into despite it being one of those perfectly escapist looks that breaks up the mundane. And what is fashion without a little escapism?
After returning to my Instagram feed only to scroll past one billowing, frilled, or lace-adorned collar #OOTD after another, I'm starting to think I can dig it. What's more, I'm of the mind that the mania is just beginning. Sea's Zippy Sweater or Ganni's Ruffle-Trimmed Cotton-Poplin Shirt might just be this season's Jacquemus Bahia Dress, if not the 2020 antidote to bold shoulders and sleeves (personally, puffy sleeves are an extremely on-brand trend for me that I'm hardly ready to give up, but I can understand the fatigue that others may feel).
Another reason I think oversize bib collars have staying power? The bigger-is-better mentality set for the new season ahead. One look at 2020's Spring and Summer trends, and the prominence of ample '80s shapes can't be contested. The same goes for the continuance of showstopping sleeves, though as I mentioned before, collars offer a fresh take on these dramatic proportions without going all out (i.e. with a bold-shoulder micro-minidress in an electric shade of taffeta). The key is balancing them with something simple and sleek — a polished leather pant, a clean pair of rigid jeans, a minimal trouser, a skirt sans embellishment — with modern accessories to finish and serve as a final offset to the collar's old-fangled feel.
Ultimately, I think the oversize bib collar trend is perfectly suited to the experimenting type, those who like to make a statement without going too far, or ultrafeminine dressers who have never once in their life resisted the sweetness of a fanciful accent. So, without further ado, ahead, a slew of substantial collars I've witnessed on Instagram followed by my edit of whimsical versions to shop at every price point.
Style Your Collar With: Leather Pants + Modern Heels
Style Your Collar With: A Sweater + Rigid Jeans
Style Your Collar With: A Colorful Jacket + Jeans + Bright Accents
Style Your Collar With: Black Jeans + Layered Necklaces
Style Your Collar With: Leather Pants + a Minimal Bag
Style Your Collar With: Leather Shorts + Tights + Modern Heels
Style Your Collar With: A Printed Sweater
Style Your Collar With: A Colorful Sweater + Printed Pants
Style Your Collar With: A Knit Bustier + Jeans
Style Your Collar With: White Trousers + Slingback Heels
Style Your Collar With: Sporty Pants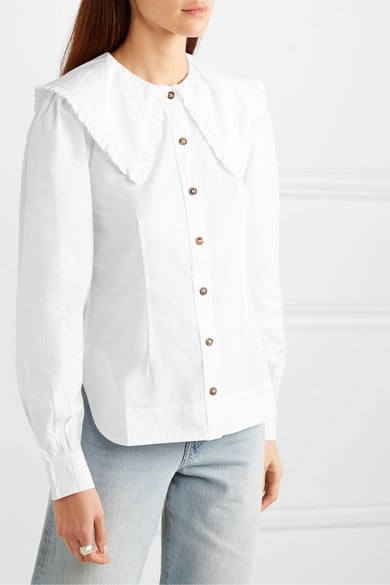 Ganni Ruffle-Trimmed Cotton-Poplin Blouse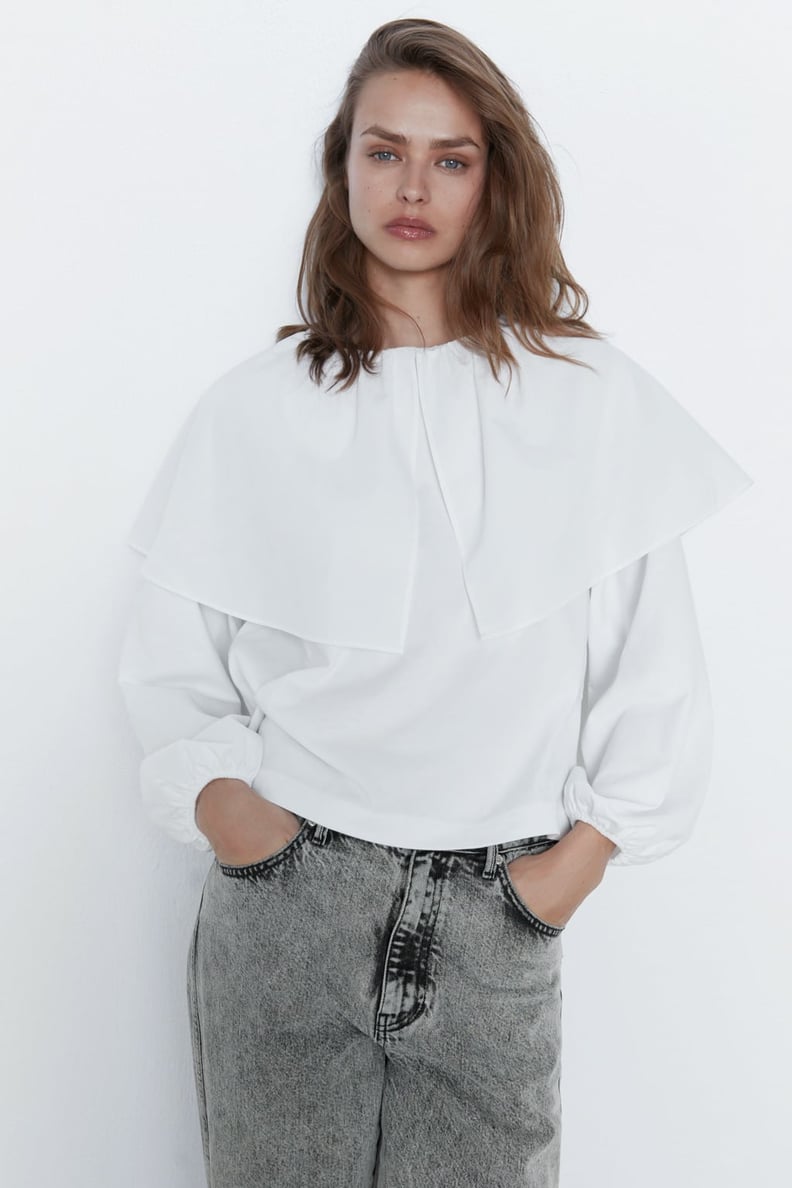 Zara Top With Poplin Detail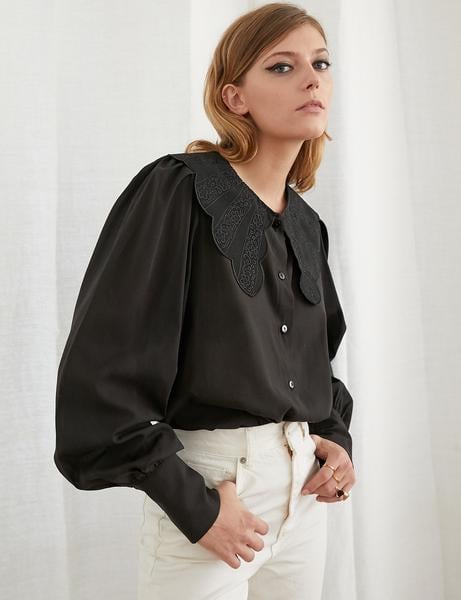 Pixie Market Black Scalloped Bib Blouse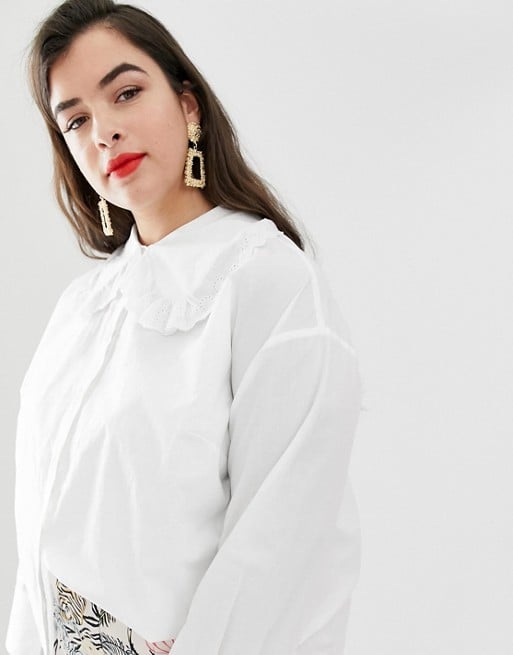 Neon Rose Plus Shirt With Oversized Peter Pan Collar
ASOS Design Long Sleeve Shirt With Ruffle Collar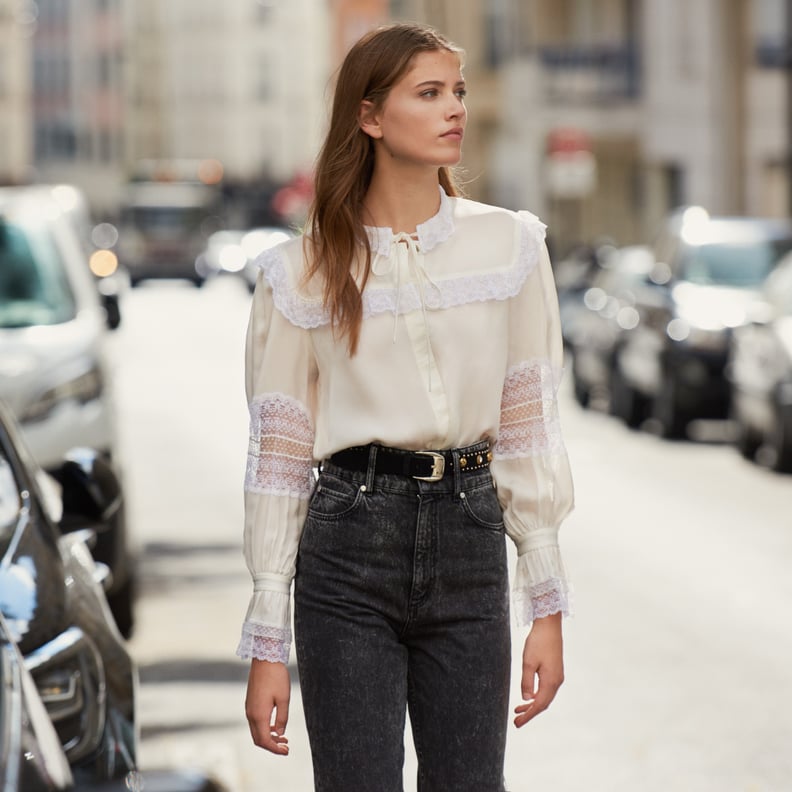 Sandro Lace Embellished Blouse