Meet the Talented Black Designers Who Made History at Milan Fashion Week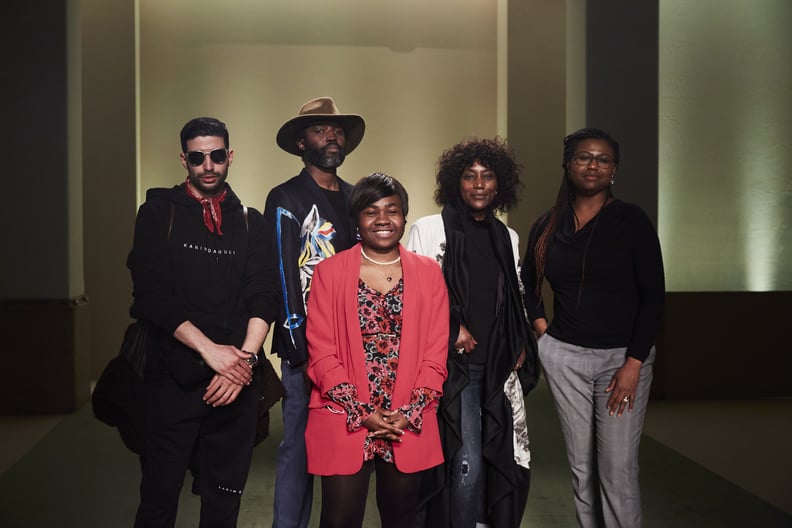 Black Lives Matter in Italian Fashion Collective
Black Lives Matter in Italian Fashion Collective
Last February, when Milan Fashion Week purveyor Camera Nazionale della Moda Italiana partnered with Tamu McPherson to spotlight Italian creatives of color, Stella Jean — then the only Black designer featured on the calendar — pulled back from showing her collection. For Jean, it was an act of voicing her justifiable frustration with the fashion industry's lack of representation, as well as an effort to bring awareness to a series of hate crimes throughout Italy. She quickly took action by teaming up with the Italian Office Against Racial Discrimination to launch a social media campaign and corresponding lookbook, Italians in Becoming. You could surmise that Jean was poised for the racial reckoning that took hold on a global scale months later, following the murder of George Floyd.
Widely recognized in fashion circles as Giorgio Armani's protegé, Jean, who is Haitian-Italian, has been the only Black member of Camera della Moda since being inducted back in 2016. Last summer, she continued to flex her activism muscles by joining forces with Milan-based designer Edward Buchanan and Afro Fashion Week founder Michelle Ngomo to form the Black Lives Matter in Italy Fashion Collective. Through the network, the three power players mentor and foster BIPOC talent in Italy. And this Milan Fashion Week, the powerful group made history with a stellar design showcase in partnership with Camera della Moda: five made-in-Italy labels with BIPOC founders, cleverly dubbed "The Fab Five Bridge Builders."
Ahead, find out more about the five incredible designers who are sure to make waves in the fashion scene.
01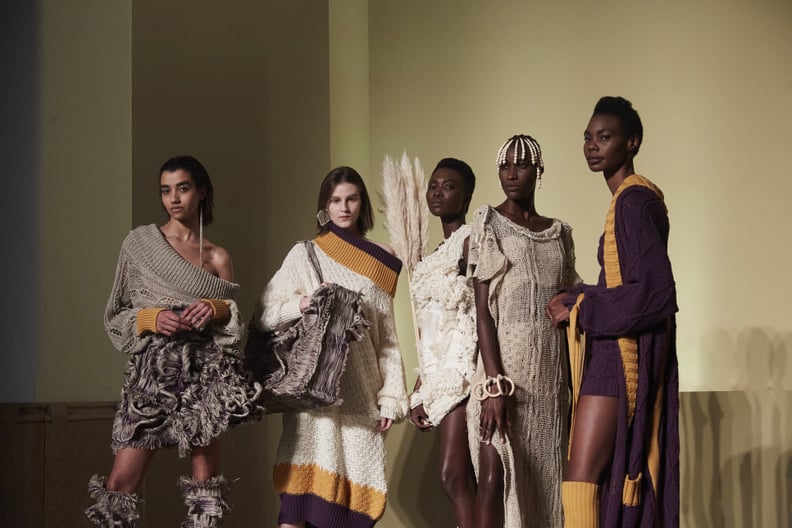 Frida Kiza
Burundi-born, Italy-based designer Fabiola Manirakiza first fell in love with fashion as a child growing up in an orphanage in Zaire (nuns taught her how to sew). After arriving in Marche, a seaside region of Italy, in 1990, Manirakiza spent time paying it forward and raising awareness in the media for African orphanages. During one interview, a journalist fell in love with the handmade dress Manirakiza was wearing. Encouraged by the interaction and bolstered by order requests from friends, along with experience gained from assisting a stylist in Paris, Manirakiza started her label in 2016.
Frida Kiza is a clever hybrid of her surname and the feminist icon Frida Kahlo. For the fall/winter 2021 season, Manirakiza painted a fantastical image of Italian art through the lively filter of African culture. Botticelli's "Primavera" inspired the collection, which features black and white Renaissance motifs trimmed with African-style geometric print and Manirakiza's standout reimagining of the famous painting, with African figures. The beautiful, unique designs are a perfect reflection of her colorful cultural identity.
02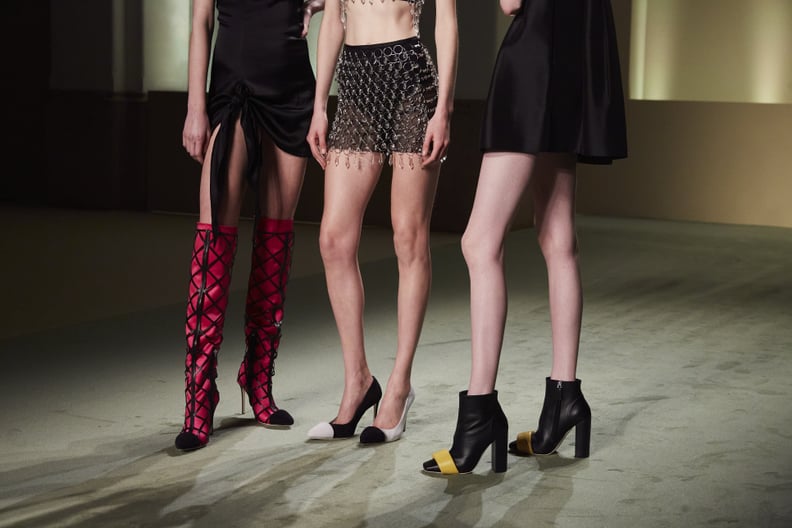 Karim Daoudi
From his home in San Mauro Pascoli, aka the heart of the Italian shoemaking industry, Moroccan-born shoe designer Karim Daoudi has been one to watch ever since he founded his design house in 2017. An alum of the prestigious research center and international footwear school Cercal — an institution with ties to Italian footwear giants like Sergio Rossi and Giuseppe Zanotti — Daoudi consistently earns industry recognition for his innovative designs. For fall/winter 2021, he collaborated with the renowned Ballin manufacturing company on a capsule collection inspired by the colorful flora and fauna of far-flung jungle locales (think: bright green and fuchsia knee-high caged booties and sky-high pumps).
03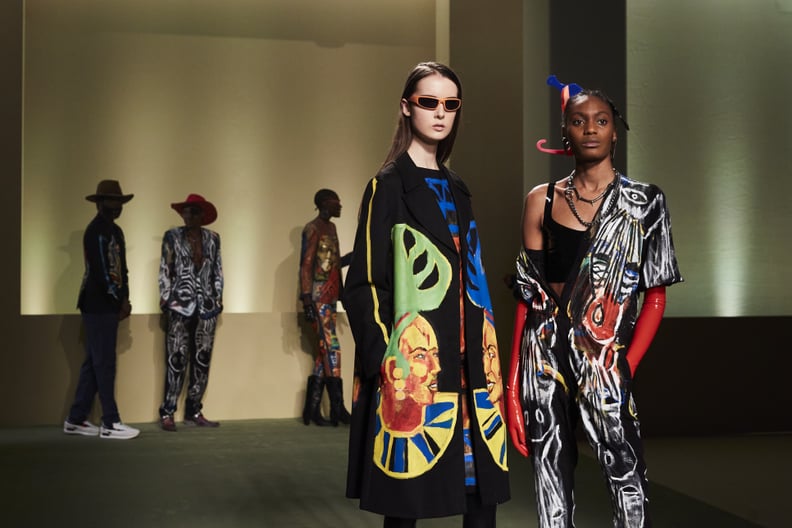 Mokodu
If you're a fan of fine art, you may already be familiar with the work of multifaceted Senegalese artist Mokodu. Raised in a family of diplomats, he began his career as a cartoonist until his work as an actor and film producer brought him to Italy. Continuing his passion for figurative arts and portraits, Mokodu's pieces feature prolific figures of the African Renaissance and have been exhibited around the world at art fairs such as Art Paris, Roma Biennale, and the Dakar Biennale. Mokodu launched his eponymous label in 2018 after meeting with Italy's Afro Fashion Association. His goal? To bring art into fashion. His 100-percent sustainable fall/winter collection features upcycled jumpsuits adorned with bold portraiture. It's wearable art in the truest sense!
04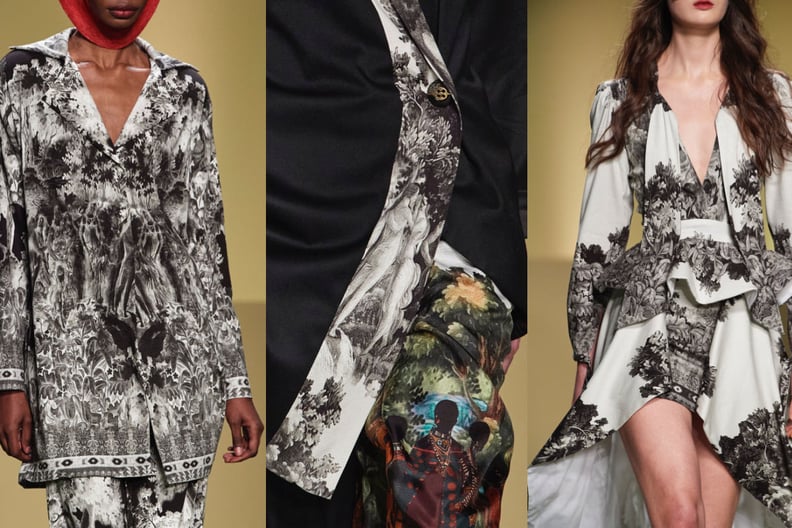 Gisèle Claudia Ntsama
Gisèle Claudia Ntsama combines unique materials like a true haute couture artisan. Born in Cameroon, Ntsama relocated to Italy in order to study at the Academy of Fine Arts in Bologna. Thanks to its international exchange program, she subsequently attended the French art and music school Haute école des arts du Rhin in Strasbourg, furthering her training in textile design and igniting her interest in using hemp in her work. Drawing clear inspiration from contemporary art and Japanese design visionaries like Junya Watanabe and Yohji Yamamoto, Ntsama's fall/winter capsule collection is rife with voluminous knitwear in neutral color combinations.
05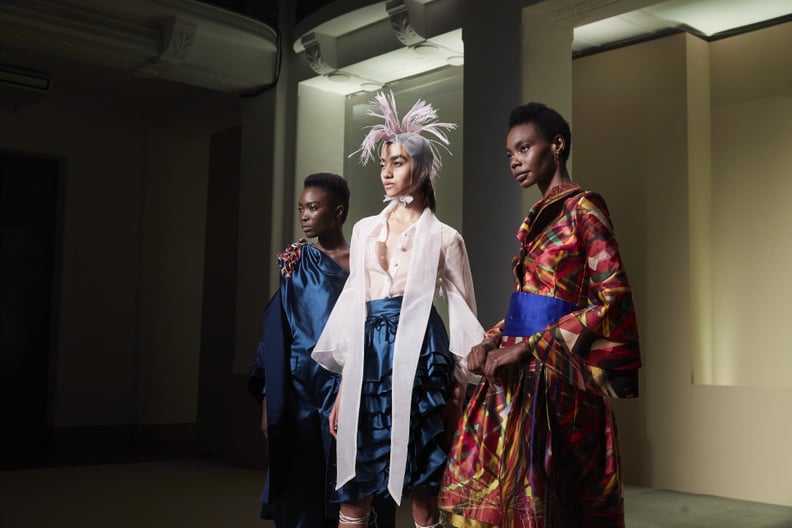 Joy Meribe
In 2017, Nigerian-born, Italian-based designer Joy Meribe founded the label Modaf Designs with her businesswoman colleagues in mind (she has a master's degree in international business). Her eponymous brand combines classic Italian silhouettes with decorative designs and fabrics that give a nod to her Nigerian roots. For her most recent collection, Meribe collaborated with bespoke Italian tailoring house San Andres and Como-based silk mill Taroni to create chic, regal looks that transcend time and place. Bonus: a portion of the proceeds from sales of the capsule will benefit a scholarship program for young women in Nigeria.