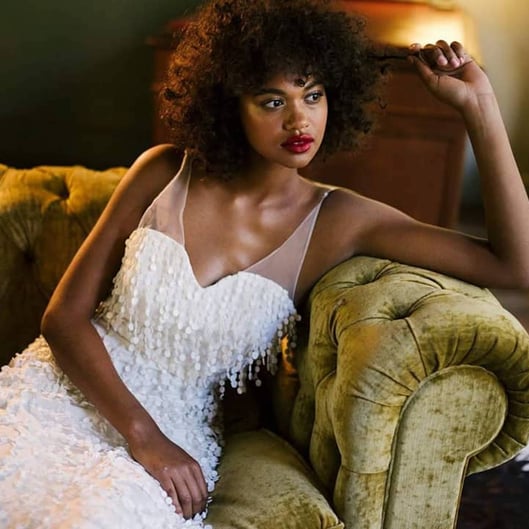 Beyond the obvious, big-name wedding dress designers is a world of smaller labels with bespoke processes that allow designers to get closer to their customers. All of the talented men and women on this curated list of Black designers are masters of their craft with smaller studios that make beautiful, bold bridal gowns.
Save for Amsale, a name you may fast recognize, these labels all speak to brides who have a very good understanding of the design process and a careful appreciation for intricacies. Even Amsale, started by Ethiopian-American fashion designer Amsale Aberra in 1985, now offers a design-your-own-dress platform and a newly launched virtual system to keep up with the modern bride.
The one common thread that ties all these designers together? They really care about the brides they're working with and respect their unique visions. We spoke to the faces behind these ateliers, which are located all over the globe from Paris to Dallas, TX. Scroll down to learn about how these designers are shifting their current missions and why they are so proud to incorporate their individual heritages into brands that were created for everyone.
Amsale
Amsale's designer: Amsale was founded by Amsale Aberra, an Ethiopian American fashion designer who passed away in April 2018. The company still lives on by her words: "True style knows no place or time — more than an aesthetic, style is a way of living." Aberra was the inventor of the modern wedding dress, and the company continues toward providing the modern wedding experience to customers.
The Amsale Bride: has an elevated and timeless aesthetic, and is sophisticated and statement-making.
Amsale's Current Mission: "Amsale crafts striking wedding wear for every bride's big day, no matter what that the vision. Our additional collections pick up where the couture label leaves off, offering shorter dresses for more intimate ceremonies (Little White Dress), an accessible range of styles in chic fabrics (Nouvelle Amsale), plus looks for bridesmaids and evening. We design gowns that fit a bride's mood and vision, in addition to her body."
"Today, we've developed tools and services to help brides shop and plan remotely, from a virtual try-on tool that allows brides to upload their own photo and see what different styles look like on; to our Amsale x You design-your-dress platform; to in-depth, one-on-one virtual styling appointments."
Where to Shop: Online or at a retail store near you.
Andrea Iyamah
Andrea Iyamah's designer: Founder and creative director Dumebi Iyamah, who hails from Nigeria, started Andrea Iyamah bridal after years of fine-tuning her tailoring skills. The label was launched when she was just 17, and it's now become the well-known evening wear brand it is today (you've probably seen Andrea Iyamah on the red carpet, too!).
The Andrea Iyamah Bride: seeks designs that are classic with a touch of uniqueness in the details. She's attracted to feminine cuts that accentuate her figure, and appreciates the art of fine tailoring. "The brand is both honored and proud to serve women from all walks of life who have chosen to walk down the aisle in our signature bespoke pieces," Iyamah told POPSUGAR.
Andrea Iyamah's Current Mission: "We have all had to adjust to the changing tides. As a company handling brides, our priority was to find the best means of communicating with our clients who had to make changes due to the COVID-19 lockdown. Transparency was and has always been our mode of operation at our brand. It takes a lot of emotional intelligence to handle brides and we realized very early that professionally handling them with truth and care was going to be the best way forward. We have a very strong team of bridal consultants who are trained to do this and go beyond their call of duty to be there for their clients. The production team had to adjust timelines, but we are communicating with our clients the whole way through."
Where to Shop: Online or at the bridal showroom in Lagos, Nigeria.
Jean-Ralph Thurin
Jean-Ralph Thurin's designer: Jean-Ralph Thurin, a graduate from Parsons School of Design, has always respected haute couture houses such as Dior, Givenchy, and Oscar de la Renta, which led him to open his own luxury bridal house. He learned to sew by watching his grandmother growing up, and made many a prom dress for his classmates during his early school days. His unparalleled design experience involves meeting a bride during a private consultation, taking her measurements, and discussing a vision, then constructing an authentic gown from start to finish.
The Jean-Ralph Thurin Bride: is strong, confident, and passionate.
Jean-Ralph Thurin's Current Mission: "Even though nothing replaces meeting my brides face-to-face, my mission remains the same: providing my brides with design excellence and unwavering customer service during our virtual consultations," JRT told POPSUGAR.
Where to Shop: Online or at the flagship salon in Somerville, NJ.
Valentine Avoh
Valentine Avoh's designer: Valentine launched her eponymous bridal label in 2017 from Brussels, having graduated with a major in fashion design from London College of Fashion. Her previous work experiences include working for Alexander McQueen and Alexis Mabille. "In love with fashion and sewing, my aim is to design haute couture pieces for modern brides," Valentine told POPSUGAR. "I produce all the pieces myself, from sketching to sewing, and making paper patterns. I mainly get inspired by music, red carpets, vintage movies, and everything in between. My clients are who really inspire me to create differently."
The Valentine Avoh Bride: wishes to highlight her femininity without compromising ease. Valentine Avoh is for brides who want to look glamorous on their wedding day, wearing a carefully handcrafted piece made in the finest materials such as silk, French lace, embroidered tulle, or feather. They love the bespoke approach, knowing that each dress is made to their measurements and can be customized according to their taste and bodies — or they can also go for a truly unique design.
Valentine Avoh's Current Mission: Since the lockdown I have been updating my website, my social media platforms, and sketching for my 2021 collection. Now that the lockdown is over here in Belgium, I have resumed work on the few wedding dresses I have left for the year, as 70 percent of my brides had to postpone their weddings."
Where to Shop: Online, at a list of current stockists and boutiques, or ordered by mail.
Brides By NoNA
Brides By NoNA's designer: Nneka C. Alexander is the creative director and head designer of the brand, which is based in Atlanta, Georgia. Nneka is so dedicated to her customers, she includes them in the entire process of creating their one-of-a-kind bespoke gowns, offering every client her private phone number. "My designs are timeless and chic, and so are my brides. I want people to be able to identify a Brides by NoNA gown without even looking at the label. I want my designs to still have a jaw-dropping effect 10 years after the initial debut, and I want my designs to draw brides from diverse races, ethnicities, and cultures," Nneka told POPSUGAR.
The Brides By NoNA Bride: has an appreciation for pieces that transcend short-lived trends. She understands the language of luxury and the intricacies of a bespoke process. She may even want to lend her garment to her offspring several generations down the line.
Brides By NoNA's Current Mission: "With the onset of the COVID-19 pandemic, we've seen a major shift in our process from personal to virtual. Every part of my design process — from the initial consultation to the selection of fabrics, embellishments, and materials — has gone completely virtual with a heavy reliance on technology. We've always maintained and applied this virtual process with our international clients who were unable to fly to us in the past, so we simply extended the process to our domestic clients and it wasn't that shocking to my team."
Where to Shop: Online.
Violette Tannenbaum
Violette Tannenbaum's designer: Violette Tannenbaum is a French designer who opened her atelier in 2015, striving to create a unique experience for each and every bride. "When I began, I was working from home and I'd go to each bride with the dress I designed. Believe me, it was exhausting! Now I have my own showroom and I release a ready-to-wear collection too. I also launched a bridesmaid dress capsule collection," Violette told POPSUGAR of her brand's history.
The Violette Tannenbaum Bride: wants to feel confident, to get married as they want, and to just be themselves. They are unconventional, cool, and modern, unconcerned with dress codes and what is traditional. They want to have fun, dance, and shine.
Violette Tannenbaum's Current Mission: Right now, Violette works on bespoke dresses and the process is always similar. "I receive the bride-to-be in my atelier in Paris. We talk about what she wants; she can try on some of my designs just to have a better idea of what we can do together. I sketch two or three ideas and she makes her choice. After that, we go to the fabric store to pick the lace, silk, etc. The bride has four to five appointments before the dress is ready. It's a real collaboration and the bride is taking part in every step of the process." Violette is looking forward to working with brides in the UK and the US, though she will have to alter some points of the design process."
Where to Shop: Online or through the atelier's retailer.
elleNelle Bridal
elleNelle Bridal's designer: Chicago native Leah Langley-McClean moved to Nashville and entered the bridal scene in 2015 when she was struggling to find a dress for her own wedding, resulting in a couture look that she made for herself. Frustrated by size selection, elleNelle Bridal was born to celebrate women's curves — and it gets even better. Everything in the collection — which includes bridesmaid dresses and mother of the bride dresses — is custom made in the US ethically and sustainably.
The elleNelle Bride: is very clean and chic — an intersection between modern and classic. The elleNelle bride loves fashion and cares about sustainability.
elleNelle Bridal's Current Mission: "We start our design process with a very in-depth consultation, where we review inspiration, discuss fabric selections, and make a custom sketch on a silhouette of the bride's own body to give her a better sense of how her custom gown will look on her shape. From there, brides are very involved in the process, receiving fabric swatches and getting to see the evolution of their dress through videos, photos, and fittings," Leah told POPSUGAR. Right now, consultations are being offered virtually, and the company has just begun reintroducing in-person consultations to local Nashville clients with safety precautions in place.
Where to Shop: Book a consultation on the website.
Esé Azénabor
Esé Azénabor's designer: Esé Azénabor-Grembowski was born in Nigeria and traveled from Canada to Texas to launch her label in 2012. She is a self-taught designer who specializes in heavy beading, crocheted lace, and embroidery, inspired most by vintage, African, and contemporary European aesthetics. Her evening wear has been seen on the likes of Taraji P. Henson and Michelle Williams.
The Esé Azénabor Bride: comes from all over the world and loves to travel. She loves attention to detail, beading, embroidery, and lots of drama. She understands the art of creativity and the care behind a bespoke garment. The label is for a bride who wants to stand out and look different from every other bride.
Esé Azénabor's Current Mission: "We actually closed down for a month during the lockdown in Dallas. However, our employees were still able to come to work daily to make masks for donations to hospitals. We were able to make 10,000 masks and donate to 200 facilities (hospitals, police stations, fire stations, EMS, and grocery stores)," Esé told POPSUGAR.
Where to Shop: Online or at the showroom located in the Dallas Design District in Texas.
Pantora Bridal
Pantora's designer: Andrea Pitter created Pantora Bridal to share "relatable luxury" with brides everywhere, having designed her first commissioned wedding dress in 2009. On her website, Andrea says she dreamed of Pantora Bridal as a 12-year-old girl.
The Pantora Bride: "walks confidently on her path. She's edgy and glamorous yet timeless. What makes her beautiful is her awareness of who she is at her core, and she dresses to honor that woman," Andrea told POPSUGAR.
Pantora Bridal's Current Mission: Pantora's current mission is to maintain its safe space for brides to be celebrated, stripping away society's beauty standards. Pantora is dedicated to making its brides feel understood and honored.
Where to Shop: Online, at the Pantora Bridal Brooklyn Flagship, or at authorized retailers including Luxe Bridal in TN, Gavin Christianson Bridal in NC, and Love Bride Boutique in VA.