13 Rules For Timeless Style, According to Cindy Crawford
Cindy Crawford, one of the most influential models of all time, turns 54 this year. So we wanted to honor her by reminiscing about her killer style. No matter the occasion, Cindy sticks to what she loves. In fact, what she wears on red carpets now looks a lot like what she wore to special occasions back in 1995. Cindy has a number of style rules that she's stuck to for more than 20 years and certain staples she returns to over and over.
There are 13 main rules when it comes to Cindy Crawford style, all of which prove that some things — like Cindy herself — never go out of fashion.
— Additional reporting by Balim Tezel
01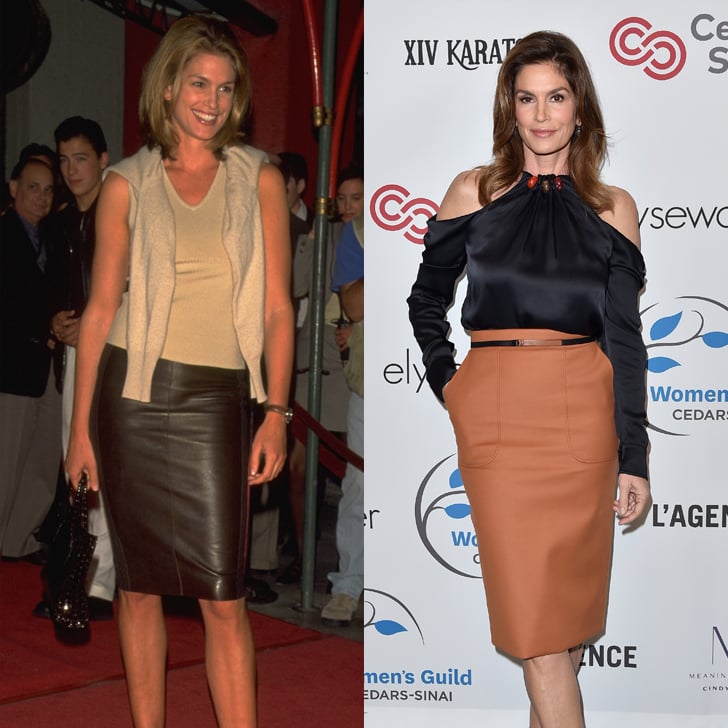 Pencil Skirts Work For Different Occasions
Cindy knows that pencil skirts are both chic and sophisticated. She has worn a trendy leather pencil skirt at a movie premiere in 1997, and a classic midi one during at event in 2019.
02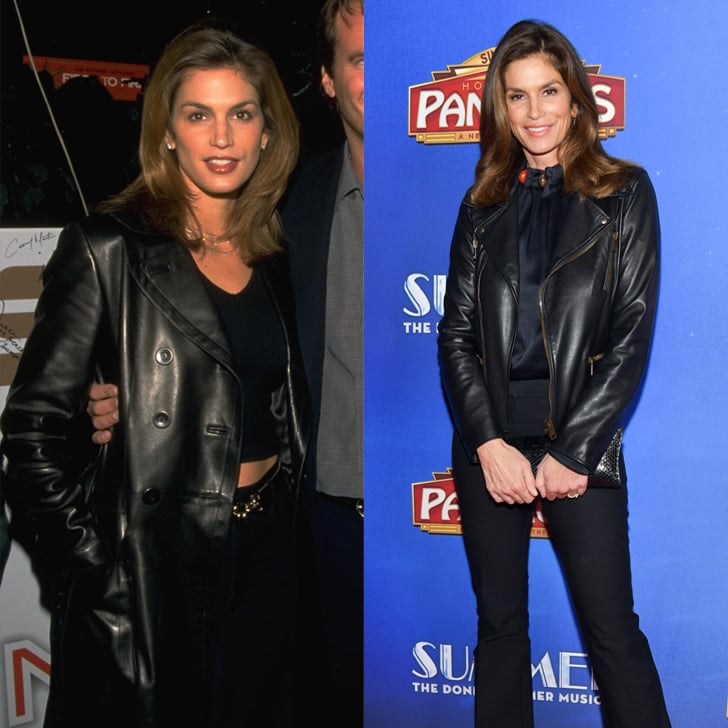 A Leather Jacket Is a Must Have
A good quality leather jacket is a staple for all your Fall looks. Cindy has been rocking various leather jackets with both daring and subtle outfits since 1998.
03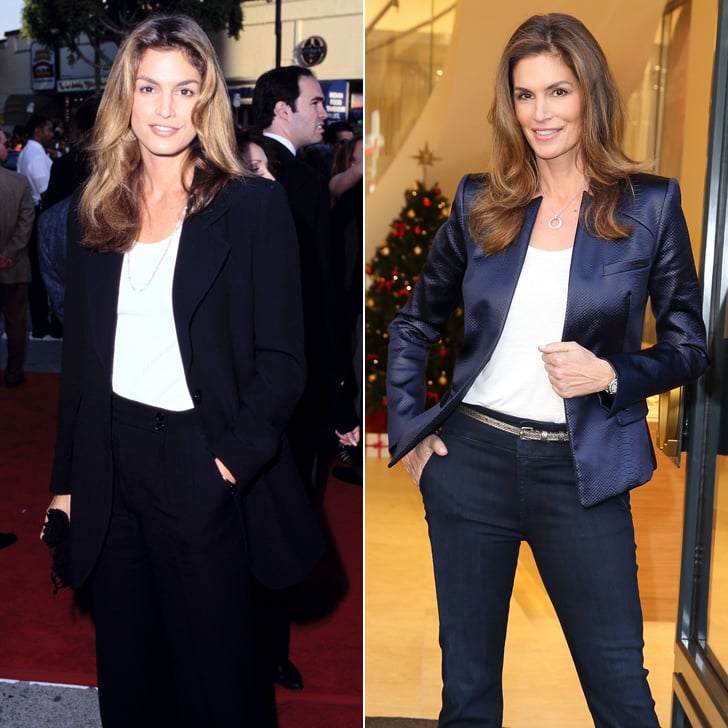 White Tees Are Your Friend
For the all-American supermodel, what could be more essential than a white tee? Cindy proved her devotion to the staple at the Batman Forever premiere in 1995 and again at an Omega event in 2014.
04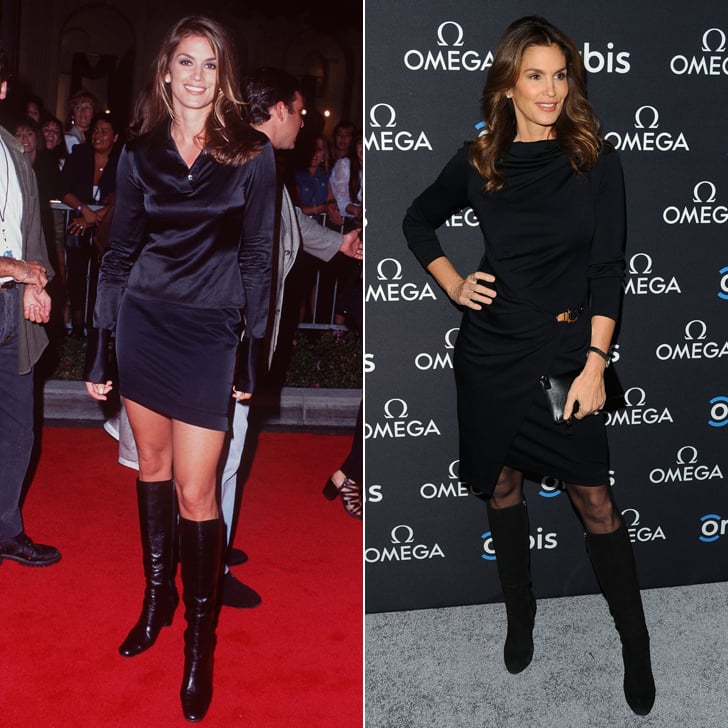 Knee-High Boots Are In — Always
Cindy pairs her knee-high black boots with just about anything! She donned one pair for a party in 1995 and another for a movie premiere in 2015.
05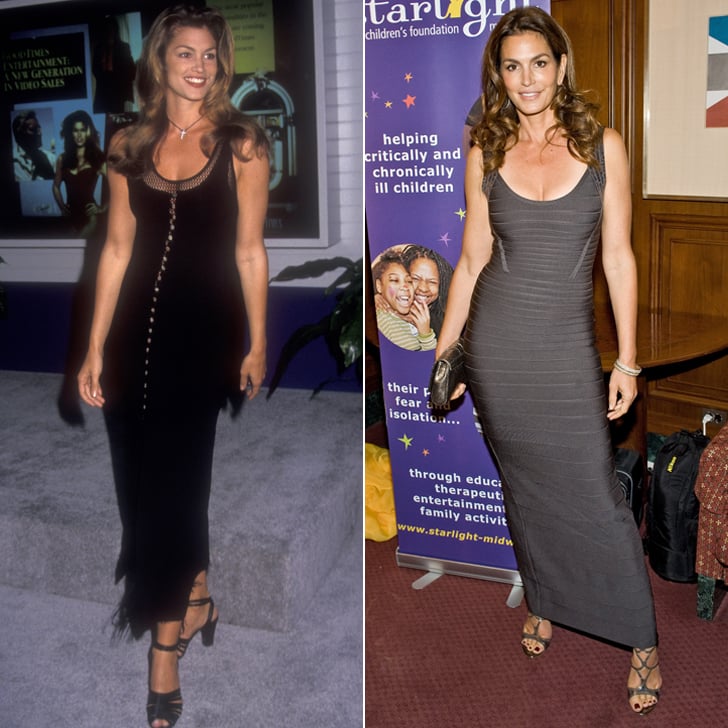 Black Gowns Never Go Out of Style
A chic black dress is a perfect pick today, as it was in the '90s. Cindy wore two intricate versions, one at 1993's VSDA Convention and another at 2012's Starlight's Annual Gala.
06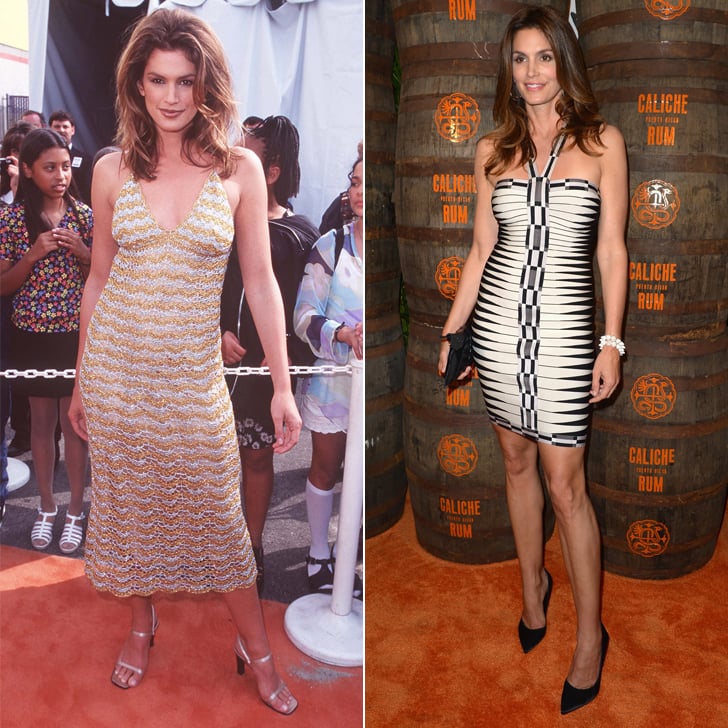 Don't Fear Horizontal Stripes
Cindy proved that horizontal stripes can be done right when she wore the pattern to the Nickelodeon Kids' Choice Awards in 1997 and again to a Caliche Rum event in 2012.
07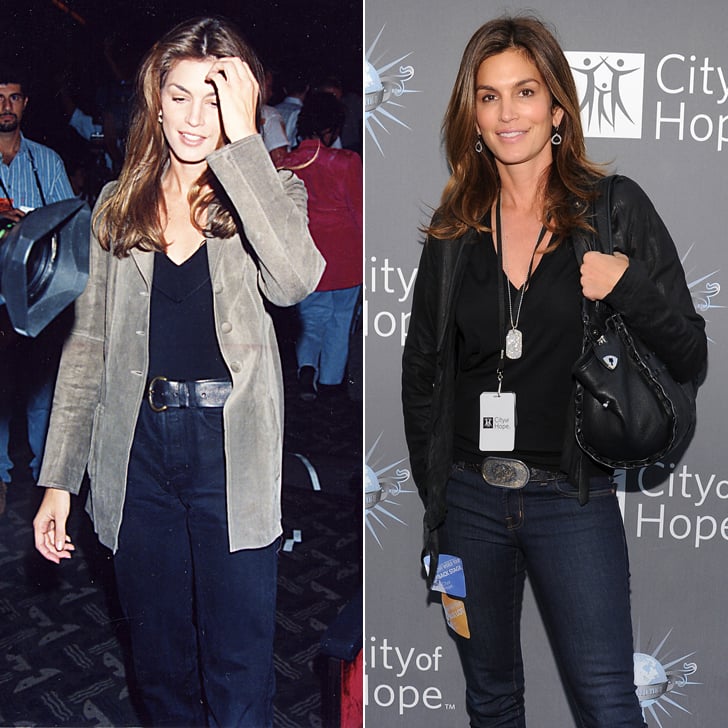 When in Doubt, Belt It
Belts have been a longtime staple in Cindy's wardrobe. She rocked big buckles in 1994 and again in 2011.
08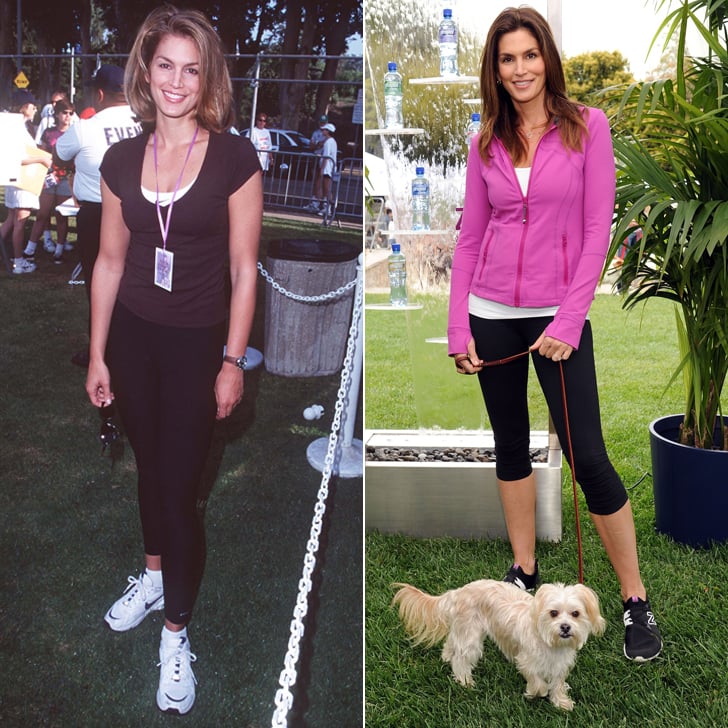 Wear Workout Gear Anywhere
Cindy proudly wore her sneakers and workout clothes in front of photographers in 1997 and once again in 2011.
09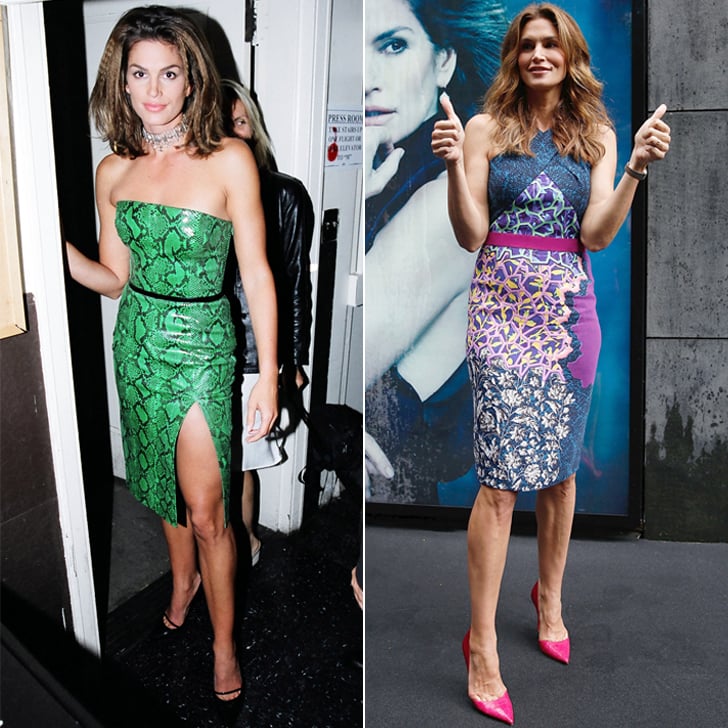 Let Your Prints Do the Talking
Cindy rocked a snake-print dress for the 1997 MTV VMAs and showed her love of prints again in 2015 at an event for Omega.
10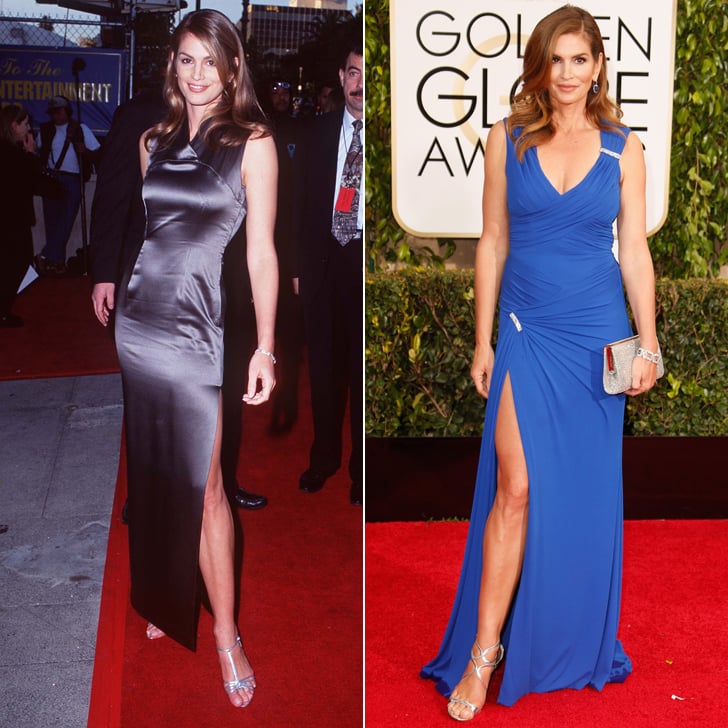 Try a Thigh-High Split
In the '90s and today, Cindy's not afraid to show some leg. She wore a silk dress perfect for striking a dramatic pose in 1996, then donned a similarly slit gown to the 2015 Golden Globes.
11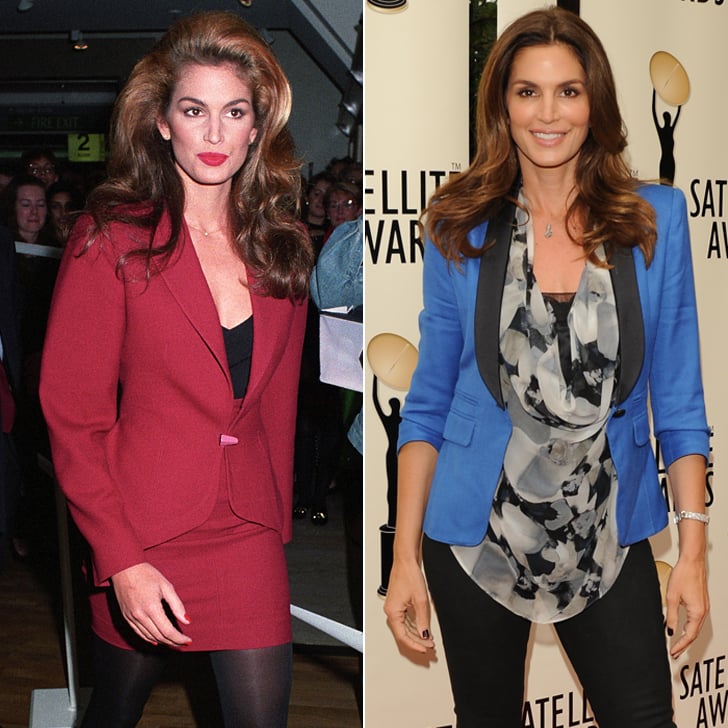 Put a Blazer on It
Cindy's love of a good blazer goes way back to 1992, when she visited Harrods in London. A blazer finished her look once again in 2012 at an event in Hollywood.
12
Turn Heads in Red
All eyes were likely on Cindy when she picked red gowns for formal events, including 1995's Blockbuster Entertainment Awards and 2011's Venice Film Festival.
13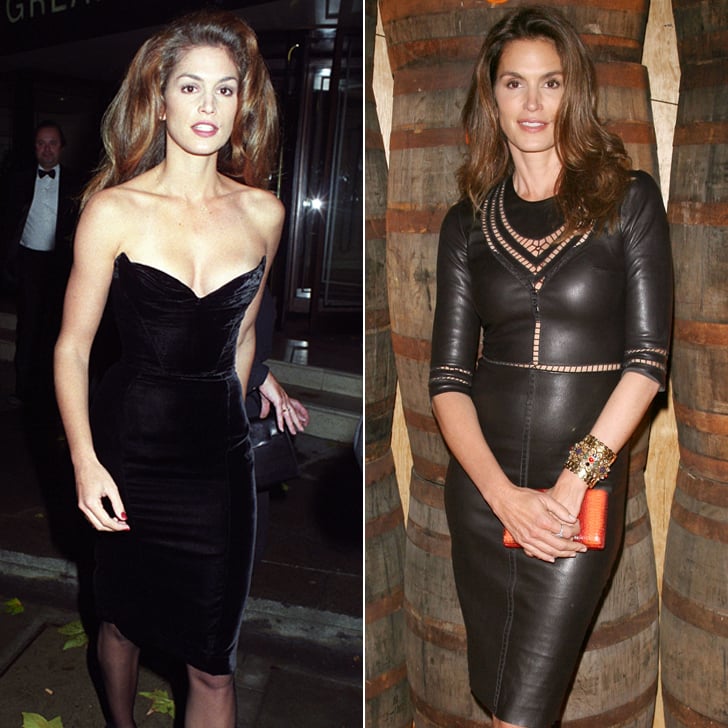 Try an LBD — With a Twist
Cindy's LBDs are anything but basic. She wore a velvet version to the Music Industry Awards in 1992 and a leather piece to a party in 2012.