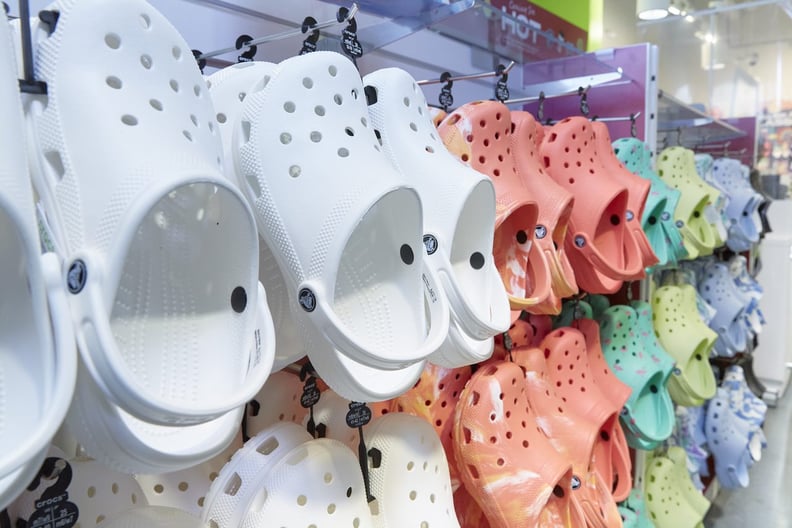 Courtesy of Crocs
Courtesy of Crocs
After donating over 860,000 pairs of shoes globally (valued at $40 million) during the COVID crisis in 2020, Crocs is reinstating its Free Pair For Healthcare program. To kick off National Nurses Week on May 10, the brand is committed to giving away 10,000 pairs of Crocs at Work shoes to front-line workers. For five days straight, caregivers can sign up to request a pair at 12 p.m. ET, and the site will remain open for submissions until the allotment has been filled. The Crocs will continue to be sent with zero charge on shipping.
For some background, Crocs President and CEO Andrew Rees commented on the helpful initiative back when it first launched last year: "Like everyone, we've been closely monitoring the news and working hard to map out a way to most effectively help where we can. Over the past week, we have spoken to healthcare workers, their facilities and even their family and friends, and they have specifically asked for our shoes in an effort to provide ease on their feet, as well as ease of mind as they need the ability to easily clean up before they go home to their families. . . . The healthcare industry has always embraced Crocs, but our mantra of 'be comfortable in your own shoes' applies now more than ever, and we want to do more to help our nation's heroes."
Crocs has also posted continuously about the steps it's taking to help out on Instagram, sharing photos and videos of doctors repping the brand at this crucial time, some of which you can see ahead. It's safe to say that there's no better time to rep a footwear company with such a good conscience. In addition to the program, Crocs has also committed to donating 100,000 shoes to facilities including but not limited to: JobsOhio, the Dayton Area Hospital Association, St. Anthony North Health Campus in Denver, Atlantic Health System, and the Society of Nurse Scientists, Innovators, Entrepreneurs & Leaders.