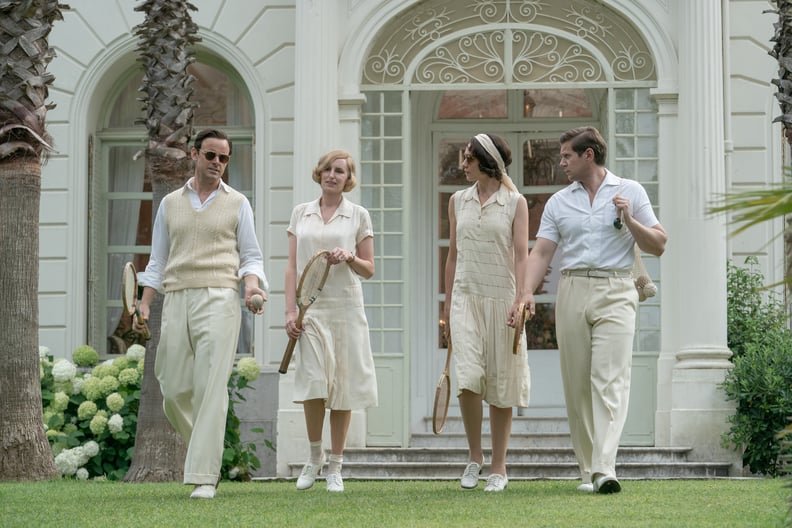 Focus Features | Ben Blackall
"Downton Abbey" costume designer Anna Robbins returns for the second film, "Downton Abbey: A New Era," where fans get to see the Crawleys in a new light. Still just as glamorous as ever, the British family travel to the French Riviera; because, as it turns out, Violet Crawley has inherited a villa. The atmosphere is more relaxed, with the costumes being more free-flowing and lightweight for warm weather (while still maintaining the air of elegance that the characters are known for when they're home at Downton).
Tuppence Middleton, who stars as Tom Branson's new wife, Lucy Smith, in a quintessential 1920s wedding dress, described the sequel to Mirror, touching on the refreshing aesthetic of the costumes. "You see these characters you're used to seeing in really formal situations, in libraries and drawing rooms and dining rooms, and all of a sudden they're on the beach. And that just does something to them. It frees them up," she said, going on to mention her inevitable moment in swimwear, which was quite constricting in the '20s: "There's such a specific shape and fit. So we spent weeks dreading having to be in front of the camera."
For the second film's wardrobe, Robbins, who has long worked with the cast to make rather ornate and often intricate costumes feel natural, focused on the end of the 1920s period, leading up to the 1930s. "It's a glorious era to design for and to find these treasures," she told Digital Spy. "Picking a favorite costume is like asking me to pick a favorite child."
Find out more about Robbins's design process and see some key looks worn by the Crawleys and their staff, straight from the expert, ahead.
"Downton Abbey: A New Era" hits US theaters exclusively on May 20 but could be available to stream on Peacock as early as 45 days after the premiere. Series creator Julian Fellowes has not yet confirmed a third film.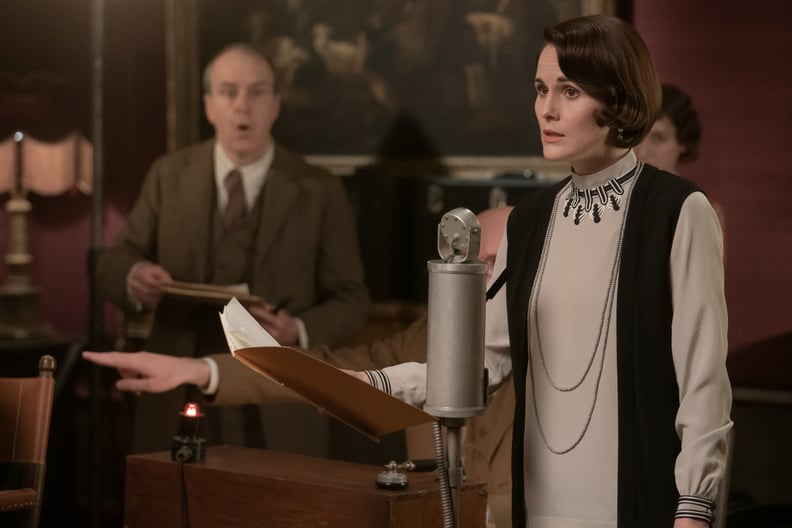 Michelle Dockery as Lady Mary in "Downton Abbey: A New Era"
In the second "Downton Abbey" film, Lady Mary takes on a more modest wardrobe as she prepares to become the dowager. We see her in looks that are less skin-baring and sensual and softer in tone and silhouette. Costume designer Anna Robbins told Hello!, "I looked at reintroducing a waistline to her outfits. During the 1920s, dresses became more linear, then it became a dropped waistline, then as we get to the end of the '20s, we find form in the waist again."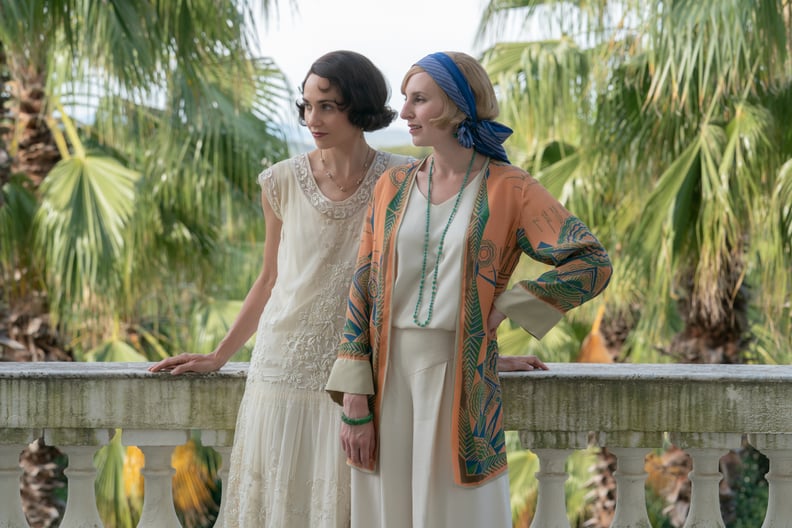 Laura Carmichael as Lady Edith in "Downton Abbey: A New Era"
Lady Edith's wardrobe speaks to the forward-thinking woman she aims to be. Edith craves a lifestyle as a working journalist, and we see that reflected in pieces such as her pants. At the same time, since the family are situated on the French Riviera, clothes are lightweight in free-flowing fabrics to combat the heat. Robbins told Digital Spy the printed peach kimono was a great find: "I knew as soon as I saw it I was going to be able to pair it with trousers and make that sartorial point that she's embracing this incredible new look," she said. "We're making that step forward that says we're about to enter the '30s . . . it should feel as contemporary as it can, while still very accurate in terms of cut and proportion."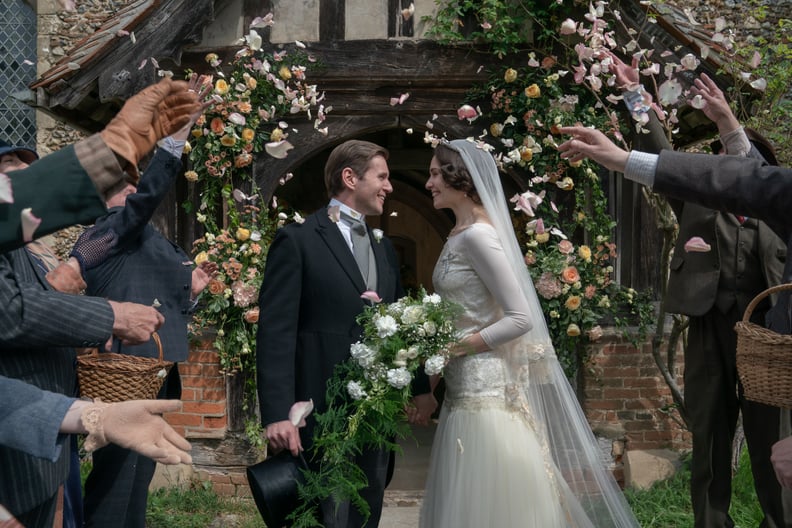 Allen Leech as Tom Branson and Tuppence Middleton as Lucy Smith in "Downton Abbey: A New Era"
Viewers get to enjoy the wedding of Tom Branson and Lucy Smith in the second film, and Robbins described finding the right bridal gown as a labor of love, mentioning it to Hello!: "That goes down as a favorite, but it's hard for a wedding dress not to come into your top costumes." The off-white look features a drop waist with intricate lace embroidery that trims a floor-length tulle skirt. It's also complemented by a vintage veil with an affixed tiara. "It felt cutting-edge for the time. I wanted to get a contrast between the wedding dresses we've seen previously in the series and to give the sense Lucy would be able to lift up her skirt and have a dance," Robbins said.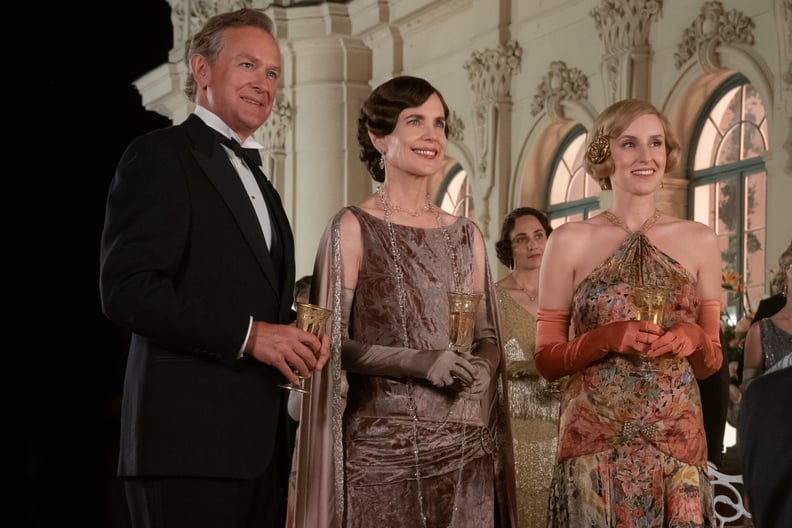 Elizabeth McGovern as Cora Grantham in "Downton Abbey: A New Era"
Robbins honed in on this printed velvet look in particular of Cora Grantham's. It's a dark-taupe, caped design by Fortuny that she styles with satin, opera-length gloves during a key emotional scene at a party. Robbins emphasized the heaviness of the number to Digital Spy, explaining, "It was about finding the right weight of the velvet so that it felt vintage, draping it, and working on the stand to create Cora proportions, making it feel like it was hers."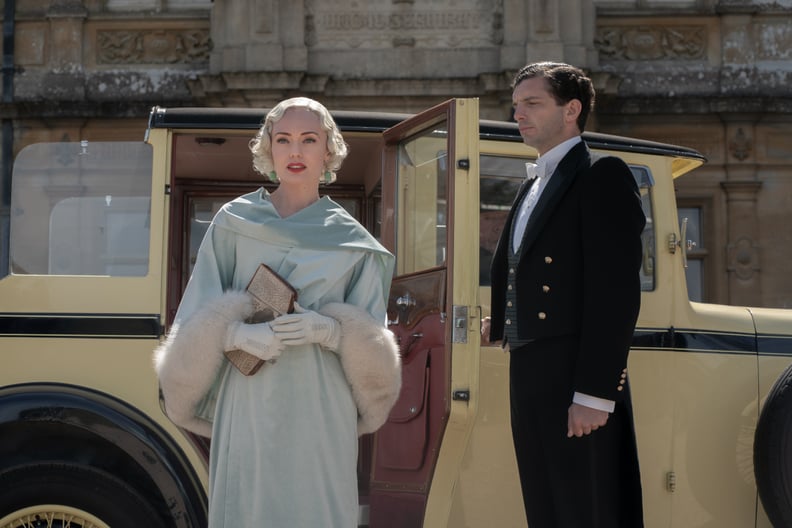 Laura Haddock as Myrna Dalgleish in "Downton Abbey: A New Era"
Myrna Dalgleish is the silent-movie star who comes to Downton for her role in the film that's being shot at the castle. In contrast to Lady Mary, she's the picture of pure glamour this time, sporting long, sweeping gowns of silk with fur trims. While she comes from a working-class background and can relate to many of the Downton staff, her lavish outfits help her construct the person she's trying to become.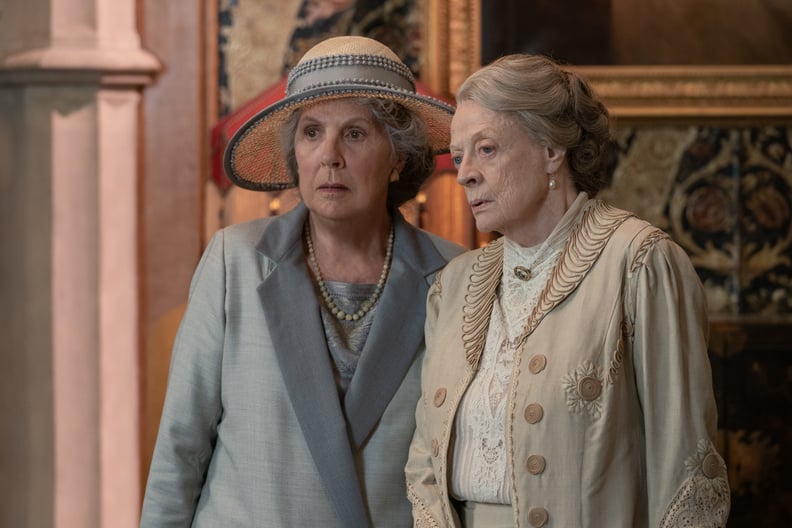 Maggie Smith as Violet Grantham in "Downton Abbey: A New Era"
Violet is largely the focus of the second film, as the Crawleys dissect her past and come to understand her inheritance of the villa they visit. She, too, wears lightweight fabrics, but ornate details such as brooches, pearls, and lace embroidery are a steadfast signature of hers, reflecting that she also has a story to tell.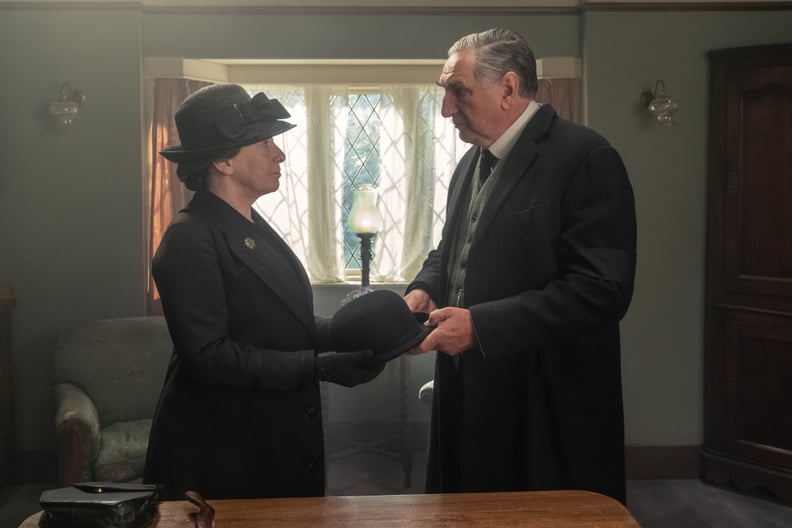 Phyllis Logan as Mrs. Hughes and Jim Carter as Mr. Carson in "Downton Abbey: A New Era"
Mrs. Hughes and Mr. Carson are thrown for a loop as they must break out of their habitual way of life to visit the South of France. It's dark, layered, well-tailored uniforms like these that remind us of their resistance — especially Mr. Carson's — to deviate from their roles as staff.