Making a Statement: Gabrielle Gorman's 4 Fashion Must Haves (Cat-Eye Sunglasses Included)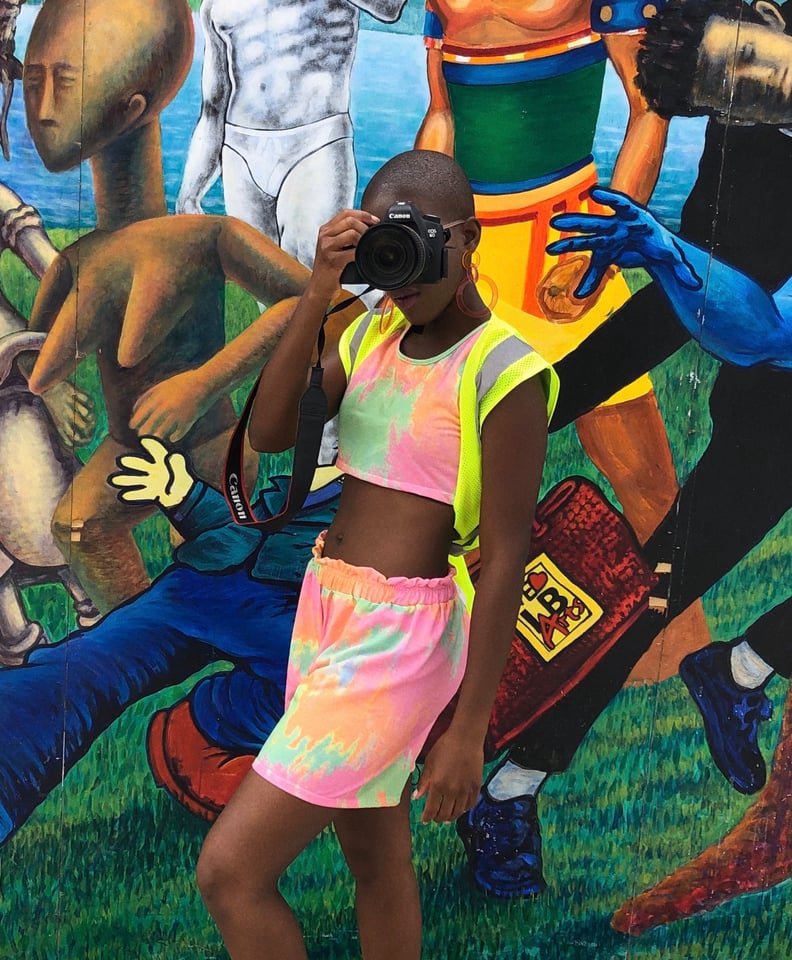 Asha Irani
Asha Irani
Fashion speaks volumes, and Gabrielle Gorman's wardrobe would like you to know that accessories are where the magic happens. Just like her sustainable style icon twin sister Amanda Gorman, Gabrielle has a vibrant eye for fashion, which earned her a position as a digital marketing intern at Toms in the summer of 2019. Beyond marketing fashion content and exercising a trained eye behind the camera, the 22-year-old filmmaker and activist has modeled for sustainable fashion brands, including Fair Season, Roam, Love Faustine, Persephone Vintage, and Sideara. But her true fashion expertise lies in her everyday outfits that reflect her moods and passion for expressing herself through art.
Though a filmmaker at heart, Gabrielle said her first desire was to be a fashion designer, a talent reflected in her fashion choices on social media and in works like her YouTube series "Bell Parks," where she wears a gorgeous Mussecco houndstooth jacket. "That was for the first, I don't know, 12 years of my life, I totally thought I was going to be a fashion designer, which isn't to say that's not going to happen," she told POPSUGAR. "I would love to do that. But yeah, it was the first way that I felt I was able to express myself. I was really quiet and shy as a child, so I did love to play with lots of colors and just different themes and styles, and I try not to regulate myself and just go for what works."
"I could be wearing a T-shirt and some leggings, but you have a good pair of sunglasses, and you're all good."
Today, Gabrielle's style leans more toward the monochromatic, a habit her sister is trying to help her drop. "[Amanda] mostly just tells me to wear brighter colors," Gabrielle said. "She's always telling me that I own too much black. Black is my favorite color and yellow is her favorite color. She's always kind of giving me clothes with more color, and I'll be honest, she has a point there. I think we both look very good in yellow and purples . . . I don't want to give her style advice as much as advice on how to organize her closet. When she moved, I went up in there and organized her whole place, her whole closet."
In high school, Gabrielle says she "would dress like I would say Olivia Pope from Scandal, come in with my jumpsuit and have my heels on and everything, and then I got to college [and] I was like, 'This is not going to work.'" Now, she takes a more laid-back approach to fashion, channeling her creativity through eye-catching accessories like narrow cat-eye sunglasses, bucket hats, statement earrings, and '80s colorblock sneakers.
"[My mom] wouldn't let me leave the house without wearing earrings," Gabrielle said, commenting on one of her favorite accessories. During her sophomore year of high school, she bought her first pair of hoops and became "obsessed with super extreme and exaggerated earrings. I kind of treat them like hair sometimes. I'll oftentimes be playing with them and if I just feel like being dramatic on a FaceTime or something, you'll often see me messing around with my earrings . . . It's also fun when I FaceTime friends to just be wearing sunglasses when I'm inside, outside, and see them laugh the minute I answer the phone . . . I could be wearing a T-shirt and some leggings, but you have a good pair of sunglasses, and you're all good."
An aspiring Chanel ambassador, Gabrielle continues to experiment with her style on a daily basis and hopes to make her mark on the fashion industry one day. "I love also just seeing people challenge gender roles and gender stereotypes in fashion, and that's something I'm learning to do more of. I'm a very feminine person, I would say, if not hyperfeminine, but also I love wearing sweats, big T-shirts, a hoodie," she said. Gabrielle added that she would even consider starting a hoodie line of her own someday. Until then, one of her favorite fashion staples is a fluffy FILA hoodie from Costco. "It's like getting a hug all day." See some of her best Instagram style moments ahead.