Guo Pei, Creator of Rihanna's Gold Met Gala Gown, on Finding Inspiration
"Clothing happens to be architecture of the body," Guo Pei's quote reads on a wall of the Legion of Honor in San Francisco, where 80 of her dresses are on display until November. The "Guo Pei: Couture Fantasy" exhibition unfolds like poetry; just a quick walkthrough will grip viewers with her level of artistry. To describe Pei simply as a fashion designer falls short of capturing the grandeur and technical prowess of her work. Borrowing freely from a multiplicity of sources — be it China's imperial past or the natural world or European architecture — Pei creates exquisitely crafted garments that intersect with fashion, performance art, and sculpture. And some of her pieces — like the Da Jin dress on view at the exhibit — take tens of thousands of hours to execute.
"Clothing happens to be architecture of the body."
"I'm very lucky that I'm destined to make clothing," she tells POPSUGAR. Pei's journey to becoming the second Chinese designer invited as a guest member of the Chambre Syndicale de la Haute Couture (the French authority for couture) has been remarkable. Born in Beijing, she developed an early passion for embroidered clothing through her maternal grandmother, who told stories about her upbringing during China's final imperial era. She spoke of richly embroidered Chinese court dresses, which contrasted with what Pei was seeing back then, as embroidered clothing was forbidden during the Cultural Revolution. "At the time, there was no color in garments, everything was plain," Pei says. Her fascination with beautiful clothes deepened when she began sewing with her mother, whose glaucoma made it impossible for her to continue making clothes for the family.
Pei later enrolled in China's first-ever fashion program and spent a decade working at name-brand companies. Still, she longed to create embroidered clothing, so she eventually set out to revive the art on her own. As it was no longer taught to girls by the 1930s, she traveled to different villages to source artisans, eventually launching her own practice, Rose Studio, in 1997. Today, it employs 450 craftspeople, 300 of whom are embroiderers.
Many know her as the creator of Rihanna's gold embroidered gown at the 2015 Met Gala, but Pei was an acclaimed designer long before that moment. The couture designer has successfully parlayed a love of fantasy, architecture, and spirituality into an illustrious career, marked by her technical innovation and global perspective.
"Inspiration, I believe, is an accumulation of love towards life."
Pei's well of inspiration still hasn't run out. "Inspiration, I believe, is an accumulation of love towards life," she said. The legendary designer speaks to POPSUGAR about her childhood, the evolution of fashion in China, and her hopes for the future of the industry. Read ahead for the full interview, lightly edited for clarity.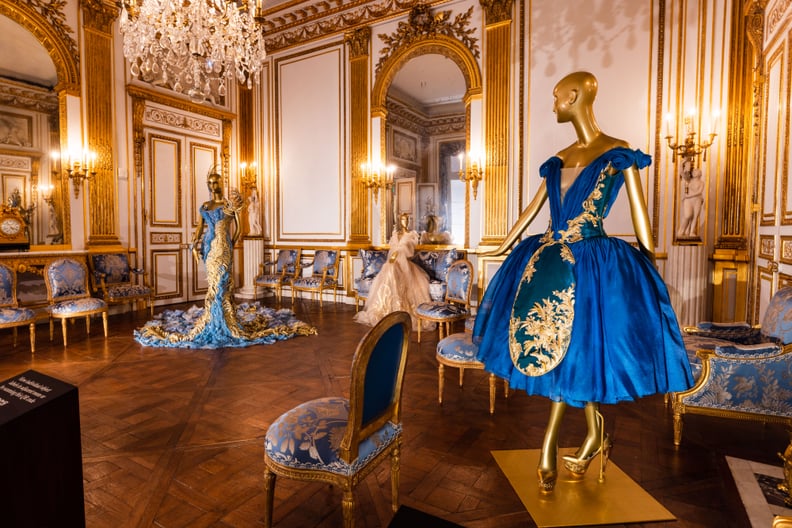 On the Meaning of Couture
POPSUGAR: Your craftsmanship is undeniable. Your work could better be described as art worthy of being displayed at a museum. How do you define couture?
Guo Pei: I feel that couture shouldn't just be clothing. It's an artistic expression. When I design clothing, I always think about how to express our humanity and spirit instead of showing the exterior only. I believe beauty is the highest point of humanity and art is a way for people to express their dreams. I hope that people, when they look at the exhibition, they're not only thinking, "How would this particular piece of design fit on my body?" But think of how they want to use my love and language, which is design, to narrate their understanding and cognition of the world. I hope it can incite people's emotions.
Authors, when they first start to write, they use words and in time those words became a way to exchange their thoughts in life. We have poetry, for example, and these are all artistic language for people to express their thoughts and ideas. Clothing, I believe, can do the same thing. Ready-to-wear shows the exterior beauty, but couture is different. It looks inward.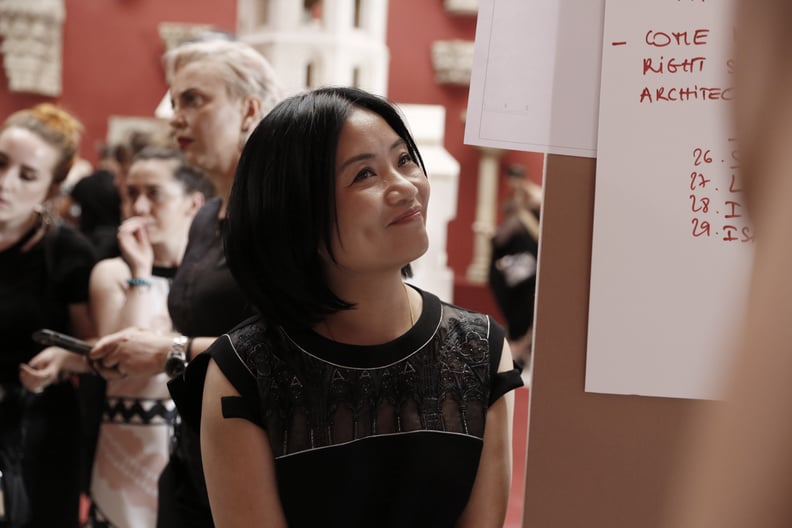 On Her Early Relationship With Clothes
PS: Tell me about your early relationship with fashion. I know your grandmother was a big influence growing up and she inspired your love of the craft. How did you develop this passion and hone your vision as a designer?
GP: As early as 2 years old, I remember my maternal grandma telling me about the beautiful clothing from her youth. She'd tell me about flowers and butterflies embroidered in those clothes. At the time, there was no color in garments, no ready-to-wear clothes. Women, like my mother, made clothes [i.e., paddock blankets] for their family. But she had glaucoma and couldn't see very well. She had trouble even putting the needle through the thread, so I always thought about how to help her when I was growing up. So that was a big impetus. But my grandmother planted the seed early on.
As a young girl, I also remember this instinct of wanting to look beautiful. One day, when I was in fifth grade, my mother had this fabric that she thought was so beautiful. She wanted to save it, but I took it and made a blouse out of it. I didn't really know how to sew. So all the lines were crooked. Still, as soon as I was finished, I wore it out and all my neighbors gave me compliments. That was an early affirmation.
By the time I was 15 years old in 1986, I was getting ready to take the high-school exam and saw that there was a fashion-design major. It was unbelievable because the year 1982 became the first time China had a profession for people like me. I became the earliest fashion-design student and therefore the first fashion designer in China.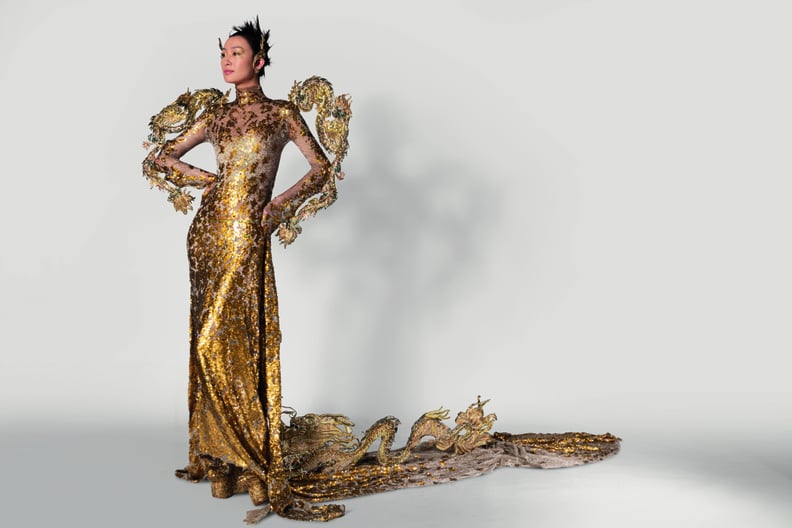 On Fashion's Evolution in China
PS: How has the fashion industry evolved in China? Did the pandemic affect the ready-to-wear or couture market in any way?
GP: The country was at first very guarded, but over the last 40 years, they've finally opened up to new ideas and subjects. The emergence of fashion and style really only took place in the past two decades, when people started understanding the concept of fashion. Haute couture then started gaining popularity. But would I say that the Chinese consumers today understand it? I believe not. They may think that haute couture is anything that's expensive or anything that's custom made. They don't understand what I'm designing. They thought, "Guo Pei's style is weird. Why would she design such clothing?"
If it's not wearable, you cannot sell it. If you cannot sell, it's not profitable. In their mind, life's mission is to make money. Otherwise, there's no need to devote yourself in that field. Money is still very important in China. But I trust that people will come to realize that beauty is the ultimate goal because life is not just about wealth creation.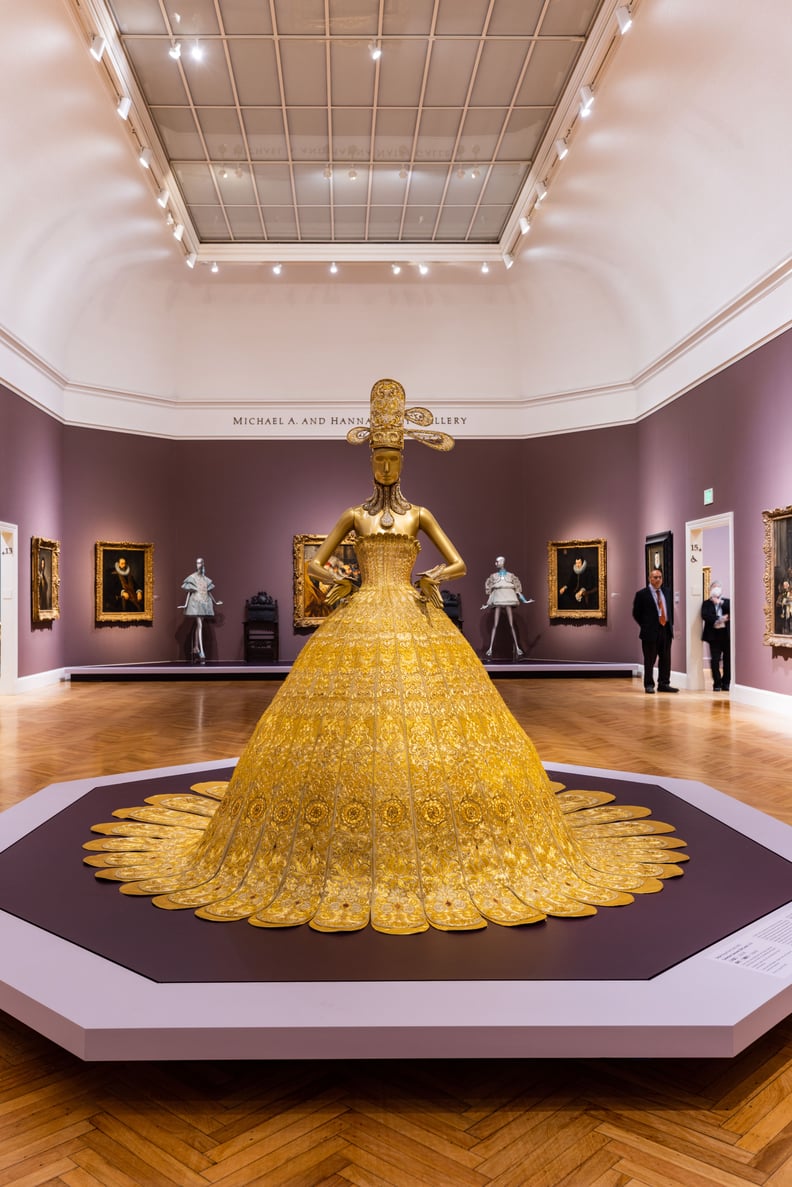 Around 2006, after my show "Magnificent Gold," I created an exquisite dress that took 50,000 hours to make. Many people didn't understand it, but some actually were stunned by my imagination. I recall that I was offered five million renminbi for it. That was a lot of money in China back then [2005]. I thought a lot about it, but I eventually told the person that I wasn't willing to let it go. Then I asked myself, "If I became very wealthy, what would I want to do? What is my ultimate dream?" The answer was, "I would still make clothing." And since I was already doing that, I didn't want to sell myself short.
I didn't sell because I was already on the path of realizing my dream. Money is just a tool, a means to an end. I think in China, many mistake the means to an end for the end itself. I have always been happy because I'm doing what I love. I'm not willing to sell any of the designs displayed in the exhibition, because they aren't tools for me to make money. Because of this, I have the liberty to design my way. I design with my sincere passion to create love. And all of the details you can see in my design represent love.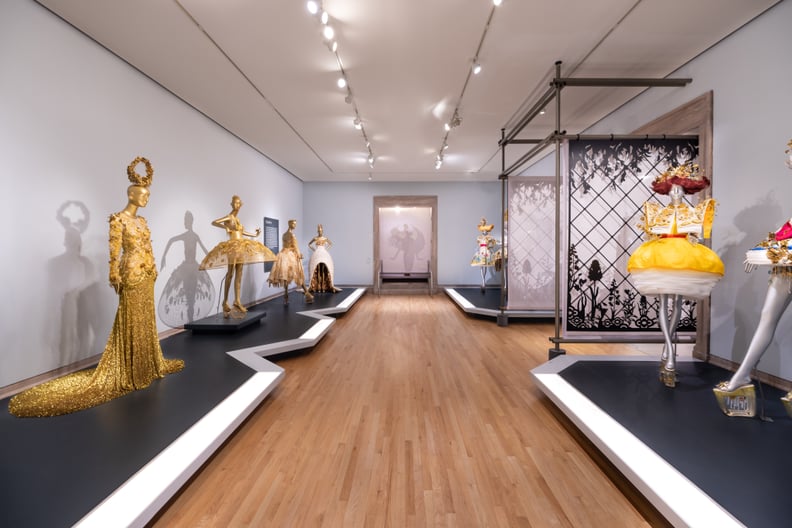 On Finding Inspiration
PS: Having worked in the industry for so long, what still inspires you? And how much of your cultural heritage still plays into each new design?
GP: Inspiration, I believe, is an accumulation of love towards life. When I was younger, I had no life experience, so to find inspiration, I had to go everywhere, look at architecture, and travel. The search for inspiration as an artist is a very important part of the creative process.
Now, I just turn within myself, because inspiration comes from love. Whenever I feel moved by something, I have to share that with people around me. In 2017, I had the show in Paris titled "Legend." I got the inspiration from a very small town called St. Gallen in Switzerland. Right before leaving, I had the opportunity to visit a small church. And that church inspired me so much. If I had to die there at that moment, I would have been perfectly happy. That was the feeling of being inspired.
Today, I no longer get inspiration from the exterior. I look within. I look to spirituality. I look to that inner force. We have to open our eyes in order to see that world. Lately, I feel that my inner world is expanding. I no longer rely on the world that I can see with my naked eye. I may not fully comprehend that spiritual world, but that's where I get my inspiration. And there are three different parts of inspiration. We can get it from our body, thoughts, and soul. The soul is eternal.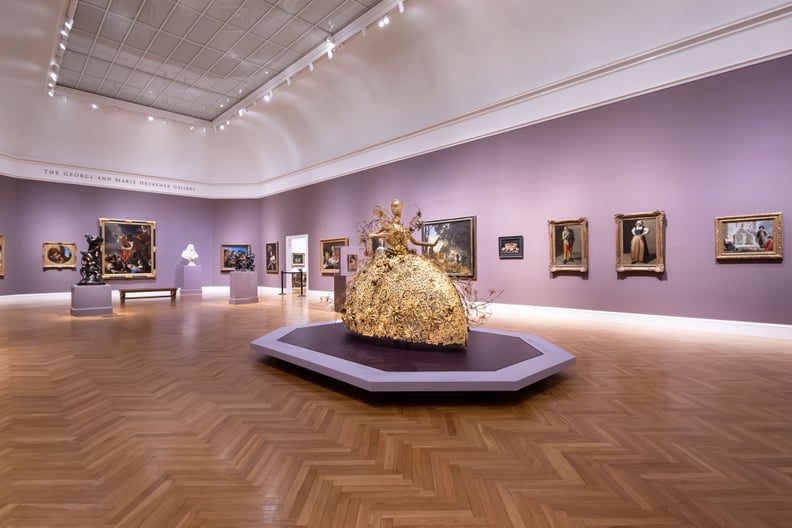 In terms of my cultural heritage, I want to emphasize that what constitutes Eastern and Western culture is subjective. Because culture has no border. If you reach the highest point of humanity, you realize that we are all the same. Growing up in China, my culture came from what I know and what I had been fed. However, as I mature, I can get inspiration from other countries, other races, other ethnicities, and other people.
For example, the St. Gallen church I mentioned has inspired me to become who I am today. And I can only express that inspiration using my cultural language, which is a part of me. So my design, when viewed by a Westerner, is Eastern culture. I cannot take China out of my design, out of my language, because that is my blood to my system.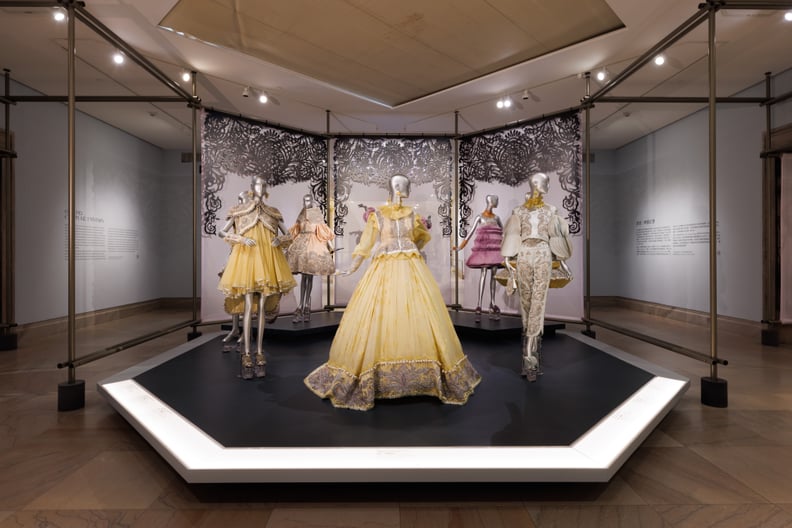 On Her Hopes For the Future of the Fashion Industry
PS: What do you hope for the future of the industry, given the conversations emerging from the pandemic, the climate crisis, and racial-justice movement?
GP: I believe it's our responsibility as designers to use materials that are sustainable. It's not something that we should only think about right now.
Fashion and style are languages that humans use to express the thoughts of today. These are things we can look back on, a way for the people to record their memory of the times. And it is the responsibility of all the artists to think about those things when they design.