H.E.R.'s Grammys 2022 Look's Meaning, Styled by Wouri Vice
H.E.R.'s Stylist Says Her Grammys Look Is a Tribute to This Music Icon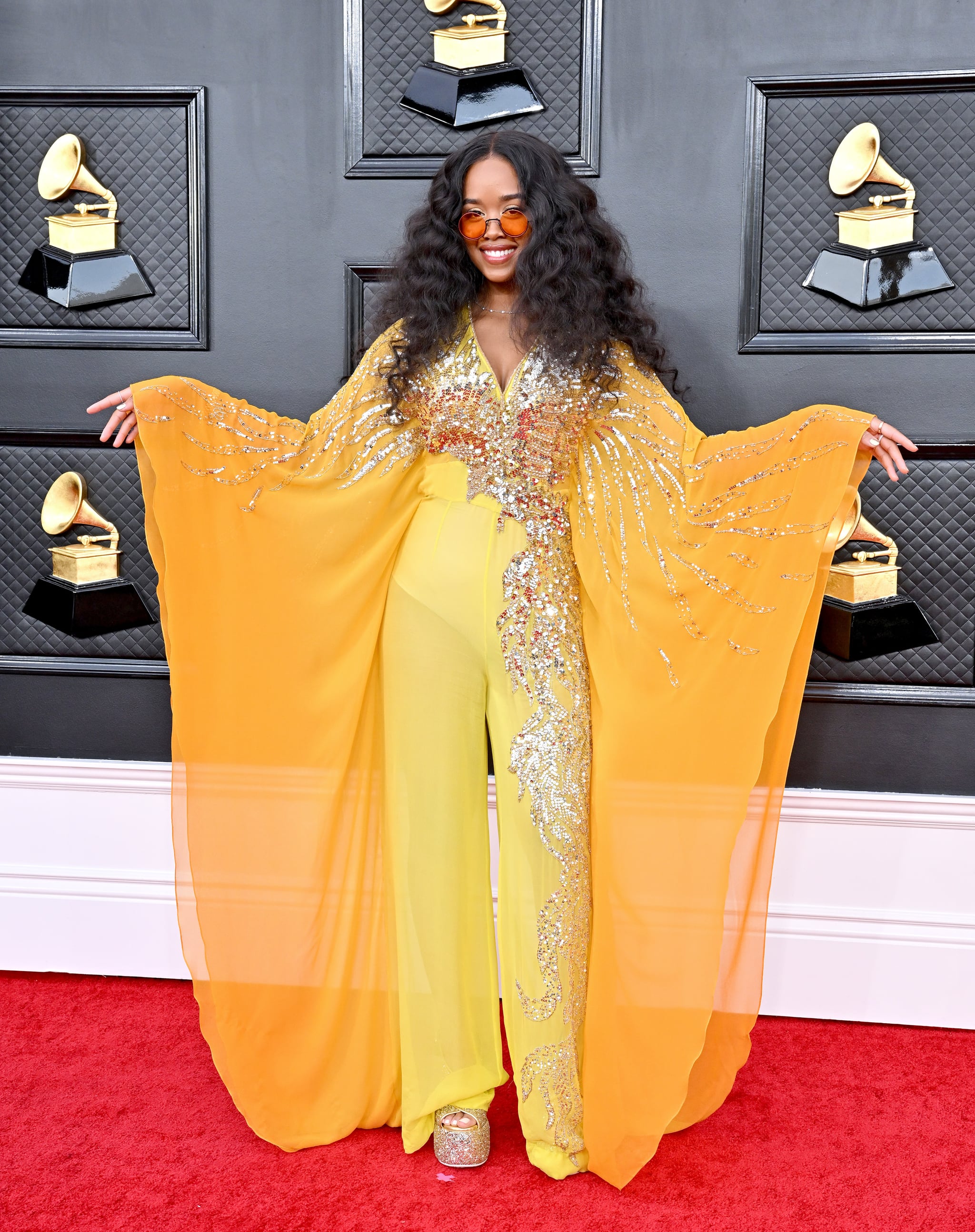 You learn a lot about someone after working with them for seven years. Wouri Vice would know — since 2015, he's been the figure behind the many looks of H.E.R. née Gabriella Sarmiento, whose style evolution has gone from casual teen wunderkind to fashion-forward superstar. "Honestly, anyone I work with, I allow them to grow within themselves," Vice tells POPSUGAR. "With H.E.R., it started with sneakers and sweatsuits. I was just occasionally bringing pumps so she could be inspired by and see them."
If H.E.R. liked the heels, she was free to wear them. But Vice never pressures clients into getting overly dressed up if it doesn't feel natural. "If you don't know, no worry," he says. "But there's always that peak of curiosity for people — like, 'Let me just see what it looks like on myself.'" It's that empathy for the individual style journey — the one a person must go on in order to really understand how they want to portray themselves to the world — that makes Vice's work so rewarding. He'll make you look good and support your personal development at the same time. "It's all subjective to the person and where they are in their journey," he says. "I never want to force somebody into a look. I want you to feel your best because that's going to ultimately be the best of you."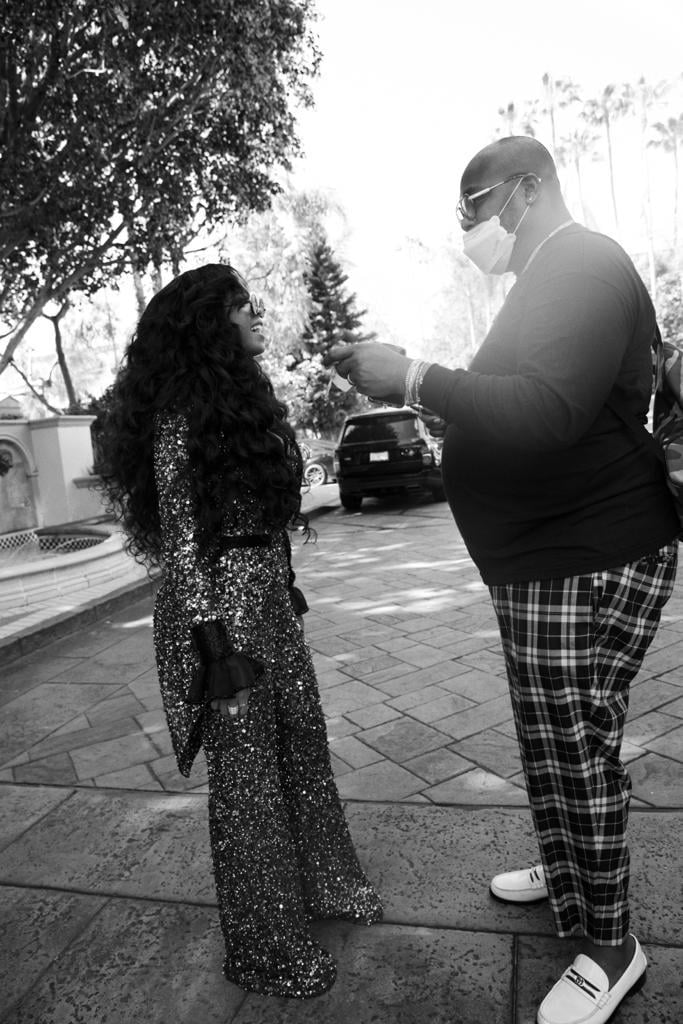 With H.E.R., the noticeable shift in her wardrobe happened when Vice began introducing more footwear options, like strappy stilettos and towering platforms. "It started with the shoes, and as she evolved as a woman, her comfortability changed," Vice says. "It went from sweatsuits to oversized clothing, which happened to be a trend at the time, and you can feminize that in different ways [with] silks, satins, sheer fabrics and things of that nature...to the evolution of wanting to play with her femininity and tighter tops, and occasionally slipping a dress in here and there."
She's going to definitely stand out on the red carpet based on color alone. She always looks like walking sunshine, so it's guaranteed to bring joy.
Most recently, H.E.R. stepped out in two vibrant Carolina Herrera looks: first, a highlighter-pink suit at the People's Choice Awards; then, a strapless neon-yellow dress with a sweeping train at the Oscars. The latter look came together in a matter of days, as attending the Oscars wasn't originally on H.E.R.'s schedule. In fact, she and her team were in Costa Rica and the Dominican Republic for Coldplay's world tour, which H.E.R. is opening for. "It was [a] scramble getting ready for the Oscars," Vice shares. "And then turning around and having to get ready for the Grammys, which we have been preparing for a while. It was like, 'OK, wait a minute, put the Grammys on pause. Got to get the Oscars done. How do we get this done in four days?'"
Despite the logistical hiccups, Vice secured the Carolina Herrera dress just in time for the event. He was excited to go in a different direction and create a memorable sartorial moment during H.E.R.'s brief time on stage as a presenter. "It's something we've never really done before, and the color was just so youthful," Vice says. "I also looked at the train on that dress, and I was like, 'How awesome would it be for you to just walk out, let the wind catch your train, and let it billow?'"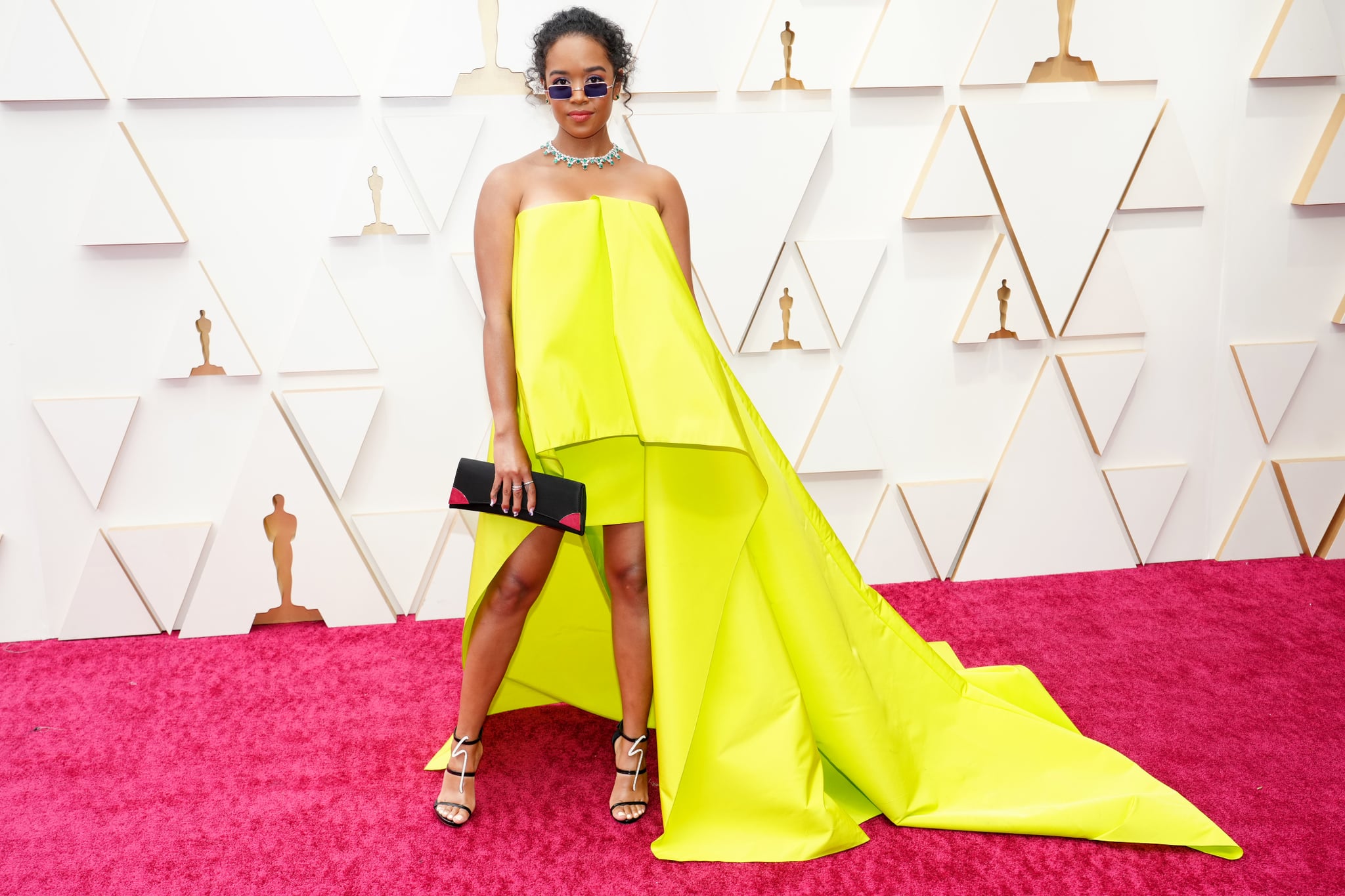 H.E.R. rounded out her red carpet season with an appearance at the 2022 Grammys, where she's was nominated in eight categories, including song of the year for "Fight for You" and album of the year for her first official studio LP, "Back of My Mind." "This Grammys look is one of those moments where you're like, OK, she's evolving. She's doing a thing, and we see it," Vice says. "It's quite evident from where she started at her first Grammys. This look is kind of a combination of her past three Grammy looks, if I could say that. There's a little bit of all of them inside this one look."
Additionally, the yellow-and-orange ombré embroidered sheer ensemble is a sartorial nod to one of music's greatest icons. "We were inspired by Aretha Franklin," he says. "We came back to someone we've worked with before, and what's been created is absolutely beautiful. She's going to definitely stand out on the red carpet based on color alone. She always looks like walking sunshine, so it's guaranteed to bring joy."
The same designer will also be behind H.E.R.'s Grammys-performance look. When it comes to dressing for the stage, comfort is the number one priority, if not for functionality alone. "At the end of the day, she plays five instruments," Vice says. "She needs to be able to transition between those instruments seamlessly and not get tripped up on the hem of her pants or her jacket or whatever."
Onstage wardrobe must allow for the freedom of movement necessary to deliver the caliber of performance that fans expect from the multidimensional artist. "You never know what to expect when someone plays that many instruments," Vice says. "Is she going to do a backbend or is she on her knees playing guitar? Or throwing drumsticks in the air? I try to make sure that she's as comfortable as possible, which is where the original H.E.R. looks still come into play: we get the sneakers and the more oversized clothing because it's easier for her to transition, but it still gives a bit of a vibe."
The 64th Annual Grammy Awards will be broadcast live on Sunday, April 3 at 8 p.m. ET/5 p.m. PT on the CBS Television Network and will be available to stream live and on demand on Paramount+.