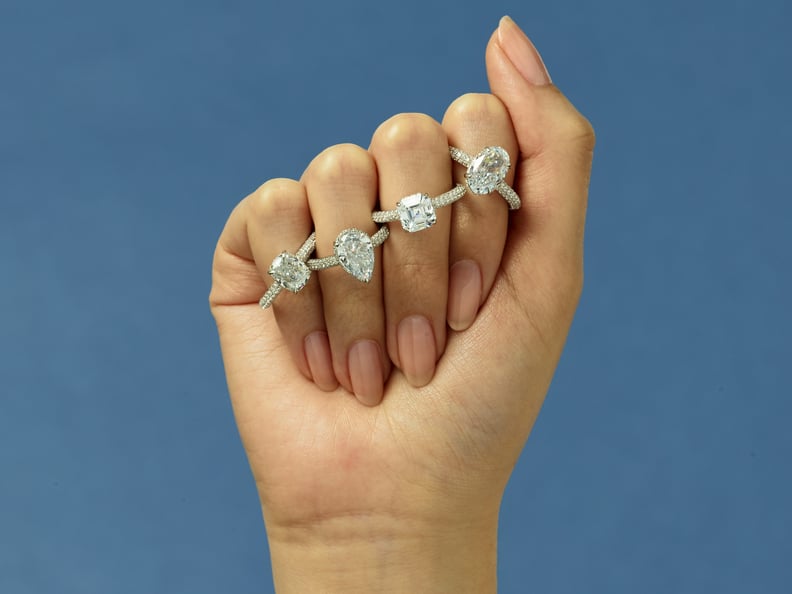 Labyrinth Diamonds
Rings with their circular shapes have neither a start nor finish and are often the symbol of a never-ending union when given as an engagement ring. A ring is a commitment that is meant to last for many years to come, so getting clear on sizing is highly beneficial. But what is the first thing to do when narrowing down your size? And what tools and guides do you follow when measuring your finger yourself, especially while in a pandemic? Ahead, we've tapped several pros — jewelry designers Jennie Yoon of Kinn, Seetal Jogia of Labyrinth Diamonds, Brynne Overton of Valerie Madison, Kristen Lawler-Trustey of Forevermark, and a representative of Mociun — who gave us plenty of tips and tricks for discovering your perfect ring size.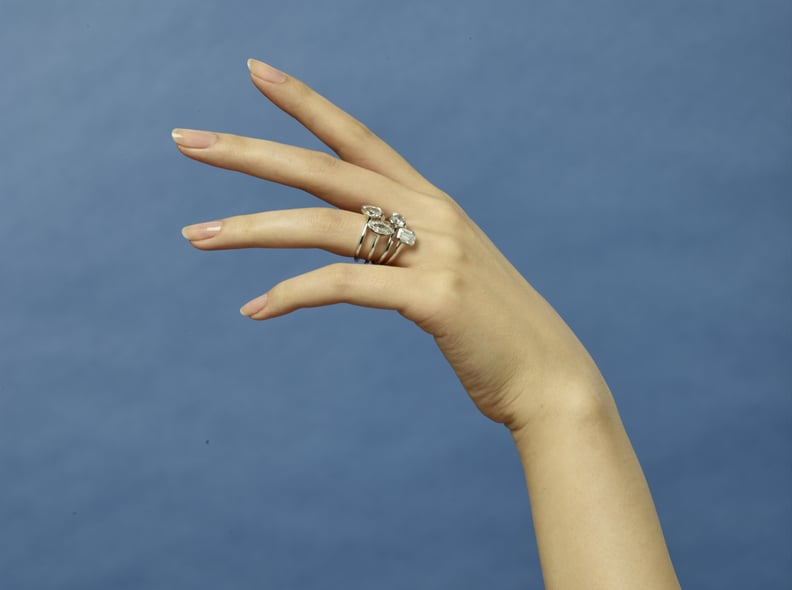 How Is Ring Size Measured?
The size of a finger is measured in millimeters (half sizes are separated by 0.4 mm and full sizes by 0.8 mm) to be as precise as possible. "Most fashion jewelry comes in whole and half sizes only, but in fine jewelry, we can get as fine as quarter sizes (6.75, 8.25, etc.), ensuring you have a really accurate fit," Brynne Overton, digital coordinator of Valerie Madison, told POPSUGAR. That means even the slightest fraction of size can affect the accuracy of the fit.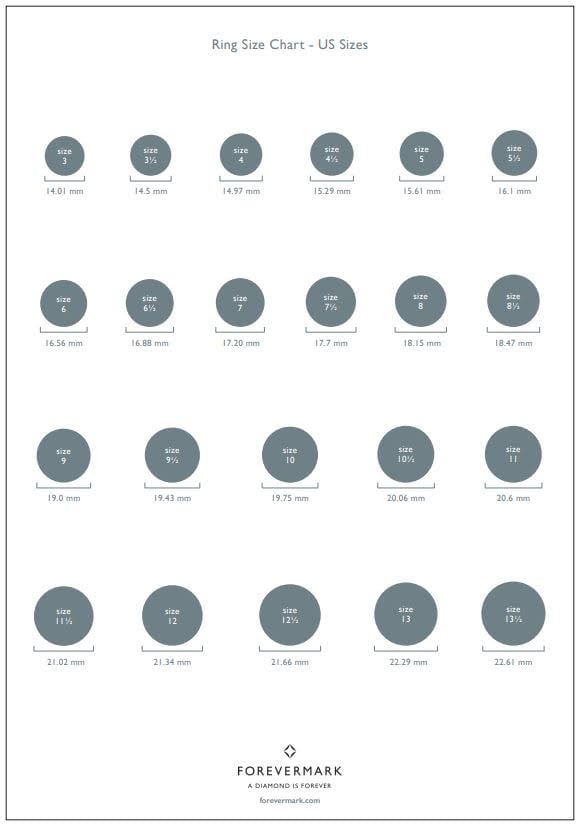 Ring Size Chart
A ring size chart, easily found online or on a jeweler's website, will tell you how many millimeters the ring is, as well as the ring size the measurement correlates to. An easy way to measure your ring size is to start with a ring you already have and know fits you. Place the ring on the paper chart (like the one above) and move it along the chart until you find one that matches up with the inside circumference of your ring.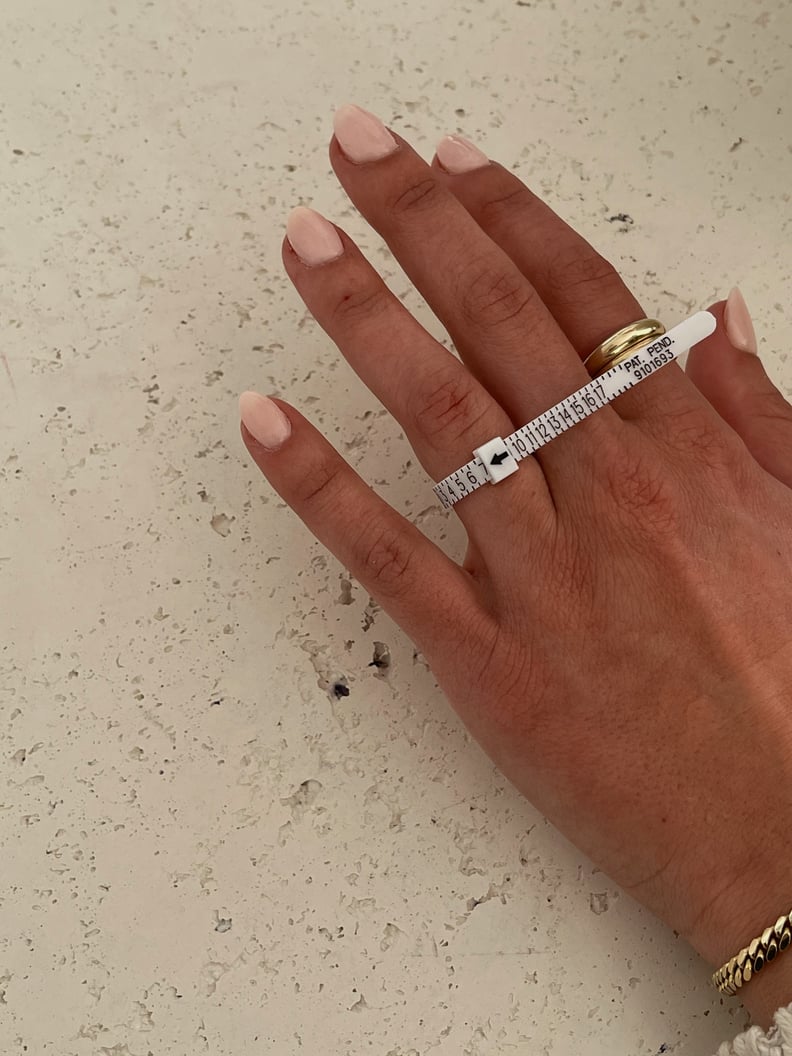 How to Find Your Ring Size at Home
Aside from the paper ring size chart, one of the most accurate at-home sizing methods is a ring sizer. Ring sizers can be found online for as cheap as $4. The process is quite simple: "you feed one end through the other like a loop," said Seetal Jogia, founder of Labyrinth Diamonds. "The calibrated gauging system (with all the numerical values) is placed on the finger and tightened to a certain amount to see how easy and difficult it is to move it back and forth."
Experts suggest taking a few measurements throughout the day to see if there is any fluctuation. "We tend to retain water differently — some people more than others, whereas some people are more sensitive to external parameters. Generally speaking, the afternoon is the best time to measure as the body is at an equilibrium and room temperature," Jogia said.
There is a myth that you should measure your ring size using floss or a thin string, but Jennie Yoon, founder and designer at Kinn, urges clients not to use that method. "The majority of pieces, especially engagement rings (at 1.5 mm), are thicker than floss, so the measurement wouldn't be accurate," she said.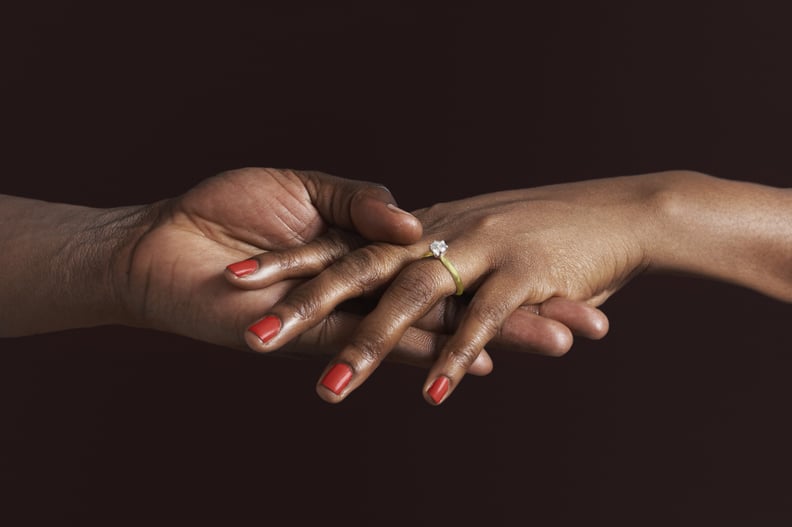 How Should a Ring Fit?
A ring that fits well will comfortably glide over your knuckles and be slightly tight around your finger. According to Jogia, there should be some friction putting the ring on and taking it off. If it easily comes off by moving your fingers, it's too loose. A representative at Mociun believes the ring should not spin around your finger: "a good fit will ensure a stone doesn't slide to the side or back of your finger."
Yoon suggests avoiding what she calls a muffin top. "You want to avoid the ring pinching you in any way, causing a muffin top: where the ring is a little too snug so that it looks uncomfortable." Overton said rings should not cause pain or require water or soap to remove. "A really great test for this is that another person should not be able to remove your ring from your finger with ease."
If you notice you have a more pronounced knuckle in the middle of your finger, make sure you communicate that with the jeweler when sharing your ring size. Chances are the jeweler will go up or down by a quarter size, creating a better fit for you. Overton also reminded us: "A wider band size means more metal, which will affect how the ring fits. Any band that's roughly 4 mm and up might need to be sized up by a half to full size to accommodate movement and the extra metal on your finger."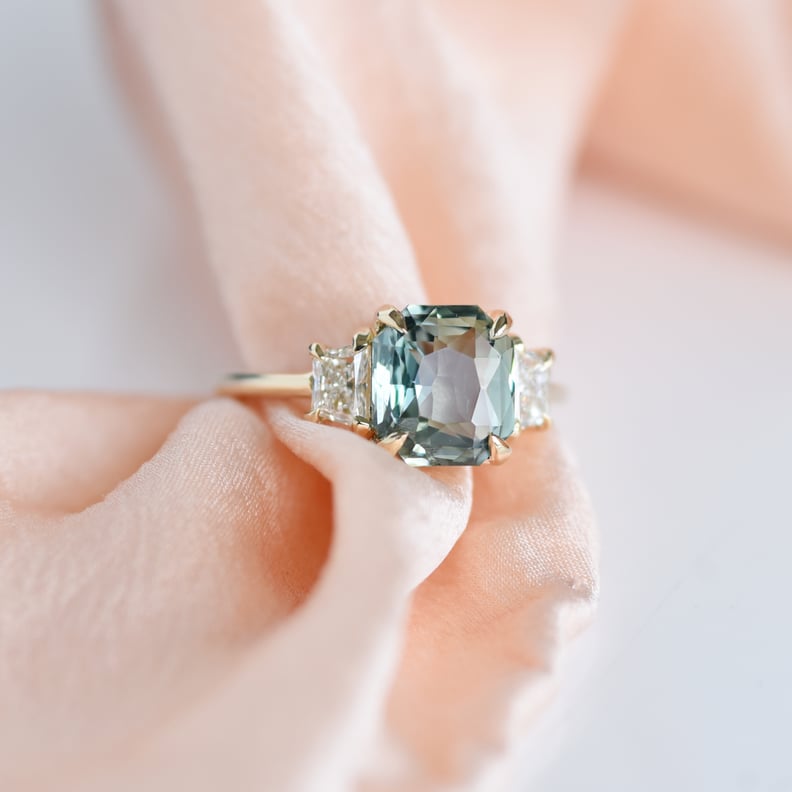 Will Ring Size Change With Weight Loss?
Although our experts can't guarantee weight loss will affect the size of your fingers, if you happen to notice a change in your fingers, don't stress! Once you're sure the weight loss is fairly permanent, "take your ring size again and then take your heirlooms to a fine jeweler and have them resized," Overton said. If you are not yet in possession of the ring and embarking on a weight-loss journey, Lawler-Trustey recommends "choosing a setting that can be easily resized." Remember, you want there to be at least some friction when putting on your ring and taking it off, so when this isn't the case, you should go in for resizing.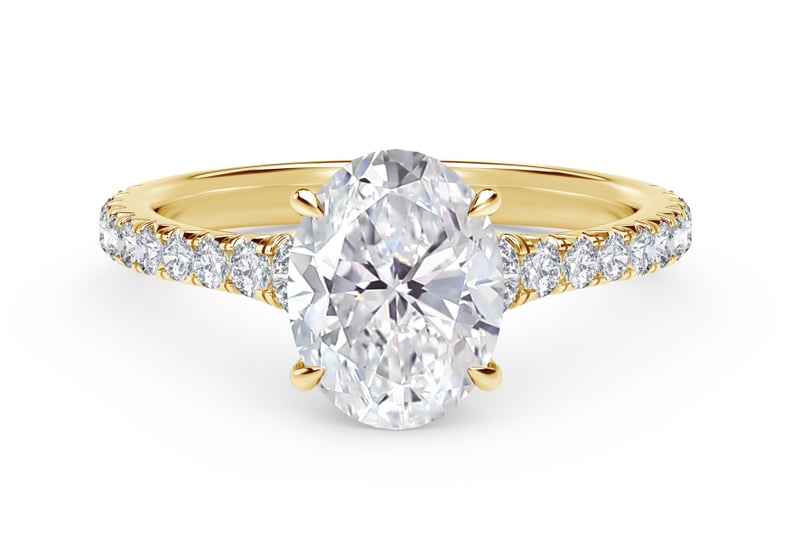 Can Ring Size Be Adjusted?
Rings can be adjusted, to a point. "In order to resize a ring, you have to cut the band and either stretch or fold the ring to accommodate the size change," Overton said. "If you have an infinity band with diamonds all the way around, it's particularly tricky [because] folding the ring can loosen the settings, and stretching can end up crunching the stones a little bit."
In Jogia's experience, most engagement rings can safely be sized up or down two sizes and should never need more alteration than that or the structural integrity of the ring will be affected. "Stones could become loose and potentially fall out. In many cases, you will not end up with a perfectly round ring," he said. If you anticipate needing to resize and you want diamonds on the band of your ring, you may want to opt for a setting with diamonds set just three quarters of the way around. Generally speaking, it's easier to size down than up.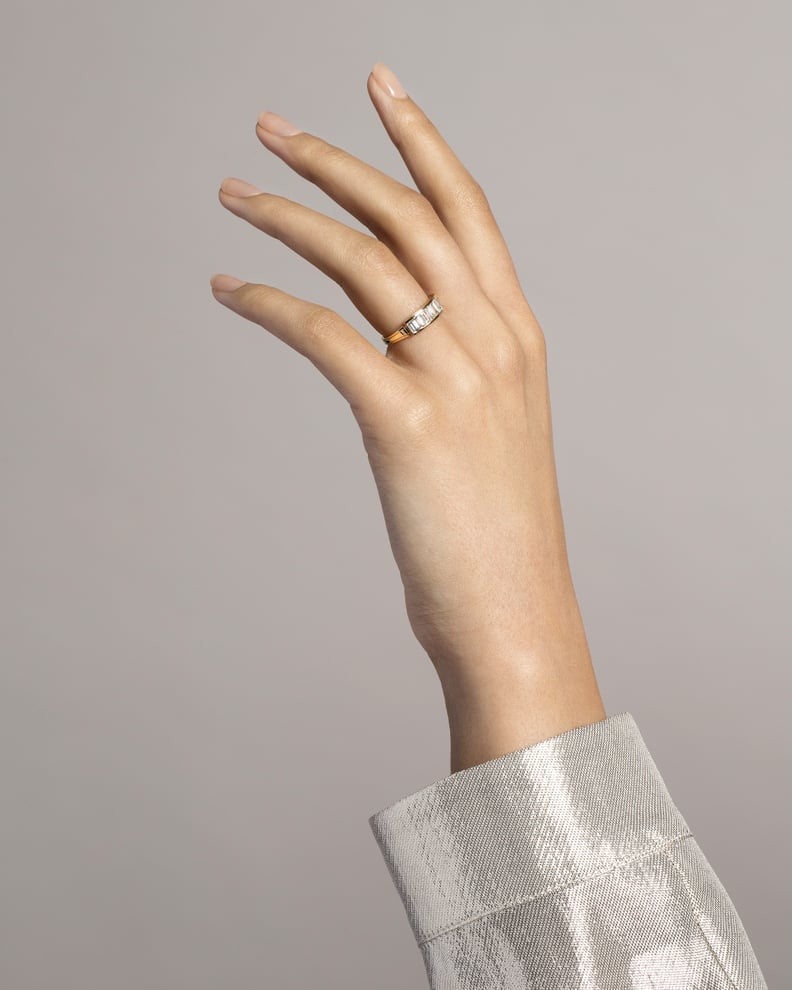 Ring Size For Men vs. Women
Although men typically fall into size 8-10 and women 4-7, ring sizes are based on the same numerical scale for men and women. "A size 8 ring is a size 8 ring no matter where you go," Overton said. The only thing to pay attention to when shopping for a man is the band width. "Men's bands are usually thicker, so [it's] important to remember that if the ring you are choosing is above 4 mm wide, you may need to size up a quarter to half a size," said Kristen Lawler-Trustey, PR manager at Forevermark.