We wouldn't just call First Lady of the United States Dr. Jill Biden "stylish," because that doesn't do her meaningful fashion choices the full and thorough justice they deserve. Of course, we love to see Jill's practical approach to curating a wardrobe — choosing flats over heels for travel days and staying true to her signature taste by keeping scarves, several colorful bracelets, and coordinated face masks with pearls in heavy rotation. Her outfits certainly are approachable and wearable without lacking sophistication. But since her time in the White House, Biden and her team have also rallied behind emerging talent and minorities within the fashion industry as a sign of support, and that's what we really like to see.
Ahead, we're breaking down Jill's most significant fashion moments since Inauguration Day — and night! — when she started off on the right foot by choosing labels that are ethical and eco-conscious (namely Markarian and Gabriela Hearst), without skimping out on all the personality an outfit can provide. Even from the beginning, Dr. Biden has made good on her lesson that art and design, specifically fashion, is for everyone. Scroll down to see the designers she's worn, and even repeated, as first lady.
01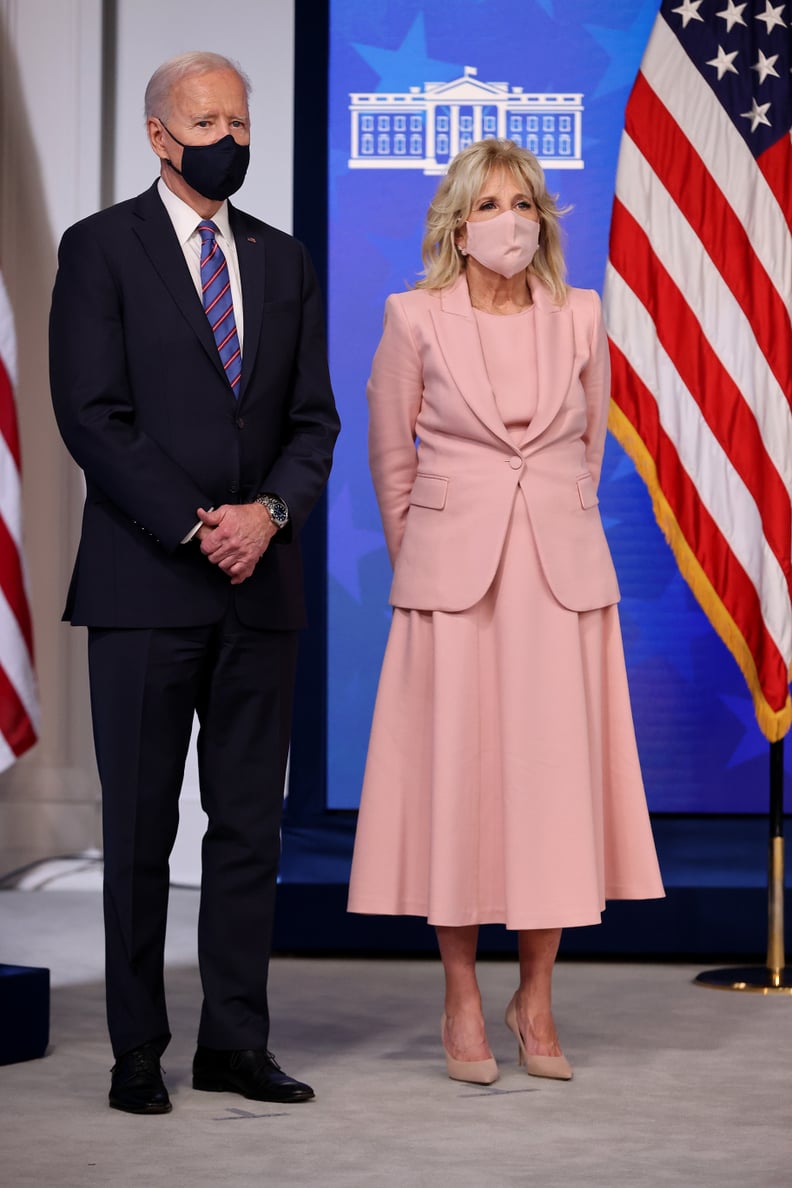 Dr. Jill Biden Wears Lele Sadoughi
On Equal Pay Day in March 2021, Jill and Joe marked the occasion with an appearance in the Eisenhower Executive Office Building in Washington, DC. Jill chose a familiar shade of pink that she's worn before — perhaps due to its feminine tone on a day that is crucial for women — and finished the look with suede taupe Jimmy Choo heels and a Lele Sadoughi pearl face mask that she owns in three colors. Lisa "Lele" Sadoughi started her women-owned accessories brand in 2012 after working for Tory Burch and designing jewelry for J.Crew. The pack of face masks Jill has picked up reflect the significance behind pearls and their tie-in to the celebration of womanhood.
02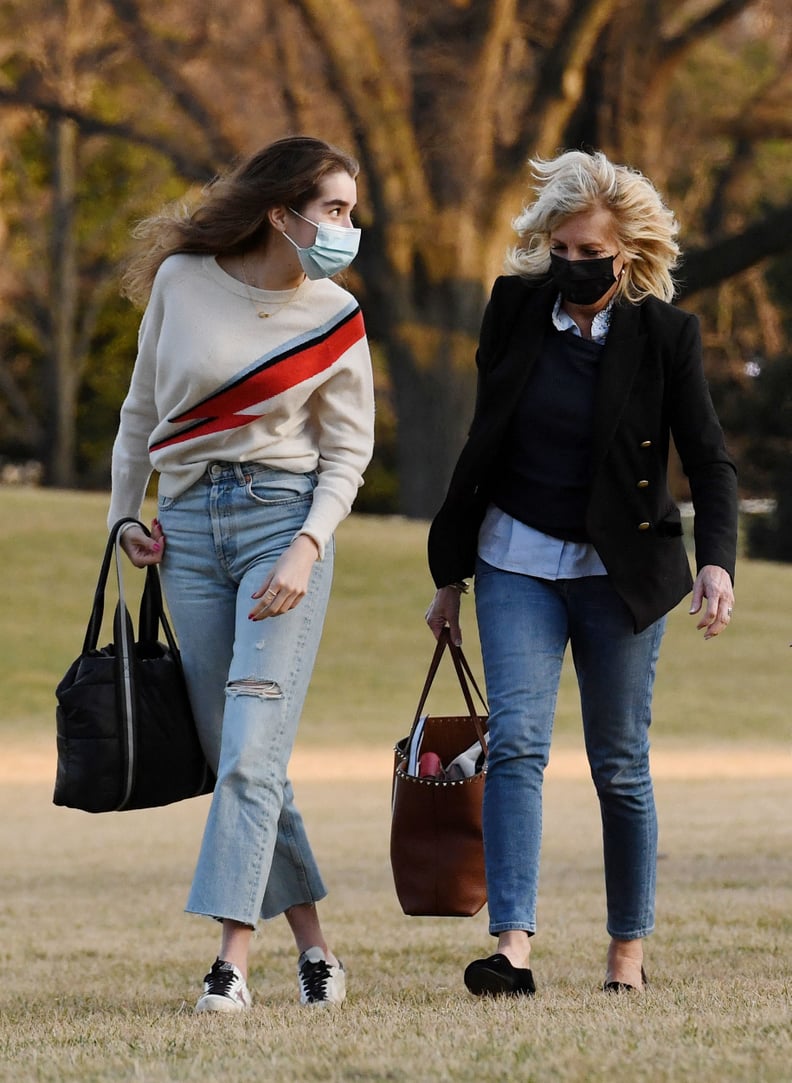 Dr. Jill Biden Wears Stubbs and Wootton
For casual travel days, Dr. Biden has been spotted in her skull Stubbs and Wootton slippers, which retail for $500 and are hand-crafted in Spain. The skull embroidery is proof Biden is more than willing to add a touch of personality to her looks — and that she's realistic about navigating the lawn in sensible flat loafers, rather than heels. Stubbs and Wootton, founded in the early '90s in Palm Beach, Florida, prides itself on making luxury, bespoke slippers relevant.
03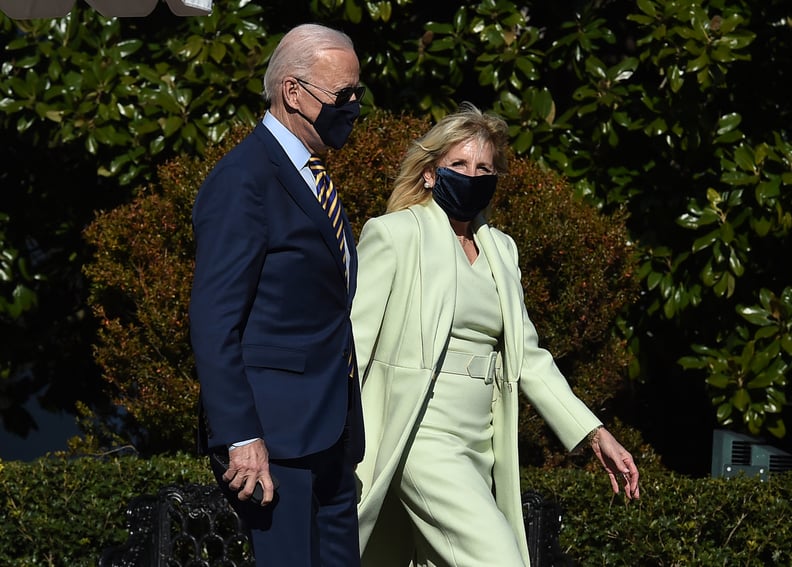 Dr. Jill Biden Wears Brandon Maxwell
The Biden family has shown their loyalty to the Brandon Maxwell brand since stepping into the White House — and for good reason. Choosing this mint set for an event in the Rose Garden of the White House before departing for Delaware in March 2021, Biden pledged her allegiance to the LGBTQ+ owned label. You probably also know Maxwell's name as he's associated with being Lady Gaga's stylist and a Project Runway fixture for 16 years. Maxwell has made strides towards inclusivity and representation with his fashion house and his monochrome sheaths take sophistication to the next level.
04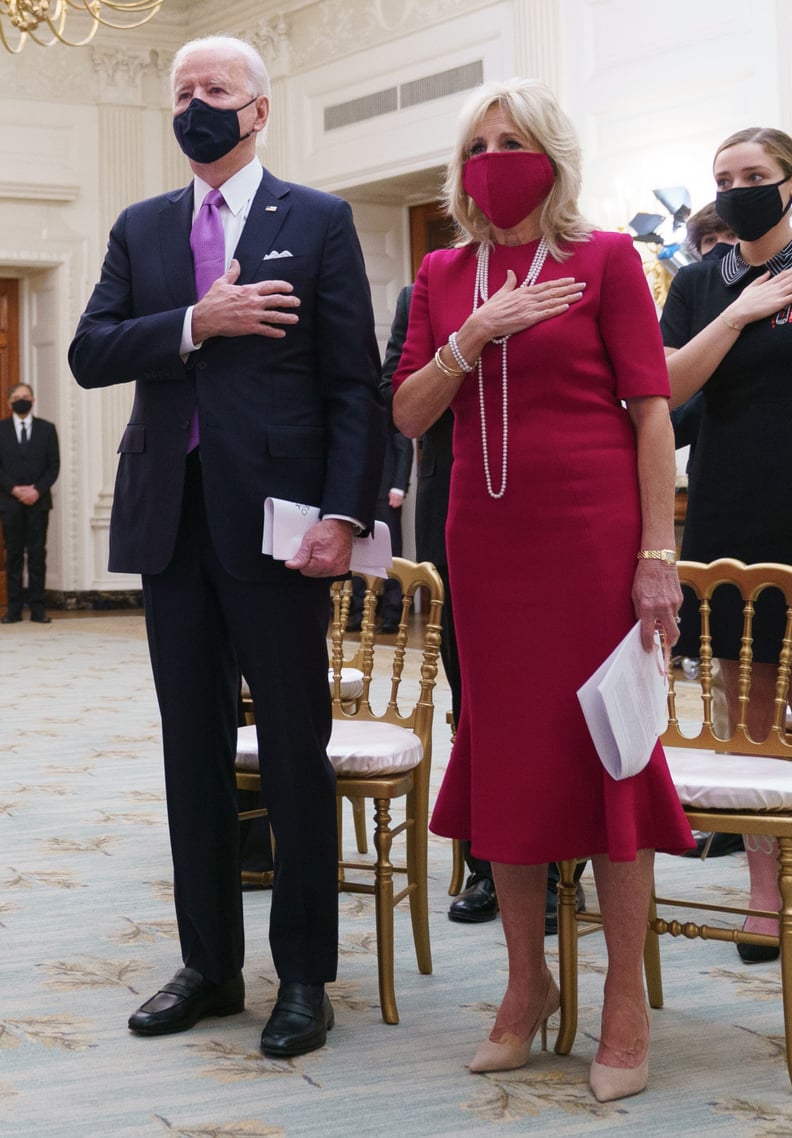 Biden wearing Brandon Maxwell's red sheath with a fluted hem, coordinated with a matching Gigi Burris face mask, for the virtual Presidential Inaugural Prayer Service on Jan. 21, 2021.
05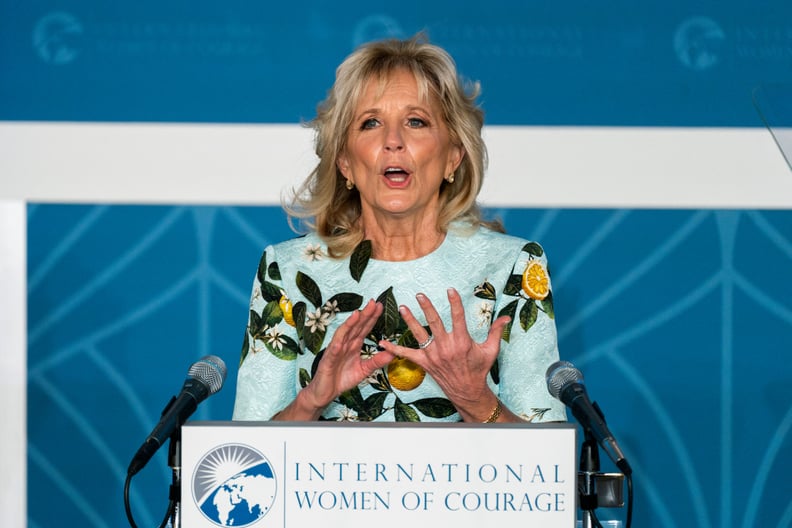 Dr. Jill Biden Wears Oscar de la Renta
On March 8, 2021 Dr. Jill Biden took the podium at the International Women of Courage Award virtual ceremony in Washington, DC wearing the same exact lemon print from Oscar de la Renta that Meghan Markle wore two weeks prior. It could have been a public sign of support for the Duchess of Sussex, who took a stand for herself, and for others struggling with their mental health, during her interview with Oprah. But Biden has also supported Oscar de la Renta before, which is currently led by emerging designers and immigrants to the US Laura Kim and Fernando Garcia. This look came complete with a matching face mask, a life-saving accessory Biden has always made sure to stress as an integral part of her look.
06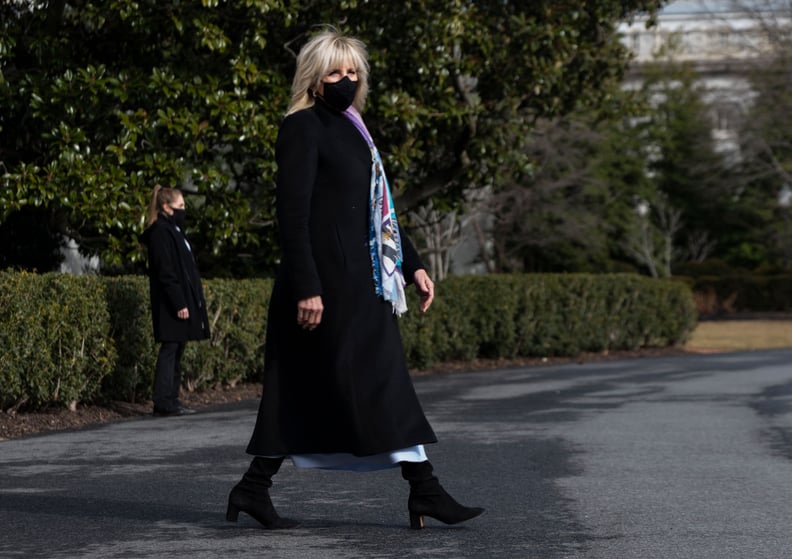 Dr. Jill Biden Wears Gabriela Hearst
Biden covered her gray-blue Gabriela Hearst dress with a HiSO coat and accessorized with Stuart Weitzman boots and Mizuki jewels on the South Lawn of the White House in late February 2021. She has been a fan of sustainable brand Gabriela Hearst since before the election, having shown the power of recycling clothing for the first presidential debate while on the campaign trail, and then showing support for Hearst yet again in her white florals for Celebrating America. Biden's moments in Gabriela Hearst so far have been a nod to protecting our environment, which the company is committed to doing through ethical practices.
07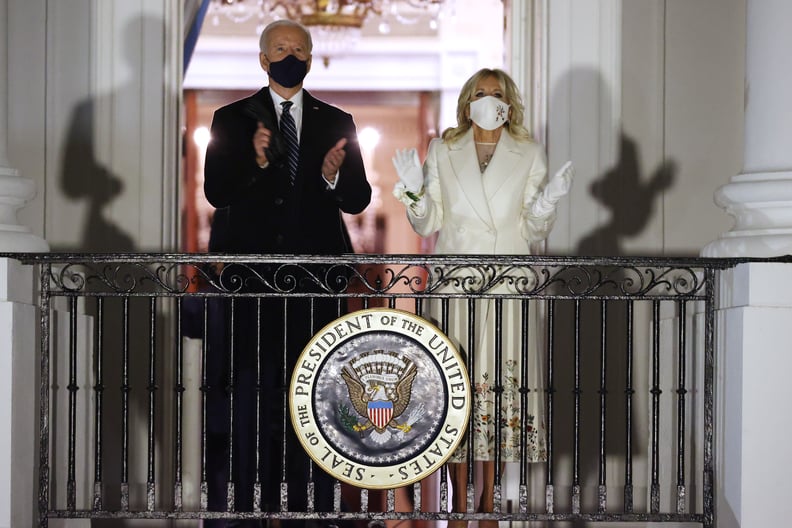 08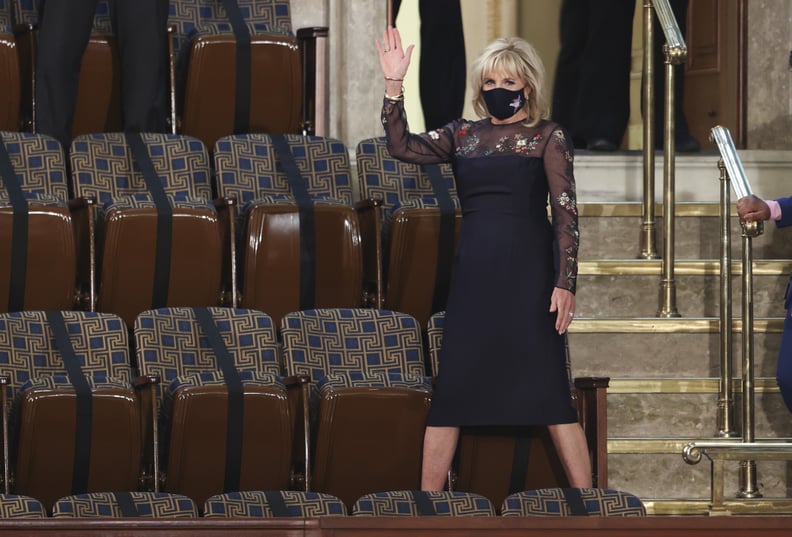 09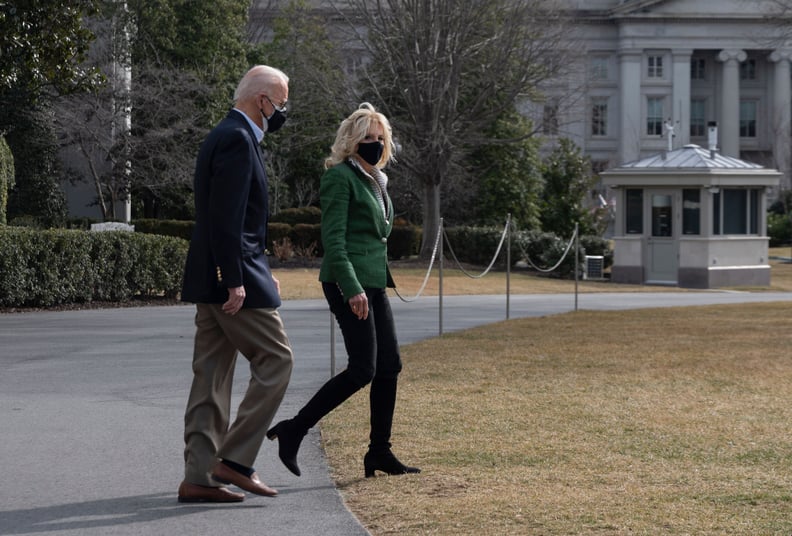 Dr. Jill Biden Wears Veronica Beard
When it comes to blazers and jackets, Biden has selected Veronica Beard time and time again. She chose the women-owned brand's Dickey jacket while departing the White House for Texas in February 2021, styled with black pants and Stuart Weitzman's Milla boot. Sister-in-law design duo Veronica Swanson Beard and Veronica Miele Beard call Biden's VB outerwear her "superwoman capes." The Beards are continuously committed to empowering women's voices through their VB Gives Back program.
10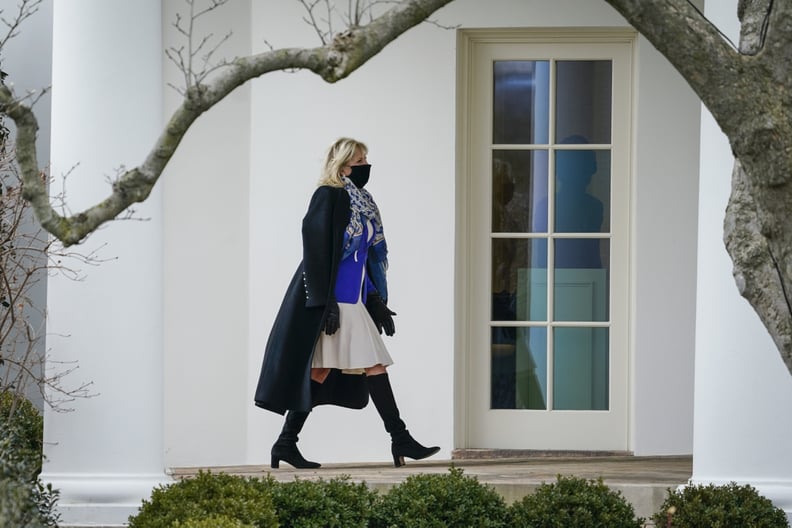 Dr. Jill Biden Wears Stuart Weitzman
Biden has taken a fondness to Stuart Weitzman's well-crafted boots, sporting everything from the Milla to the famous 5050 Vote boot that she wore to the polls in Delaware. She styled the former with a bright Giorgio Armani blazer jacket for an appearance at the White House in late January 2021. The Stuart Weitzman brand, currently helmed by Global Head of Design Edmundo Castillo, is committed to sustainable practices through its global house of brands Tapestry, and has recently chosen tennis champion, designer, and philanthropist Serena Williams to empower customers through its Shine Series and Footsteps to Follow campaign.
11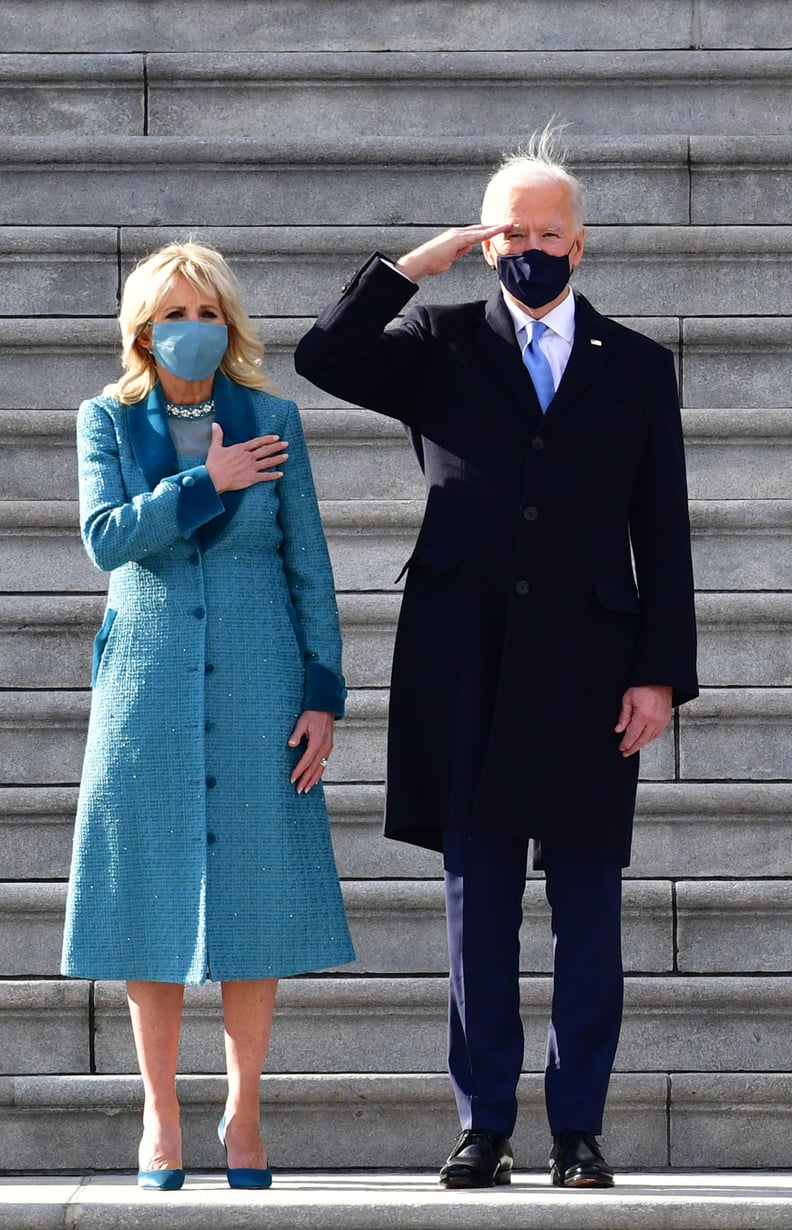 Dr. Jill Biden Wears Markarian
Jill worked with emerging American designer Alexandra O'Neill of Markarian for her ocean blue Inauguration Day ensemble, which was stitched with glistening threads and sparkles and led the pack of colorful, optimistic outerwear that we saw at the momentous ceremony. Markarian is based in NYC and boasts a collection of beautiful occasion wear that is thoughtfully made to order in an effort to reduce waste. By choosing Markarian, Jill was directly benefiting and championing NYC's garment district during a difficult time in the midst of the pandemic.