How 13-Year-Old Kheris Rogers Turned Being Bullied Into a Celeb-Loved Fashion Line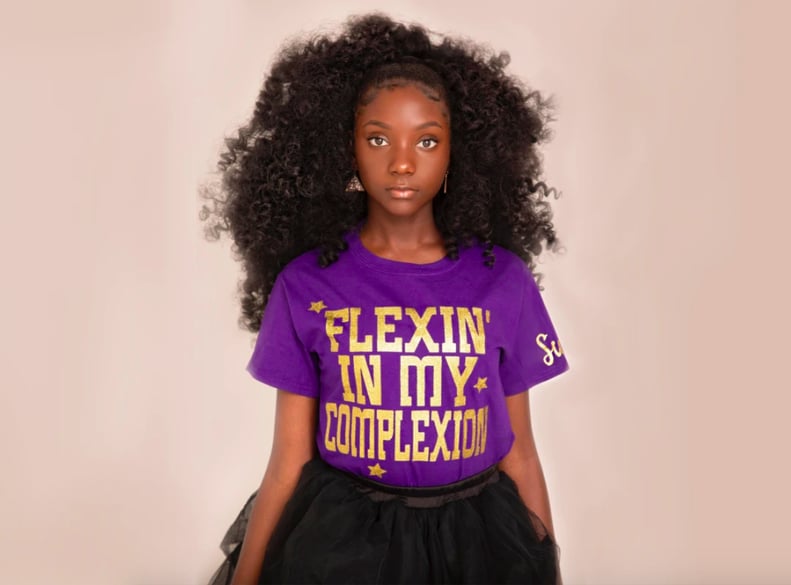 At just 13, Kheris Rogers is already enjoying a thriving career. She's an actor, influencer, business owner, and freshly signed artist to Columbia Records' new girl group, Run The World. Spend a few minutes scrolling through Kheris's feed and you will quickly see her self-assurance, individuality, and personality shining through. However, this is something that she has grown into throughout childhood.
A few years ago, after she was bullied at school for her complexion, Kheris's family encouraged her to begin daily affirmations to build up her confidence. She found the practice incredibly effective and rewarding. There was something empowering about being able to transform her negative experience into something positive and self-affirming. She wanted to share her growing sense of strength with the world and, in doing so, help others who might be dealing with similar situations.
At the age of 10, with the help of her big sister, Kheris founded Flexin' In My Complexion to help other kids feel beautiful and love themselves. In just three years, her business has already won high-profile fans like Alicia Keys, Lupita Nyong'o, Drake, and Lena Waithe.
We caught up with Kheris to see what this collection has meant to her, who she would love to collaborate with, and what her message is for kids who are enduring bullying.
POPSUGAR: What has been the most exciting part of watching your brand take off?
Kheris Rogers: The most exciting part of watching my brand take off is being able to travel the world, going to speaking engagements, and speaking to young girls and boys to encourage them to love themselves and chase their dreams.
PS: What have you learned as an entrepreneur over the past three years?
KR: I have learned to trust my instincts, to have fun with it, and to not be afraid to be different.
PS: What do you hope your message about confidence is teaching other kids who may be experiencing bullying?
KR: I hope my message teaches other kids who may be experiencing bullying that you are not alone. We are all unique, smart, and creative in our own way. Our differences [are] what makes us special, and that should be embraced, so it does not matter what other people think of you.
PS: How do you want to continue to grow as a designer, and who would you love to collaborate with next?
KR: As a designer, I am excited to use my experiences to inspire new designs. I would love to collaborate with a Black-owned brand like Fenty or Ivy Park.
PS: What designers/brands in the industry are inspiring you right now?
KR: I am inspired by Nike, Fenty Beauty, Old Navy, and Justice.
PS: What are your three favorite accounts to follow on Instagram?
KR: My favorite IG accounts are @YaraShahidi, @StormReid, and @IAmZoie

Sulwe x Flexin' In My Complexion
Sulwe x Flexin' In My Compexion ($25)

In collaboration with Lupita Nyong'o's children's book Sulwe, this limited-edition tee is self-love inspired with a goal of learning to love one's self, no matter one's skin tone. A percentage of all sales will be donated to The Africa Center.
Kheris's personality and style really shine in this collection. Make sure you are following @Kherispoppin!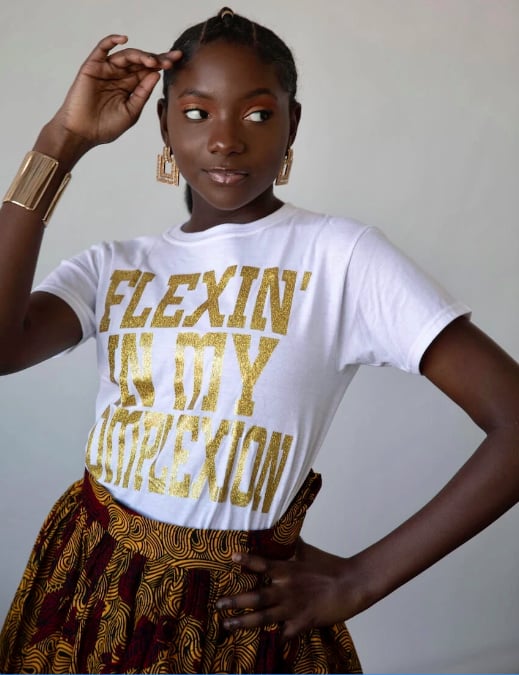 Flexin' In My Complexion Tee: White & Gold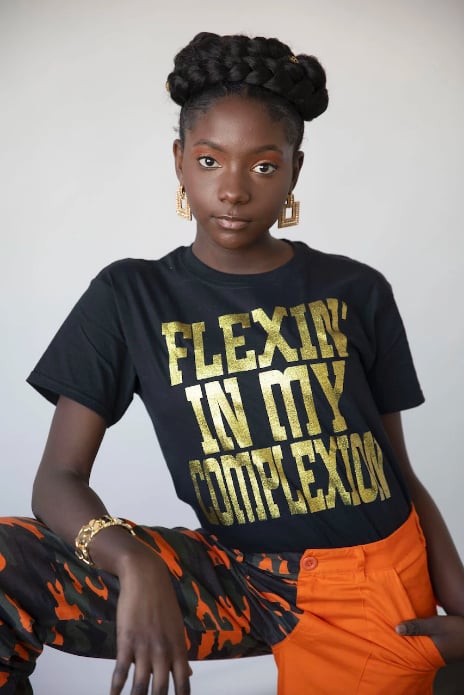 Flexin' In My Complexion Tee: Black & Gold