Old Navy Is Taking the Anxiety Out of Buying Denim Online With This New Guide
As POPSUGAR editors, we independently select and write about stuff we love and think you'll like too. If you buy a product we have recommended, we may receive affiliate commission, which in turn supports our work.
Not to be dramatic, but finding a great pair of jeans can be a dreaded, daunting task on par with undergoing minor dental surgery. Sure, once you find that magical pair that makes you look and feel amazing, they instantly become the most-worn item in your closet. But all of the hassle involved in the shopping process can really put a damper on the experience.
If you typically find denim to be the hardest to shop for, you're not alone. According to a recent survey done by Old Navy and the survey company Material of 522 women, 75 percent of respondents have felt overwhelmed while shopping for a pair of jeans — a stat that's probably not at all surprising to most women.
But the biggest culprit when it comes to the anxiety surrounding buying jeans? Trying them on. More than one third (36 percent, to be exact) said they regard trying on jeans with a particular sense of doom. Some respondents to the survey even said they would rather do chores or – gasp – give up social media for a day than attempt to shimmy into an unfamiliar pair of jeans.
Luckily, Old Navy is setting out to help shoppers combat that unpleasant feeling of FOTO (Fear of Trying On). The brand is encouraging people to step outside their fashion comfort zone and embrace new styles with the expansion of its denim line. It's why the brand launched a digital Denim Fit Guide, the handy solution to your FOTO woes. Customers can toggle through the various style offerings, such as straight, skinny, and flare, to see the different fits side by side.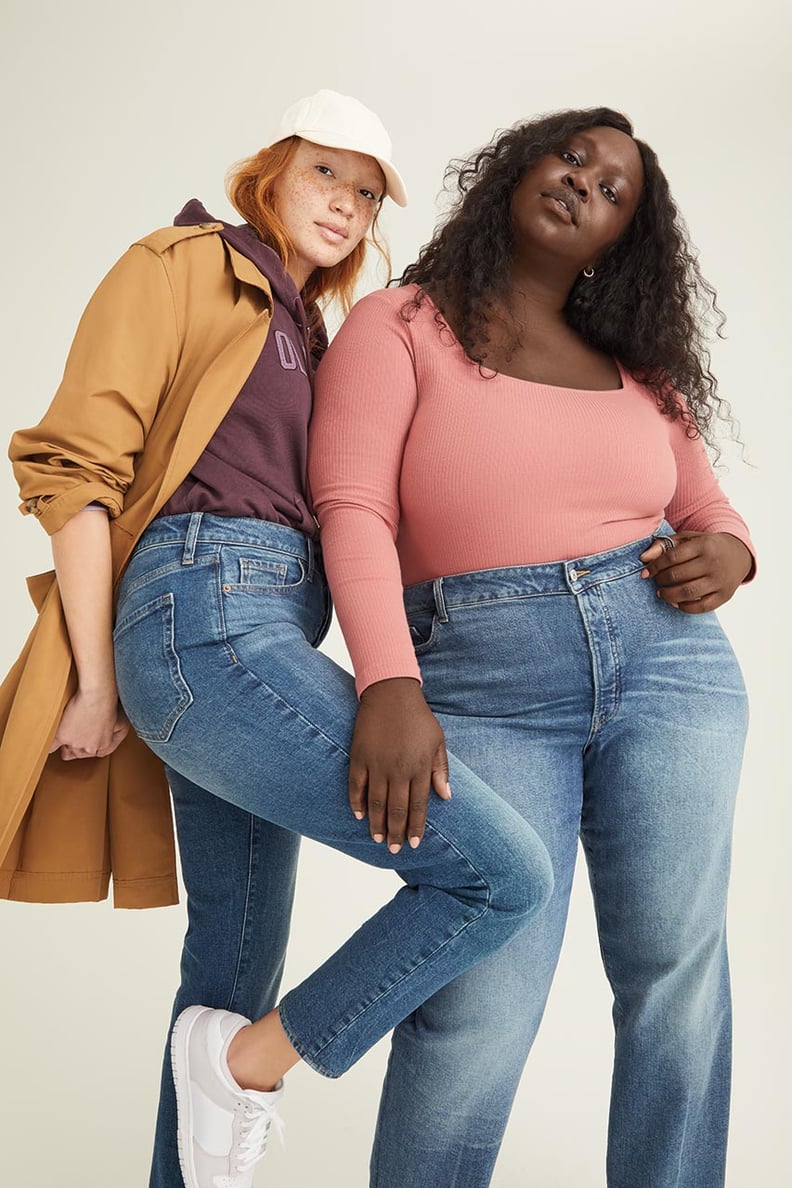 Take a look, for example, how the O.G. Loose stacks up against the Balloon Jean. Not only can you compare the photos, but the Fit Guide also breaks down the stats of each pair of jeans, including stretch and available lengths.
Another element of this easy-to-use online tool allows customers to see where the different rises (extra-high rise, mid rise, etc.) sit on a model's torso, with dotted lines denoting the height of each style. Choose between a size four, 12, or 18 model to get the most accurate indication of how a certain pair might look on you. Similarly, there's a stretch guide so you know which styles are made from rigid, nonstretch denim and which ones are as comfy as your favorite leggings.
Finally, check out which styles are trending at the bottom of the page. This fall, expect to see a lot of baggier silhouettes on your Insta feed — try the O.G. Loose, the Wide Leg, or the Balloon Jean to pull off the look.
See Old Navy's new denim range in action in the brand's latest TV commercial featuring models strutting and dancing in the versatile styles. Then, you'll want to head on over to Old Navy's website ASAP — prices on all denim will be frozen through the end of September. In other words, there's no better time to stock up on ultra-flattering jeans that fit you just right. Your butt and your budget will thank you.