"Princess Diana: A Tribute Exhibition" officially opened to the public on Friday, Sept. 2, marking the 25th anniversary of the Princess of Wales's tragic passing. Located at The Shops at Crystals in Las Vegas, the 10,000-square-foot installation boasts over 700 royal artifacts. That includes eight of Diana's authentic evening gowns, which were sourced by Pink Ribbons Crusade, a charity that purchases memorabilia to display while simultaneously raising funds to fight breast cancer.
The exhibit features 12 rooms, and one particular space, titled the "Wedding of the Century" room, invites couples to tie the knot atop a dramatic re-creation of Diana's David and Elizabeth Emanuel wedding dress. Of all the ball gowns featured in the exhibit, eight are authentic — meaning they were actually worn by Lady Spencer, and they all come with significant backstories.
While many know of the "revenge dress," which marked a pivotal moment in the princess's life, they may not be as familiar with the pink "barbecue dress." It's our first glimpse of Diana's authentic wardrobe at the exhibit, and it has a fascinating story behind it. The dress has a hidden connection to Lillie Langtry, whose great-grandmother was the mistress of Prince Charles's great-great grandfather King Edward VII — just like Camilla Parker Bowles was Charles's mistress.
Likewise, her Gianni Versace-designed LBD has its own significance. Spotlighted in the "Fashion Icon" room, it marked the beginning of a new style era for Princess Diana as a single woman following her separation from Charles.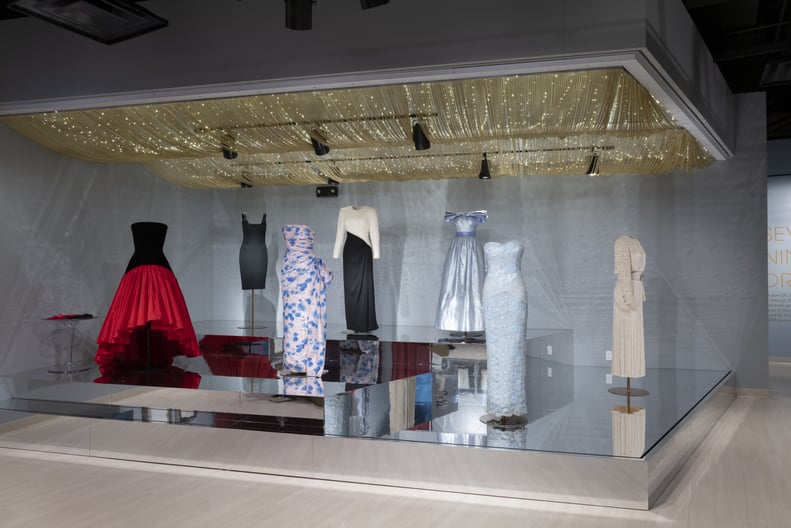 Exhibit curator and producer David Corelli stressed to POPSUGAR just how difficult it was to get his hands on such iconic garments. "[Diana] was one of the first royals to auction her dresses off," he said during a media walk-through on Sept. 1. "Most are privately owned, but some are public. You have to get lucky."
Though Corelli has seen an endless array of gowns over the course of his career, Princess Diana's collection still took his breath away. "These are couture gowns that were made for a princess," he explained. "That's what I noticed the most when I finally saw them on display. Each one of them has a remarkable level of detail and luxury that you wouldn't notice in photos."
The dresses will stay in Las Vegas on display for a 10-year residency, and Corelli will continue to bring in other pieces as opportunities arise, in an effort to keep the collection fresh over time.
Ahead, find eight standout looks from "Princess Diana: A Tribute Exhibition" and learn the stories behind them. To see them in person, you can purchase general admission tickets, which start at $29, online or at the door.
01
The Barbecue Dress, 1983
As the first authentic dress on display in the exhibit, this traditional Klondike-era outfit was designed by Linda Maddock and worn on an official tour of Canada in 1983. The light-pink look came replete with bows, delicate lace tiers, gathered silk, and a matching fascinator.
It was originally worn by actress Francesca Annis, who played Lillie Langtry in the 1978 TV miniseries "Lillie." Like Camilla Parker Bowles, who had a well-documented affair with Prince Charles while he was married to Diana, Lillie's great-grandmother was the mistress of Charles's great-great grandfather King Edward VII.
Diana found the connection to be humorous and wore the dress as a subtle nod to the situation.
02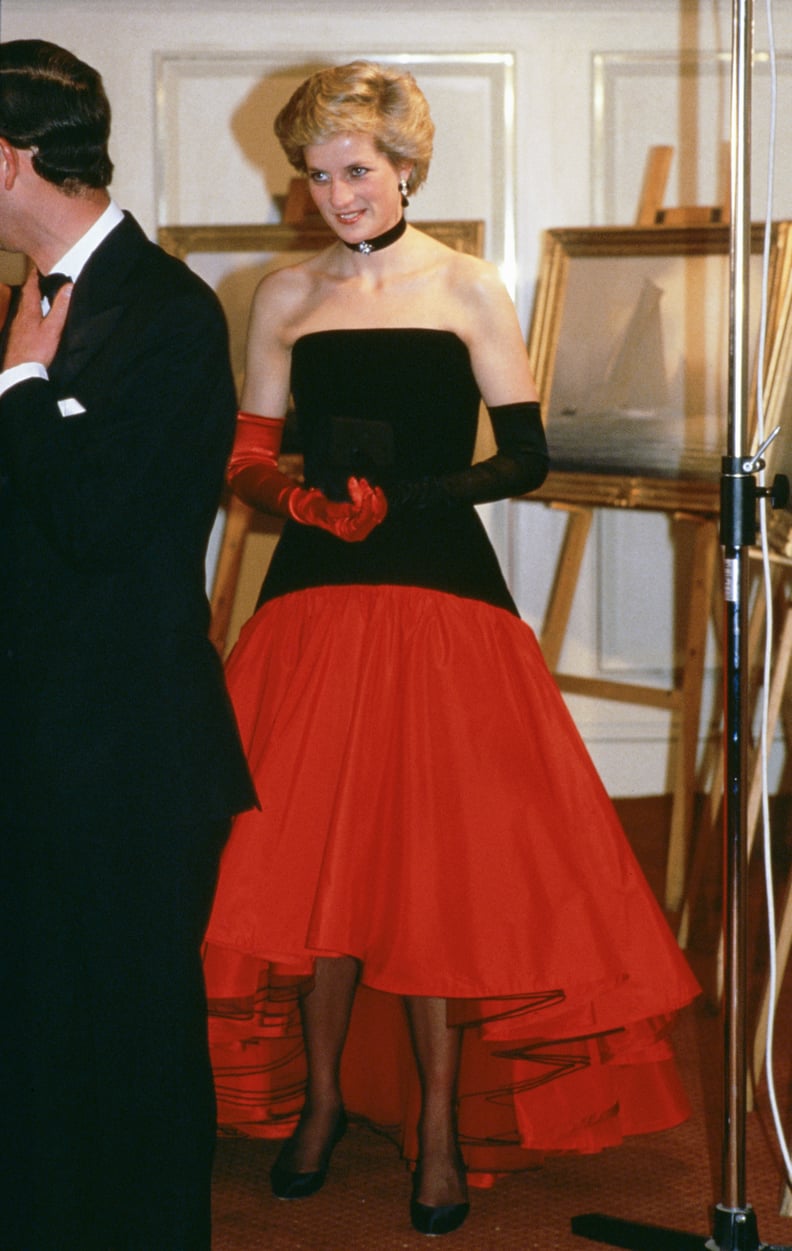 The Spanish Flamenco-Inspired Dress, 1987
Exhibit curator and producer David Corelli calls this Flamenco-inspired ball gown his favorite. Designed by Murray Arbeid, Diana's drop-waist dress was often paired with one red glove and one black — a memorable style move seen as cheeky, bold, and confident. In 1987, she wore it in Spain with a crystal-embellished choker, diamond-drop earrings, tights, and pumps. The dress sold at a Christie's auction for over $25,000.
03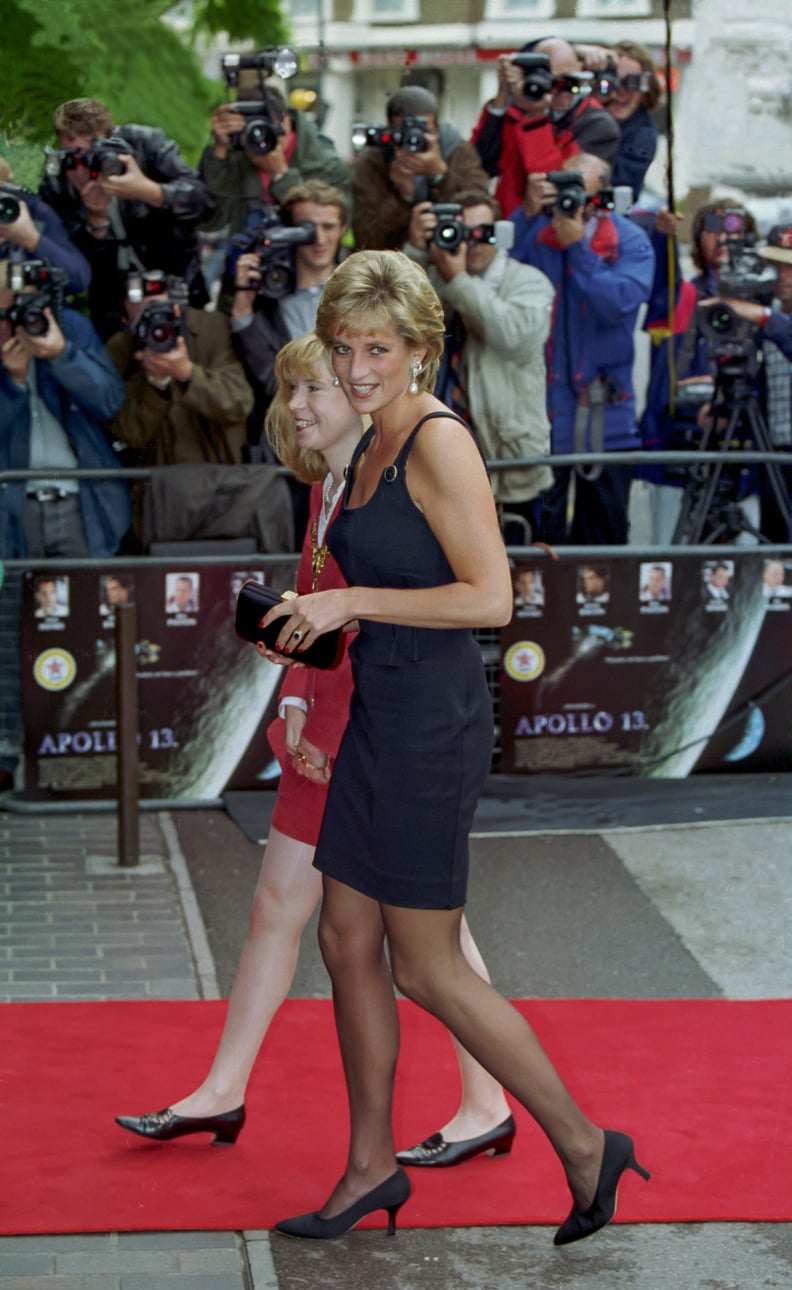 The Versace LBD, 1995
This famous minidress, designed by Gianni Versace, marked the beginning of Diana's style era as a single woman. It's one of her most well-known LBDs, next to the "revenge dress." Diana wore it to a screening of "Apollo 13" in London with sheer tights, pumps, a box clutch, and pearl-drop earrings.
04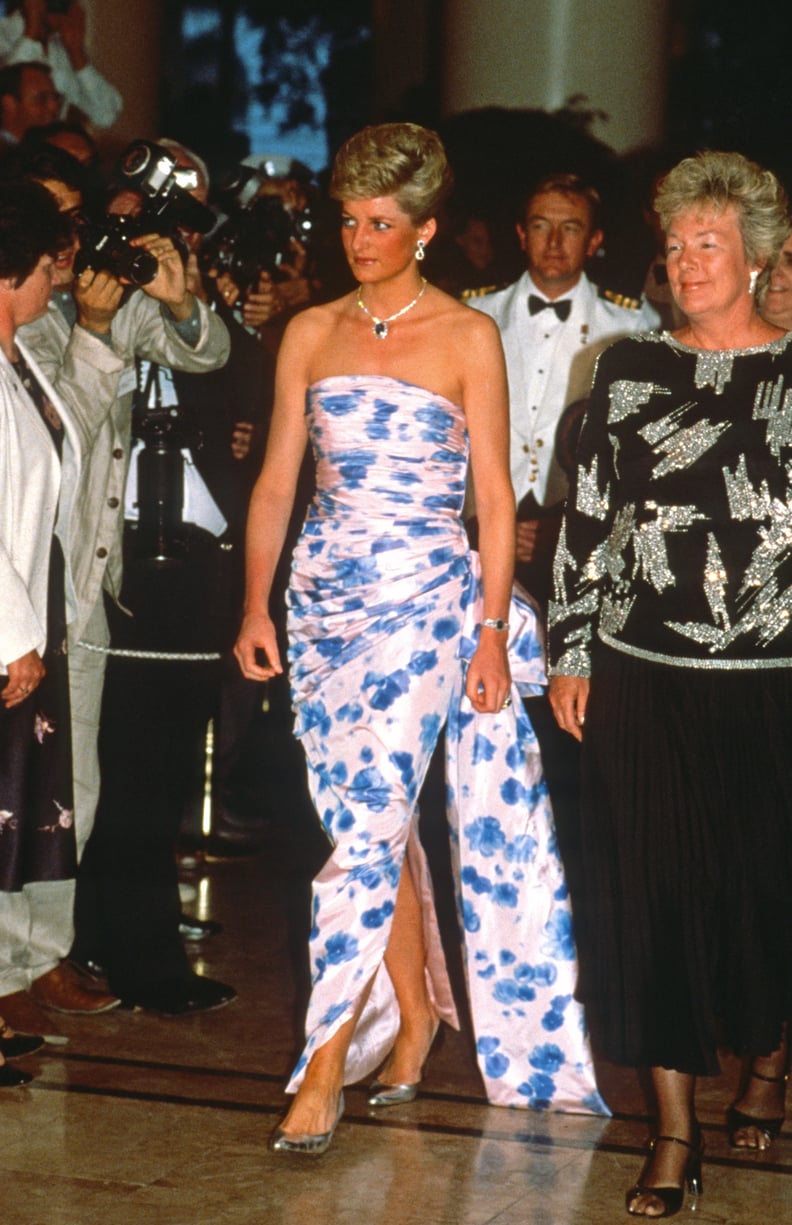 The Australian Bicentennial Dress, 1988
Catherine Walker designed this blue chintz floral taffeta ball gown, worn during a dinner dance while on a tour of Australia in 1988. The strapless design was complemented by Princess Diana's sapphire jewelry set and silver metallic pumps. In it, she danced with Prince Charles to "In the Mood" by Glenn Miller.
05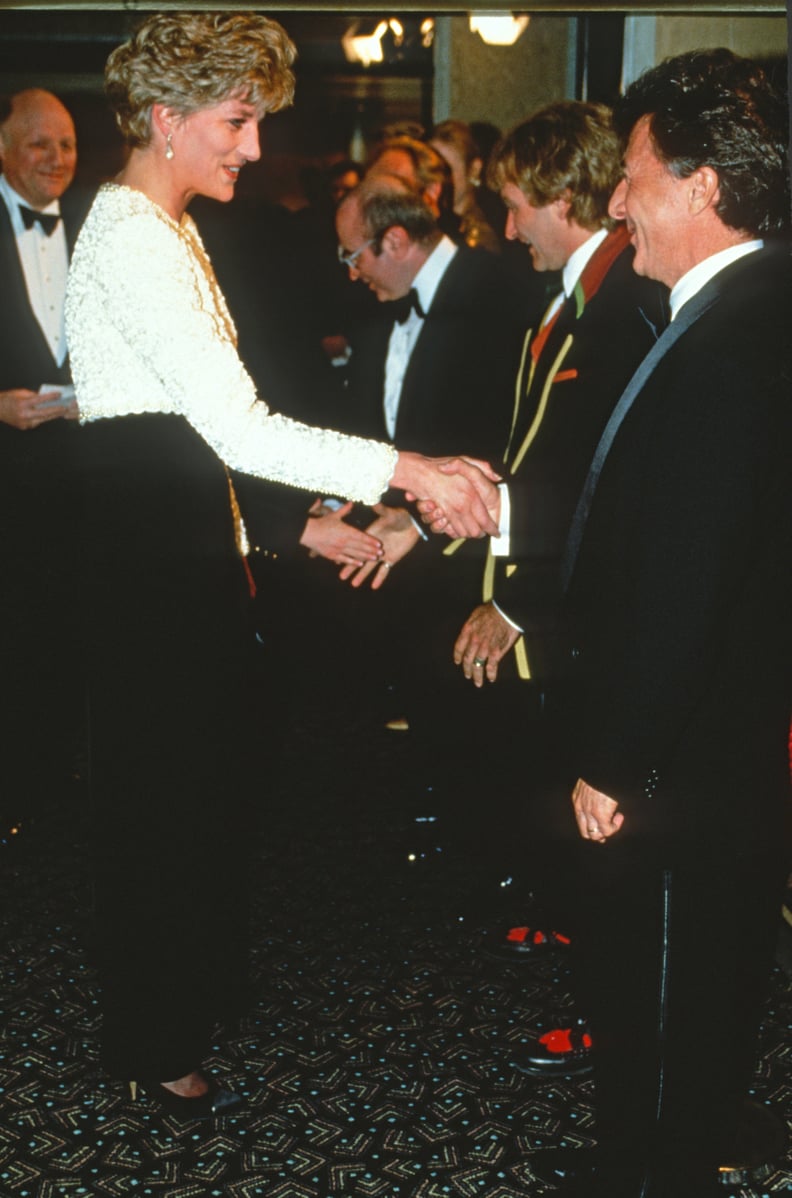 The "Hook" Premiere Dress, 1992
Diana met actors Dustin Hoffman, Robin Williams, and Bob Hoskins at the London premiere of "Hook" in this black and white Catherine Walker dress. She attended the event to aid Great Ormond Street Hospital, a children's hospital of which she was a patron, with sons Harry and William by her side. The look boasted a long-sleeve ivory bodice of rippled florals as well as a side slit to reveal her kitten heels as she walked the red carpet.
06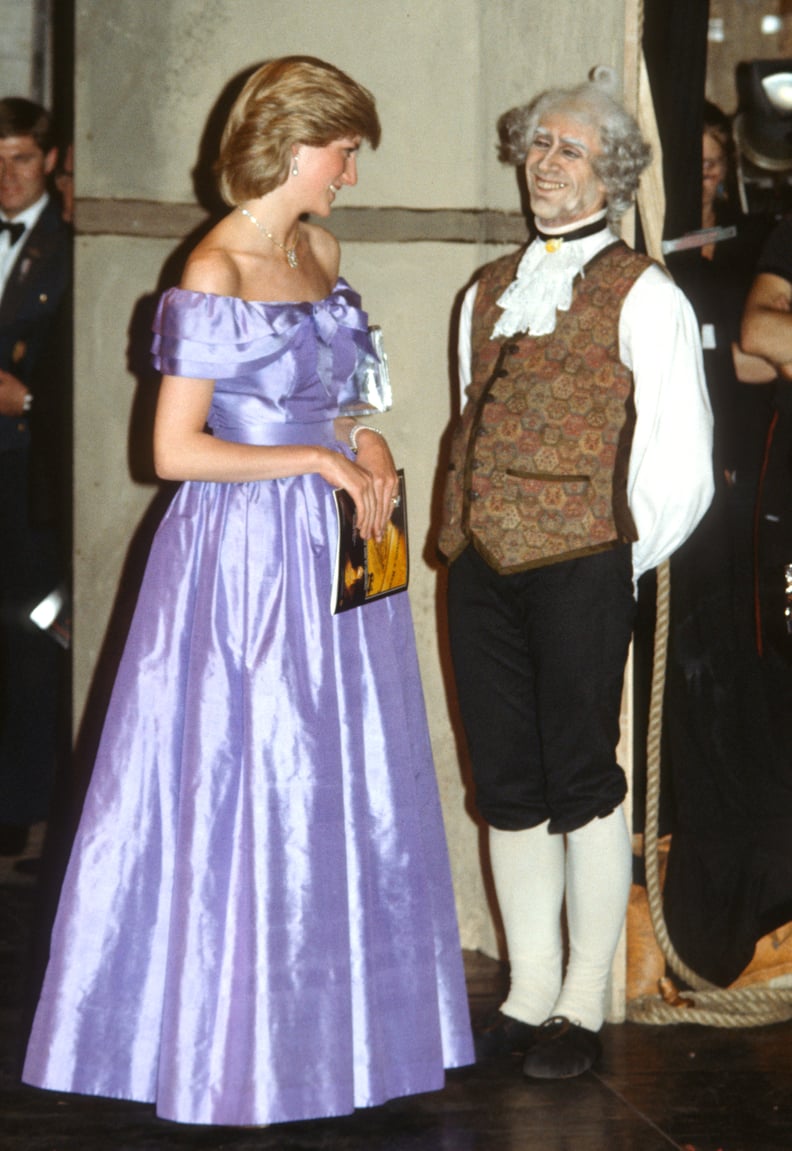 The Cinderella Dress, 1983
In 1983, when Diana was still finding her footing in fashion, she chose this conventional Cinderella-inspired periwinkle ball gown by Donald Campbell. Worn to the ballet in Auckland, New Zealand, the look was accessorized perfectly with a diamond-encrusted choker necklace, pearl-drop earrings, a pearl bracelet, her sapphire engagement ring, and a silver metallic envelope clutch.
07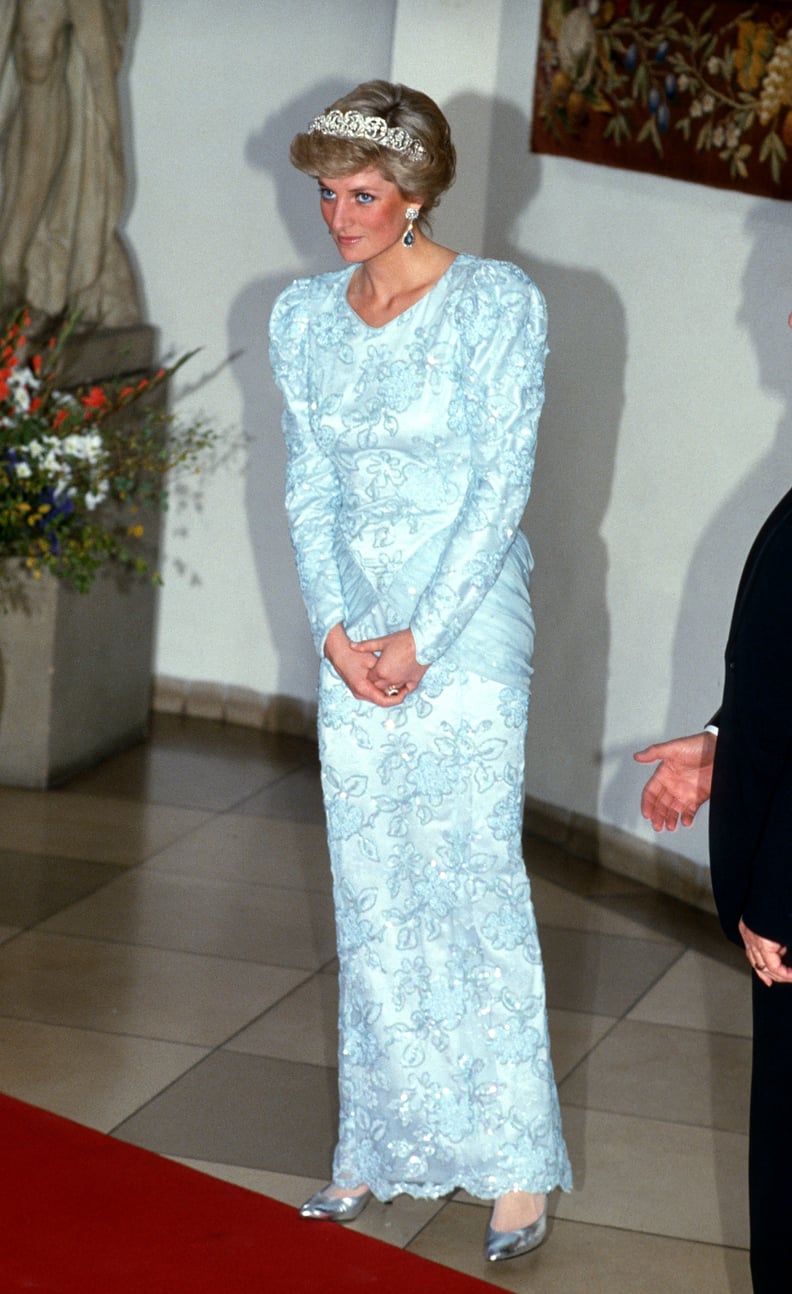 The Modified Dress, 1987
Princess Diana had this Catherine Walker dress altered after this appearance, cropping off the sleeves to create a strapless look. The blue lace number was embroidered with countless sequins, and it features chiffon fabric that sweeps around the hips and bustles at the back. It was first styled here in Munich, Germany, with the diamond floral Spencer family tiara and aquamarine drop earrings. Three years later, Diana would reveal the altered version with pearls.
08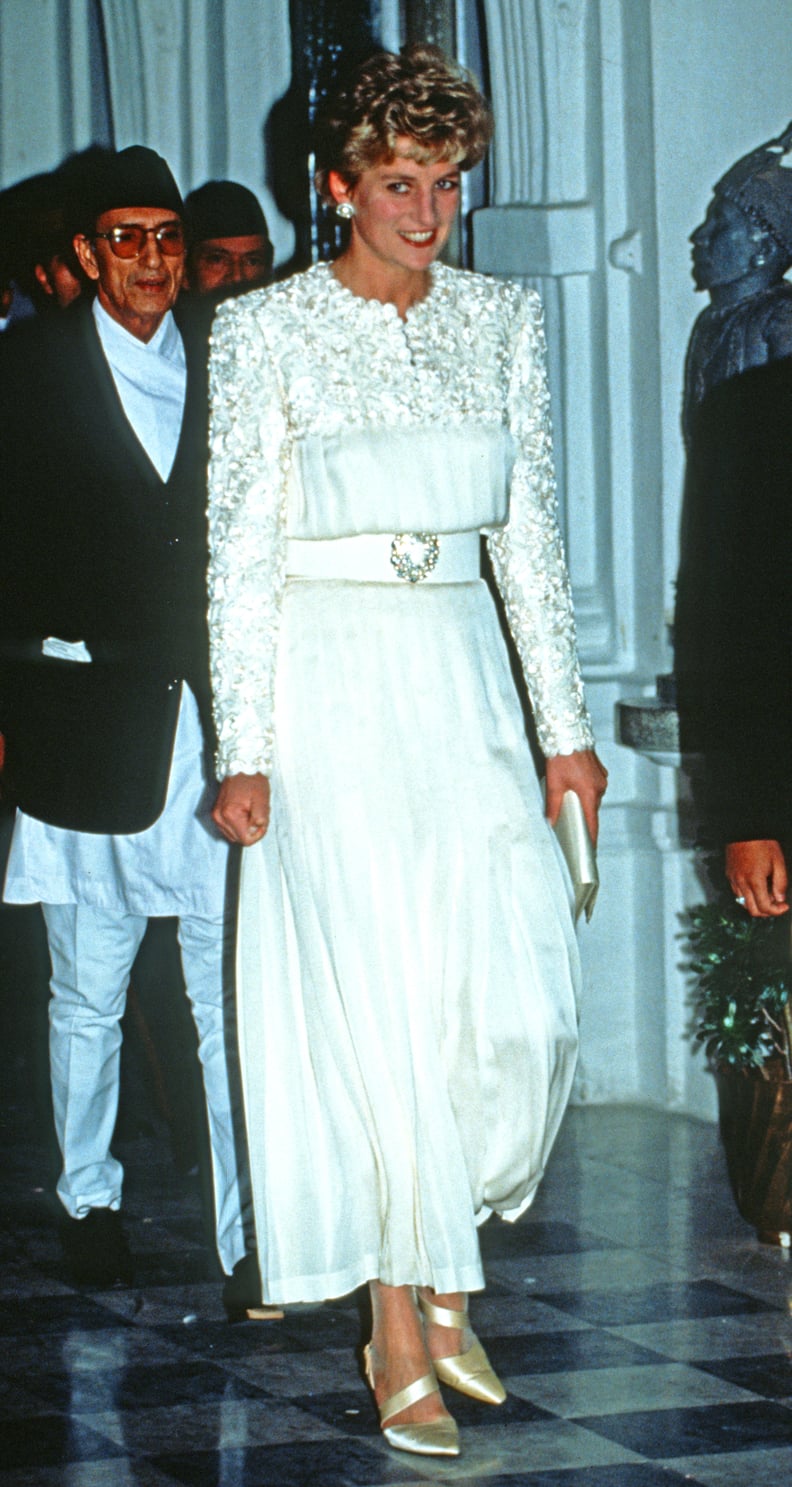 The Banquet Dress, 1993
While visiting Kathmandu, Nepal, in 1993, Diana wore this Catherine Walker dinner dress to have a meal with Crown Prince Dipendra during a lavish banquet at the Versailles-styled Singha Durbar palace. The look, enhanced by pleating, textured sleeves, and a diamond buckle belt, was finished with ivory satin pumps, a matching clutch, and circular pearl earrings.