Sabyasachi x H&M's Collection Is a Cultural Statement
Sabyasachi x H&M's New Collection Is Getting Hate, but Here's Why It Shouldn't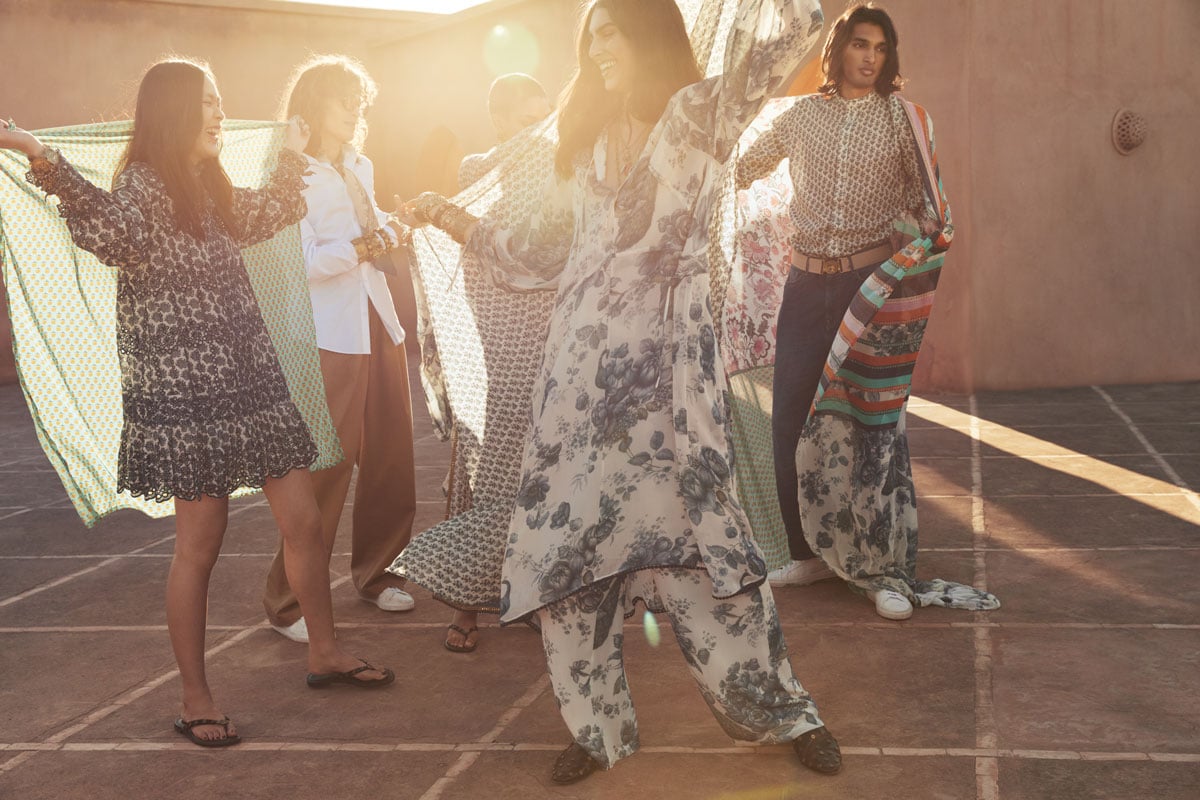 From electing a vice president of South Asian origin to media like Never Have I Ever centering South Asian narratives to now, a global Sabyasachi x H&M collection, the South Asian diaspora has exploded. Found on every South Asian bride's vision board and every creative director's saved folder, Sabyasachi is a fashion house of magic and dreams. But, head to Twitter and TikTok, and all you'll find is hate and memes from the diaspora on this Indo-Western boho-chic collection. Common criticism includes the lack of "Indianness" in the collection, how lazily familiar the collection feels, and its steep prices. Yet, these criticisms seem to stem from lack of contextualization and the funnels social media creates for us to pass judgement and think it's the final thought on the matter. With some historical context and artistic perspective, the diaspora especially might be able to appreciate the Sabyasachi x H&M collection for what it means beyond just its consumer face value.
What Is Indo-Western Fashion?
Indo-Western fashion is the unique stitching of India and a globalized world as seen through fashion. The clothes are a melting pot of Indian prints, colors, and designs set against Western silhouettes characterized by the mixing and matching of clothes and accessories across continents. These clothes can be easily worn out and about and speak to a new generation of South Asians who bring their culture to their boardrooms and brunches — not just weddings or cultural gatherings. This generation of South Asians prides itself on its identity, which is neither inherently South Asian nor strictly Western, so expecting there to be a certain ratio of "Indianness" to their beloved fashion form is counterintuitive.
However, Indo-Western fashion is still a rare find in most of India. Brands like Global Desi are attempting to fill in the niche for Indo-Western clothes, but Indian fashion influencer Raheen Chhipa tells POPSUGAR how "they don't have the same vibrancy, fabrics, or prints that Sabyasachi so beautifully did." For example, let's take Global Desi's Burnt Orange V-Neck A-Line Knee Length Tunic. It's, quite simply, boring. It's not reflective of modern Indian trends and doesn't have any unique silhouette to it, nor does it bolster a fun color palette traditional in South Asian clothing. It is, however, extremely affordable at about $20 (converted from INR). This tunic could very easily be found on the sale rack at Macy's, eventually to be found in the closet of an immigrant mom whose daily uniform is already these department store-pseudo-Indian kurtas.
On the other end of the spectrum, let's take a peek at a high-end designer piece of Indo-Western clothing. The House of Torani Gulabi Aari Waraq Ikat Cholo tunic is intricately designed with a rich fabric, might not take to regular wear well, and can only be afforded by few, at about $324 (converted from INR). Sabyasachi creates a happy medium between Global Desi and House of Torani. In my favorite kaftan from the collection, the colors are pleasingly different from what comes to mind when thinking of South Asian attire, and with its chiffon fabric and plunging neckline, the piece itself is exciting and distinct from what the Indian market is saturated with. Megha Rao, whose designs fabulously appeared in the Tesher x Jason Derulo "Jalebi Baby" music video, told POPSUGAR, "In between the Global Desis and House of Toranis of the market, there's an empty space. The market can and should offer Indo-Western options that can range from streetwear to semiformal to formal." With its comparatively digestible price point, day-to-day ease, and accessibility in malls, Sabyasachi x H&M fills a gap in the global Indo-Western market.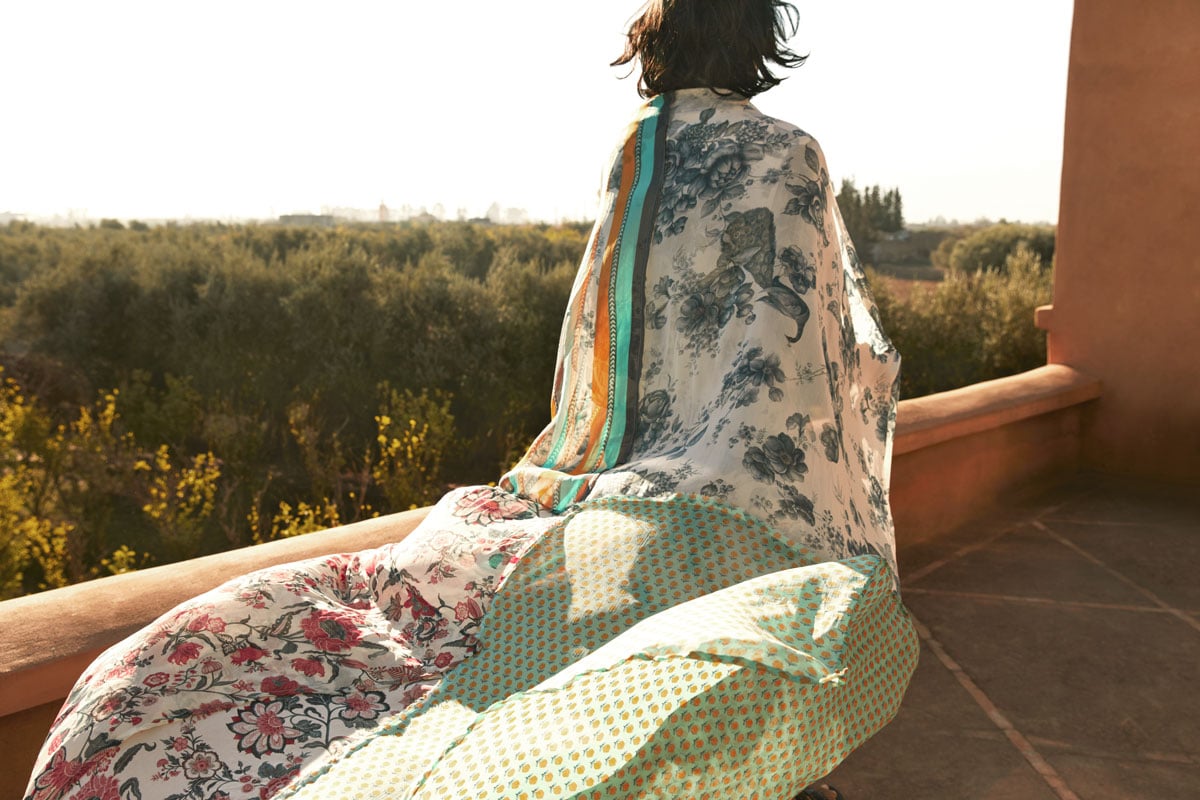 What Does Sabyasachi's Collection Mean Artistically . . . and Politically?
In the words of FiFi Jamil, this collection may seem like "we're being recolonized," but I think it's more about reclamation. Enumerated as Sabyasachi Calcutta x H&M, the collection and the brand captures audiences with a similar allure as that of freshly liberated Calcutta, once the capital and cultural epicenter of British India. To reimagine Indo-Western fashion this close to India's Independence Day is an artistic statement. For the consumer, Sabyasachi x H&M adds accessibility to Indo-Western styles but also opulence that could have only been attained and worn by the British or now, by India's über elites. His collection is a way of raising national and diasporic consciousness of India's enigmatic authenticity of the past with modernity. And while some pieces in the collection may seem to be just like something you can find in your mom's closet, Sabyasachi is playing into that nostalgia and pairing it with modernity as seen in the form of tan models who deviate from Eurocentric beauty ideals and a collection designed to be worn by a global citizen — from "palaces in Jaipur to pool parties in LA," he said in an interview.
It's this same wanderlust mindset that this collection was inspired by that raises questions on its effects of bringing South Asian fashion to the world. In New Kings of the World: Dispatches from Bollywood, Dizi, and K-Pop, Fatima Bhutto reports how K-pop, designed tactically for American audiences with "blatant mimicry of the West, safeguarded by good old Asian values," has the "unique power of simultaneously threatening apocalypse on the Asian peninsula and fostering peace initiatives." K-pop's effects are felt far and wide, and K-pop diplomacy is a valued tool wielded by North Korean leaders. Yes, Sabyasachi may be keeping a massive audience in mind, which pangs like betrayal to the diaspora especially, but could global South Asian fashion coalesce into a larger umbrella of soft power by the subcontinent? Is this collection a potential first step in discovering new ways to uplift the culture, trade, and economy of the Global South, and retain Indian talent and innovation that globalization has notoriously stolen?
Finally, Let's Unpack the Hate
For a handicraft, artisanal couture company to partner with H&M, which is notorious for its unsustainability and horrible labor practices, especially in the subcontinent, is antithetical. In an interview, Sabyasachi said he kept sustainability in mind when designing this collection by creating a line that's genderless and timeless, enabling it to be reworn countlessly by many people for many years. There's also mentions of the Sabyasachi Art Foundation playing a heavy role in the collection coming to fruition, and while I'm sure there's some sort of social good enveloped within that, "The lack of transparency in the manufacturing of the collection, boggles the marketer and conscious consumer in me," as US-based South Asian influencer and founder of Digital Agency Aam Creative Afshan Nasseri told POPSUGAR. I can't help but side with Twitter and TikTok on this one.
Prices also seem to be a common gripe across Tik Tok, but in comparing this H&M collaboration with previous designer collaborations, Sabyasachi falls on the more affordable end of the spectrum. In the 2015 collaboration with Balmain, a black, long-sleeved, embellished bodycon dress (the most expensive item) rang up to a whopping $549. The 2019 collaboration with Moschino included a gold chain belt, with a price tag of $199. The most expensive piece in the Sabyasachi x H&M collection, a floor-length sequined Kaftan, is $299. Is it the price tag that's unreasonable, or do consumers inherently expect clothing from the Global South to be attached to unreasonably low price tags?
As for the last common criticism I heard and a fear I harbor myself: what cringe TikTok boho culture will white people create from this collection? Whether you publicly admit it or not, America's always had an interesting infatuation with South Asia. However, this time, instead of Woodstock and bad plumbing or bindis at Coachella, an Indian designer is creating the opportunity for interpretation — and it seems he's kept cultural appropriation in mind. The saree, a part of the capsule, is only for sale in India, and perhaps was kept away from foreign markets intentionally.
Though my own criticism lies in the beloved jhumka missing from the collection, I'm amazed by how the collection has broadened my definition of Indian fashion. Afshan Nasseri told POPSUGAR, "Indian fashion's strength lies in its pleating and draping," and while this collection missed out on introducing the world to new shapes, it introduced us to a global South Asia, made of a mosaic of influences, experiences, and opportunities.