TikTok Users Swap Everyday Clothes For Ornate Traditional Outfits in This Mesmerizing Trend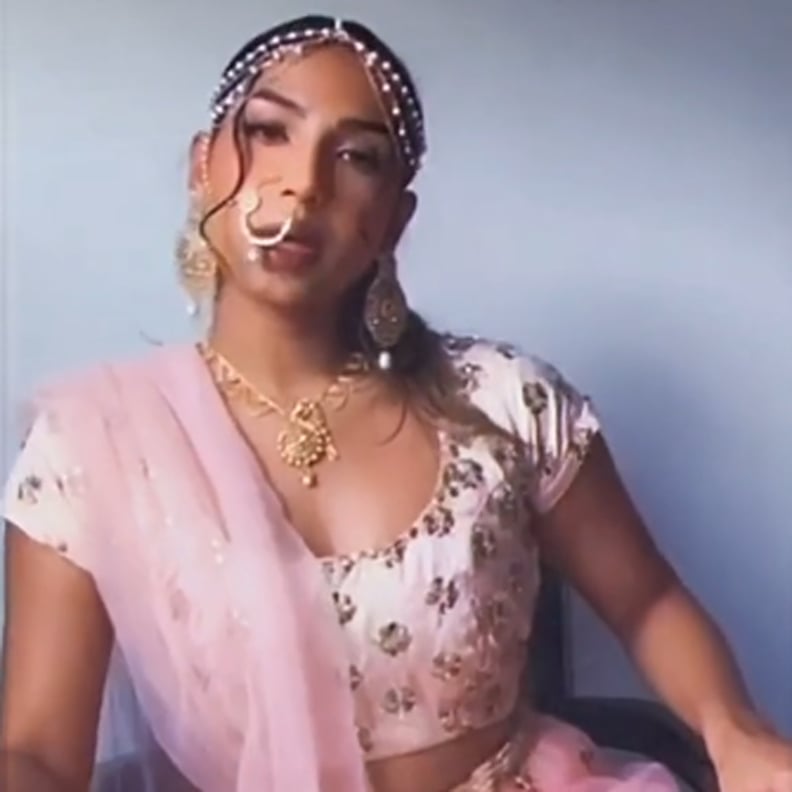 Traditional clothing is stepping into the spotlight over on TikTok. In recent months, one trend had users instantaneously change into a stylish outfit by simply taking a seat and, of course, using the usual edit trickery that's become synonymous with the video app. The trend was commonly soundtracked by one user's "Hot Seat" snippet, which remixes parts of "Caroline" by Aminé and "I Just Did a Bad Thing" by surreal internet artist Bill Wurtz. Then, the trend took on new meaning.
In late June, Houston-based model Milan Mathew shared her own "Hot Seat" video that saw her swap out of her crop top and jeans and into a traditional outfit representative of her Indian heritage, including an embroidered lehenga, headpiece, and nose ring. "Haven't seen a brown girl version to this so," Milan wrote in her caption at the time. The original video has since received two million likes, and Milan has gone on to share several additional versions.
Not long after, others started sharing their own takes in what is now being referred to as the Bad Thing Challenge by flaunting traditional Vietnamese, Nigerian, Georgian, Korean fashions, and more. "I think it was me embracing my culture that made people want to actively and openly embrace theirs, too," Milan said in an interview with Nylon. "I had the confident vibe and I was building up a community. It's good to see you don't have to change your culture or be assimilated in a certain way to be accepted by society." See many beautiful iterations of the trend ahead.