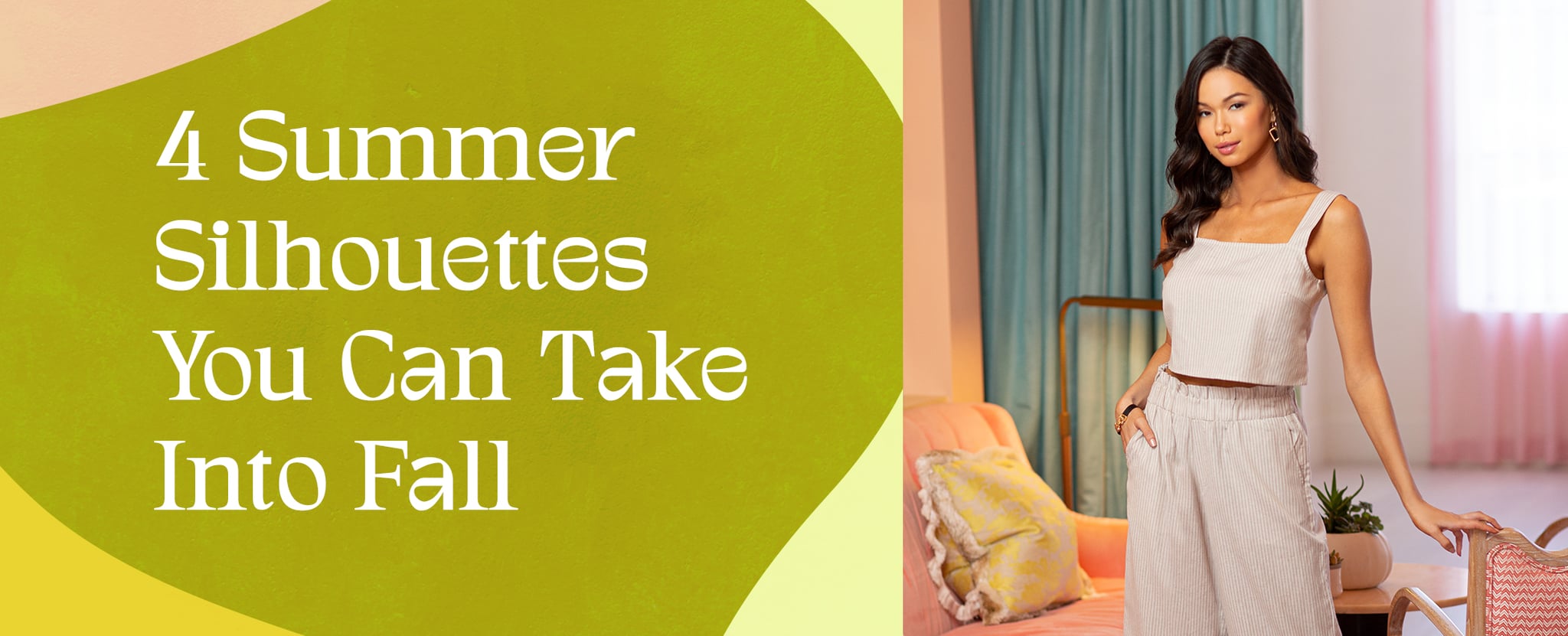 Image Source: Laundry By Shelli Segal
Transitional Pieces For Fall From Laundry by Shelli Segal
4 Summer Silhouettes You Can Take Into Fall
Despite what your TikTok feed might be telling you, a new season does not require a whole new wardrobe. In fact, getting creative with your current favorite pieces is what makes transitional dressing so fun. A chunky cardigan is so expected. But a summer tank styled for fall? Now you've found a way for your clothes to transcend the seasons.
From cottagecore-inspired sleeves to textured tank tops, we've picked out versatile pieces from Laundry by Shelli Segal that are making their way into our fall wardrobes, all available at retailers like Macy's, Saks Off 5th, Nordstrom Rack, Dillard's, TJ Maxx, Amazon, HauteLook, and Marmaxx. Keep reading to get some outfit inspiration so the pieces you've loved over the past few months can continue to get some wear before they end up in a storage bin under your bed.
The matching set is an everyday wardrobe staple, regardless of the season. It's an effortless choice that allows you to create an outfit without facing the classic conundrum of what to wear. Not to mention, it is chic and practical and can be dressed up or down. For the chillier months, layer a long sleeve underneath or swap out the button-down shirt for a neutral sweater. Better yet, make it easy on yourself by throwing a denim jacket on top before heading out the door.
It seems like Y2K clothing is taking over our Instagram and TikTok feeds, and with it, tunics are back and bigger than ever. They're the perfect transitional piece: breezy, playful, and functional. A simple tunic can help you get Zoom-ready or elevate your loungewear so you're ready to go to the corner store. Opt for fun textures to add instant character to any outfit. Bonus points if you go all in on the baggy look, complete with a white tank, super-wide-leg jeans, and a sporty sneaker.
The cottagecore lounge dress certainly had its moment this past summer. But you don't have to say goodbye to your favorite silhouette just yet. There are plenty of ways you can bring this statement sleeve into fall. If you're planning on running errands for the day, try a sleeveless duster along with stretchy pants and a classic white sneaker. For a more structured look, layer a knitted vest on top, combined with a pleated skirt and some loafers. Or go preppy by draping a sweater across your shoulders with a miniskirt and knee-high boots.
No fall wardrobe is complete without foundational basics, including a simple tank top. The versatility of a tank can take you from a meeting to a dinner date and a night out with friends — its wearability is what makes it a closet staple. To stand out in a sea of ribbed white tanks, look to textured pieces this fall. Think: a cozy bouclé top and a sophisticated pair of trousers, or an open-knit tank with a low-rise skirt and a button-down layered on top. By choosing interesting fabrics, you can transform a simple silhouette into an outfit that demands attention.
Design: Samantha Shin; Images: Laundry By Shelli Segal