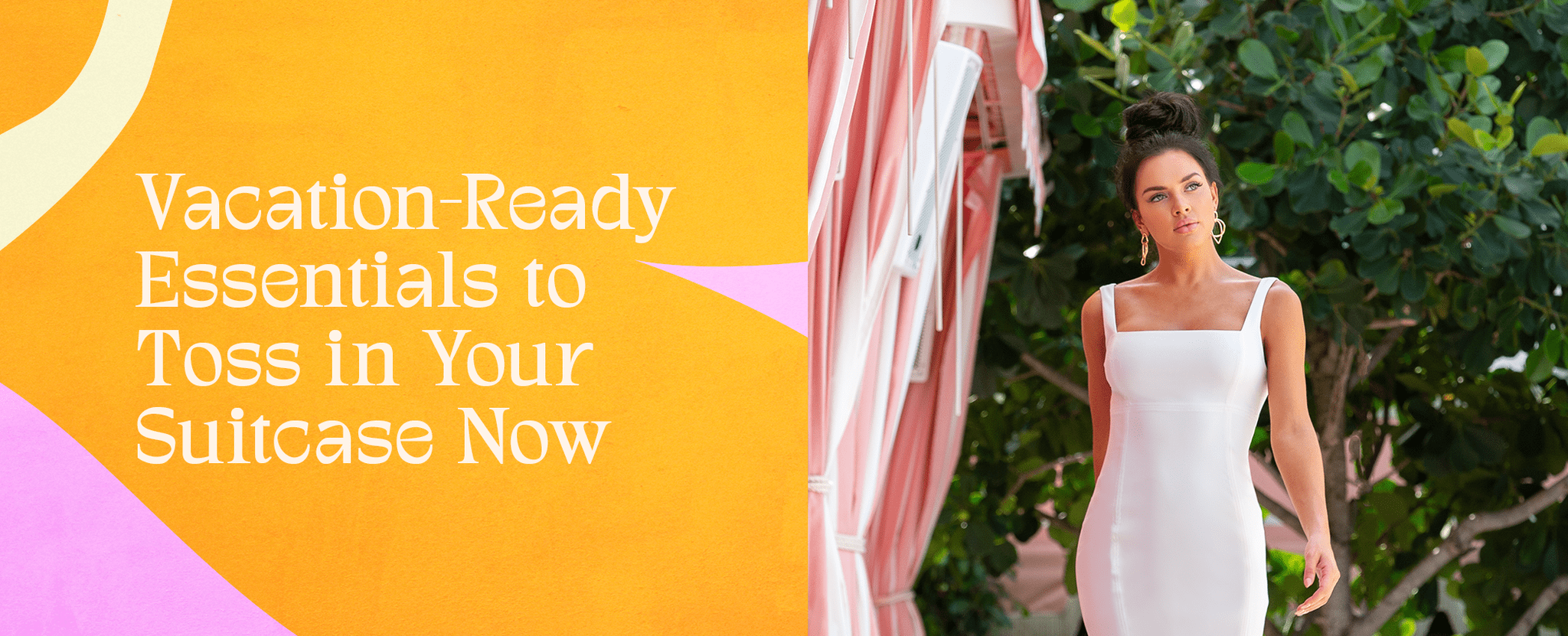 Image Source: Laundry By Shelli Segal
Vacation Essentials From Laundry by Shelli Segal
Vacation-Ready Essentials to Toss in Your Suitcase Now
Got summer travel on the mind? You grab the suitcase, we'll create your packing guide. From versatile pieces you can wear sightseeing to transitional accessories that will take your looks from day to night, we've got all the vacation-worthy pieces that deserve some hard-won real estate in your luggage — or, at the very least, will take the edge off your wanderlust. We're talking flirty dresses, fun (and functional) workout gear, statement earrings, and everything in between from Laundry By Shelli Segal — all shoppable from retailers like Macy's, Saks OFF Fifth, Nordstrom Rack, Dillard's, TJ Maxx, Amazon, HauteLook, and Marmax. Now, all you've got to worry about is enjoying your destination.
The ultimate one-and-done number, a dress is one of the easiest pieces to throw on and go, especially for a vacation. The more flowy, light, and airy, the better. This will help keep you feeling cool, comfortable, and unrestricted throughout the day. Opt for statement details like colorful prints, cool straps, and interesting designs (pleats! ruffles!) and textures. This way, the dress itself is the outfit without requiring you to jazz it up with extras — at least for daytime. Then, to transition it to nighttime, simply add flirty accessories to match.
Whether you're traveling or not, there are few things that look more put-together than a matching set. And for how polished they appear, they're incredibly easy to pull off — and pack — no thinking required. Coordinating separates in breezy silhouettes and breathable fabrics are ideal for traveling, especially if you're headed somewhere warm. Think: a cropped tank and matching wide-leg pants in crisp cotton poplin, or a button-down shirt and shorts in linen. Pro tip: opting for sets in neutral colors will allow you maximum versatility, since you can easily wear the tops and bottoms separately with other pieces to create new outfits.
Even if you have no plans to work out on your trip (and we don't blame you), it's always a good idea to travel with a set or two of activewear. Pieces like leggings, bike shorts, sports bras, and workout tanks or tees can double as airplane clothes or work for a long day of sightseeing, since they'll keep you comfy, cool, and dry. Outside of function, going with fun, vibrant colors and patterns can help match your mood and get you in that vacation mindset if you're not already.
With so many other outfits to consider, it's easy to overlook sleepwear and just toss in an old T-shirt or sweats. But we're here to tell you that being intentional with what you wear to sleep on vacation can actually be a real game changer. Simply put, choosing quality pajamas is thoughtful self-care — it indicates that you value sleep and can help put you in the right mood and mindset before hitting the hay. A matching tank and shorts set in an ultrasoft, lightweight, and breathable fabric and flowy fit will feel gentle on your skin, keep you cool, and allow for easy movement, ultimately resulting in better sleep. Plus, pretty details like delicate lace and a romantic floral print certainly don't hurt!
If you're a smart packer, you won't underestimate the effect of a really good accessory or two. Not only can a well-placed accessory take an outfit to the next level, but it can also completely transform it. Consider a sparkly piece of jewelry. Just add it to a daytime outfit, and suddenly you've got a glam nighttime outfit. For a summer vacation, here are some accessories we always love having on hand: cool sunglasses, statement earrings, a fun straw hat, and a lightweight scarf or shawl that can double as a sarong.