Hats, Boots, and Prairie Dresses: 11 Pieces That Capture Western Style
Every editorial product is independently selected by our editors. If you buy something through our links, we may earn commission.
Let us bring your wardrobe a little west, shall we? As the weather gets chilly, there's nothing better than slipping on a cozy sweater and a suede coat, soft roomy jeans, and a pair of boots. Perhaps that's why we're so excited that Western fashion is the season's hottest trend. Yes, cowboy boots and all.
Below you'll find our favorite pieces to bring a little cowgirl spirit into your wardrobe. Whether you want to go full rodeo with a head-to-toe look or integrate just a little hint of Western style, we have the inspiration you need right here.
Stetson Suede Fringe Jacket
There is no brand more fitted for Western-style dressing than Stetson. This buttery suede coat ($400) will be the fixture of your new wardrobe. Accented with fringe along the arms, chest, and hem, it'll make a statement whether you wear it to work or out with friends. Wear it over your favorite light-washed jeans or even a silky maxi dress when the weather warms up. It's simply that versatile.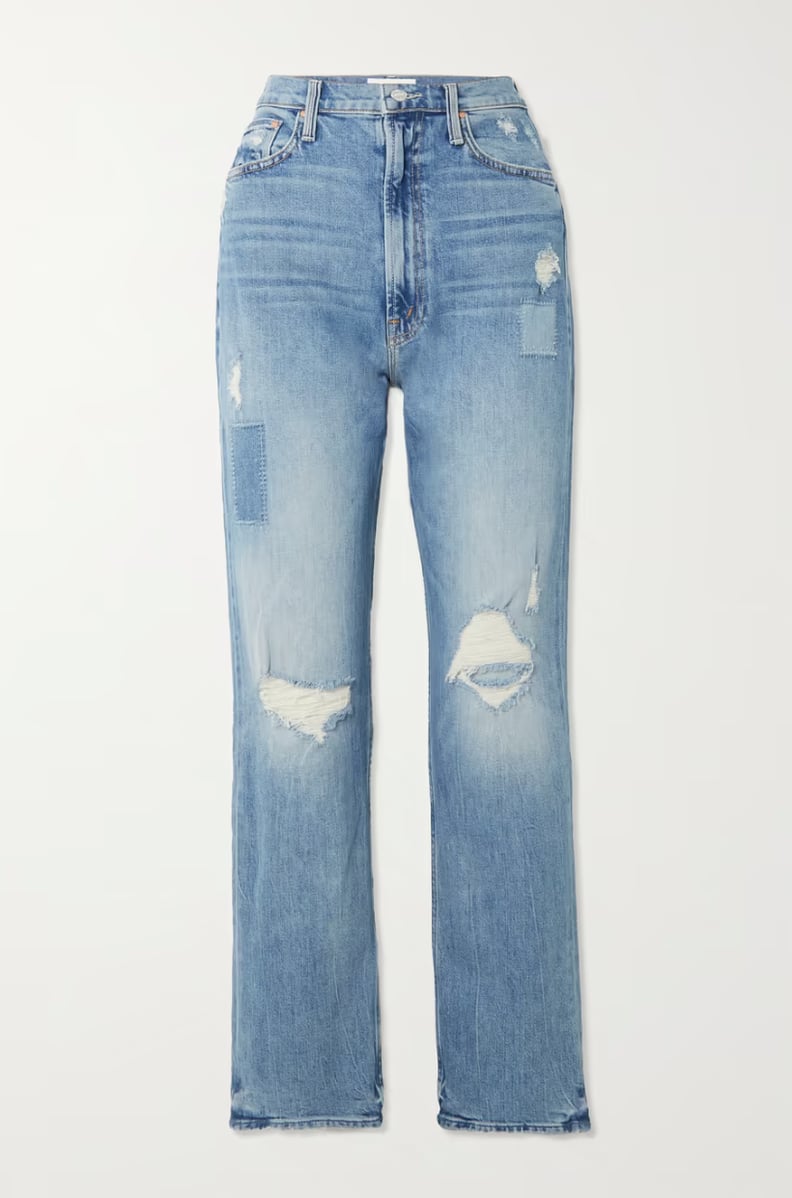 Mother Study Hover High-Rise Straight-Leg Jeans
To pair with your cowboy boots and button-downs, put on some comfy faded jeans. Bonus points for some worn-in knees and a hem that hits right at the ankles — like this straight-leg pair ($112) from Mother. They'll serve you well on busy days full of errands and cozy ones at home, too.
Ganni Women's Knee High Western Boots
The most iconic piece of Western dressing is by far the cowboy boot. This leather-lined pair ($845) are embellished with decorative stitching, has a 1.5-inch heel to give you a little lift, and a knee-high cut that will look good with everything from silky maxi dresses to your Daisy Dukes. (If you've got 'em.)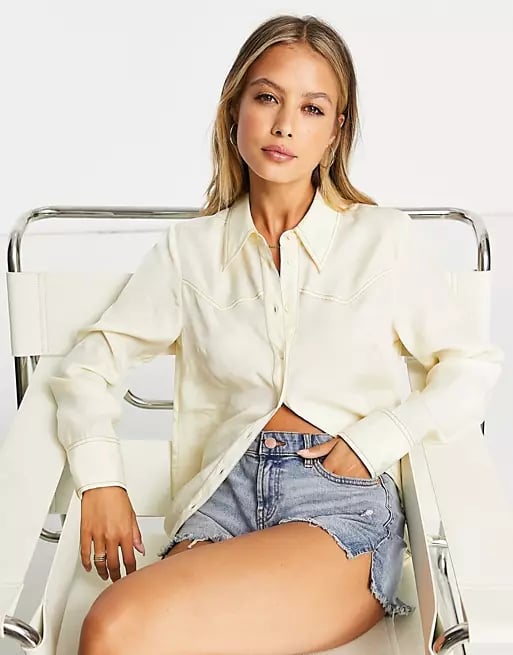 Topshop Premium Western Contrast Stitch Shirt in Buttermilk
To pair with your jeans or mini shorts, you'll need an airy button-down. This buttermilk-hued version ($74) delivers on rancher style with a casual drape and relaxed look. If it's chilly out, slip on a sweater with the collar popping out, and grab that fringed coat for extra warmth.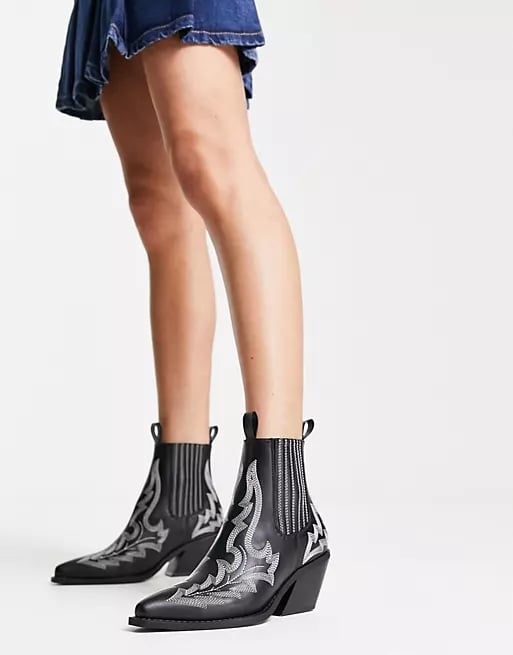 ASOS DESIGN Roxanne Contrast Stitch Western Boots
If you're looking for a lower-profile cowboy boot, try this pair ($68) that put a modern Chelsea spin on the classic Western style. We love the block heel, pointed toe, and contrast stitching. They'd pair just as well with bootcut jeans as they would a flowery prairie dress.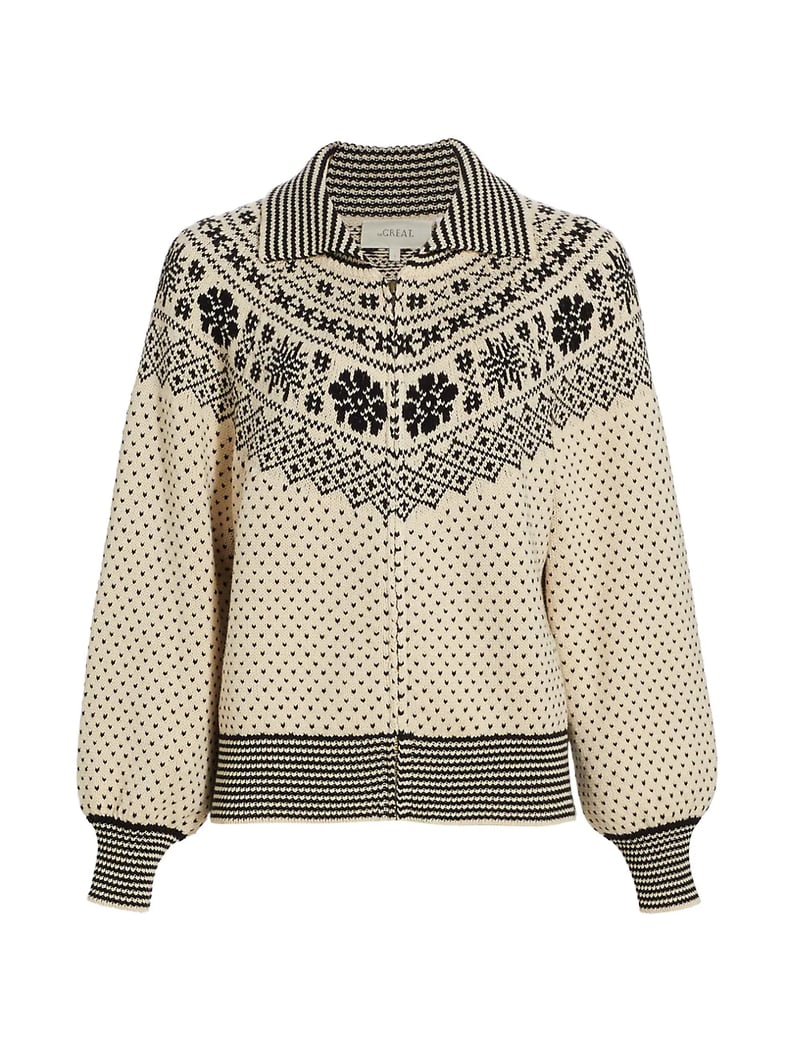 The Great Ranch Zip Cardigan
Après-ski meets home on the range with this soft zip-up ($375) thanks to a mix of patterns, designs, and textures. From the striped hem, cuffs, and collar to the polka-dot body, it's as detailed as it is cozy. Wear it with a pair of comfy jeans or even leggings, and a pair of boots will cap off this luxurious Western-style look.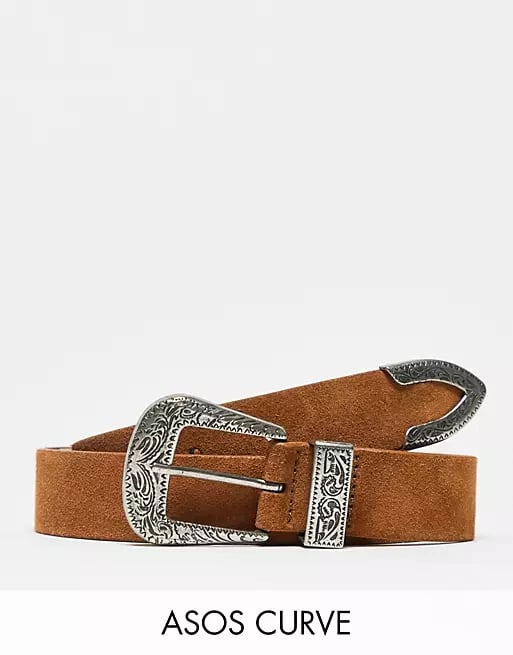 ASOS DESIGN Curve Suede Waist and Hip Western Belt
Add a bit of Western flair to any outfit with this wide suede belt ($22). With an etched silver buckle, it's got all the style and substance you want, whether you actually need to cinch your pants or dress, or just want to accessorize.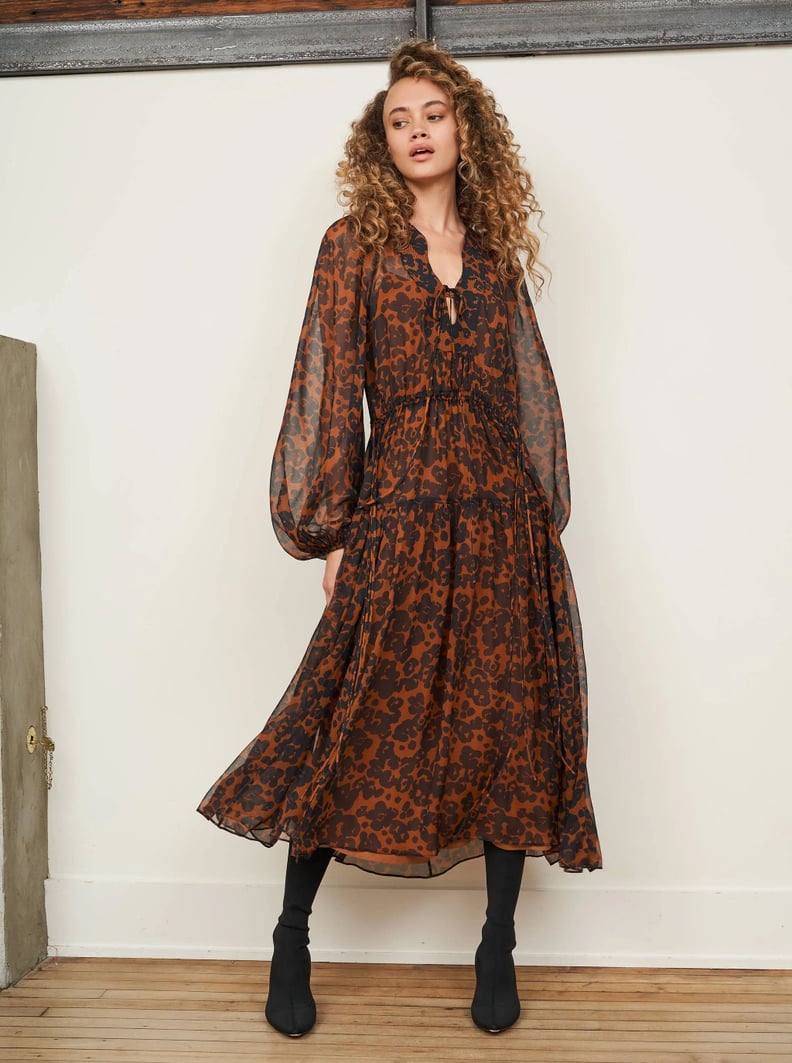 La Ligne Diane Dress
While a lot of Western dressing is rustic and casual, we're here to remind you that it can also be flowy and feminine — dressed up, even. Take this delightful dress ($495), for example. Balloon sleeves and a wavy hem give it an airy look, so all you need is some prairie breeze and a Stetson hat to complete the outfit.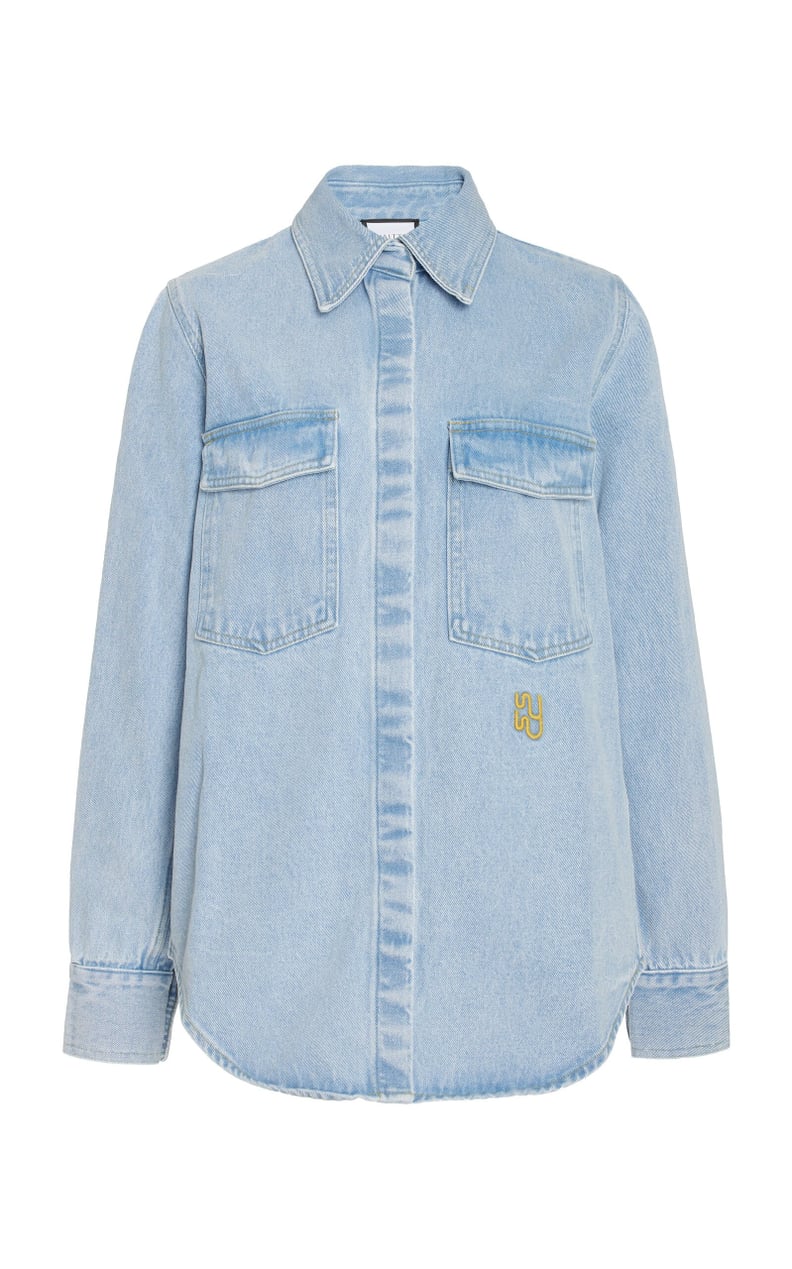 Yaitte Western Embroidered Denim Shirt
A relaxed denim shirt is an essential piece for your Western wardrobe. Half-tuck it into everything from matching denim jeans to a flowy midi skirt. This particular shirt ($255) has nice front flap pockets and a little embroidered insignia that dresses up what is generally a fairly casual piece.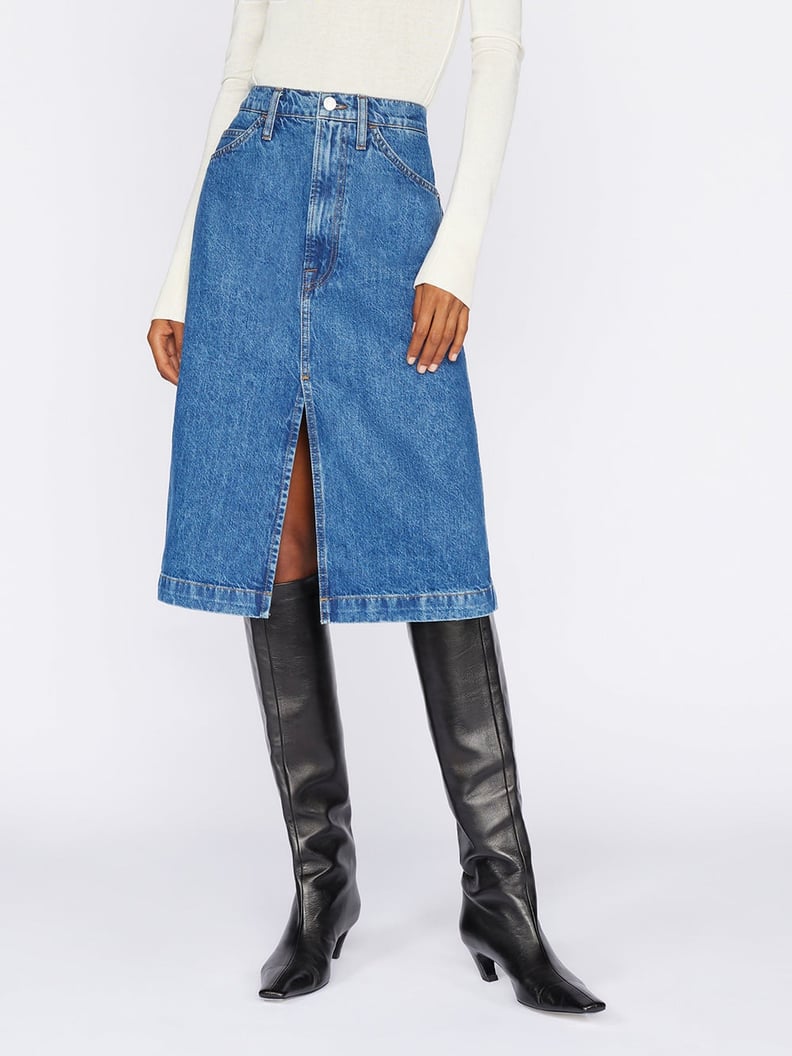 Frame Midi Slit Skirt in Current
Get a chance to show off your cowboy boots with this denim midi skirt ($137) that features a sizable front slit. Made from rigid denim, it's a flattering piece you can dress up or down — with those knee-high boots we mentioned, a cream-colored turtleneck sweater, and a leather jacket.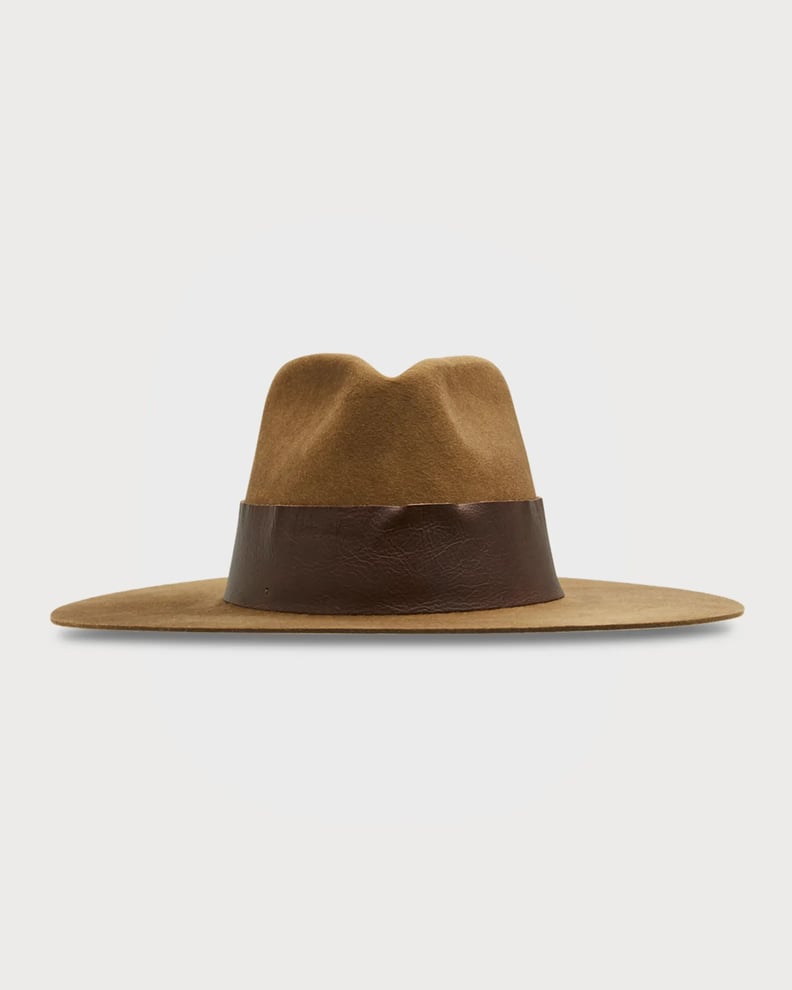 Janessa Leone Montana Fedora
This list wouldn't be complete without a hat. This particular one ($300) has a decidedly Western vibe without feeling too costume-like. We love the wide calf leather band on top of the stiffened wool cap and the pinched crown. It's a beautiful piece that would pair well with any of the clothes and accessories mentioned above. Of course, we're just here for inspiration. Pick up this hat and style it as you wish. This is your rodeo, as they say.