5 Easy Outfit Formulas For Cozy Layering This Winter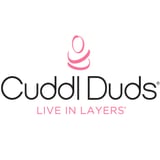 The ideal layering piece is soft, stretchy, and multifunctional. Teaming up with
Cuddl Duds®
, we're sharing layering essentials you can easily wear to take on cooler temps.
While we all know layers are the key to warmth, pulling them off in a stylish, comfort-first way is easier said than done. You may think bundling up for winter requires bulky layers, restricting clothing, and itchy fabrics, but it doesn't have to. This season, don't overthink it. Instead, stock up now and focus on soft and snug base layers that can become building blocks for your year-round wardrobe.
From fitted tees to stretchy leggings to toasty-warm fleece, Cuddl Duds offers no-brainer basics that allow you to comfortably (and stylishly!) live in layers. Whether you're staying inside or heading outdoors, the below combos are just a few ways to layer smartly and efficiently as temperatures drop. With these essentials in your arsenal, staying warm is something you won't have to think twice about!
A top and blazer may seem like an obvious combination, but this Softwear with Stretch long-sleeved crewneck is not your ordinary shirt. Made for layering, it's an ideal everyday essential that works seamlessly under any sweater or jacket, providing an extra layer of softness and warmth.
It's available in a variety of prints and colors, so don't just settle on basic black. Opt for a pop of color and try wearing it with a classic open blazer. It's a look that's polished and chic without sacrificing warmth like a silk blouse would.
On those really cold days, don't just leave the layering to your top half. Your favorite jeans can be "winter-ized" with these soft and stretchy Softwear with Stretch leggings. They're light enough to be worn underneath jeans, pants, dresses, you name it, but substantial enough to provide comfy warmth. It's that extra barrier of fabric that makes a big difference!
Thanks to handy thumbholes and a close fit, this Stretch Thermal Top can easily be layered into your winter wardrobe (like when worn with your favorite flannel). It's lightweight, stretchy, and incredibly soft, making it ideal for all-day comfort no matter what it's paired with.
A turtleneck may just be the most versatile layer of all. This Softwear with Stretch Turtleneck in particular was made for wearing underneath anything and everything. It provides a secure layer of warmth without the bulk as you'll want a snug fit to hold your body heat in.
Try wearing one underneath your favorite jumpsuits and dresses as a chic way to look put-together while feeling warm and comfy. It's a great hack for getting year-round use out of your warmer-weather pieces. And it comes in multiple colors and prints, so you're bound to find one that works with all of your favorites.
Moto Jacket + Fleece Vest
When you really need to bundle up, try doubling your outer layers. This supersoft Fleecewear with Stretch vest is so versatile, it can be worn over turtlenecks, tees, or sweaters, or it can just as easily be layered under your coat for an extra barrier against freezing temps.
We love the effortless, laid-back vibe of pairing it with a stylish moto jacket. This combo will chase away the chill while ensuring you look cool, not cold.