I Lost 20 Pounds in 3 Months by Combining These Popular At-Home Programs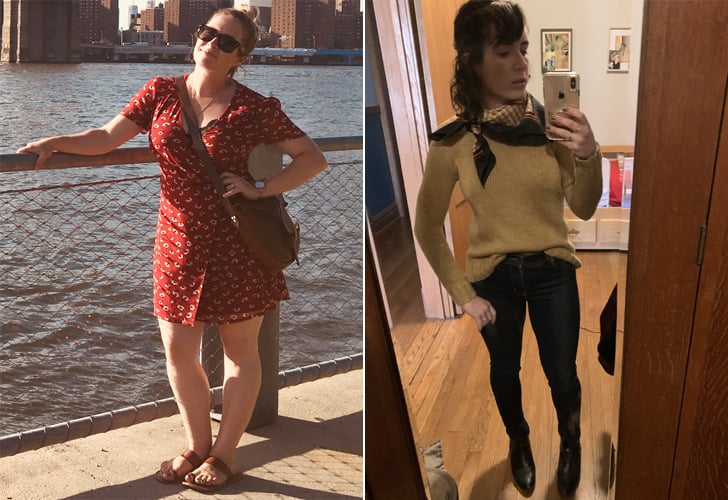 Laurel Niedospial
Laurel Niedospial
I'm not sure how it happened. OK, maybe I do know. After a year of eating (and drinking) more calories than I should, my usually slight frame was only 10 pounds lighter than it had been when I was nine months pregnant with my now 3-year-old son. To be clear, I gained 40 pounds during my pregnancy, so three months ago when I climbed onto the scale and saw that my food baby weighed almost as much, I knew I needed to do something.
So, like millions of women before me, I turned to WW to help manage my eating. Later, I started doing the BBG fitness program, which consists of three 28-minute resistance training sessions and three to four cardio sessions per week. In three months, I lost 20 pounds, and I'm still losing weight. While I may not be at my end goal yet — after all, I'm only at week eight of the 12-week BBG program — I have found that these two programs are exactly what I needed to help me finally make fitness a priority. Here are the tips and tricks I've learned along the way and continue to use to find the healthiest version of myself.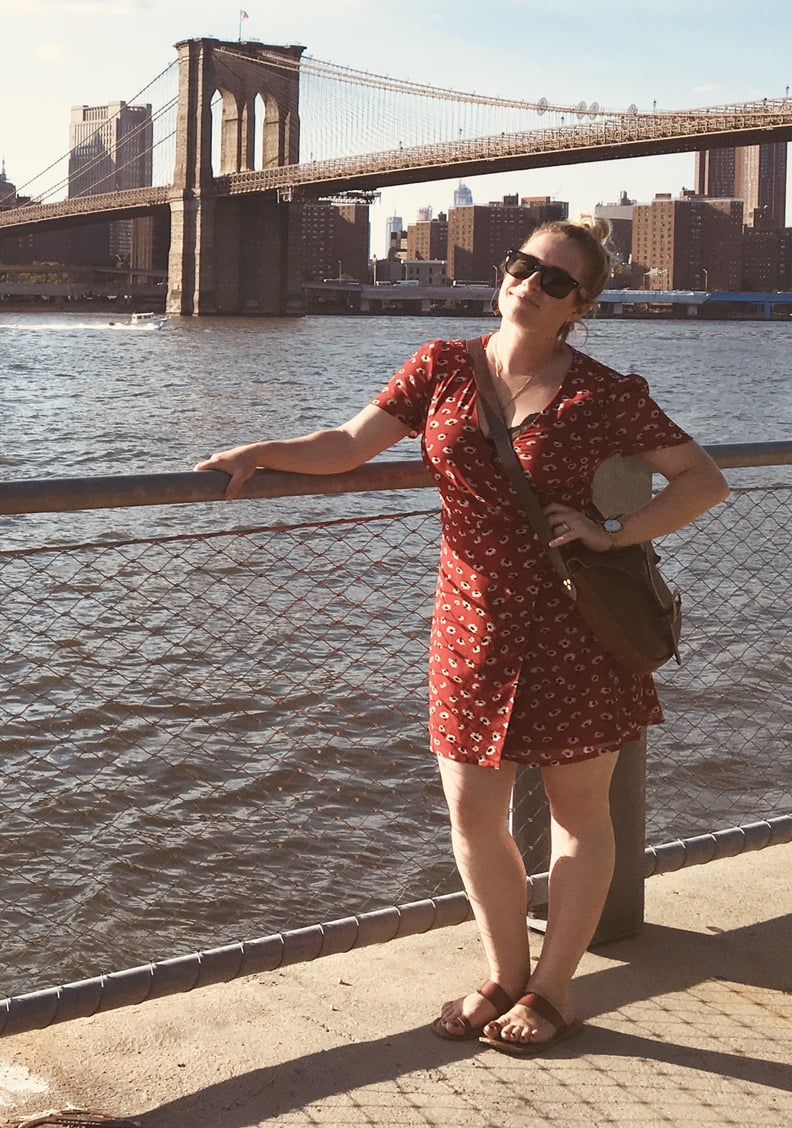 Just Start
As a general rule, I don't take a lot of photos of myself and certainly not a lot of full-body shots. It wasn't until this photo that I realized how much weight I had gained. I wish I could blame it on growing accustomed to my postpartum body, but my son is 3, and I've had plenty of time to get in shape. Unfortunately, I always had a list of weddings, plans, and events that took priority — so I kept pushing it off until later.
Even after this photo, I waited three more months to begin my new programs. So, take it from me: start now. Seriously, you can begin a new fitness program even if you've already gone out to brunch and had bottomless mimosas. There really is no time like the present.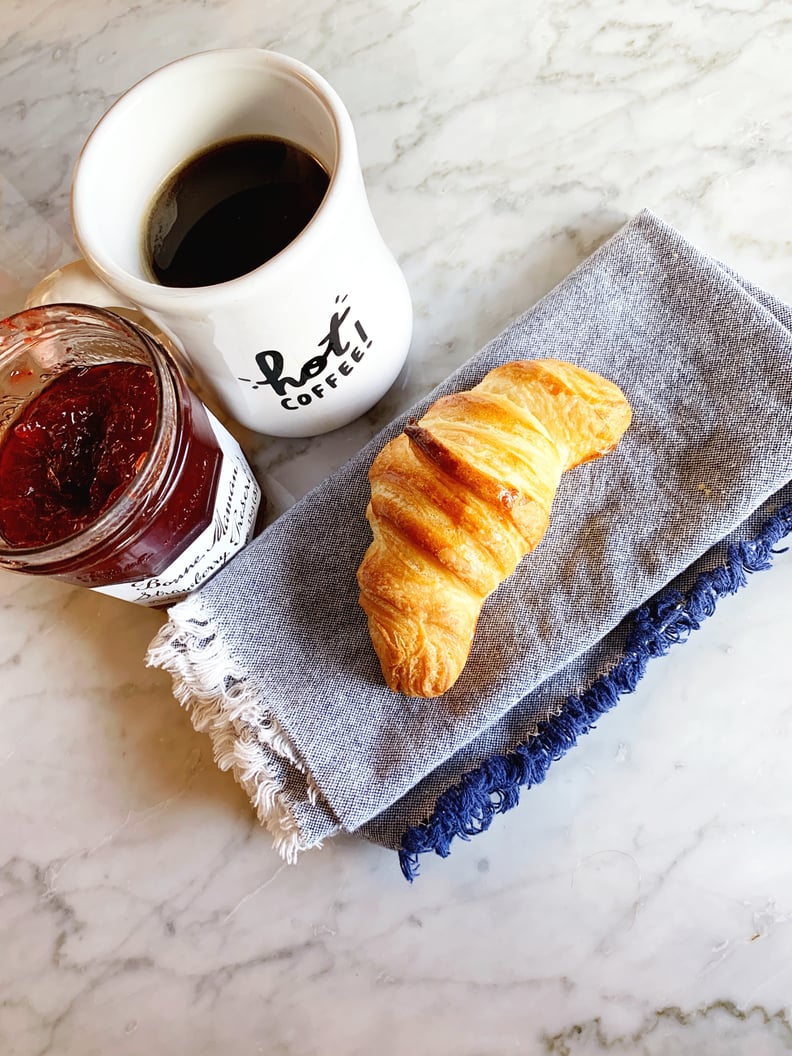 Not All Points Are Created Equal
WW has been great for me, in part because I get to eat whatever I want. After all, I'm an adult and can make my own decisions about my diet. This delicious, homemade croissant was worth every bite, but at eight SmartPoints, it limited me greatly for the rest of the day. Since I only have a budget of 23 points per day, I had to be extremely mindful of what I ate in the hours that followed. Plus, while this croissant was oh so yummy, I spent the rest of the morning superhungry and a touch cranky because I wasn't satisfied.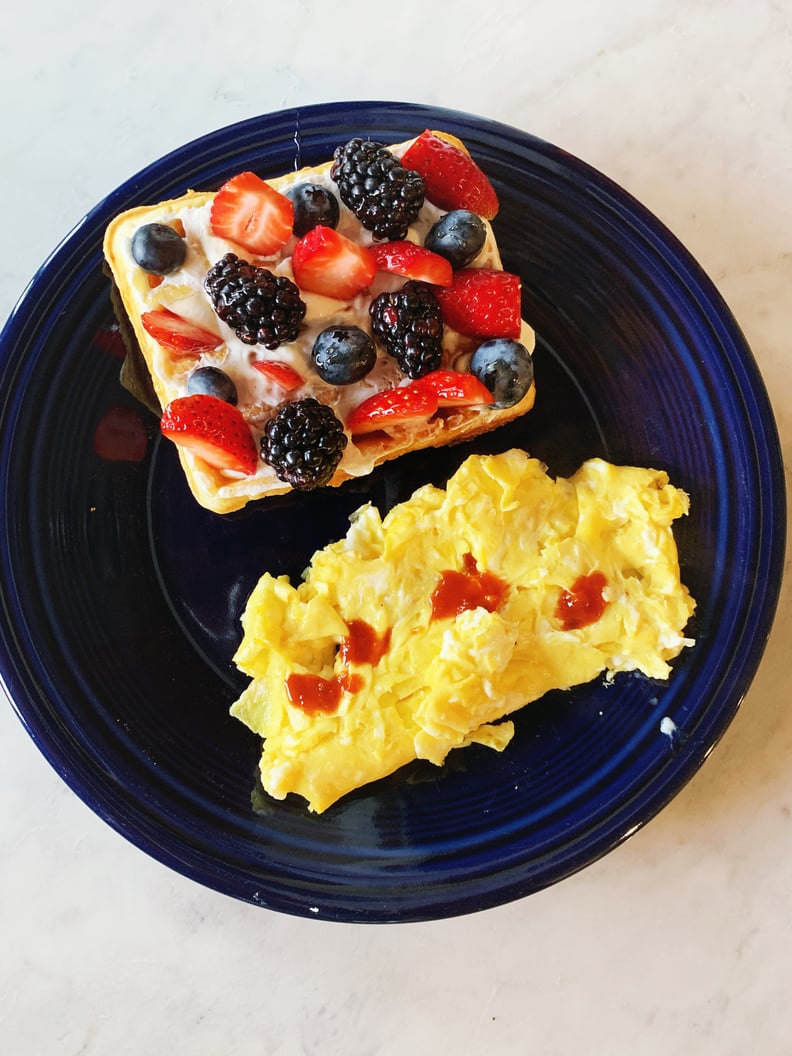 Use Those 0-Point Foods Hard
This five-SmartPoint breakfast stands in clear contrast to that rich French pastry. WW has so many 0-point foods that it's really easy to never go hungry. Eggs, poultry, nonfat Greek yogurt, and fruits and veggies are just some of the foods I can eat without worrying about counting points. In fact, my husband and I are currently planning a week around 0-point meals.
When I'm eating these proteins, vegetables, and fruit, I don't need to limit myself elsewhere. I have no problem eating a buttermilk waffle for breakfast, nor do I abstain from having a beer or glass of wine at night. I'm eating more healthfully than I ever have in my life, and I'm still enjoying the things that I loved before this new program. Here's what a typical day on WW looks like for me:
Breakfast
Buttermilk waffle: 4 SP
Greek yogurt: 0 SP
Berries: 0 SP
Honey: 1 SP
3 eggs: 0 SP
Lunch
2 Ole wraps: 2 SP
Grilled fish: 0 SP
Avocado: 3 SP
Greek yogurt: 0 SP
Cabbage slaw: 0 SP
Dinner
Chicken tortilla soup: 0 SP
Olives: 1 SP
Avocado: 3 SP
Greek yogurt: 0 SP
Tortilla chips: 4 SP
Beer: 5 SP
TOTAL FOR THE DAY: 23 SmartPoints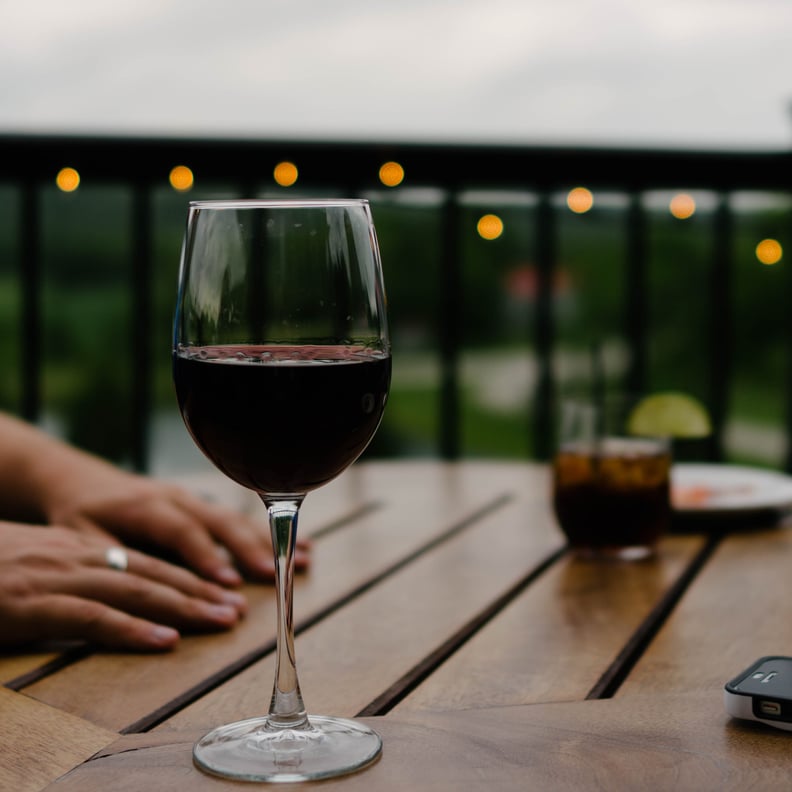 Plan Your Meals Out, Too
It's so helpful to plan your meals at the beginning of the week (meal prep can keep you on track!), but scheduling those splurges is also valuable. My husband and I love takeout, especially sushi. We also go out for dinner at least once a week. When we plan these meals in advance, I'm able to stick to low-point foods for breakfast and lunch, so I can indulge that evening.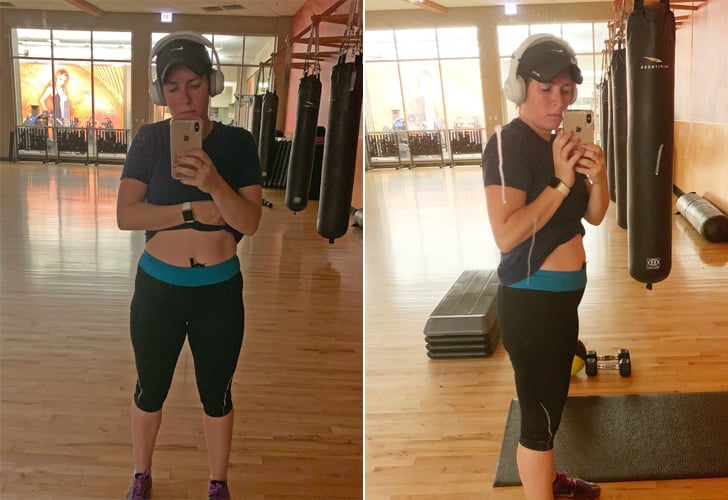 Shake Up Your Exercise Routine
After a month on WW, I lost six pounds, but my results were not as quick as I wanted. I've been running off and on for seven years and generally considered myself fit. However, I realized that running three miles a couple of times a week wasn't cutting it anymore. These photos were taken on the first day using the BBG program, which was unlike anything I had ever done. I'm not one to lift weights or sit and do crunches, but I wanted to look better and feel better, so I had to try something different.
Take Progress Photos
After several weeks of BBG workouts, I lost nearly 10 pounds and was starting to see results. As embarrassing as it is to take photos of yourself (especially at the gym), taking progress shots helped me see how far I had come already. It was an easy way to document what I was doing, and I became my own fit-inspiration.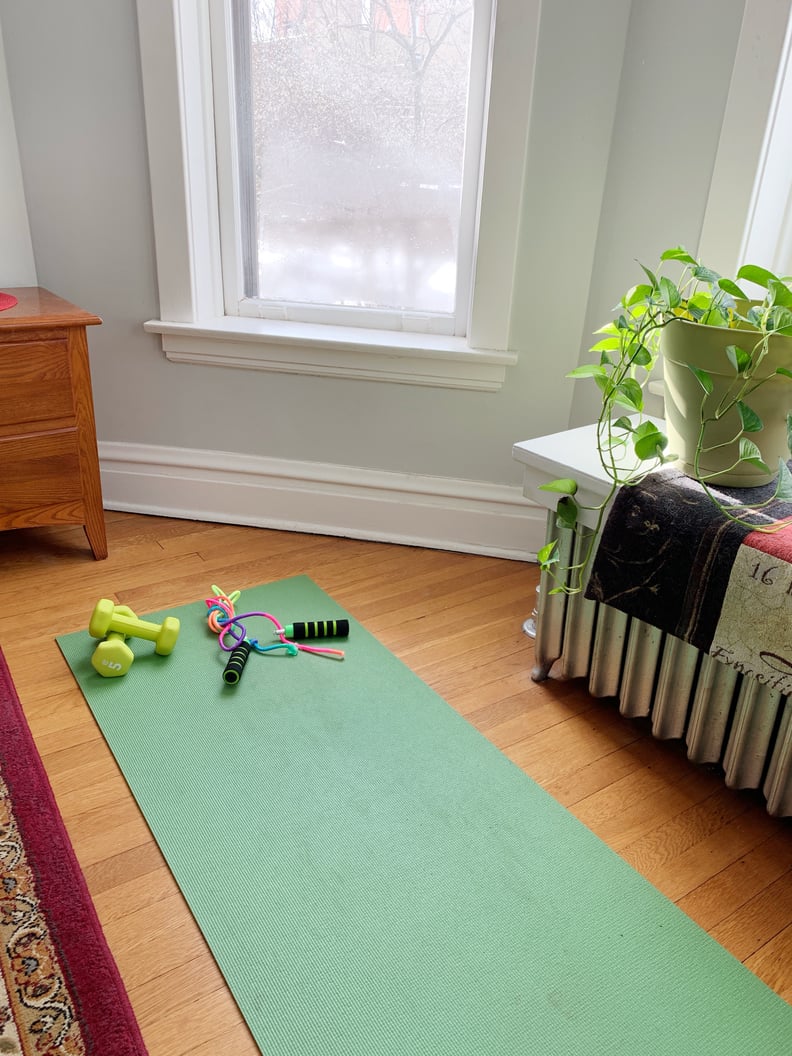 You Don't Need a Lot of Space to Exercise
I started exercising in a gym but quickly realized I don't need all that. All I need to do most of the BBG program is what you see here. Other equipment, like benches to step on, I can makeshift with things I already have in my home. For the LISS cardio and HIIT elements of my workouts, I walk or run outside.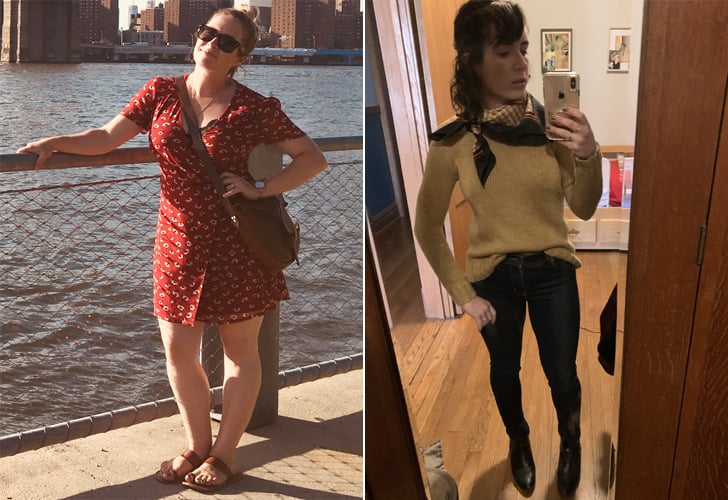 Take Your Time, and Be Kind to Yourself
For the first time in my life, I'm starting to develop real muscle. I love where I am right now, but I do hope to lose another 10 to 15 pounds. However, my weight loss has slowed down a bit, I suspect because I'm building muscle — and you know what? That's OK. What I appreciate about both BBG and WW is that they are not quick fixes but real and attainable adjustments to your lifestyle. This is a marathon, not a sprint, and I know I'm on the right track.
If you choose one of these programs, don't be afraid to modify them to better meet your needs, either. Thanks to running, I have sensitive knees, so I have to modify or go very slow for some of the BBG exercises. I'd rather modify the program than avoid it entirely because I'm worried about not doing it right. There is no right or wrong way to get fit, so take your time, and go at your own pace.