Here's a 5-Day Full-Body Workout Challenge With the Most Entertaining Trainers We Know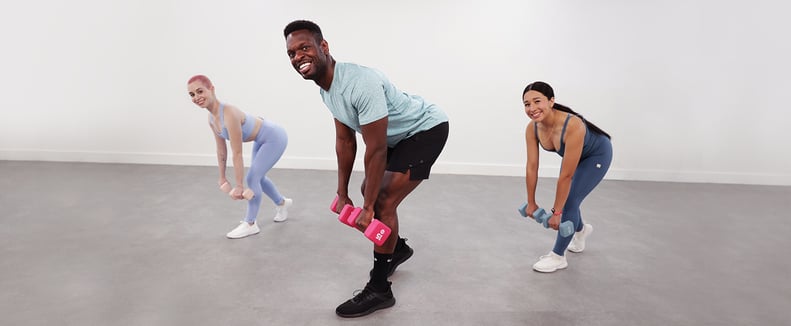 POPSUGAR Video
If your current workout routine is a snoozefest, allow me to make a recommendation: this 5-day full-body workout challenge from POPSUGAR's Class Fitsugar. We've teamed up two of our most hilarious and high-energy trainers — comedian and Supernatural coach Raneir Pollard, and dancer and burlesque performer Jake DuPree — for a stacked set of workouts you'll really, truly love doing.
The challenge is simple. Allow Pollard and DuPree to lead you through five days of 10- to 30-minute workouts that will have you sweating and smiling ear-to-ear from start to finish (we're not exaggerating). You'll pulse through barre-inspired moves with DuPree and sweat through strength circuits with Pollard, and together, these five workouts will target all of your muscles. You can do each routine without equipment, but have a pair of dumbbells and a Pilates ball handy for an extra challenge.
Complete the challenge right here or find it on YouTube — however you sweat, it's that you get it done (and enjoy it) that matters.
DAY 1: 30-Minute Bodyweight HIIT Core Workout With Raneir Pollard
The challenge kicks off with a 30-minute bodyweight HIIT workout that'll have you blasting through kicks, planks, squats, and more while Pollard turns on his comedic charm. (Hey, if you find yourself laughing throughout, that's just an additional way to work your abs, right?) All you need is a mat to get started — and probably a towel, because phew.
DAY 2: 10-Minute Ab Workout With Jake DuPree
If your arms and legs are sore from yesterday's HIIT, take heart that today's challenge workout is all about your abs. Grab a Pilates ball (though you can still do this workout without one), and join DuPree on the mat. They might keep you distracted during this quick 10-minute workout, but your core is sure to feel the burn.
DAY 3: 10-Minute Lower-Body Strength-Training Workout With Raneir Pollard
Here's hoping your legs aren't still sore from Day 1's HIIT, because today is lower-body day. If you have a pair of dumbbells, grab them and hit the mat. Pollard's 10-minute leg workout will prove that you can completely toast your legs in such a short time — and that laughing is especially brutal while you're mid-single-leg deadlift.
Pollard's outfit:Lululemon
Keeshin's outfit: Gymshark
Aviles's outfit: Vuori
DAY 5: 30-Minute Abs and Booty With Jake Dupree
It's the final countdown, and DuPree is leading you to the finish line with a 30-minute abs and glutes workout that will help you build a core of steel. If you have a pair of light- to medium-weight dumbbells, keep them nearby for an extra challenge. When you're done? Celebrate, take a rest day, and then set your sights on another fitness challenge (you know you can't resist!).
DuPree's Shirt: Alo Yoga
DuPree's Shorts: Lululemon