How Many Calories Are in Halo Top?
Is Halo Top Ice Cream Really Healthy? Here's Exactly What's Inside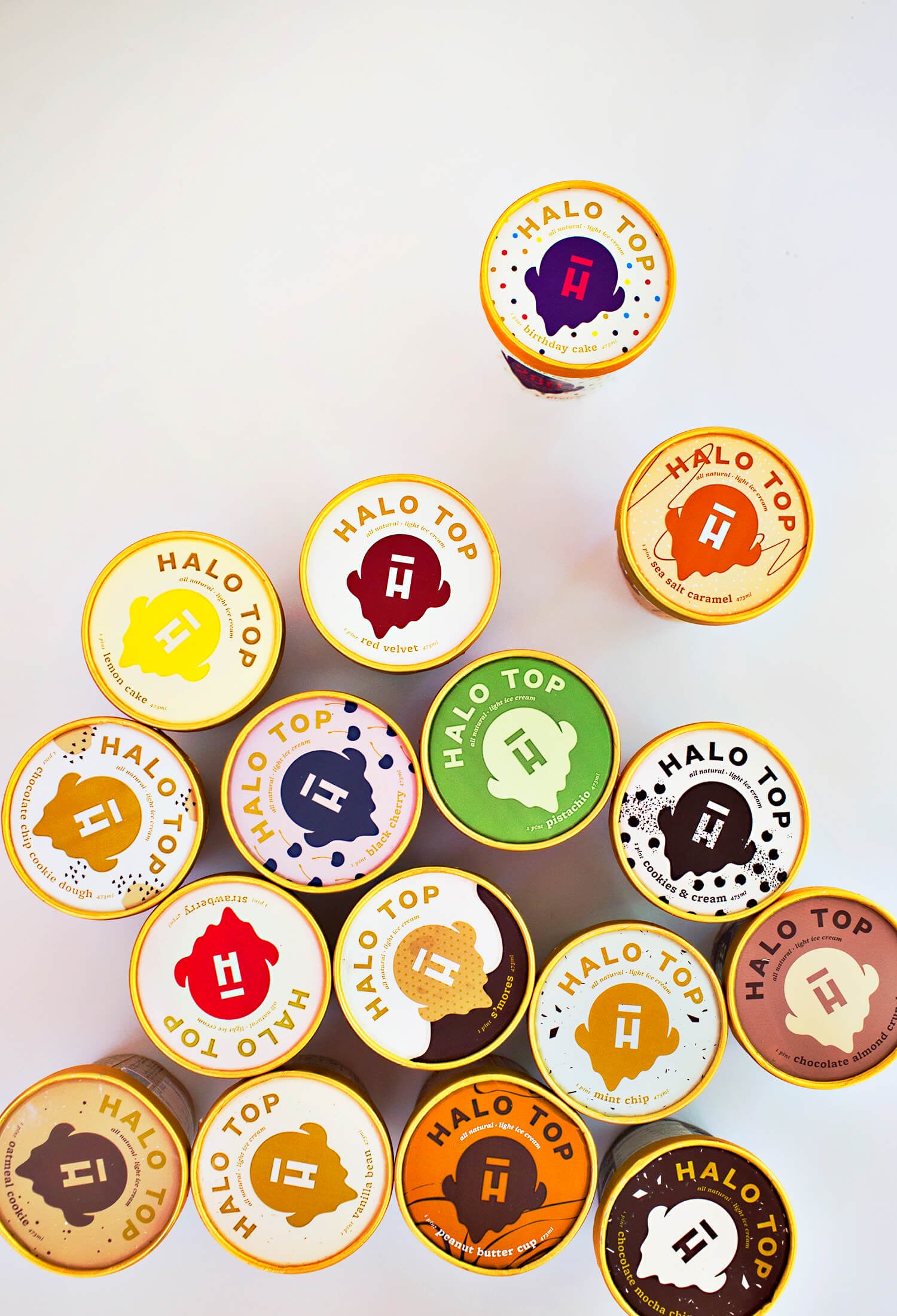 When Halo Top ice cream came on the scene highlighting only 240 to 360 calories per pint, we were all thinking, what's the catch? After all, the same amount of Ben & Jerry's can set you back nearly four times as much! So we've been gobbling up Halo Top when our sweet tooth takes over.
But even if it is a healthier ice cream, you still want to be conscious of how much sugar and fat you're putting into your body. Don't worry, each flavor has plenty of protein, too! The one thing to keep in mind with Halo Top — and most lightened-up ice cream — is that they are generally not made from whole, natural ingredients. Looking at the ingredient list you'll see things like sugar alcohols, natural flavors, added fibers, and thickeners like guar gum and xanthan gum. You may also see ingredients you don't recognize or can't pronounce.
For a quick look at the macronutrient content, here's the breakdown of favorite flavors.
Birthday Cake (per pint)
| Calories | Sugar (g) | Fat (g) | Carbs (g) | Protein (g) |
| --- | --- | --- | --- | --- |
| 280 | 24 | 8 | 56 | 20 |
Black Cherry (per pint)
| Calories | Sugar (g) | Fat (g) | Carbs (g) | Protein (g) |
| --- | --- | --- | --- | --- |
| 280 | 20 | 8 | 48 | 20 |

Candy Bar (per pint)
| Calories | Sugar (g) | Fat (g) | Carbs (g) | Protein (g) |
| --- | --- | --- | --- | --- |
| 360 | 28 | 14 | 64 | 24 |

Caramel Macchiato (per pint)
| Calories | Sugar (g) | Fat (g) | Carbs (g) | Protein (g) |
| --- | --- | --- | --- | --- |
| 360 | 28 | 8 | 64 | 20 |

Chocolate (per pint)
| Calories | Sugar (g) | Fat (g) | Carbs (g) | Protein (g) |
| --- | --- | --- | --- | --- |
| 280 | 20 | 10 | 48 | 20 |
Chocolate Almond Crunch (per pint)
| Calories | Sugar (g) | Fat (g) | Carbs (g) | Protein (g) |
| --- | --- | --- | --- | --- |
| 320 | 20 | 12 | 52 | 24 |
Chocolate Chip Cookie Dough (per pint)
| Calories | Sugar (g) | Fat (g) | Carbs (g) | Protein (g) |
| --- | --- | --- | --- | --- |
| 360 | 28 | 12 | 64 | 20 |
Chocolate Covered Banana (per pint)
| Calories | Sugar (g) | Fat (g) | Carbs (g) | Protein (g) |
| --- | --- | --- | --- | --- |
| 280 | 24 | 10 | 60 | 20 |
Chocolate Mocha Chip (per pint)
| Calories | Sugar (g) | Fat (g) | Carbs (g) | Protein (g) |
| --- | --- | --- | --- | --- |
| 320 | 24 | 12 | 56 | 24 |
Cinnamon Roll (per pint)
| Calories | Sugar (g) | Fat (g) | Carbs (g) | Protein (g) |
| --- | --- | --- | --- | --- |
| 360 | 32 | 12 | 76 | 20 |
Cookies & Cream (per pint)
| Calories | Sugar (g) | Fat (g) | Carbs (g) | Protein (g) |
| --- | --- | --- | --- | --- |
| 320 | 28 | 10 | 64 | 20 |

Lemon Cake (per pint)
| Calories | Sugar (g) | Fat (g) | Carbs (g) | Protein (g) |
| --- | --- | --- | --- | --- |
| 240 | 20 | 8 | 52 | 20 |

Mint Chip (per pint)
| Calories | Sugar (g) | Fat (g) | Carbs (g) | Protein (g) |
| --- | --- | --- | --- | --- |
| 240 | 20 | 8 | 56 | 20 |

Mochi Green Tea (per pint)
| Calories | Sugar (g) | Fat (g) | Carbs (g) | Protein (g) |
| --- | --- | --- | --- | --- |
| 320 | 20 | 8 | 64 | 20 |
Oatmeal Cookies (per pint)
| Calories | Sugar (g) | Fat (g) | Carbs (g) | Protein (g) |
| --- | --- | --- | --- | --- |
| 280 | 20 | 8 | 56 | 20 |

Pancakes & Waffles (per pint)
| Calories | Sugar (g) | Fat (g) | Carbs (g) | Protein (g) |
| --- | --- | --- | --- | --- |
| 280 | 28 | 8 | 64 | 20 |

Peanut Butter Cup (per pint)
| Calories | Sugar (g) | Fat (g) | Carbs (g) | Protein (g) |
| --- | --- | --- | --- | --- |
| 320 | 24 | 12 | 56 | 20 |
Pistachio (per pint)
| Calories | Sugar (g) | Fat (g) | Carbs (g) | Protein (g) |
| --- | --- | --- | --- | --- |
| 240 | 20 | 8 | 52 | 20 |
Pumpkin Pie (per pint)
| Calories | Sugar (g) | Fat (g) | Carbs (g) | Protein (g) |
| --- | --- | --- | --- | --- |
| 360 | 28 | 12 | 72 | 20 |
Rainbow Swirl (per pint)
| Calories | Sugar (g) | Fat (g) | Carbs (g) | Protein (g) |
| --- | --- | --- | --- | --- |
| 240 | 20 | 8 | 56 | 20 |
Red Velvet (per pint)
| Calories | Sugar (g) | Fat (g) | Carbs (g) | Protein (g) |
| --- | --- | --- | --- | --- |
| 360 | 28 | 12 | 64 | 20 |

Sea Salt Caramel (per pint)
| Calories | Sugar (g) | Fat (g) | Carbs (g) | Protein (g) |
| --- | --- | --- | --- | --- |
| 320 | 28 | 8 | 60 | 20 |
S'mores (per pint)
| Calories | Sugar (g) | Fat (g) | Carbs (g) | Protein (g) |
| --- | --- | --- | --- | --- |
| 320 | 28 | 10 | 64 | 20 |
Strawberry (per pint)
| Calories | Sugar (g) | Fat (g) | Carbs (g) | Protein (g) |
| --- | --- | --- | --- | --- |
| 280 | 24 | 8 | 56 | 20 |
Vanilla Bean (per pint)
| Calories | Sugar (g) | Fat (g) | Carbs (g) | Protein (g) |
| --- | --- | --- | --- | --- |
| 240 | 20 | 8 | 52 | 20 |