Sweet Potato Cinnamon Rolls
These Sweet Potato Cinnamon Rolls Are a Breakfast Dream Come True
Bite into a bit of Fall with these sweet potato cinnamon rolls. They contain no eggs and no dairy, making them a heavenly vegan breakfast.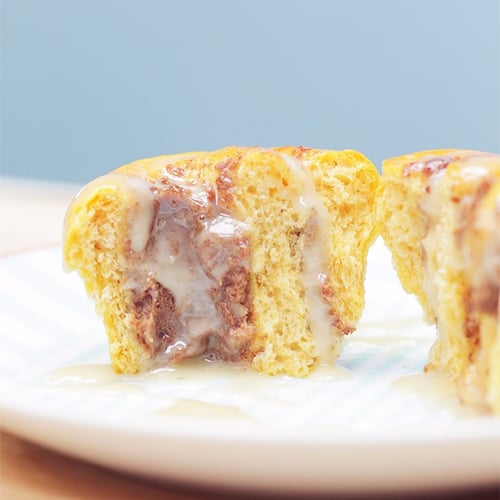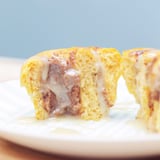 Ingredients
Dough:
2 medium sweet potatoes
1 1/2 teaspoons active dry yeast
1/4 cup warm (not hot) water
1/4 cup vegan butter (like Earth Balance) melted and cooled
2 tablespoons maple syrup
1/2 teaspoon salt
1 2/3 cups all purpose flour
1 cup white whole wheat flour
Cinnamon Filling:
1 cup pitted dates
2 tablespoons hot water
2 tablespoons vegan butter
1 tablespoon cinnamon
Maple Glaze:
3/4 cup arrowroot
1/2 cup maple syrup
1 teaspoon vanilla
Nonstick cooking spray
Directions
Place sweet potatoes on a baking sheet and bake at 400 for 30 to 40 minutes until completely soft. Once cool enough to handle, remove skins and puree flesh in a food processor until completely smooth. Measure one cup of puree. (Any leftover puree can be frozen for future use.)
Sprinkle yeast into warm water in a small bowl and set aside. Combine flours in a medium bowl and whisk together. Place sweet potato puree, vegan butter, maple syrup, salt, and yeast mixture into the bowl of a stand mixer fitted with a dough hook and mix until combined, scraping and stirring with a rubber spatula if necessary. With mixer running on low speed (2), add 2 cups of flour and mix until thoroughly incorporated. Add additional flour, a little at a time, until dough is not sticky to the touch and forms a single ball and releases from sides of bowl. Continue to mix for another two minutes, then transfer dough to a medium bowl coated with nonstick cooking spray, and cover with plastic wrap. Place in a warm spot to rise for 1 hour, until dough has doubled in bulk.
Place dates, vegan butter, 2 tablespoons hot water and cinnamon in a food processor and process on high until smooth. Add additional water if necessary to get a spreadable consistency.
Remove dough from bowl and roll out on parchment or a floured surface to a rectangle approximately 16 x 6 inches. Spread cinnamon filling in an even layer, all the way to the edges, and roll up dough lengthwise to form a 16 inch roll. Trim and discard ends. Cut dough in half, then quarters, then each quarter into thirds, for a total of 12 slices. Coat a muffin tin in nonstick cooking spray, and place one spiral into each cup. Place in a warm spot to rise for 20 minutes.
Preheat oven to 325°F.
In a small bowl, whisk together arrowroot, maple syrup, and vanilla.
Once rolls have risen, bake for 15 minutes, or until tops are golden brown.
Allow rolls to cool to the touch, and drizzle with maple glaze.
Information
Category

Breakfast/Brunch

Yield

12 servings

Cook Time

2 hours