What Is It Like to Run a Disneyland Half Marathon?
This Is What It's Like to Run a Half-Marathon — Through Disneyland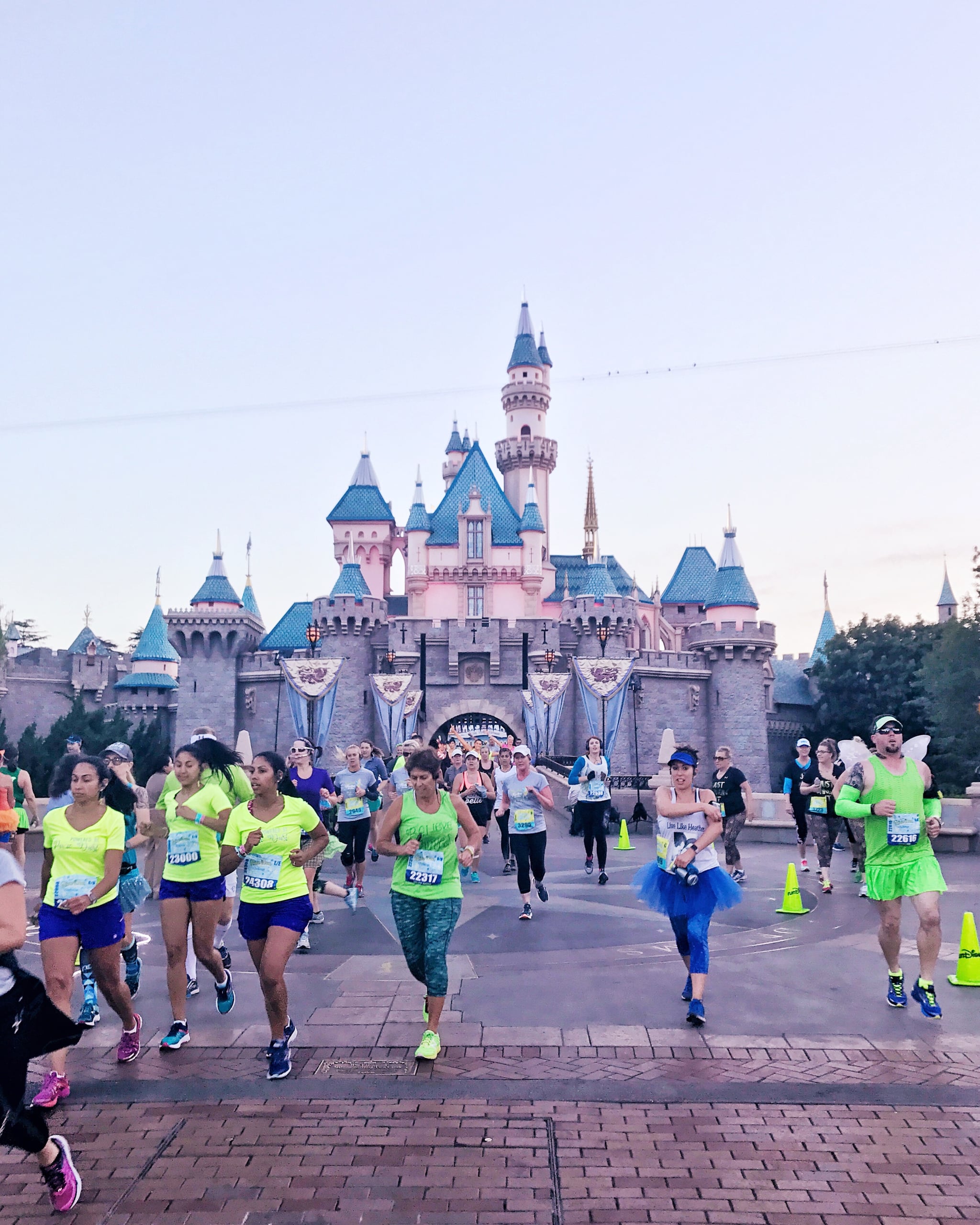 While most parts of my job get me pretty excited, I must say I was particularly freaking the f*ck out delighted when I got invited to the Tinker Bell Half Marathon at Disneyland — and that's putting it mildly. My Disney-loving, 5-year-old-at-heart self was coming out of my skin with glee.
Since Nike discontinued the women's half-marathon events in 2015 (RIP), I had yet to find a race that had really captured my heart and provided an experience that would leave me counting down the days until registration, waiting on my computer with my credit card in hand, ready to willingly throw down $200-ish for a long run.
And that's just the reason — so many races are really just a long run with decent support. And while it's lovely to participate in these local events, especially the charitable ones, I can go on a 13.1 mile run in my hometown on any Sunday. What makes a half marathon into a memorable experience takes a little extra magic, and if anyone's got that touch of magic, it's Disney. Just like a fairy godmother can turn a pumpkin into a carriage, Disney bibbidi-bobbidi-boo'd an otherwise boring and painfully long run into a nostalgically fun and truly spectacular event.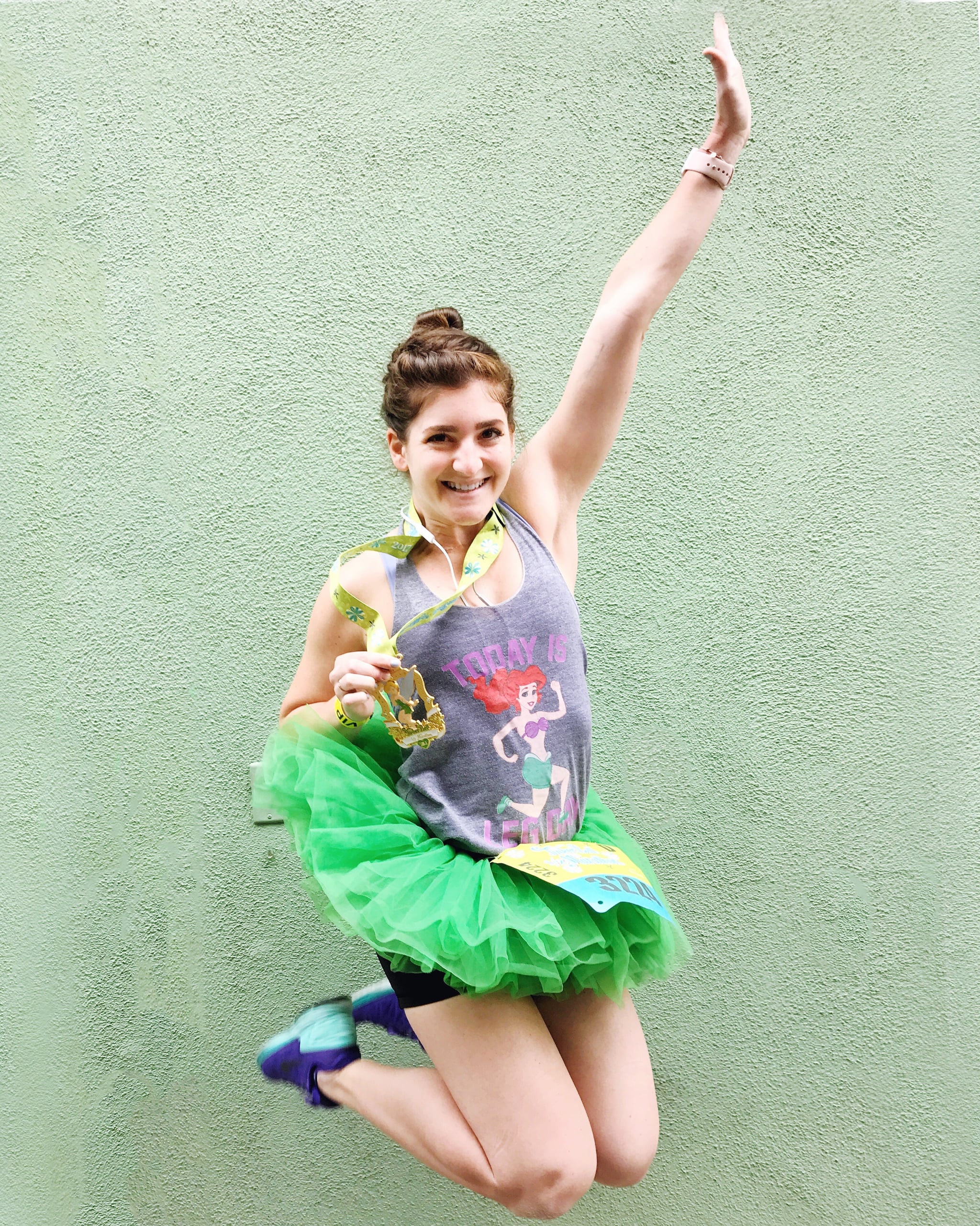 I would just like the internet to note that POPSUGAR Fitness director Michele Foley forced me to wear this tutu.
This was my first Disney race, but I can tell you right now that it won't be the last (in fact, I'm already signed up for the runDisney Disney Princess Half Marathon in Orlando this coming February). I'm so thrilled to have found a new race franchise that I can look forward to each year, rally friends and family around, and make a vacation out of. And you don't have to be a diehard Disney fan to feel this way! I really do believe that anyone can have a heartwarming, empowering experience from a runDisney event. If you've been thinking about signing up for one, or have one planned, here are some things you can expect.
The Costumes Are NO JOKE
Let's just start with this, because it was the first thing on my mind and one of the most distinguishable characteristics of runDisney: the Disney-inspired race costumes.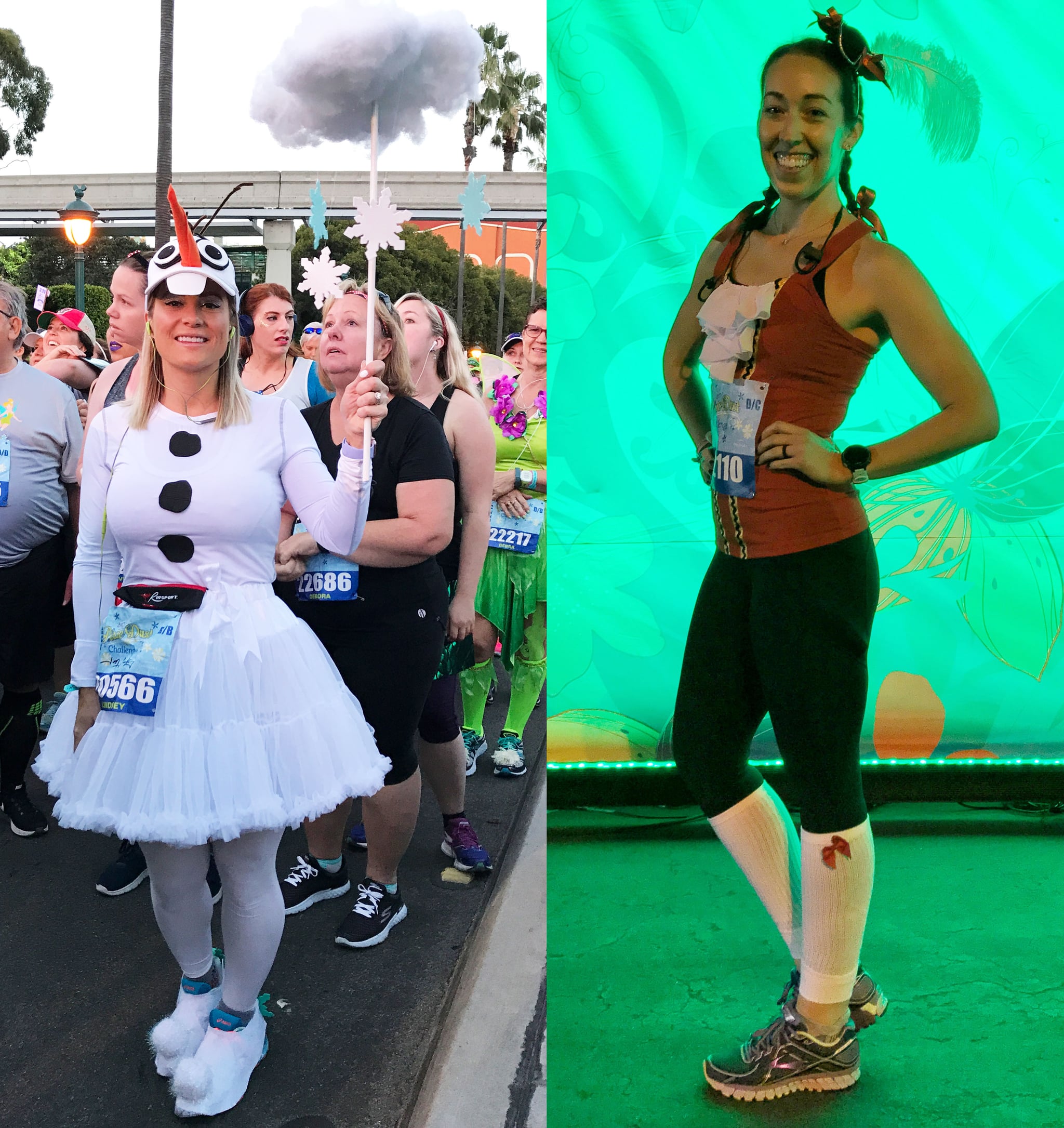 I wish I took more photos, but I was, you know . . . running. I did, however, stop to take a couple of these amazing ladies — an on-point Captain Hook with a tiny pirate hat and fabulous feather (!!), and Olaf with A PERSONAL FLURRY!! I was screaming. On the inside. I kept it together. I'm a professional. This woman carried her little cloud of snowflakes through the entire race.
The dedication was inspiring. And while some runners wear what is essentially a Halloween costume, many opt for custom-created, handcrafted styles made from comfortable activewear. I talked to a friend of mine (Captain Hook, above) who opts for Lululemon styles she feels most comfortable in and customizes her gear to take after a Disney character. After all, you're not doing a 5K — it's 13.1 miles!
If you're on the fence about going for a costume, you absolutely should give it a go. In the spirit of making this so much more than just a long run, it really does contribute to the overall experience and memory making. Although I was forced into a tutu, I don't regret wearing it one bit, and at no point was it uncomfortable. In fact, I'm already planning something sparkly and magical to wear to the Princess Half in February.
runDisney Races Are a Well-Oiled Machine
Over the years, I've become accustomed to showing up 30-45 minutes after the start time of a race, since I'm almost always in the last or second to last corral and nothing ever starts on time. DO NOT DO THIS AT A DISNEY RACE.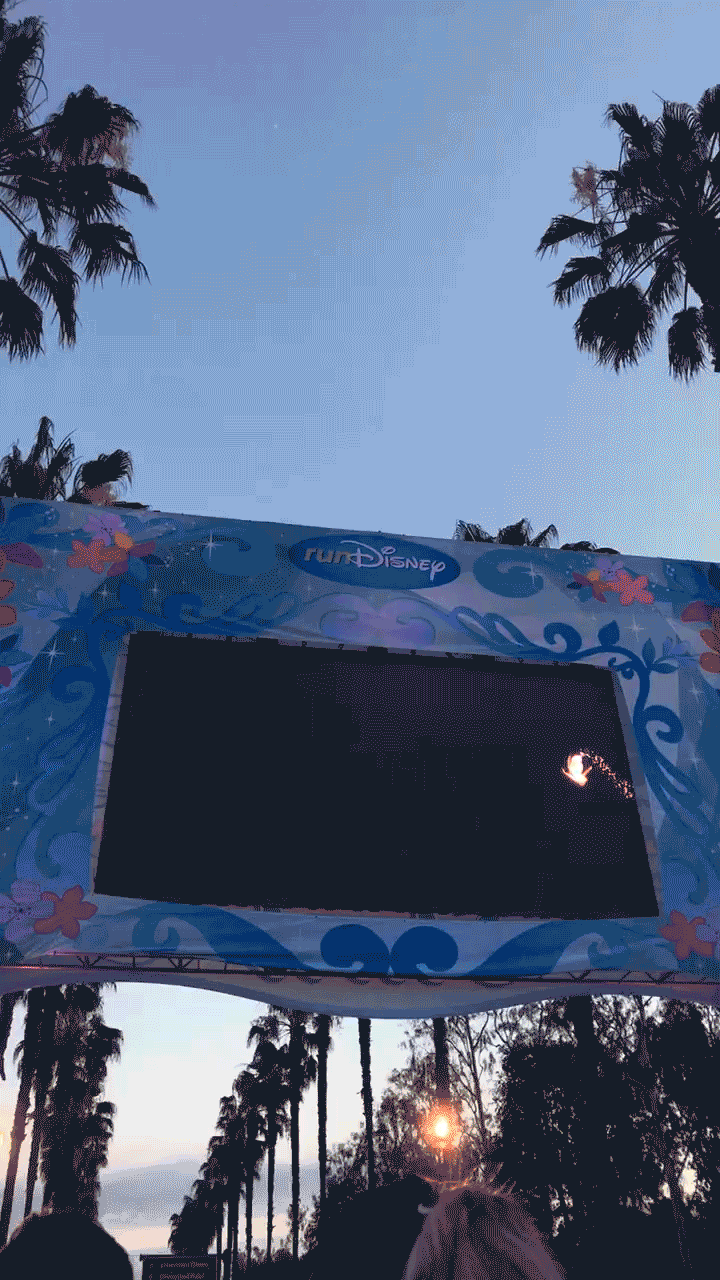 The race started promptly at 5:30 a.m. and organizers were NOT messing around. With the pressure to get racers out of the park before opening time (because, you know, ticket sales . . . it IS Disneyland, after all), there was no dilly-dallying. I was in the fourth corral, which meant three corrals *plus* a few special groups got to go first — and we were off the ground running by 5:54 on the dot. The last corral was not far behind us, either.
So keep that in mind — it's an excruciatingly early call-time to be at that start line, but you'll be on your way very quickly . . . and then it's just you running to your Mickey Mouse waffle brunch, know what I'm sayin'?
The First Few Miles Are in Disneyland
If you're any sort of a Disney fan, this is perhaps the most magical experience you could get — running through the park as the sun comes up, with no one but you and the other racers. Music is playing at different areas of the park, and it is all sorts of nostalgic, tugging at your heart strings, bringing up fond childhood memories, warm and fuzzies, etc., etc.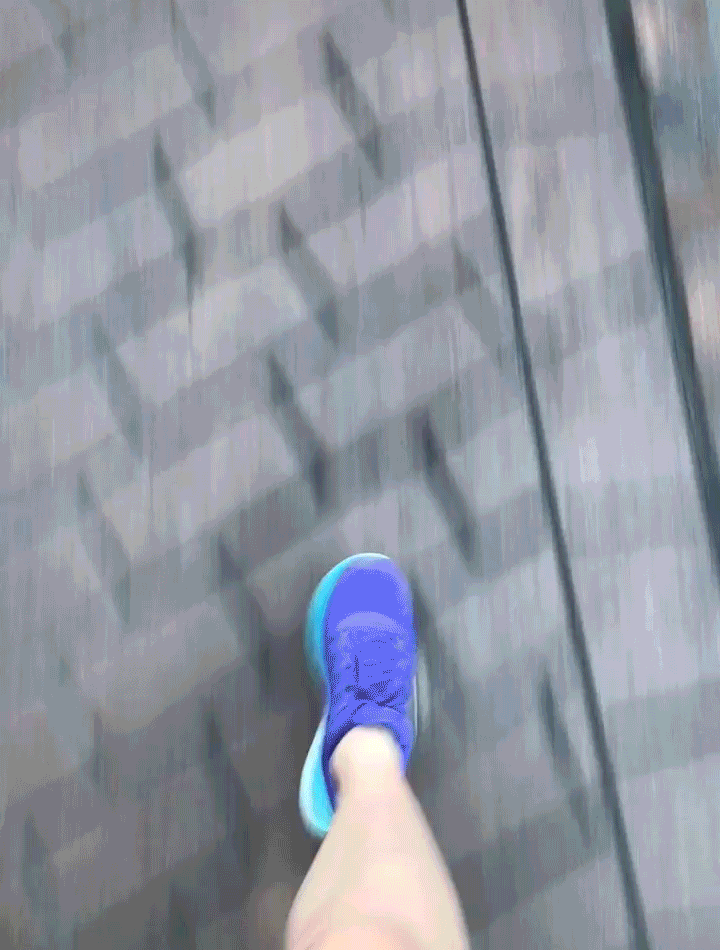 This includes California Adventure. Watching the sun rise over Paradise Pier is something I'll never forget.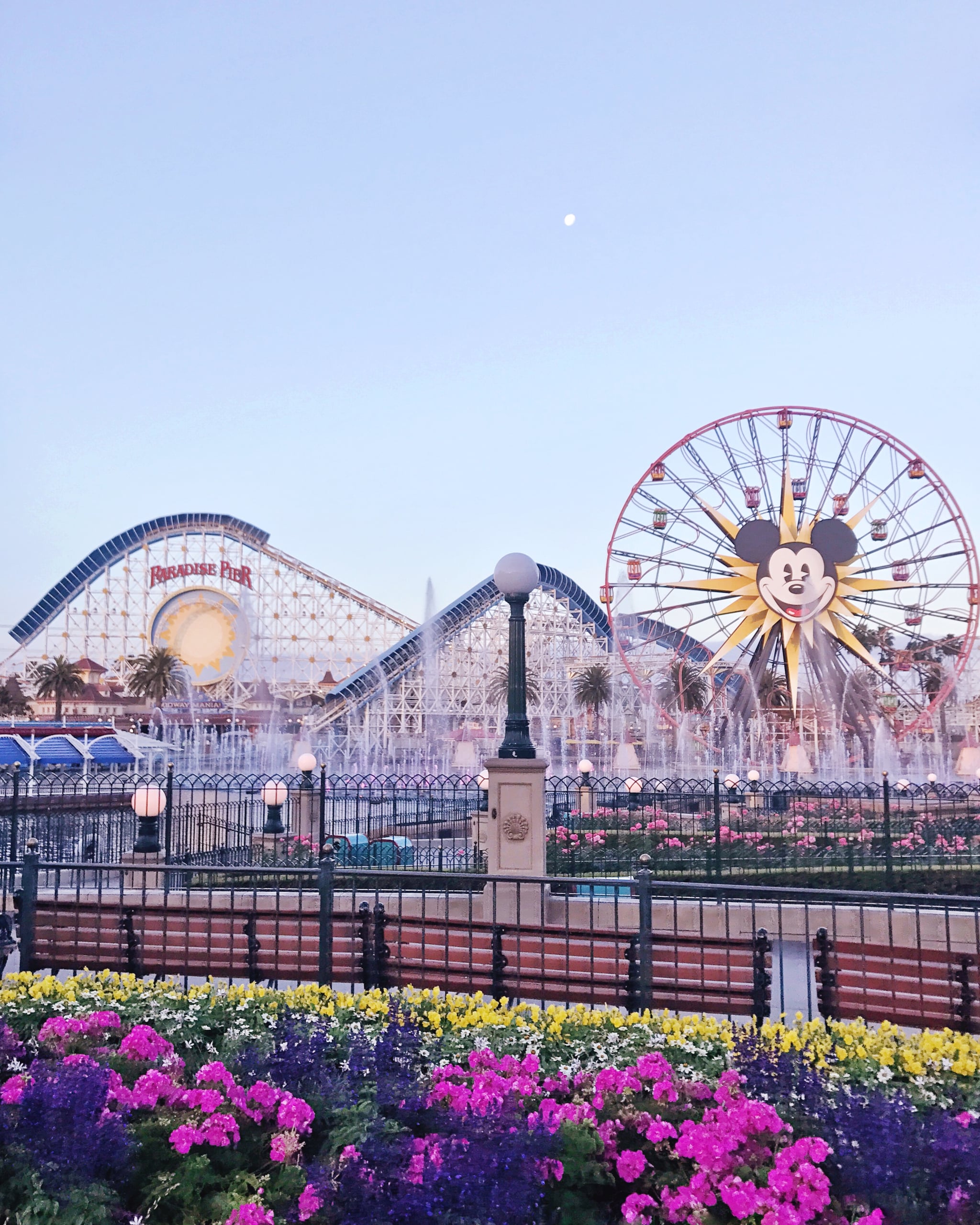 Savor these miles and these moments. Take your time. Start your first miles slower (good advice regardless of whether or not you're running in a theme park) so you can see the sights, soak it in, and revel in the fact that you're literally running a race in Disneyland. That's pretty freakin' special.
I did not take this advice, and the adrenaline had me hopped up like a little kid (at Disneyland . . .) so I charged through these first few miles and before I knew it, I was out of the parks.
The Rest of the Miles Are Not . . .
Once you're out of the park . . . that's it. No more. Not even at the finish line. Adios, magic castle. And no, the race entry does not grant you park entry, so you'll have to buy a ticket to get back in the park. Keep in mind that race weekends are exceptionally crowded — so if you want to go back in to get an Instagram with your medal in front of the castle, not only will it cost you roughly $100, but you'll have tons and tons of other guests in your photo.
The last nine-ish miles are through the streets of residential Anaheim. Because this felt decidedly less magical than running through the whimsical theme park at dawn, I decided to keep the spark alive with a Disney music playlist.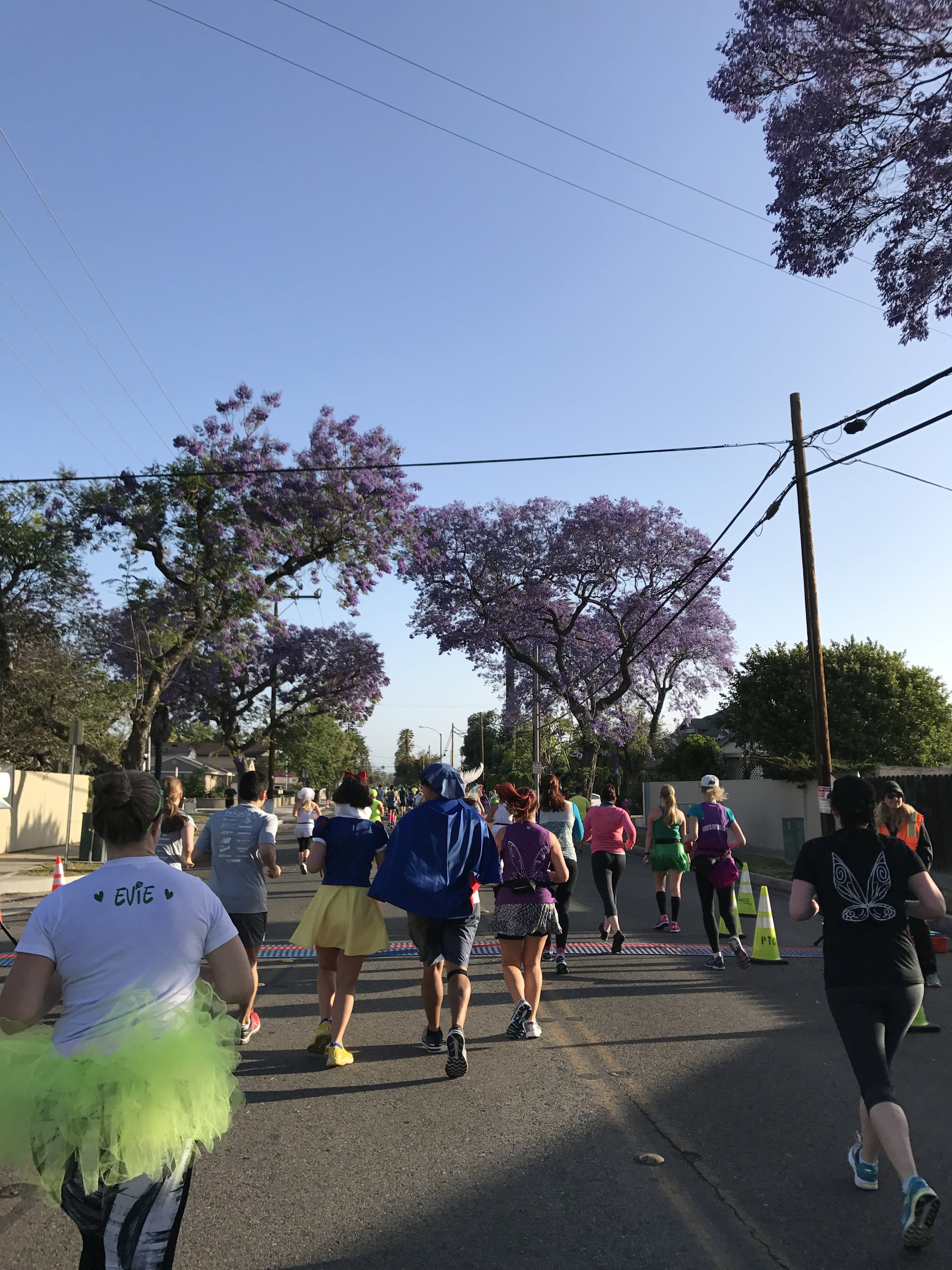 Not Disneyland.
There Are Character Photo Ops Everywhere (in the Park)
While you jaunt through your first few mils in Disneyland and California Adventure, prepare for character photo ops aplenty — like Tinker Bell!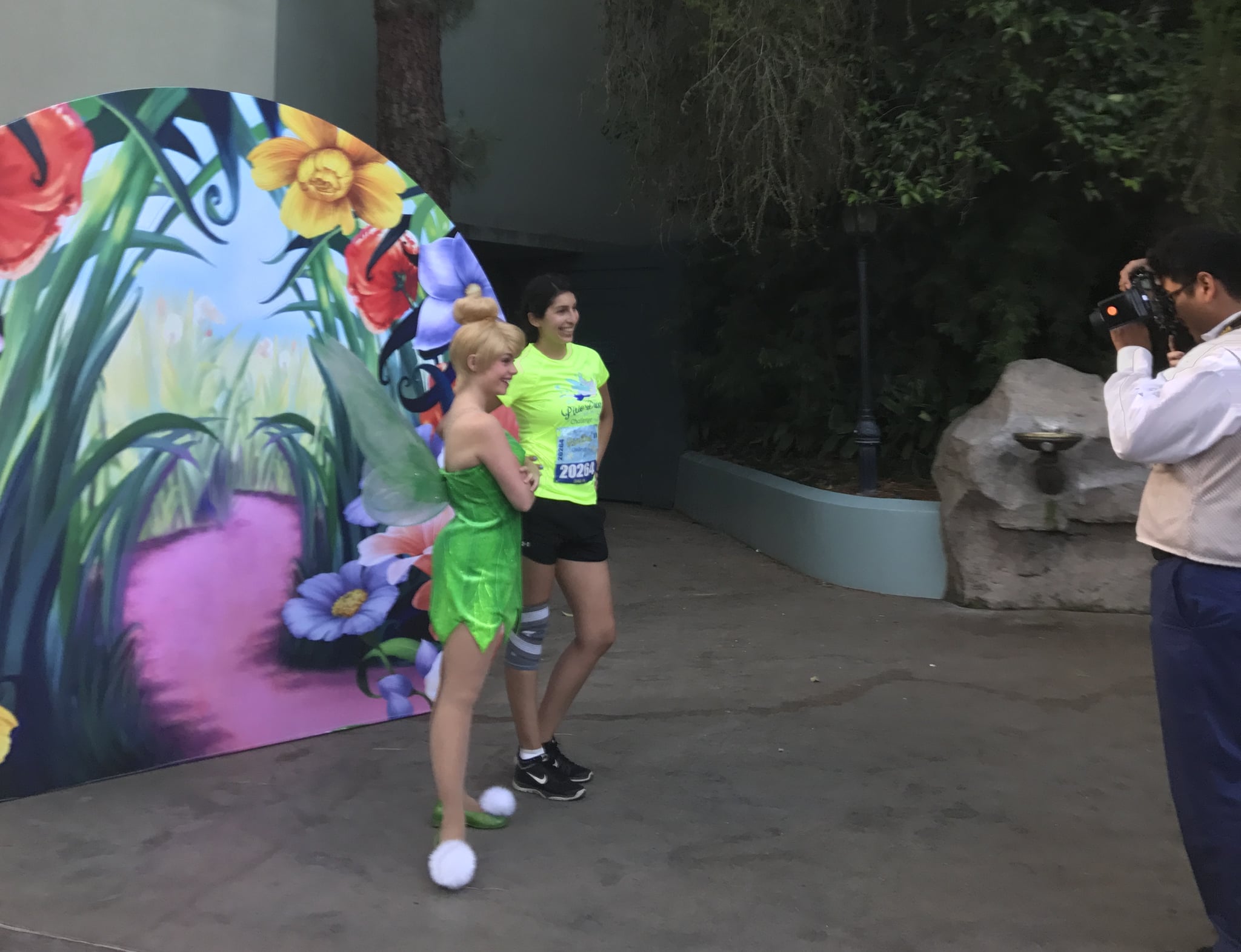 Behold, the race's namesake, in the flesh!
Apparently this is extremely popular, because runners are willing to take a significant break from the race for their photo memories. Check out the line for some of the fairy characters (to be honest, I don't even know who they are and I'm decently versed in most things Disney).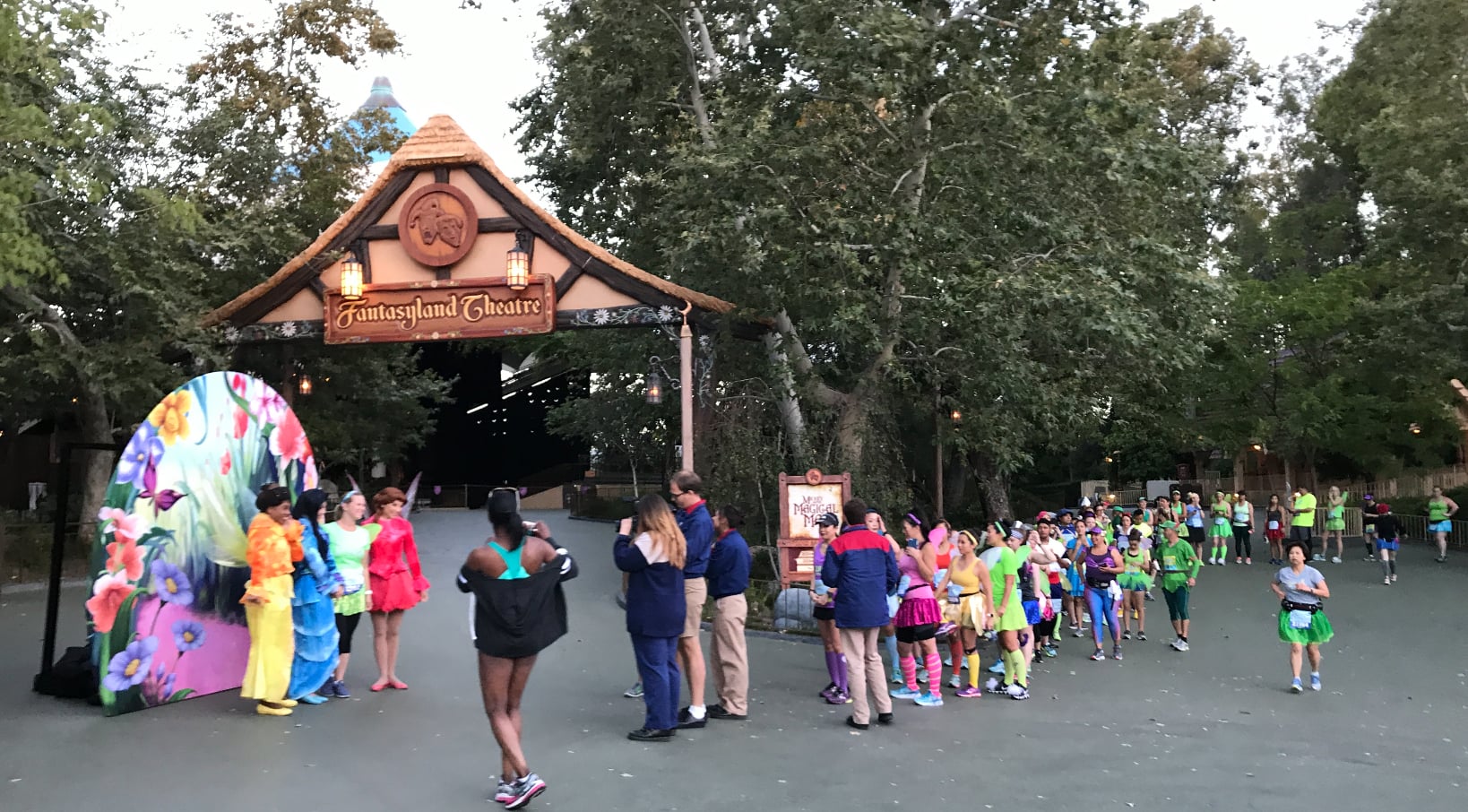 I mean . . . if you want to take breaks from running, this is definitely a way to break up the course!
There's Plenty of On-Course Support . . .
Pleased to say that there were plenty of water stations, Powerades, porta-potties, and Gu. No orange slices, but nobody's perfect so I won't hold it against Disney even though orange slices are literal nectar of the gods to runners, I AM JUST SAYING. Anyway.
You won't go more than a mile without some kind of support — and not just medical and fuel! There were so many groups out to show support.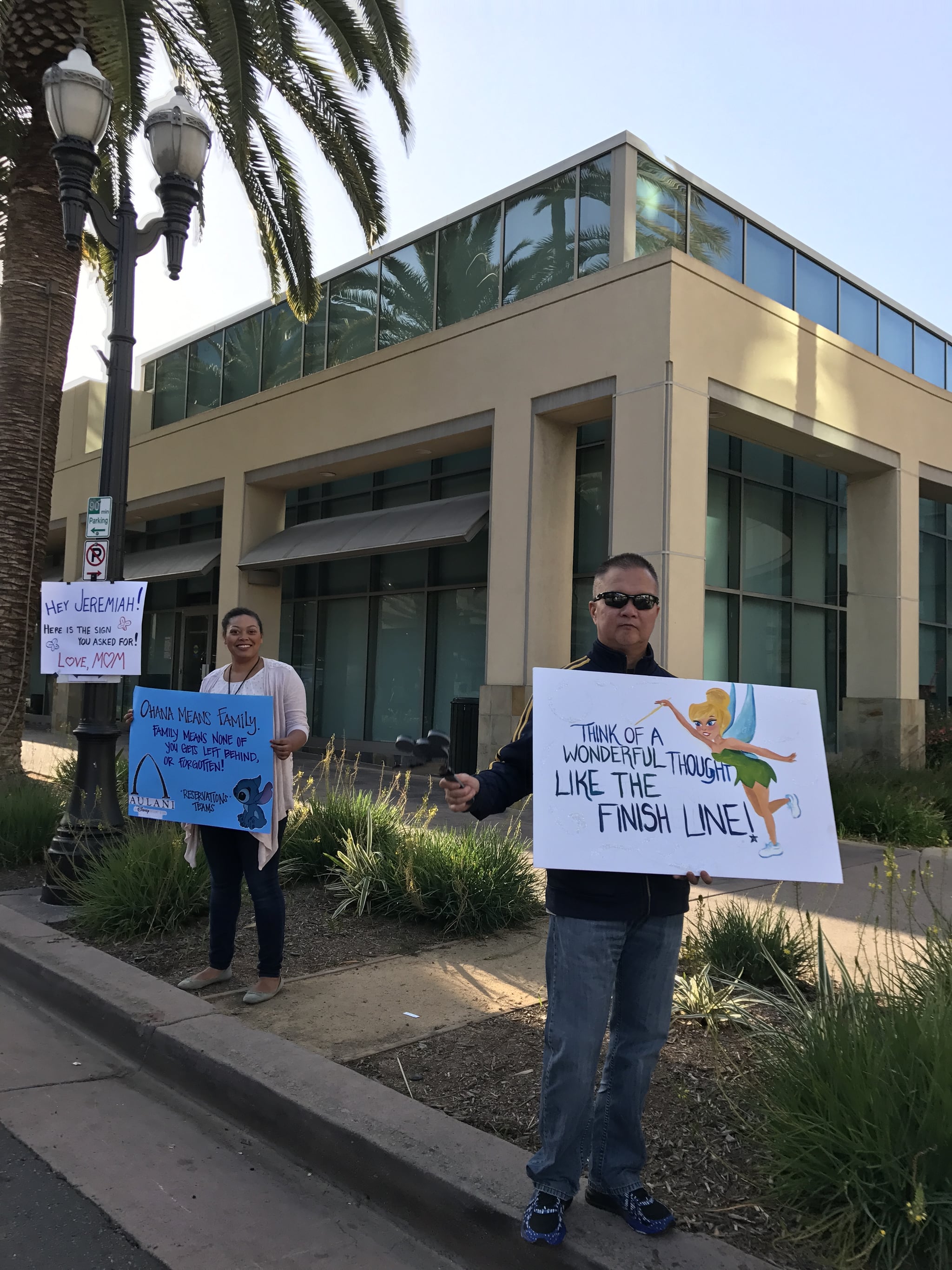 You don't realize how much of a difference cheering and signs make until you don't have those things. I ran a race last year in which there were verrrry few spectators and almost no signs. It was like the life had been zapped out of me! It was so cool to see the Disney employees of all kinds as well as Anaheim residents come out to show their support. Plus, the adorably witty Disney-themed signs were pretty rad.
. . . As Well as Finish-Line Treats
To me, finish-line treats say a lot about a race. runDisney provides special boxes that returning runners get very excited about, including chips with cheese dip, applesauce, Oreos, and more.
There are two things I look forward to at the end of every half marathon: a banana and a swimming pool full of chocolate milk to dive into face-first. Just kidding, but not really. A banana and chocolate milk are my essentials. Since this race was partly sponsored by Nesquik, I assumed that I was in the clear with this one, but because I took my sweet ass time taking photos, wandering around, taking leisurely bathroom breaks, etc., all that was left was a Nesquik VANILLA PROTEIN SHAKE. First of all, Nesquik, what kind of toddlers are trying to get yoked on your protein shakes? Second of all, give me chocolate milk or give me death. Fortunately, Disneyland and Downtown Disney are the kids' meal mecca of the United States where children of all ages make a pilgrimage for chocolate milk, so it was not difficult for me to get my sacred postrace fuel. The banana was provided. That concludes my tale of the finish-line treat scenario.
Your Beautiful Medal Is a Collector's Item
If you're into Disneyland or Disney World culture, you're well aware of the pin-collecting craze. Well, combine that with an affinity for distance running, and you've got yourself medal collecting. The runDisney medals are some of the most beautiful things I've ever seen!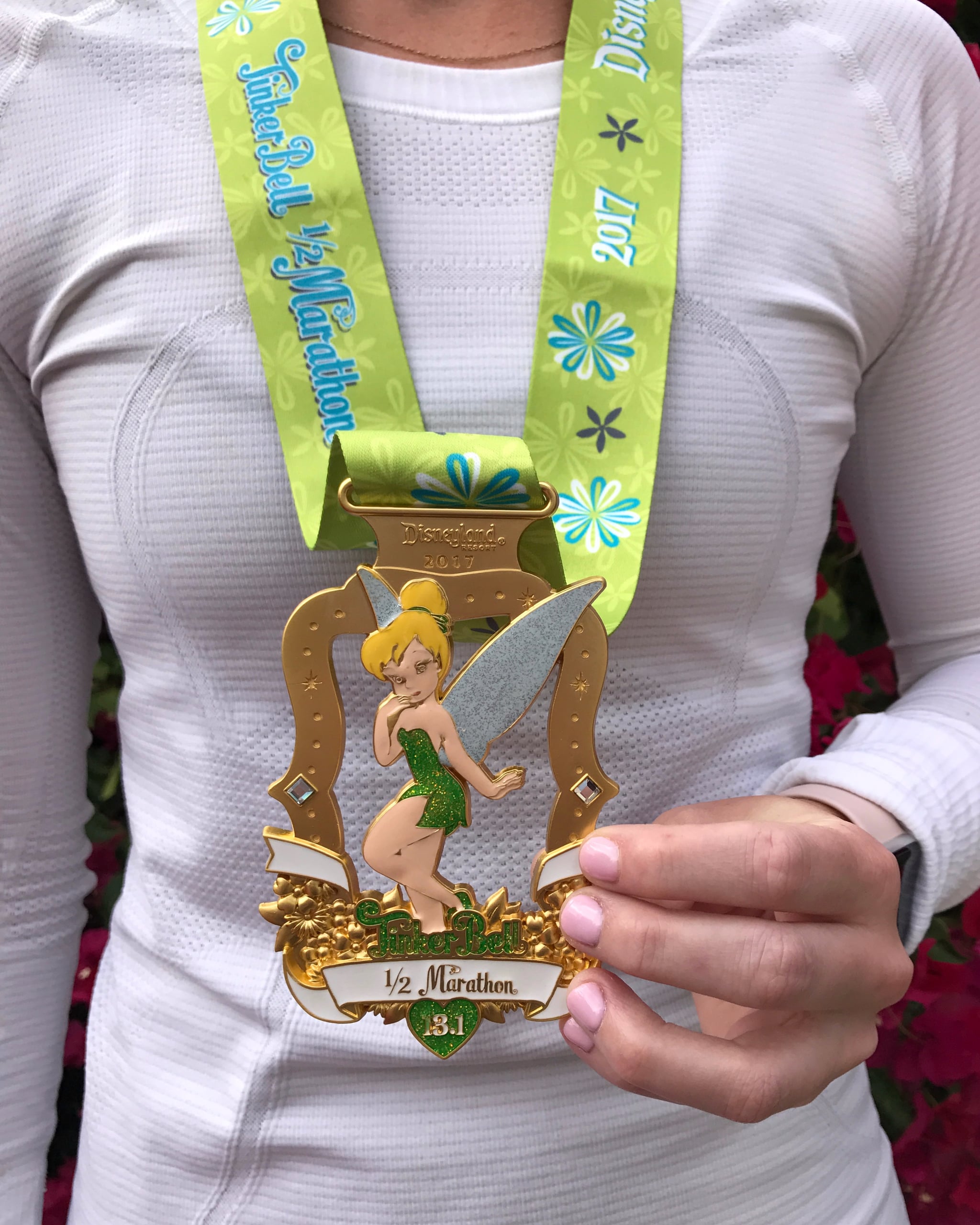 I got a single medal at the finish line, which to me, felt pretty standard. But alas, some runners received eight medals in total. How? Challenges.
To collect all eight, you must participate in two coast-to-coast weekend challenges, meaning the Disney Princess Half Marathon weekend challenge (which includes a 10K the day before the race) and the Tinker Bell Half Marathon weekend challenge (also includes a 10K). You get a medal for each 10K and each half marathon, a challenge medal for each weekend (we're up to six now, if you're counting), then a coast-to-coast medal, then a women's coast-to-coast medal for doing the two female-centric races. Heck yeah!
Medal collectors get pretty serious, so you might want to think about investing in a cool rack for your hard-earned treasures.
And There Are Plenty of Postrace Brunch Options
Although you'll need a park ticket to go to the restaurants inside Disneyland or California Adventure, the resort hotels (Disneyland Hotel and the Grand Californian) have restaurants that are open to the public. Same goes for Downtown Disney. I would highly recommend making a reservation as far in advance as humanly possible, as the wait times will be insane, if they're even taking walk-ins at all. I fully believe that you should indulge in at least one serving of Mickey Mouse waffles on a Disney race weekend — it is a carb-and-magic-packed treat that is not to be missed!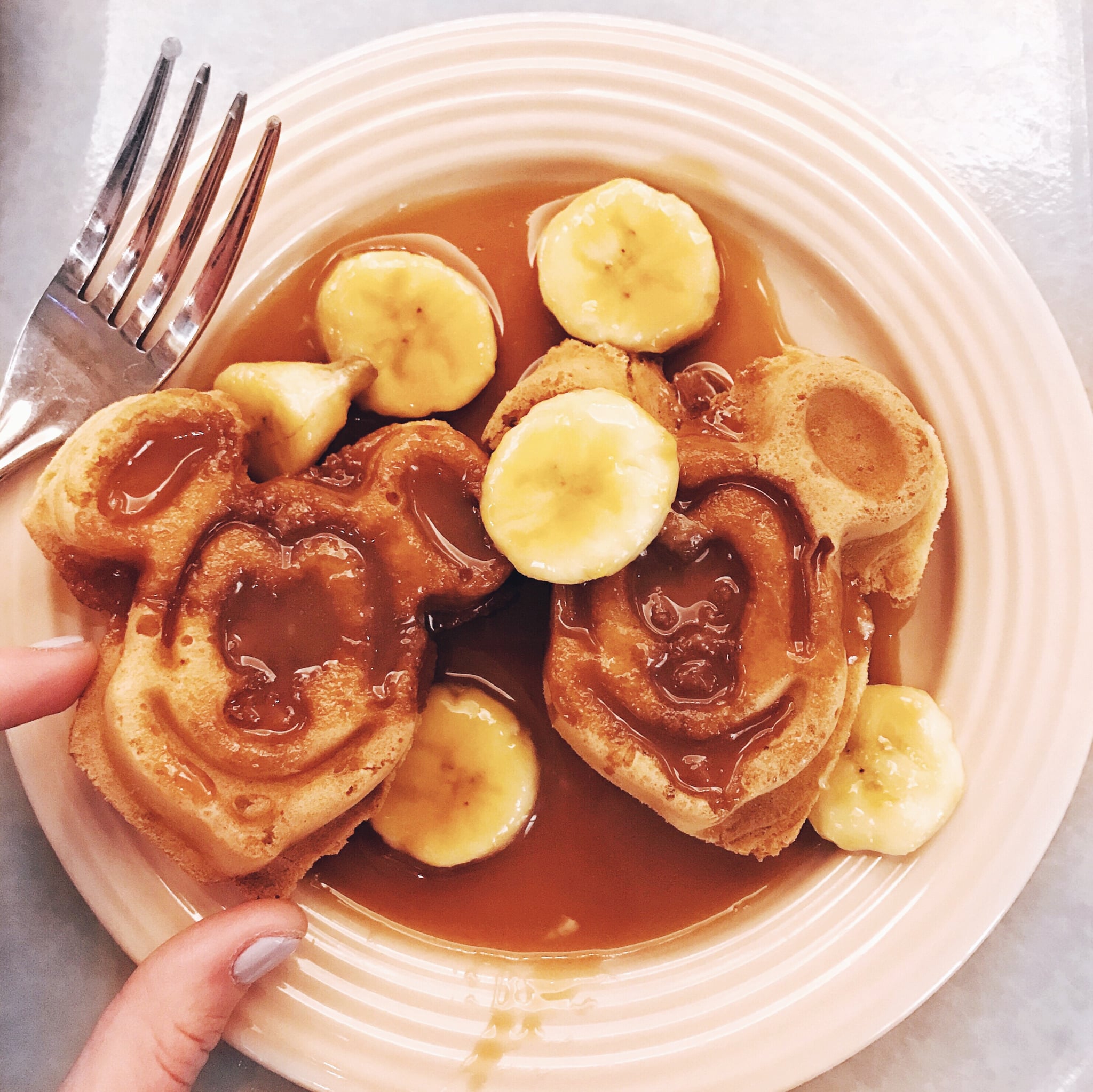 Because I'm dumb I didn't think to make a reservation, we tried our hand at Jazz Kitchen. Amazingly, we didn't have to wait more than 40 minutes before getting bananas foster french toast and 40 ounces of chocolate milk.
Overall, It Truly Is Magical
All things considered, this really is the happiest race on earth. Whether you're trying to PR on a very flat, very lovely course (totally possible), enjoy a Disney weekend with girlfriends (great option), walk the course with your mom (probably my next event), or get back in touch with your inner child while doing something great for your body (you go, girl!), a Disney race can become a treasured part of your yearly schedule. This experience was nothing short of amazing, and I'll fully be back for next year's Tinker Bell race!
Race entry and lodging expenses for the author were provided by runDisney for the purpose of writing this story.
Image Source: POPSUGAR Photography / Dominique Astorino