A'ja Wilson Statue Unveiled at University of South Carolina
We Can't Get Over A'ja Wilson's Glorious, Groundbreaking Statue in South Carolina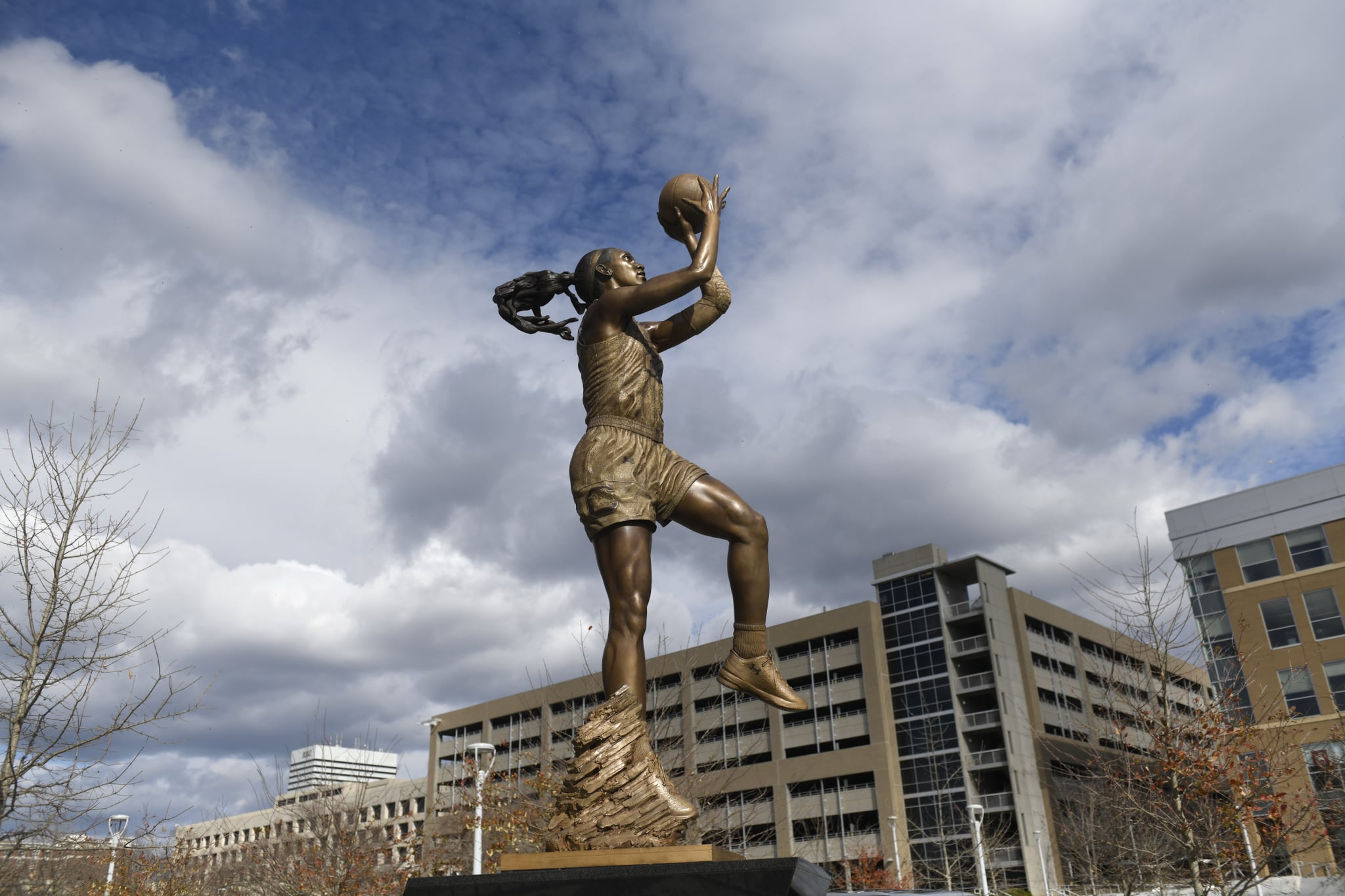 A'ja Wilson made history on Monday, but this time it happened just outside the basketball court. Wilson was officially honored with a statue outside Colonial Life Stadium, where the WNBA star played her college games for the University of South Carolina. Standing at 11 feet tall, Wilson's statue is just one of three individual statues on campus — and the school's first for a woman. (Not many women athletes have statues in the United States, period; Wilson is joining a select group that includes Billie Jean King, Althea Gibson, and Brandi Chastain.)
Wilson understood the gravity of the moment more than anyone. "My grandmother couldn't even walk on this campus; she had to walk around [it]," Wilson said on a Zoom call on Monday, according to ESPN. "If she was here today to see her granddaughter has a statue where she once could not walk ... it goes to show how you just plant seeds, and that's what it's all about."
Wilson made a name for herself at South Carolina, becoming the program's first National Player of the Year, and her star has only shone brighter since joining the WNBA in 2018. Wilson was drafted first overall by the Las Vegas Aces that year, going on to win the Rookie of the Year award and become an All-Star. In 2020, she led her team to the Finals en route to winning the league MVP award. And at 24, her career is still just getting started.
Dawn Staley, Wilson's former coach at South Carolina and current coach on the US National Basketball Team, donated to help fund the statue and described Wilson as a "powerful force" on the court and in the community. "This statue in front of this arena is an equally powerful force," Staley said, according to the school's press release. "Every young person, and especially young Black girls, can see what is possible through hard work, passion, and dedication."
Wilson echoed those sentiments on Monday, following an unveiling that, fittingly, also fell on Martin Luther King Jr. Day. "Change doesn't happen overnight," said Wilson, who, along with many other WNBA players, has become a leader for social justice. "But little Black girls can look at that statue and say, 'Wow.' I'm always going to be unapologetically me, and I hope those young Black girls see the role models that are here in front of them. Because I still look up to so many."
Image Source: South Carolina Athletics