Brandi Chastain World Cup Goal and Comeback
How Brandi Chastain Came Back From Years of Adversity to Make THAT Iconic Victory Happen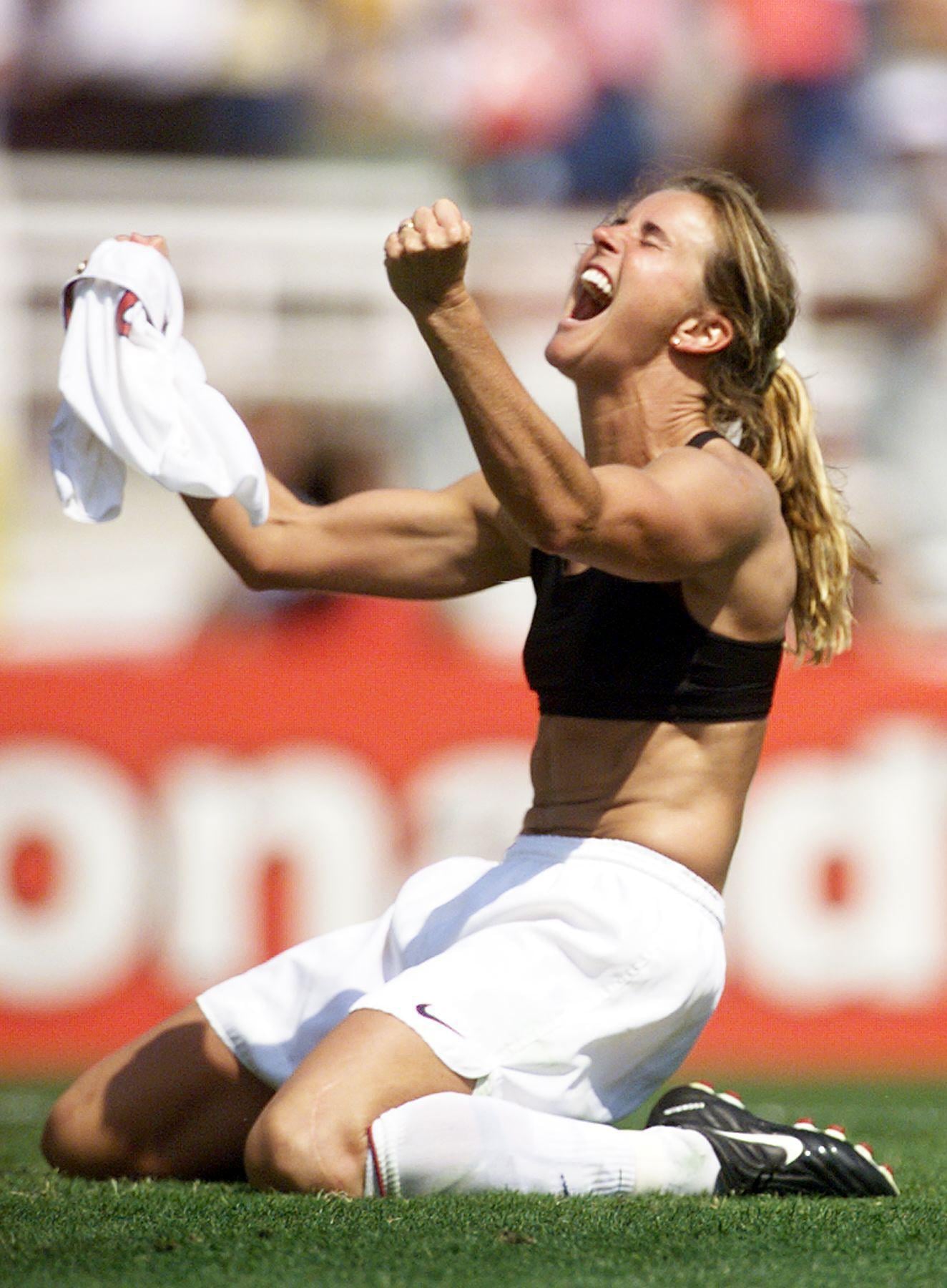 Soccer legend Brandi Chastain had a career that spanned three decades, from 1988 to 2004, but she's best known for a single, unforgettable penalty kick. You know the one: the shot that captured the victory against China in the 1999 World Cup final and sealed the role of the US Women's National Team as a global phenomenon. (Relive some of their best moments here.) In the scenes of jubilation that followed, Chastain ripped off her jersey, pumped her fists — a moment that was immortalized in that iconic photo — and was swamped by teammates while the sold-out Rose Bowl crowd roared. Watching the goal now, two decades later, still induces goosebumps.
Chastain, now 50, is still active in the soccer world as a youth coach, most recently leading a soccer clinic for the Boys & Girls Club of St. Louis, sponsored by Cutter Insect Repellent. She's still an icon both in the sport and outside of it. But when she looks back on her career, the moment that stands out the most is not that World Cup victory or that final kick but a game that came nine days prior, in a quarter-final matchup against Germany.
Chastain Scored on Her Own Team in the Quarter-Finals
After the '99 victory, what many people forgot about Chastain were the self-described "fairly messy" years in the middle of her career. Her college career was interrupted by reconstructive surgeries on both knees, which led to two-and-a-half years of rehab. Three years later, after winning the first Women's World Cup in 1991, she was cut from the national team. She moved out of the country to play professionally, because once she was off the team, there was no other way for her to pursue soccer for a living.
"I don't know why I didn't waver from soccer when I had two ACL reconstructions or when I was cut from the team," Chastain told POPSUGAR. "I guess because I was relentless. I don't have fear about failure. I only see the great opportunity in front of me."
On July 1, 1999, she had to rely on that strength like never before. Six minutes into that game, a quarter-final matchup against Germany, Chastain scored an own goal, flubbing a back-pass to goalkeeper Briana Scurry and accidentally putting the ball in the back of her own net. That was exactly what it sounds like: a nightmare.
"That really was a life-changing moment," Chastain said, not just because of the mistake but also what happened right afterward. "Carla Overbeck, the captain of our team, came over to me and said, 'Hey, don't worry about it. Let it go. We're going to win this game, and you're going to be a part of the reason why.'" Chastain trusted Overbeck immensely. "Carla didn't say things she didn't mean. I believed her, and I trusted her."
The words of support brought Chastain back into the game mentally, and she ended up atoning for her mistake by scoring a goal — "this time for our team, thankfully!" The US won the game 3-2, breezed past Brazil in the semifinals, and of course ended up winning the whole tournament, but that game in particular served as "a very valuable life lesson" for Chastain.
"You're going to make mistakes, and you're going to fall down, and you're going to do the absolute wrong thing," she said, but that lowest moment also gives you the opportunity to learn, grow, and improve. Overbeck, her teammate, "gave me that for the rest of my life. I will never forget that moment."
Chastain's World Cup-Winning Penalty Kick
Those setbacks — the injuries, losing her spot on the team, scoring the own goal — are what made that penalty kick a moment of ultimate triumph. The picture of Chastain's famous celebration "says something different for everyone," she told POPSUGAR. "For me, it's a reminder that it's a journey. That you don't get to those moments overnight, but with honest, hard work, they're achievable."
That moment was about "power, strength, determination, being unapologetically myself." And last but not least: release. "That was a long 120 minutes in about 120-degree heat against arguably the best team in the world," Chastain remembered. For it to simply be over "was a huge relief."
With the 2019 FIFA Women's World Cup fast approaching, there are many more amazing goals, triumphant celebrations, and inspiring journeys coming our way; get familiar with our top players to watch here. But Chastain's moment and the years of dedication behind it will always stand as legendary in women's sports.