Bob Harper Shares All the Ways His Life Has Changed Following His Heart Attack
Bob Harper is known for his contagious energy, ruthless training tactics, and ability to transform contestants' bodies on The Biggest Loser, but when he suffered a heart attack in February, his life was flipped upside down. Now, Bob, who has recently partnered with Kohl's, is opening up about how much his life has changed, and spoiler alert, it's a lot, so much so that Bob has called it "a metamorphosis."
Workouts
Being someone who is known for pushing people and going as hard as he can in the gym, Bob has had to slow down his own exercise mentality in ways he never imagined.
"Everything's changed since my heart attack. It's like a metamorphosis; it's self-discovery," he told POPSUGAR. "I was always the CrossFit guy; I was the one that was working out in the gym, just to the point of falling on the ground. And now I'm not really approaching my fitness that way anymore. It feels new."
Bob went on to explain that he's easing his way back into a routine and is doing everything in moderation. He's staying away from lifting "crazy amounts of weight" in order to gain his strength back, and it's a journey that's beyond applause-worthy. And while Bob still loves CrossFit and still does the workouts, he's pulled back on the extreme exertion levels he was doing before his heart attack. He's even opening himself up to new workouts.
"I'm doing a lot of yoga now; I'm doing cycling classes; I'm going to start doing a little bit of running," Bob said. "I'm not needing it to be super explosive all the time."
Eating Habits
After his heart attack, Bob abandoned the Paleo lifestyle for the Mediterranean diet, as it's been proven to improve heart health and reduce the risk of a heart attack, stroke, and heart-disease-related death by about 30 percent. But recently, he's moved closer to a vegetarian regimen.
"I've found more balance works for me," Bob said in relation to his diet. "With my health, I have to be aware of fat [levels]. I eat a lot more vegetarian, [and] I've cut out a lot of animal protein." These days, his protein sources come from eggs, Greek yogurt, and the occasional seafood dish.
The celebrity trainer joked that his friends tell him he's "97 percent vegetarian" and he can't help but shrug his shoulders and agree.
As for snacks, his go-to snack these days is carrots and hummus, more specifically the drool-worthy jalapeño hummus from Whole Foods. He's also a sucker for the "forced portion control" of SkinnyPop Popcorn.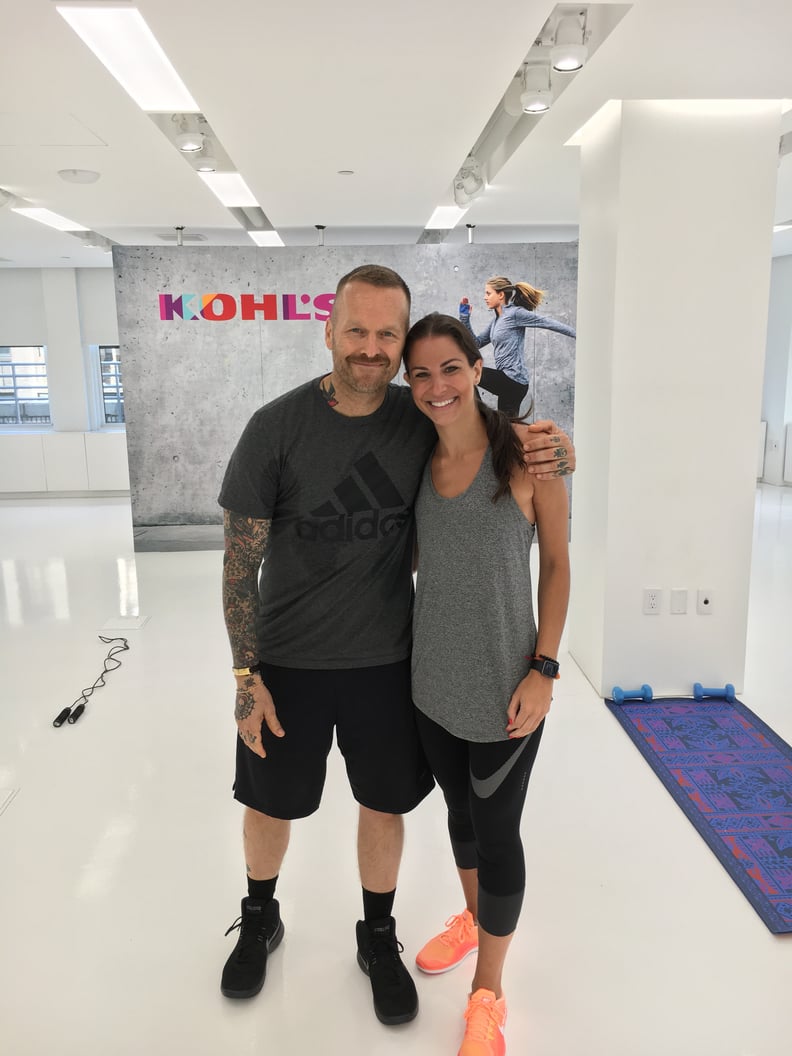 So. . . what about caffeine and alcohol?
For Bob, soda is undoubtedly "a big no" for him. But the mainstay that he had to cut out immediately was Bulletproof coffee, which he used to love. "It was just butter and fat," he said. On his new diet, watching fat intake is key, and it's something his doctors play a part in monitoring.
Not to worry: he's got a stand-in! Bob's a huge fan of LaCroix. Stars, they're just like us! The "addiction is really strong," and we can totally relate. "And I still like my wine," Bob shared; duh.
When Will The Biggest Loser return?
Bob is the first person who comes to mind when we think of The Biggest Loser, so we were itching to ask him about the show and if after 17 inspiring seasons we'd be getting more. He told us that there have been talks of The Biggest Loser coming back, but probably not anytime soon; "we just need to rest that show a little bit," he said.