Robin Roberts, Leanne Hainsby, and 9 Other Celebrities Who've Battled Breast Cancer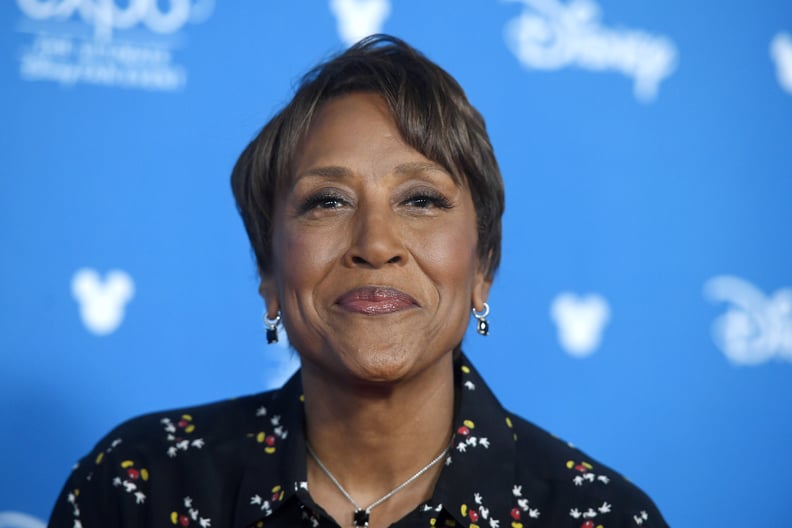 Frazer Harrison | Getty
Frazer Harrison | Getty
Breast cancer is the most common cancer in women in the United States (other than skin cancers), and it accounts for about 30 percent of all new cancers among women each year, according to the American Cancer Society. Chances are, you or someone you know has been directly affected by breast cancer as it continues to be the second leading cause of cancer death among women.
Fortunately, with regular mammograms and breast ultrasounds, breast cancer can be detected early, which is why it's so important to schedule your yearly exams. On top of annual health screenings, education about the signs, symptoms, and treatment of breast cancer is critical, so it's especially impactful when celebrities share their experience, using their platforms to increase awareness and promote more wellness checks.
Plus, when you're dealing with something like breast cancer and its side effects, especially when it comes to treatment like chemotherapy and radiation, it can helpful to know you're not alone. Check out these stars who have opened up about their battles with breast cancer.
Leanne Hainsby
Peloton instructor Leanne Hainsby shared her journey with breast cancer on Jan. 27, 2022, after she had been privately undergoing treatment since August. The then-35-year-old first revealed her breast cancer diagnosis on Instagram: "Two days before my best friend's [dancer Danielle Hampson] funeral, I found a lump in my breast," she wrote. "That really is a sentence I NEVER imagined writing. After multiple scans and appointments with both consultants and cancer nurses, and being completely terrified for a few weeks, in August 2022, I was diagnosed with breast cancer."
Hainsby went on to explain that she decided to keep her illness "very private," writing that she wanted to "show up as normal" and continue to lead her Peloton workouts even though her treatment had been "unimaginably tough." "My classes have given me a focus, and some sparkle in an otherwise incredibly tough time, so Thank You to the members who had no idea the amount of joy they were bringing to me every day."
Ultimately, Hainsby hopes her experience will raise awareness for breast cancer in young women. "I went to a doctor the same morning I found the lump, and I was told everything was ok. I trusted my gut and got a second opinion. That saved my life. Check and check again."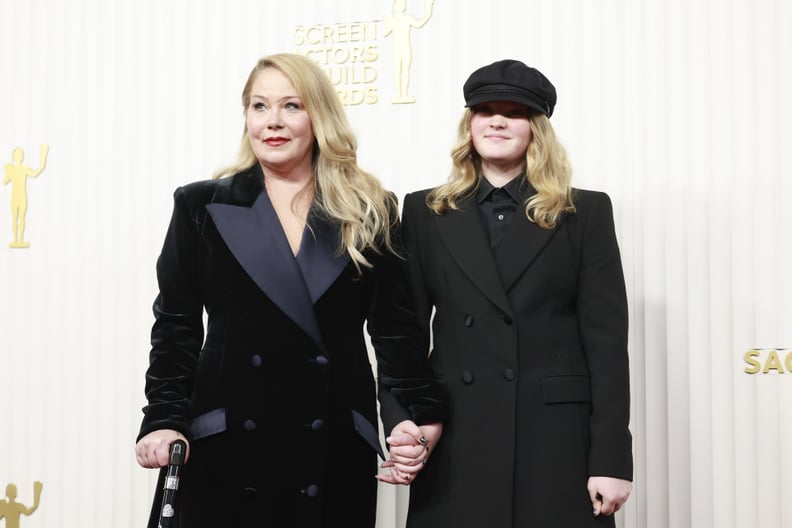 Christina Applegate
Christina Applegate has had several health battles over the years. Her experience with multiple sclerosis has been most publicized recently, but the "Dead to Me" star also had breast cancer.
She was diagnosed in 2008 at the age of 36 and underwent a bilateral mastectomy. "It came on really fast. It was one of those things that I woke up and it felt so right," she recalled about her decision to have the procedure on "The Oprah Winfrey Show."
"It just seemed like, 'I don't want to have to deal with this again. I don't want to keep putting that stuff in my body. I just want to be done with this.' . . . I was just going to let them go," Applegate went on to say. She also told Oprah that the experience changed her entire perspective. "I have taken a very progressive stance in the rest of my life," she says. "For that, I'm really grateful."
Wanda Sykes
Comedian and actress Wanda Sykes was diagnosed with early-stage breast cancer in her left breast in 2011 and elected to have a double mastectomy.
"I had both breasts removed, because now I have zero chance of having breast cancer," she told Ellen DeGeneres in 2011, per CNN. "It sounds scary up front, but what do you want? Do you want to wait and not be as fortunate when it comes back and it's too late?"
It's important to note that a double mastectomy does not eliminate the risk of breast cancer, but it can certainly reduce the risk breast cancer, according to the American Cancer Society.

Katie Couric
Katie Couric penned an essay on her website about her breast cancer experience in September 2022. The journalist said that she had lost track of time and was six months late for her yearly mammogram. Couric explained that because she has dense breasts, she usually does a breast ultrasound as well as a mammogram, and the doctor saw a mass and wanted to do a core needle biopsy to check the tissue. The next day, she found out she had cancer. "I felt sick and the room started to spin," Couric wrote. "I was in the middle of an open office, so I walked to a corner and spoke quietly, my mouth unable to keep up with the questions swirling in my head. 'What does this mean?' 'Will I need a mastectomy?' 'Will I need chemo?' 'What will the next weeks, months, even years look like?'"
A few weeks later, Couric had a lumpectomy to remove the tumor in her breast, which was "2.5 centimeters, roughly the size of an olive." The pathology showed her cancer was stage 1A, and because the tumor was detected early enough, it was "highly treatable." Luckily, the likelihood of the cancer returning was "low enough to forgo chemotherapy," so after surgery, she underwent radiation, which lasted from Sept. 7 until Sept. 27, and began medication, which she'll take for five years.
During an October 2022 appearance on "Today," Couric said, "I just feel super lucky that it was diagnosed when it was."
Sarah Ferguson
In June, People confirmed The Duchess of York, Sarah Ferguson, was diagnosed with breast cancer. "Sarah, Duchess of York was recently diagnosed with an early form of breast cancer detected at a routine mammogram screening. She was advised she needed to undergo surgery, which has taken place successfully," a representative told the publication. "The Duchess is receiving the best medical care, and her doctors have told her that the prognosis is good. She is now recuperating with her family. The Duchess wants to express her immense gratitude to all the medical staff who have supported her in recent days."
Quickly after her diagnosis, the Duchess underwent a successful surgery and is "hugely thankful to the staff involved in the mammogram which identified her illness, which was otherwise symptom free, and believes her experience underlines the importance of regular screening."
Julia Louis-Dreyfus
Julia Louis-Dreyfus went public with her stage two breast cancer diagnosis in September 2017. A year later, after undergoing a double mastectomy and six rounds of chemotherapy, she announced she was cancer-free.
"You hear it all the time, but the people that I relied on the most, besides the very capable doctors and nurses who took care of me, were my family and my close friends," she told People in 2020. "I was surrounded by people who were supporting me," she adds. "That was hugely meaningful, and I needed it. It helped me to believe I was going to get through."
Giuliana Rancic
Giuliana Rancic revealed she had been diagnosed with early-stage breast cancer in October 2011 after getting a mammogram before receiving IVF treatment. Once her doctor discovered a tumor, the then-36-year-old and former E! News host underwent a double mastectomy and reconstructive surgery.
Ten years later, Rancic told E!, "My biggest self-discovery after cancer and treatment was realizing I was stronger than I had thought I was. I love knowing that I have come out of that experience a stronger woman."
Robin Roberts
Good Morning America cohost Robin Roberts was first diagnosed with breast cancer in 2007 and has emphasized the importance of breast self-exams and regular mammograms ever since. She opened up about her experience to Prevention in 2011.
"I had a doctor's appointment [with a new physician] already scheduled when I found the lump. And, full disclosure, the last mammogram I had was in 2003 or 2004, so I'd gone a few years without having one," Roberts told the publication. "I called the doctor's office and said, 'Hey, I found a lump — can you move up the exam?' They said, 'No, we're booked solid.' And I'm thinking to myself, 'Wow, this really happens.' I reached out to Diane [Sawyer] and [ABC colleague] Deborah Roberts. Deborah gave me a referral." Eventually, Roberts was diagnosed with breast cancer, specifically a triple-negative tumor, and had a lumpectomy and partial mastectomy, in addition to chemotherapy.
After beating breast cancer, Roberts was then diagnosed with myelodysplastic syndrome (MDS), a rare blood disorder that affects the bone marrow, in 2012, per ABC News. Luckily, her sister Sally-Ann was a perfect match, and she underwent a successful bone marrow transplant that year.
Judy Blume
Beloved author Judy Blume was diagnosed with breast cancer in 2012 after a routine ultrasound due to dense breast tissue, and her doctor recommended a biopsy, according to a since-archived blog post, per CBS News. The author was planning a five-week trip to Italy and wasn't exactly eager to get the procedure done, but her doctors urged her to push back the trip. The biopsy came back a few days later, and she was diagnosed with invasive ductal carcinoma.
Blume grappled with her diagnoses, saying, "I haven't eaten red meat in more than 30 years. I've never smoked, I exercise every day, forget alcohol – it's bad for my reflux – I've been the same weight my whole adult life. How is this possible? Well, guess what – it's possible."
The "Are You There God? It's Me, Margaret." author eventually underwent a mastectomy and offered words of wisdom to others in the same situation. "My friends who've had breast cancer have been so helpful and supportive I can never thank them enough," she wrote in the blog post. "They got me through this. They were my inspiration. If we can do it, you can do it! They were right. And I got off easy. I don't need chemo which is a whole other ballgame."
Sheryl Crow
Sheryl Crow said she was the "picture of great health" before a yearly mammogram in 2006 when the then-44-year-old was diagnosed with "estrogen-positive stage one invasive breast cancer," she previously told POPSUGAR. The nine-time Grammy-winning rock star explained there is no family history of breast cancer, but she got her first mammogram when she was 38, a few years before the recommended age of annual mammograms, because she has dense breast tissue, which can increase your risk.
The Rock & Rock Hall of Fame inductee underwent a lumpectomy and seven weeks of radiation. "Part of my challenge with being diagnosed was to put myself first, to learn how to say no, and to learn how to listen to my body when it came to exhaustion, and to not take care of everyone," Crow told POPSUGAR. "To actually put my oxygen mask on before I put anybody else's on in order to save my own life."
Cynthia Nixon
Best known for her iconic role as Miranda Hobbes in "Sex and the City," Cynthia Nixon was diagnosed with breast cancer in 2006. Nixon had some experience with the disease, as her mother battled breast cancer when she was 12. "I always sort of thought, 'I'm probably going to get breast cancer. There's a really good chance,'" Nixon said during a 2008 interview, per ABC news.
During the interview, Nixon also detailed her experience getting diagnosed. "I go for my completely routine mammogram and then I get a call from my gynecologist. And she says, 'Well, I have some — it's not such great news, but here it is, but it's very small and we're just going to get in there and take it right out, right away, and then you'll probably have radiation,'" Nixon recalled. "I felt scared. . . . I thought, 'Oh, I don't want this to be happening.' I was very cognizant of if it's going to happen, this is the best way for it to happen, that it's found so early and we can just get right on it."