Feeling Hungover? Painful as It May Be, Skip the Ibuprofen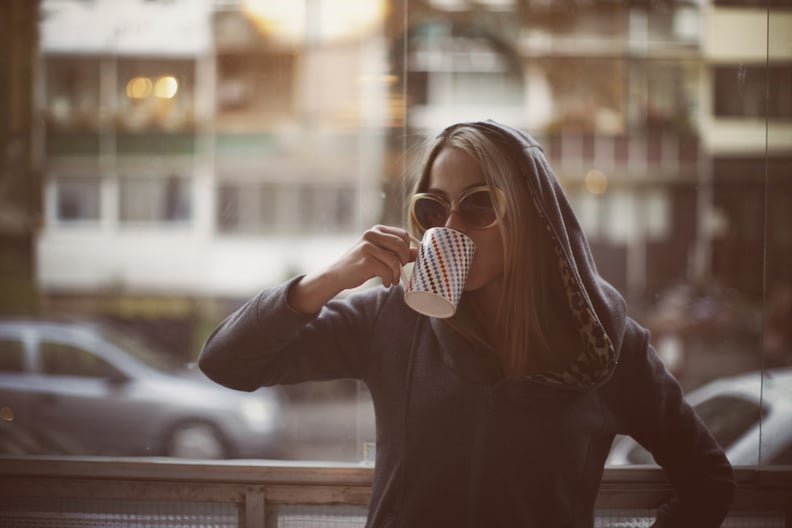 Ibuprofen drugs (like Advil) are part of the anti-inflammatory drug family known as NSAIDs, which can cause tears in the stomach lining if taken on an empty stomach. Add alcohol to the mix, and the potential danger is heightened. If you take ibuprofen when drinking more than the recommended amount for women (about two to three drinks), you increase your risk of stomach irritation and bleeding. This is especially true for people who are prone to ulcers.
But wait! Taking Tylenol when you're hungover isn't such a good idea either, and aspirin has its downsides too. Acetaminophen can lead to liver damage if you take it in large doses for more than a couple of days. Heavy drinkers who take acetaminophen and don't eat enough can overtax their livers. According to researchers at Harvard Medical School:
If you drink a lot of alcohol — say, on a Saturday night — and take a normal dose of acetaminophen to deal with the hangover in the morning, you probably are not going to have liver problems. . . . The trouble starts when regular heavy drinkers take a lot of acetaminophen over a period of time — several days, at least, and maybe longer. (In this context, heavy drinkers are defined as people who regularly have three or more drinks a day.) A drinking habit and a poor diet often go hand in hand. Multiple high doses of acetaminophen are more dangerous for drinkers partly because their glutathione (an antioxidant produced by the liver that supports the immune system and might fight toxins) levels tend to be low because they don't eat well.
It may sound like popping a few Tylenols after a night or two of heavy drinking can't hurt, but the risks associated with taking Tylenol after recreational drinking are somewhat blurry. A Food and Drug Administration (FDA) advisory group found in a review of its database and a large liver failure study that the median dose that led to liver failure was between 5,000 and 7,000 milligrams of acetaminophen per day — scarily close to the current daily limit of 4,000 milligrams (eight extra-strength Tylenol). The FDA group recommended lowering the daily limit to 3,250 milligrams (or 10 regular-strength Tylenol pills a day) to help prevent accidental overdose.