The Ultimate Guide to Planning a Disneyland Race Weekend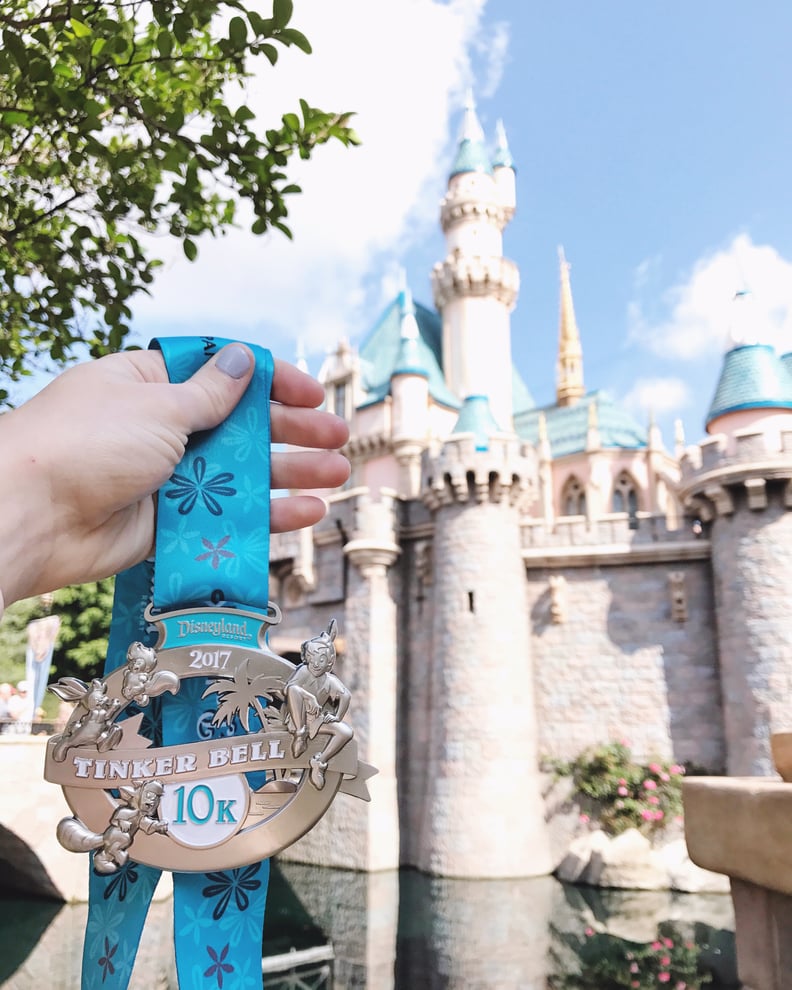 POPSUGAR Photography | Dominique Astorino
POPSUGAR Photography | Dominique Astorino
Thinking of running your first half-marathon? Why not do it at the happiest place on earth? After all, it might just make your half . . . the happiest race on earth. RunDisney offers an excellent selection of race events for all levels at Disneyland parks throughout the year, with themes galore that speak to even the most fringe of Disney fans. Star Wars? Avengers? Tinker Bell? RunDisney's got you covered.
Let's get this out of the way: it's not a race weekend, it's a vacation . . . an experience. Go in with that mindset, and plan accordingly — you'll get the most out of it, and it will be simply magical.
Getting Your Bib
If you didn't know already, Disney bibs are a hot commodity! In fact, they sell out quite quickly, and there's often a queue the day registration opens. Pick the race of your dreams, and plan to register the moment the opportunity presents itself. Bibs are typically in the $175 to $200 range for a half-marathon.
Race weekend opportunities like 10K-plus-half-marathon challenges (which are more expensive, as you're registering for two races), kid races and dashes, and even a 5K if you're up for a quick three-mile jaunt. Courses vary per event, but the half-marathons go through Disneyland's and Disney California Adventure, making for an exciting and nostalgic course.
Planning Your Costume
This is serious business, peeps. A proper Disney costume or costume-inspired getup is the hallmark of a Disney race. That doesn't mean you'll be uncomfortable during your 13.1 miles! My friend Sarah Stevens, a total runDisney expert who has participated in TEN runDisney events at both Disneyland and Disneyworld, has a method to this (her adorable Captain Hook costume is below).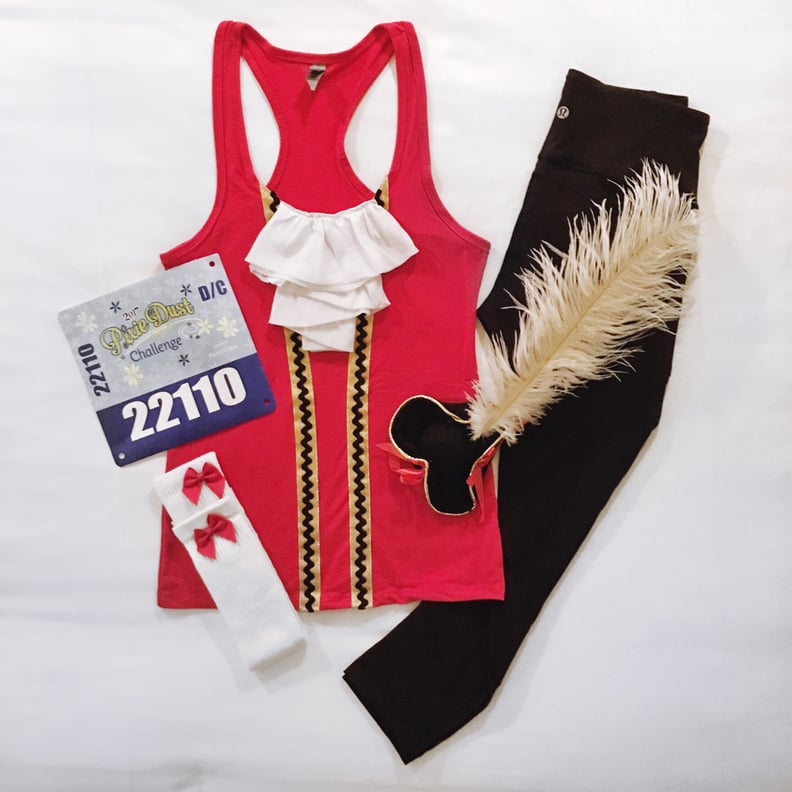 I love how she can incorporate her favorite running gear (notice the lululemon tights?) but keep it 100 percent in line with her costume goals. Here's what she told me: don't try to make something that's already a costume into race-wear. Make race-wear into a costume. "Make your costume functional," she said. "Focus on wearing comfortable activewear first, then add details to bring out the spirit of the character. You can embellish a few details to make your costume flashier!"
You can go as your favorite Disney character, or stay on the theme of the race (for instance, there were MANY Tinker Bells at the Tinker Bell half . . . as well as Peters, Wendys, and a few Captain Hooks!).
Getting There
If you're flying in from anywhere outside of Southern California, SNA (John Wayne airport in Santa Ana) is closest, at about 15 miles away. LGB — Long Beach's tiny airport — often has cheap flights (hello, JetBlue), and is only 23 miles away, making it an excellent alternative. If you're coming in from far away or even internationally, LAX might be your only option, and while it is farther and you'll see a bit more traffic, it's not too bad of a drive.
Santa Ana is the easiest overall in terms of flight availability and not being too crowded, Long Beach is quickest to get in and out of (I've never waited more than three minutes in a security line there — and that was before I had TSA Pre-Check), and LAX has the most options for flights and can be less expensive than the other two if you're coming from overseas or across the country.
Where to Stay
The Grand Californian or Disneyland Hotel are Disneyland Resort's two major options for lodging, and they're both ideally located for the expo, starting line, and finisher's village. The Paradise Pier hotel is close as well. Because Disney races start SO early (you're supposed to be at your corral before 5 a.m.!), you'll want to be as close as possible so you don't have to worry about parking, logistics, etc.
I most recently stayed at The Grand Californian, which was delightful in so many ways. In true Disney fashion, this hotel takes details to the next level, with thoughtful pieces like complimentary aloe vera and minty foot rub, Ghirardelli chocolates on your pillow after turndown service, and the lobby's musician playing Disney classics on piano in the evenings.
All that said, if these hotels are a little outside your budget (they're pretty expensive at around $400/night!), there are dozens of hotels nearby that you can stay at — I just don't have any experience staying there.
The Food Situation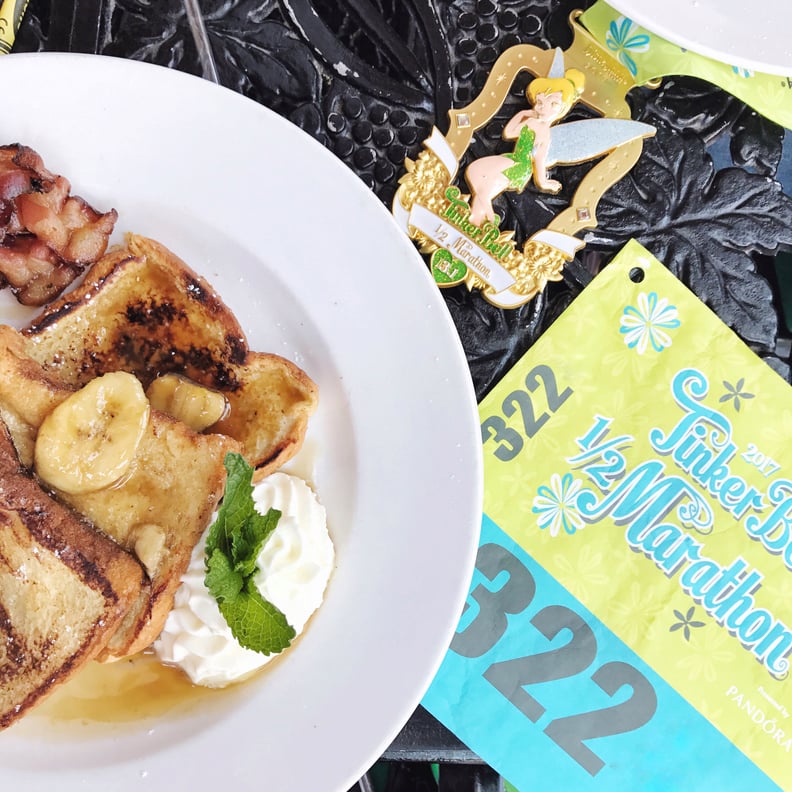 One of the most crucial parts of a half-marathon weekend is nutrition. Where are you going to carb load one or two nights before? Will you have access to your sleepytime tea for race-day eve? What about your pre-race peanut butter toast and coffee, or your post-race brunch?
Fortunately, Disney is an impossibly accommodating resort, so the right foods and good nutrition is not hard to come by. My main advice? Three words: Make. A. Reservation.
As a former Disneyland annual passholder for three years, I had never had an issue going to a restaurant and just putting my name on a list to get a table. However, race weekend is insaaaanely busy, and restaurants are so busy that if you don't have a reservation, they're not even taking walk-ins — both in and out of the park. I learned this the hard way!
Do yourself a favor, and like with most things, plan in advance. Disneyland allows you to make reservations 60 days in advance, so put a reminder in your calendar for 60 days before race weekend, and book your spot at Goofy's Kitchen in the Disneyland Hotel for post-race Mickey Mouse Waffles, and at Ariel's Grotto for a shrimp scampi carb-loading dinner.
Dietary restrictions? Not to worry. You can tell any server at any restaurant in the resort what's going on, and the Disneyland chefs will custom create something to your needs and specifications. I discovered this by happenstance while dining at the Napa Rose inside The Grand Californian, when I asked for a nonalcoholic drink and was served a fizzy grapefruit cucumber mocktail that wasn't even on the menu. I asked a few questions and came to discover that it's not just for drinks — they'll make a meal for you if you're vegan, gluten-free, allergic to shellfish or nuts, and pretty much any other restriction you can think of.
Keep in mind that there are also plenty of dining options at Downtown Disney, and you don't need a ticket to the parks to eat at those. I'd highly recommend Ralph Brenner's Jazz Kitchen and the bananas foster French toast.
The Expo
If you've ever been to a race expo, think about puffing that expo up with air and covering it with glitter and jewels and big brand name sponsors. And adding more people into it. That's a runDisney expo. It's crazy — big sponsors, more glitter than you ever thought you'd see in a lifetime, tutus galore, exclusive runDisney New Balance products, gu, endurance nutrition, etc.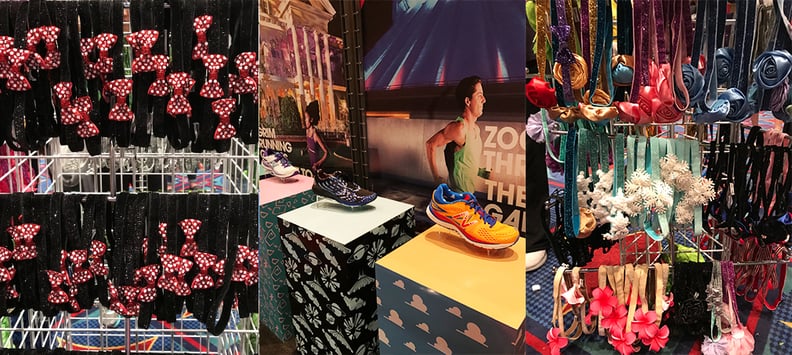 I couldn't get over the sparkly themed headbands and Disney sneakers — see those headbands above? They're for Jasmine, Anna and Elsa, Moana, Ariel, and more. Each of them subtly in homage to a princess a runner might be dressed as.
In addition to non-Disney vendors, there's a huge official Disney merchandise tent (for which there was a huge line during my visit) — I bought myself a Christmas ornament, but you can get anything from shirts to Disney pins to wine glasses.
The Race
Part of the race is in the park, the other parts are through the streets of residential Orange County. Call time is early (before the sun is up!), and the process is efficient. On-course support is abundant. There are signs and cheerleaders and spectators galore, in addition to entertainment from local high school and college bands. There's so much energy! I wrote more about the course and experience in depth, which you can read here.
Visiting the Park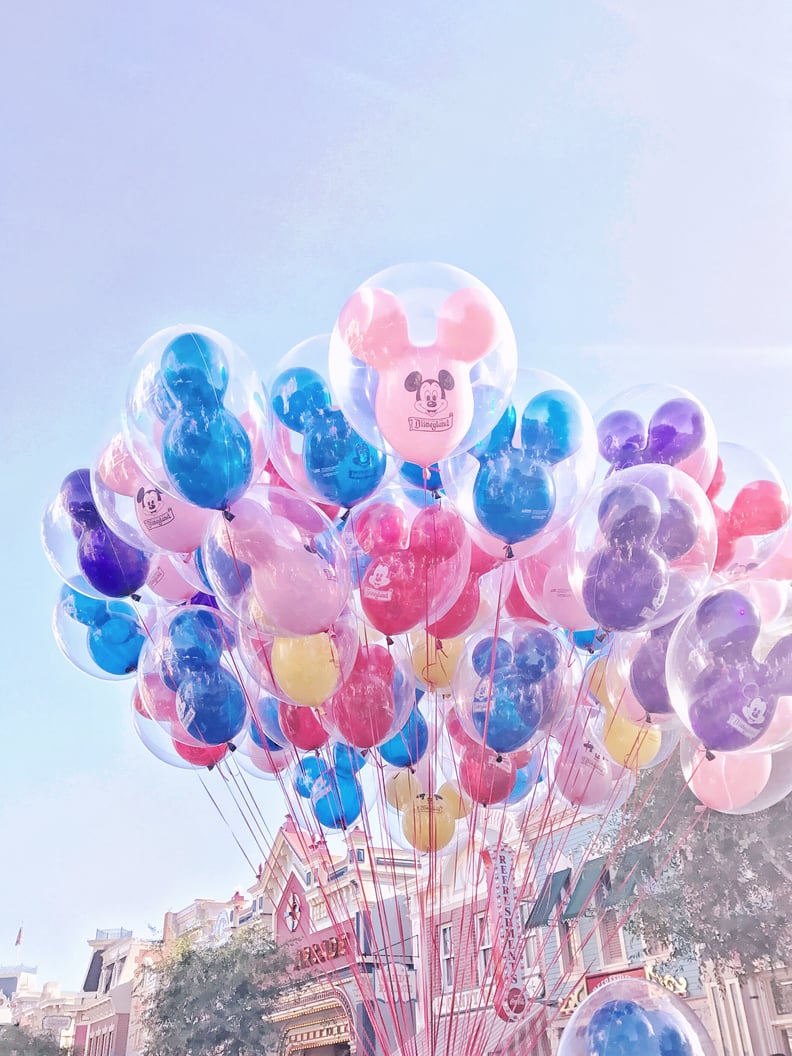 It's important to know that tickets are *not* included with your bib, and that race weekend in particular will be more expensive than weekday tickets, as there's a higher demand and the parks will be closer to 100 percent capacity.
Suggestion 1: Don't wear yourself out the day before your race. Either get in a couple days early, or stay a couple days after, and do the park then. I was on my feet for way too long the day before my half-marathon, fighting through crowds I had never experienced in my three years of passholdership. Seriously, it was the busiest Disney day of my life (but still very, very enjoyable). Not only will you get potential blisters and sunburn and fatigue that'll mess with your race experience, but you'll also be standing in lines for longer and not seeing as much of the parks as you could if you give yourself a few buffer days before or after the race.
Suggestion 2: Get the right apps to plan your rides for the day. I use Mousewait and Walkee for Disneyland to get crowd-sourced info on how long wait times are for not just rides, but for some food spots as well. After waiting in line for an hour at the Red Rose Taverne for the Beauty and the Beast "The Grey Stuff" dessert (worth it, btw), I remembered that you could check the line time for certain restaurants. These apps will help you make the most of your day, so you don't tire yourself out the day before a big race.
Getting Your Photos
If you're a Disney veteran, you're familiar with PhotoPass — it's how you get your professional photos from all over the park (including shots from rides and attractions), all in one place to download. Race photos are not complimentary with your entry fee, but you can buy a PhotoPass that encompasses 45-days worth of photos — park photos included — for $149. If you have an annual pass, PhotoPass is included in your membership.
Don't Forget . . .
Pack sunscreen. Make sure you've got plenty of comfortable walking shoes. Create a Disney-themed playlist. Leave room in your suitcase for souvenirs. And remember — don't stress, just soak in every magical moment.
Lodging and race entry for the author were provided by runDisney for the purpose of writing this story.