12 Exercises to Get Rid of Lower Belly Fat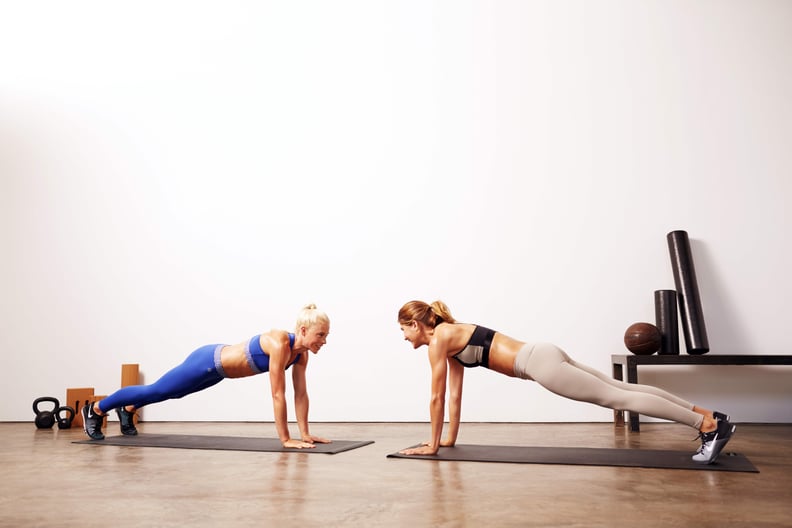 Ridding stubborn belly fat is a high priority on many of our lists, so what exactly does it take to zap an undesirable midsection? The "secret" is actually to strengthen both your upper and lower body, because there's no such thing as spot reduction. But there are specific exercises you can do to help you achieve the core of your dreams . . . with the help of a healthy diet, of course. In addition to the 12 moves ahead, you'll want to combine them with some form of the following workouts:
HIIT
Weightlifting
Now, let's get into specific exercises that go beyond boring crunches.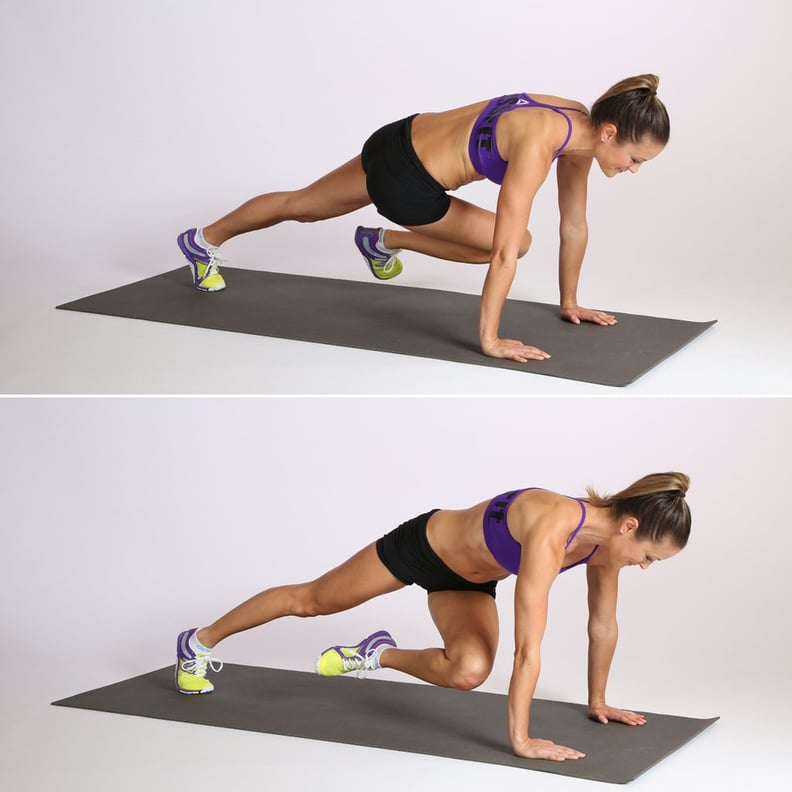 Twisting Mountain Climbers
Get ready to obliterate your obliques with the ultimate core move. Mountain climbers are especially great because they provide intense cardio also. Start in plank position and prepare to burn some major calories.
Engage your core.
Explosively bring your right knee up toward your left elbow while twisting your obliques.
As soon as you return your right foot to the floor, explode with your left leg, pushing your left knee toward your right shoulder. The movement and transitions should be fluid, without pauses, in this exercise.
Aim to complete 10 reps on each side for a total of 20 reps. Rest and then do one or two more sets.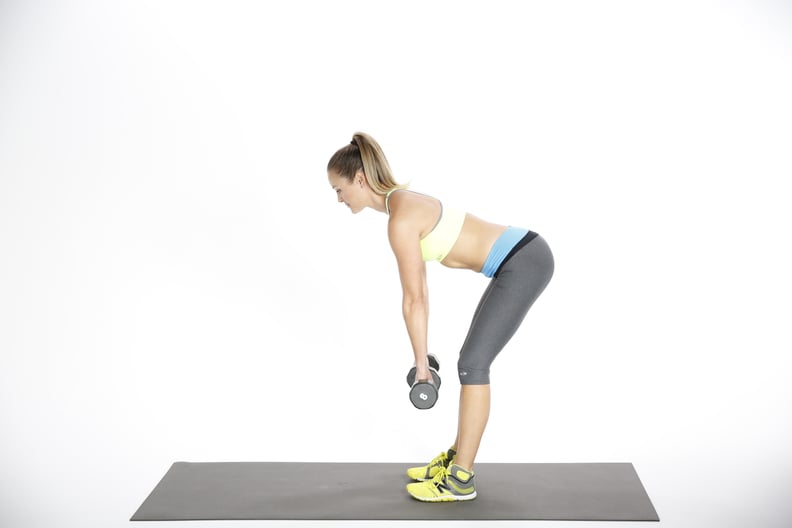 Deadlifts
Incorporating deadlifts into your routine will help you work the glutes and balance out the lower half of your body. It's also more effective than a regular squat because it simultaneously engages your arms and upper body.
Stand holding a pair of medium-weight dumbbells in each hand, arms at your sides, with your knees slightly bent.
Keeping your arms straight and your knees slightly bent, slowly bend at your hip joint, not your waist, and lower the weights as far as possible without rounding your back, which should remain straight. Looking forward, not at the ground, will help you avoid rounding your back. Keep the weights close to, almost touching, your legs.
Squeeze your glutes to slowly pull yourself up. Be sure not to use your back or round your spine!
Do three sets of 12 reps.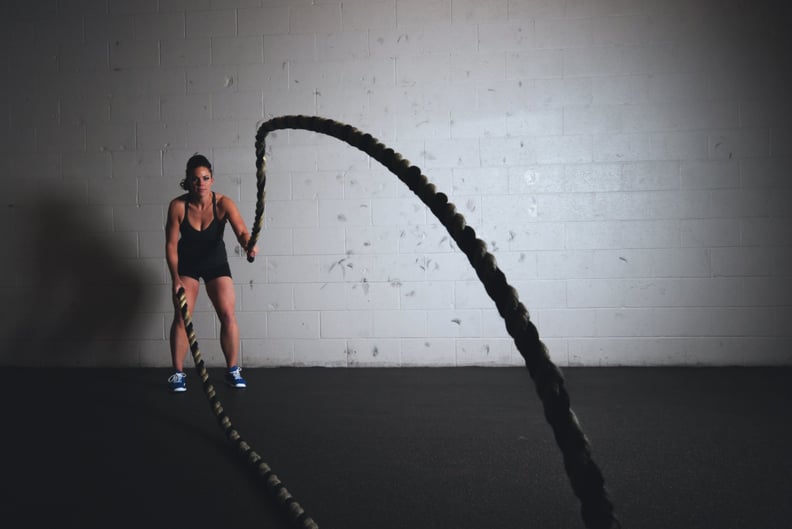 Battle Ropes
Using battle ropes is a fantastic full-body exercise: in addition to forcing you to engage your core, your entire body will need to kick into gear to stabilize you. On top of that, your heart rate will shoot up while your fat melts away. Here are two variations to start out with.
Hold the ends of the ropes at arm's length so they are extended out in front of your hips.
Keep your hands close together, about one foot apart.
Bend into a semisquat position.
Engage your core.
Explosively raise both hands straight up into the air until they are about eye level.
Bring your hands back down to hip height.
Rapidly repeat this motion for one to two minutes.
Rest and begin the next set.
Try to do three sets, with rest in between. Each week, challenge yourself by extending the time of each set.
Hold the ends of the ropes at arm's length so they are extended out in front of your hips.
Keep your hands approximately shoulder width apart.
Bend into a semisquat position.
Engage your core.
Begin by raising your right arm explosively. As it is descending, begin raising your left arm explosively. This should be a fluid motion that sends waves down each rope.
Keep alternating your arms for one to two minutes for one set. Challenge yourself by adding time each week to each set or simply by speeding up.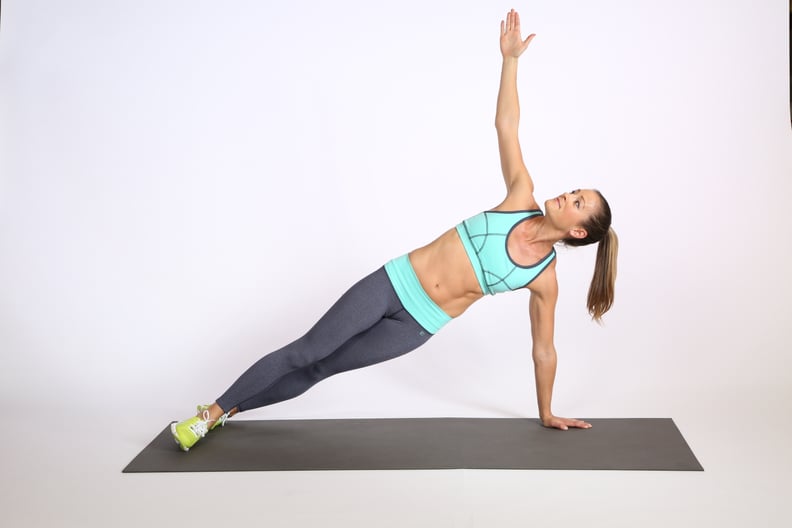 Side Planks
An effective way to carve and strengthen your deep front and side muscles is side planks. Fire up your obliques and arms at the same time.
Come into a plank position (the top of a push-up) and roll to your left side, allowing your feet to roll too, so you're balancing on the outside of your left foot and the inside of your right. To advance this move, stack your right foot on top of your left.
Reach your right arm toward the ceiling and lift your waist away from the floor to make your obliques fire away. Press your left inner thigh up into your right inner thigh; this helps stabilize you even more.
To take pressure off of your wrist, press your left fingertips into the floor.
Hold for 30 seconds, working toward a full minute. To complete a set, repeat on the other side. Do three sets.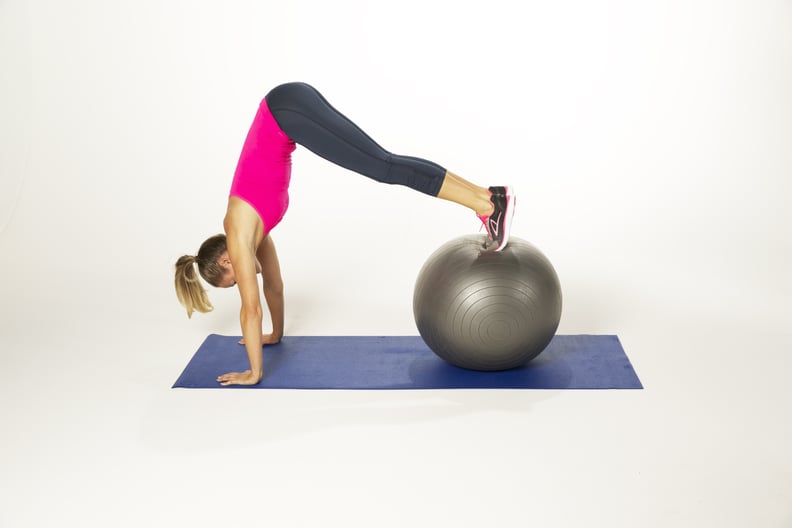 Ball Pike to Plank
This killer move focuses on your lower abs as the bottom half of your body is in full control of the ball. First things first: make sure the ball is sized to your body; you should be able to sit on the ball with 90-degree angles at your hips and knees. If you don't have an exercise ball, use two sliders or paper plates on carpet to slide up to pike position.
Start in a plank position with your hands directly under your shoulders and your shins on the ball.
Do not allow your lower back to arch. Keep your feet, pelvis, and shoulders in one long line.
On an exhale, pull your abs deeply to your spine and use your abs to fold your body in half, pulling the ball forward toward your hands as your pelvis moves up in the air.
Your toes will move onto the top of the ball, and your back will become perpendicular to the floor, like a handstand. Allow your head to fall between your arms, keeping your neck long and in line with your spine.
Lower yourself back into a plank position, and do not allow your pelvis to sag below your shoulders.
Do 10 reps for two to three sets.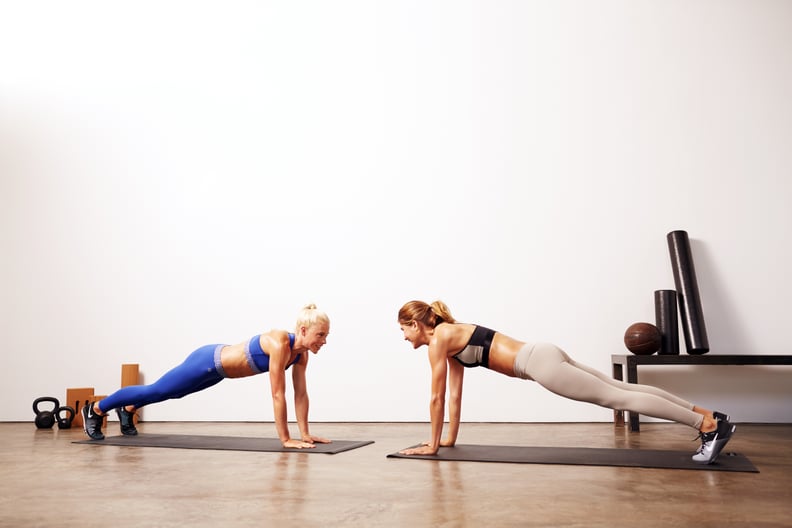 Burpees
Sorry to break it to you, but burpees are just as effective as they are hated. It's the perfect way to work your entire body and keep your heart rate elevated.
Lower into a crouching squat with your hands on the floor.
Do a squat thrust by jumping your feet back into a plank position.
Do one basic push-up, bending the elbows and then straightening back to plank.
Jump the feet forward to the hands and come into a squat.
Do an explosive jump straight up, getting as much height as you can.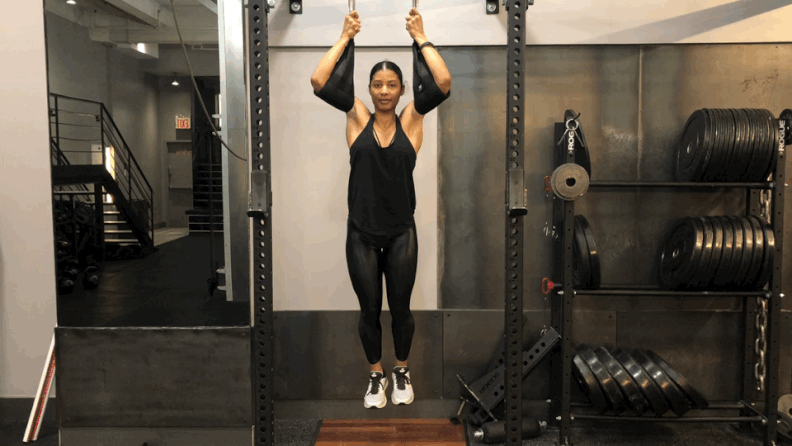 Hanging Leg Raises
Master this move and you'll have those lower abs showing in no time.
Start by hanging on a pull-up bar with palms facing out, or use the ab straps and hang with your arms inside of them. Do use a box or bench if you need help reaching the bar.
Pull your shoulder blades down your back to keep your shoulders away from your ears.
Engage your abs as you fully extend both legs, lifting them up simultaneously with control.
Lower the legs down slowly and return to the starting position. This completes one rep.
Avoid swinging during this move to ensure that you're really working your abs.
Do two sets of 10 reps.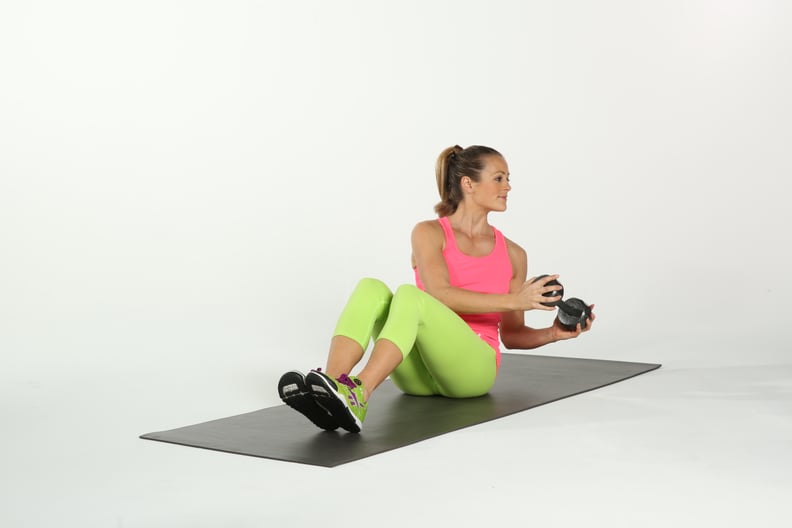 Russian Twists
Add weights to Russian twists to blast your front ab muscles, transverse ab muscles, lower back, and obliques.
Sit on the ground with your knees bent and your heels about a foot from your butt.
Slowly recline backward until you feel your lower abs engage. It is really important, and difficult, to keep your back straight, but don't let it curve.
Place your arms out in front of you with your hands one on top of the other. Your hands should be level with the bottom of your ribcage.
Pull your navel to your spine and twist slowly to the right. The movement is not large and comes from the ribs rotating, not from your arms swinging. Inhale through center and rotate to the left. This completes one rep.
Do 16 full rotations to complete a set.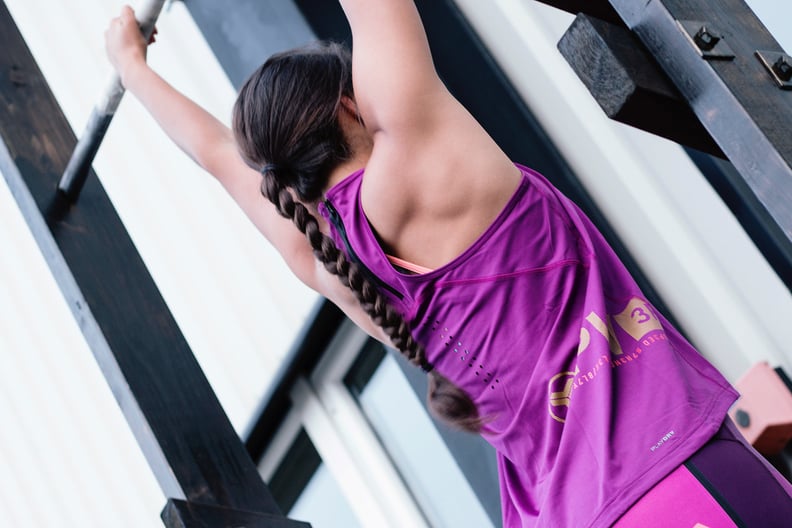 Assisted Pull-Ups
Achieving a flatter midsection isn't possible with a weak upper body. Lats are the biggest muscle in the upper half, so strengthening this area will help you burn more above the waist. Lat pull-downs are also a good one to add.
Securely set the pin on the desired weight.
Stand on the side platforms and hold on to the outer handles. Lift one knee and place it on the padded knee rest. Tightly hold on to the handles as you place your second knee onto the knee rest, and be prepared to hold yourself up (with the assistance of the counterweight). Keep your abs engaged, spine neutral, and shoulders pressed down and back.
Pull yourself up as far as possible, making sure to keep your abs engaged and your shoulders pressed down and back. Slowly release down until your arms are almost straight.
Repeat 10 to 15 times. When getting off of the machine, be sure to pull yourself all the way to the top first. Keeping your arms engaged, slowly lift one knee and lower it to the side platform, then the other.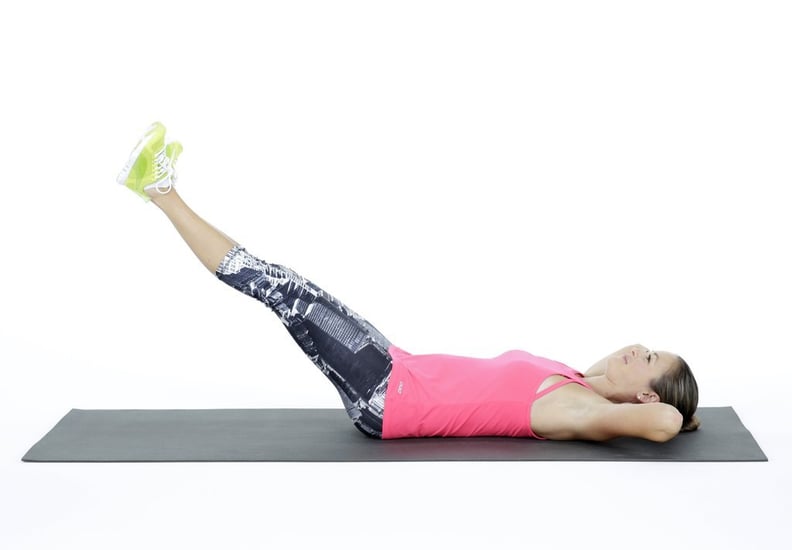 Double Leg Lifts
On top of working your abs and obliques, this move also doubles as a great thigh toner. If hanging leg raises are too advanced for you, try this floor variation instead.
Lie flat on the ground with your legs extended straight up toward the ceiling. Place your hands underneath the back of your head. For added stability, place your arms out to your side, allowing the palms to grip the floor (much like you would in a push-up position).
Pressing your lower back into the ground, slowly lower both legs down toward the floor, then slowly raise them back up. If this is too difficult, lower them as much as you can or lower one leg at a time.
Complete 10 to 15 reps.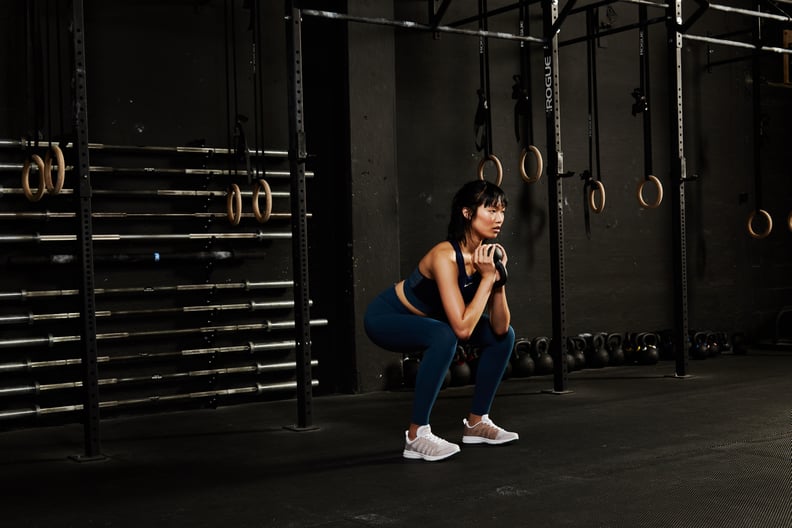 Front Squats
You won't find a better combination than front squats. Not only do they train the hips for strength, but they also promote stability and form in your core and lower back. Start with kettlebells first, and then work up to a barbell if you can.
Begin with your legs hip width apart.
Grip the kettlebells in front of you and quickly stand, twisting your wrists as you come up to allow each bell to rest inside your forearm and upper arm.
Hold the kettlebells high on your chest.
Control your squat back down by keeping your core engaged and spine neutral.
With your core still braced, drive through your heels to stand back up. Be sure to squeeze your glutes at the top of your squat.
That's one rep.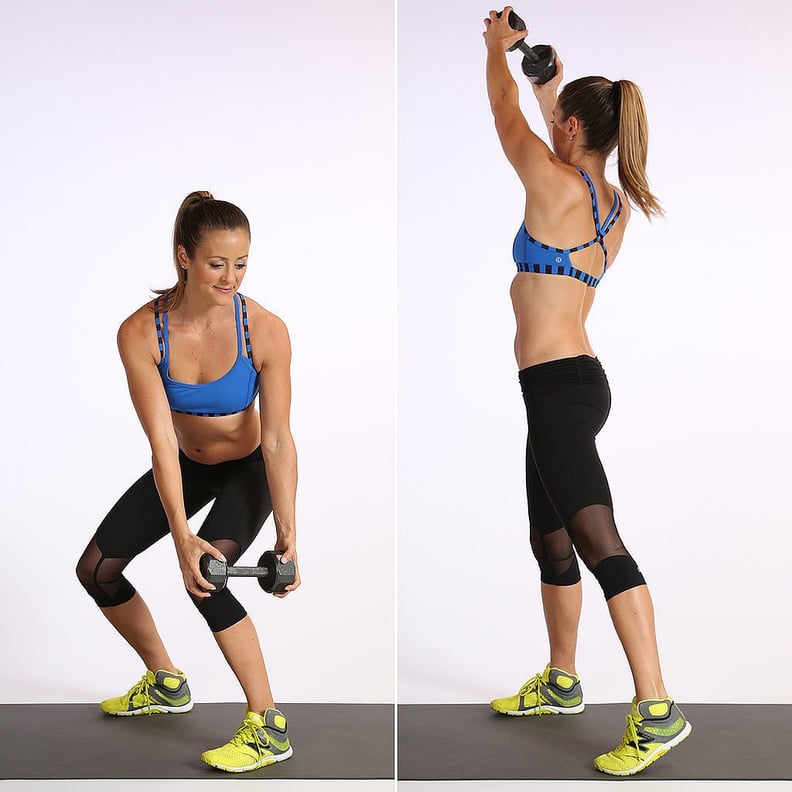 Sledgehammer Swings
This exercise works your core, shoulders, back, traps, and arms, all while helping you build muscular endurance. Bonus: your heart rate will stay elevated, which means you're torching calories.
Get a good grip on the sledgehammer or dumbbell.
Your hands should be stacked one on top of the other at the bottom of the handle.
Bend your elbows and bring the sledgehammer up and over your shoulder, similar to how you'd hold a baseball bat.
Using as much force as you can, bring the hammer down on the tire. Hold on tight because it will bounce when it strikes the rubber.
Begin with 15 to 25 swings on one side. Then alternate your hand position and the side with which you bring the hammer over your shoulder for another 20 to 30 swings. Rest after you've worked both sides. Then complete one or two more rounds.