Why Jessica Simpson Is One of Our Favorite Fit Celebs of 2014
If you follow Jessica Simpson on social media, it's easy to see why she's one of our favorite healthy stars of 2014. After two back-to-back pregnancies in 2013, Jessica hasn't been shy about her how hard she's worked to lose weight and get fit. "I gained a lot of weight," she's said of her first pregnancy. "More than I thought I would. And when it came time to try to take it off, it felt overwhelming." So to get ready for her July 5, 2014, wedding, she worked hard in the gym and the kitchen. Her secret? Weight Watchers, of course — she's a spokesperson for the brand — as well as trainer Harley Pasternak. Check out Jessica's fit 2014 here, and let her inspiring workout (and swimsuit) snaps motivate you to get going on your own goals. Source: Instagram user jessicasimpson, Front Page You Are What You Eat
Jessica has been a Weight Watchers spokesperson since having her daughter in 2011, and she credits the eating plan with helping her lose 60 pounds following her second pregnancy in 2013. Earlier this year, she announced that she reached her goal weight, tweeting in March, "...AND a white T-shirt!!#goalreached thx @weightwatchers."
Want to know the breakfast secret that helped Jessica get there? Check out her recipe for Italian baked eggs and vegetables, one of her favorite low-calorie ways to fuel up in the morning. Call a Buddy
What makes working out more fun? Someone to exercise with. Studies have shown that having a motivated workout buddy can help you burn more calories than going it alone. Don't Fear Muscles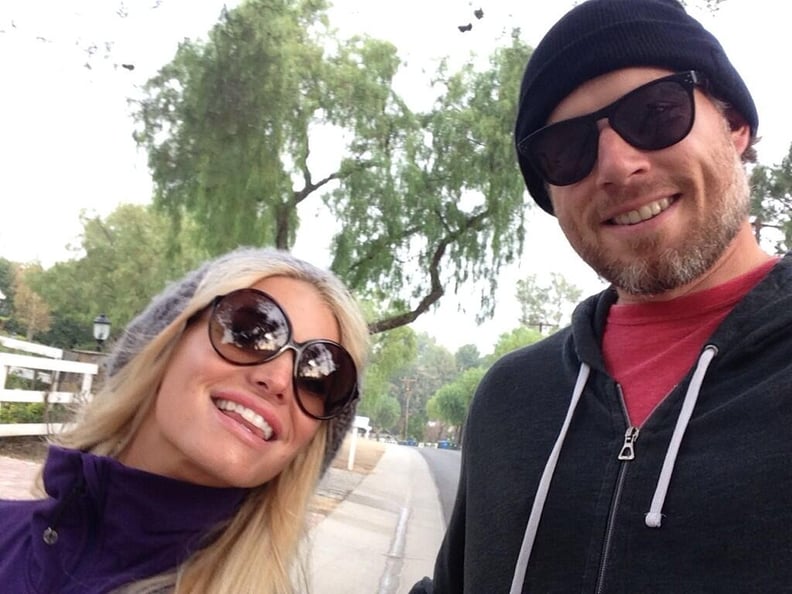 Have a Ritual
Jessica takes morning walks with her husband, Eric Johnson. Instead of meeting friends and family at a bar, take a walk at a nearby park or around your neighborhood to burn calories while you catch up. Keep Moving
Jessica takes a stroll with daughter Maxwell to fit in a workout. Another of Harley's tips: invest in a fitness tracker or pedometer so you make sure you take at least 12,000 steps every day in order to "burn fat all day," he says. Show Off Your Hard Work
Jessica is proud to show off how hours at the gym have paid off: she posed with her friend (and workout buddy) at sister Ashlee's bridal shower in August, captioning the photo, "Oh yea girl...We are proud to be in our bathing suits!! @baylormcg #hardworkpaysoff #workoutpartnersforlife."