Jordan Chiles Talks About Fat-Shaming From Past Coach
Jordan Chiles Reveals Fat-Shaming From Past Coach: "Since Then, I've Never Stepped on a Scale"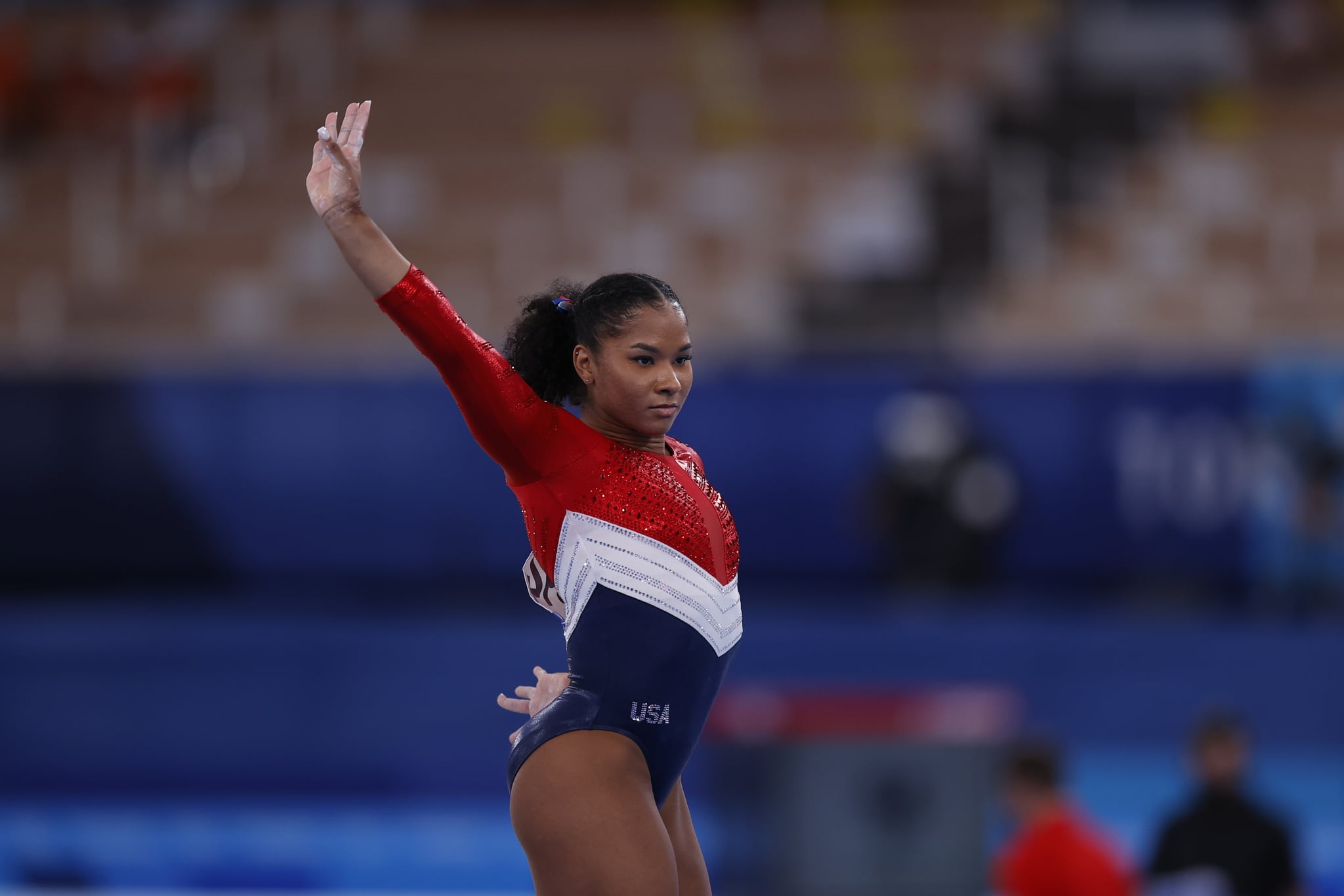 Image Source: Getty / Fred Lee
Olympic team silver medalist and soon-to-be UCLA freshman Jordan Chiles revealed during an upcoming episode of Facebook Watch's Peace of Mind with Taraji that she was verbally abused by a past coach. Chiles tells Taraji P. Henson and cohost Tracie Jade of her old coach: "She called me fat, she said I looked like a doughnut, to the littlest things of people asking me, 'Oh, you're eating this today?' And it's like, 'Well, I'm not eating because you just triggered my brain.'"
Chiles, who's currently on the Gold Over America Tour, added that it took a "huge toll" on her mental health to the point where she'd leave notes on her kitchen counter saying she planned to quit gymnastics. (She never did.)
Chiles further spoke with POPSUGAR, noting that a woman coach she had at her Washington gym from ages 7 through 16 used to body-shame her. "You're turning into a woman at that point, so your body's changing, but even prior to that, it got to points where I would be looking so skinny . . . I was fit, I was young . . . she would still be like, 'Oh, you look like a doughnut' or 'a sack of potatoes' out of the blue."
Chiles said she was afraid her coach would catch her eating pizza, for instance, "and it haunted me throughout my whole gymnastics career and lifetime." She had to keep track of her weight, and "if I wasn't under 110 [pounds], she called me fat," Chiles shared. "And keep in mind, I'm already tiny and I'm built, so a lot of the muscle mass that I have, that's where all of my weight comes from."
The gymnast added, "Ever since then, I've never stepped on a scale. I hate stepping on scales, because it's just awful." It took a while to mend her relationship with food, something that she admits she struggles with to this day — things will continue to trigger her, and she'll body-shame herself. It wasn't until around two years ago that she finally realized, "'What are you doing? Why are you still making it so hard on yourself to eat?'"
Chiles's experience, sadly, isn't surprising. The sport has a longstanding history of coach-inflicted abuse, especially as it pertains to body image — with former national team leaders Bela and Marta Karolyi at the helm of that toxic culture. In fact, the coach Chiles is referring to trained under Marta, so Chiles implied that national team camps at the since-shut-down Karolyi Ranch were less than ideal.
"Ever since then, I've never stepped on a scale. I hate stepping on scales, because it's just awful."
It's not just on the highest levels either; I witnessed fat-shaming growing up as a gymnast in the lower levels, and like Chiles, it greatly impacted my own relationship with food. However, I wasn't aware of that impact until later in life (you can read more about that and patterns of abuse in the sport here).
Chiles left the gym her former coach worked for and eventually ended up at Texas's World Champions Centre to train under coaches Laurent Landi and Cecile Canqueteau-Landi with Simone Biles. She explained that on Peace of Mind with Taraji, Henson was one of the first people she publicly told about the past verbal abuse. "I felt like I needed to say something because a lot of people just think that I'm all like [fine] . . . but nobody truly knew the inside of why I switched gyms and why I got a new coach."
Chiles's mom gave her a "huge apology" before the gym transition, saying she wished she'd dug deeper. However, Chiles said she didn't blame her parents' oversight since she wasn't fully able to understand the fat-shaming and verbal abuse herself. She's continuing to heal — and competing in NCAA gymnastics, in a notoriously less strict environment, will help — "but at the same time . . . deep down, I might not change," she noted.
When Can I Watch Jordan Chiles on Peace of Mind with Taraji?
In the same Peace of Mind with Taraji episode, Chiles explains the stressors she faced in the world of elite gymnastics, as well as how she handled an unexpected Olympic team final over the summer. Also featured in the episode are former NFL player Bruce Davis Jr., who opens up about his struggles with depression and alcohol amid his NFL career, and sports psychologist Ross Flowers, PhD, who analyzes how compounding pressure affects athletes' mental health.
See the preview of Chiles's clip above, and watch the full episode on Nov. 8 at 12 p.m. ET via Facebook Watch or Taraji P. Henson's Facebook page. Peace of Mind with Taraji debuts new episodes every Monday at 9 a.m. PT/12 p.m. ET.