Sure, Jordan Chiles's last name rhymes with Biles, but the 20-year-old is holding her own in gymnastics. After a spectacular two-night performance and third-place all-around finish at Olympic Trials, she was selected for the four-person women's artistic gymnastics team heading to the Tokyo Games.
"I need to be able to go out there and just be Jordan and not try to be somebody that — I don't know, like the next Gabby [Douglas], the next Simone," the senior national team member told USA Today this year. "I want to be the next Jordan. I'm myself."
Chiles showcased her consistency ever since she won the all-around at February's Winter Cup and came in second overall at the GK US Classic behind Biles. Then, she claimed the national all-around bronze medal on June 6.
Gymnastics became Chiles's whole universe shortly after she was introduced to the sport with natural talent around age seven. Though she was the team, vault, and floor champion at the 2018 Pacific Rim Championships and also placed second in the all-around at the 2017 US Gymnastics Championships, her journey toward peak performance only launched when she moved training gyms from her hometown of Vancouver, WA, to World Champions Centre (WCC) in Spring, TX, where Biles trains. Making the switch in June 2019 helped instill confidence and love for the sport that she had lost.
"Training under Laurent [Landi] and Cecile [Canqueteau-Landi] definitely has changed my whole mindset, my whole attitude, and how I look forward to being in the gym these days," Chiles told POPSUGAR earlier this month. "Being able to have coaches who truly understand me and what I've gone through and what I want in my career is something that I was really, really happy about."
Chiles shared with POPSUGAR that she first truly realized the Olympics were attainable for her during the 2019 GK US Classic. "That's when I understood, 'OK, if I can be almost prepared after only being two weeks with Cecile and Laurent, then maybe they can take me to where I want to be.'"
We can't wait to see what more Chiles can do in Tokyo. Ahead, check out 11 fun facts about her that you might not know.
01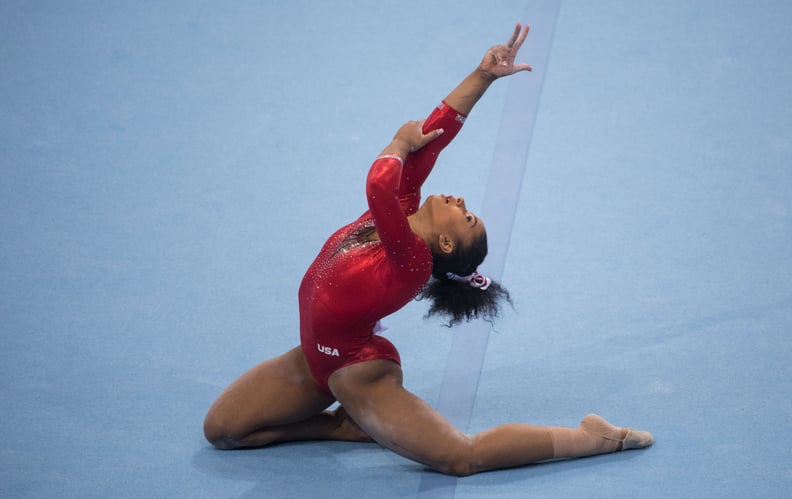 Jordan Chiles Was Named After Michael Jordan
02
Jordan Chiles Admired Shawn Johnson Growing Up
Chiles told ESPN that she remembers standing on line for what felt like hours to meet Shawn Johnson after the 2008 Olympic Games. "One day your baby girl will know how much you inspired girls like me (with big muscles and power) to dream," Chiles wrote on Twitter.
She further told POPSUGAR that she also looks up to Dominique Dawes, the first Black woman to win an individual Olympic medal in artistic gymnastics, as well as two-time Olympian Aly Raisman. Chiles said, of course, that she's inspired every day by Biles, stating, "She's an idol."
03
Jordan Chiles Owns a Clothing Brand
Chiles officially launched Melanin Drip Clothing Co. last June. She told POPSUGAR she was going through a hard time, naming the deaths of Breonna Taylor and George Floyd specifically. She channeled what she was feeling into creating these clothes with her parents — they have a screen printing machine at home and design everything themselves — because she wanted to embrace who she is as a young Black woman. She's hoping to launch new apparel after the Olympics.
"I am a young black woman, a Melanin Queen, and I wanted to create apparel that speaks loud and honors our royal lineage," Chiles writes on the brand's website, which sells hoodies, shirts, pants, and accessories. "So be proud to rock your big and beautiful natural afro, braid it up, twist it up, loc it, poof it or slay with a silky press and then grab a Melanin Drip hoodie and go be authentically you!"
04
Jordan Chiles Has a Children's Book Written About Her
Chiles's mom, Gina, wrote about her daughter's gymnastics journey in a children's book, Dream Big Little Chick, published in February of 2020. "It was based on Jordan, but I was really thinking of little kids that had their own dream," Gina told NBC Sports. "Especially when things didn't always seem like it could happen." Chick is Chiles's nickname, and the chick in this story aspires to go to the "Animal Olympics."
05
Jordan Chiles Is Interested in Studying Business
Chiles is committed to UCLA for collegiate gymnastics, though she has deferred in order to chase her Olympic dream and plans to start school in January of 2022. She told POPSUGAR that besides getting a degree in general business, she's looking to potentially minor in Zoology, if possible, or acting.
06
Jordan Chiles Went Viral For a Wonder Woman Floor Routine in 2018
07
Jordan Chiles's Newest Floor Routine Is Set to Songs From Spider-Man
Chiles's 2021 floor routine is inspired by the superhero Spider-Man. She told POPSUGAR she came up with the idea after seeing Spider-Man: Far From Home because she was a fan of the music. Here, you can see that routine from this year's US Gymnastics Championships. She also hinted that she might bring a superhero-themed floor routine to UCLA when she attends (she's toying with the idea of something inspired by Green Lantern).
08
Jordan Chiles's Favorite Song to Listen to Ahead of Competitions Is "Motivation"
Chiles is always ready for some "Motivation" by Normani, but she also told POPSUGAR that she likes to listen to whatever the hit songs are at the time or even Disney throwbacks.
09
Jordan Chiles Calls Herself a "Sneakerhead"
10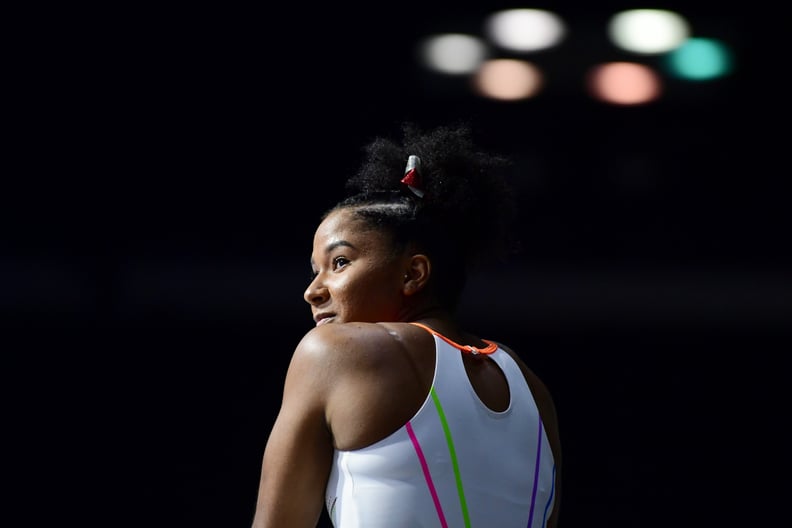 Jordan Chiles Doesn't Have a Favorite Gymnastics Event
However, she told POPSUGAR that her favorite skill is a release move on bars called a "Tkatchev."
11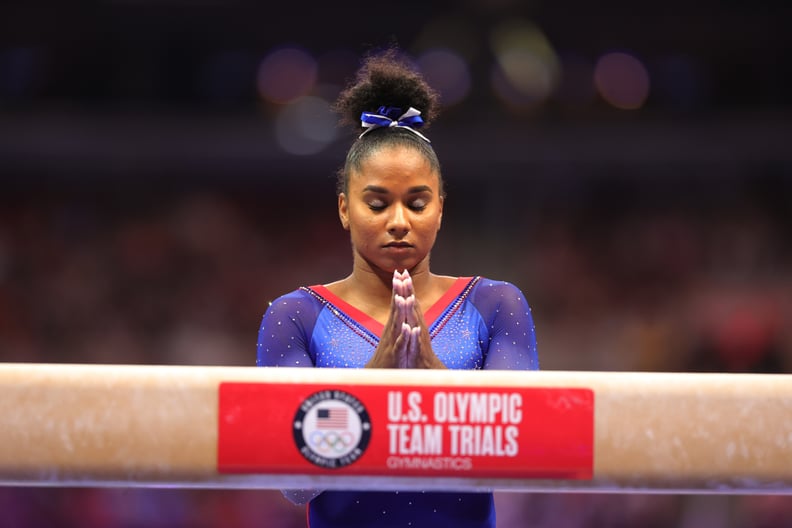 Jordan Chiles Does Visualization Before Her Routines
This is a technique that Chiles picked up when she moved to WCC. "If you ever watch my competitions, whenever I close my eyes, that's when I'm visualizing my routine," she told POPSUGAR.