Simone Biles Withdraws From Women's Gymnastics Team Final
Simone Biles Pulls Out of the Tokyo Gymnastics All-Around and Team Finals For Her Mental Health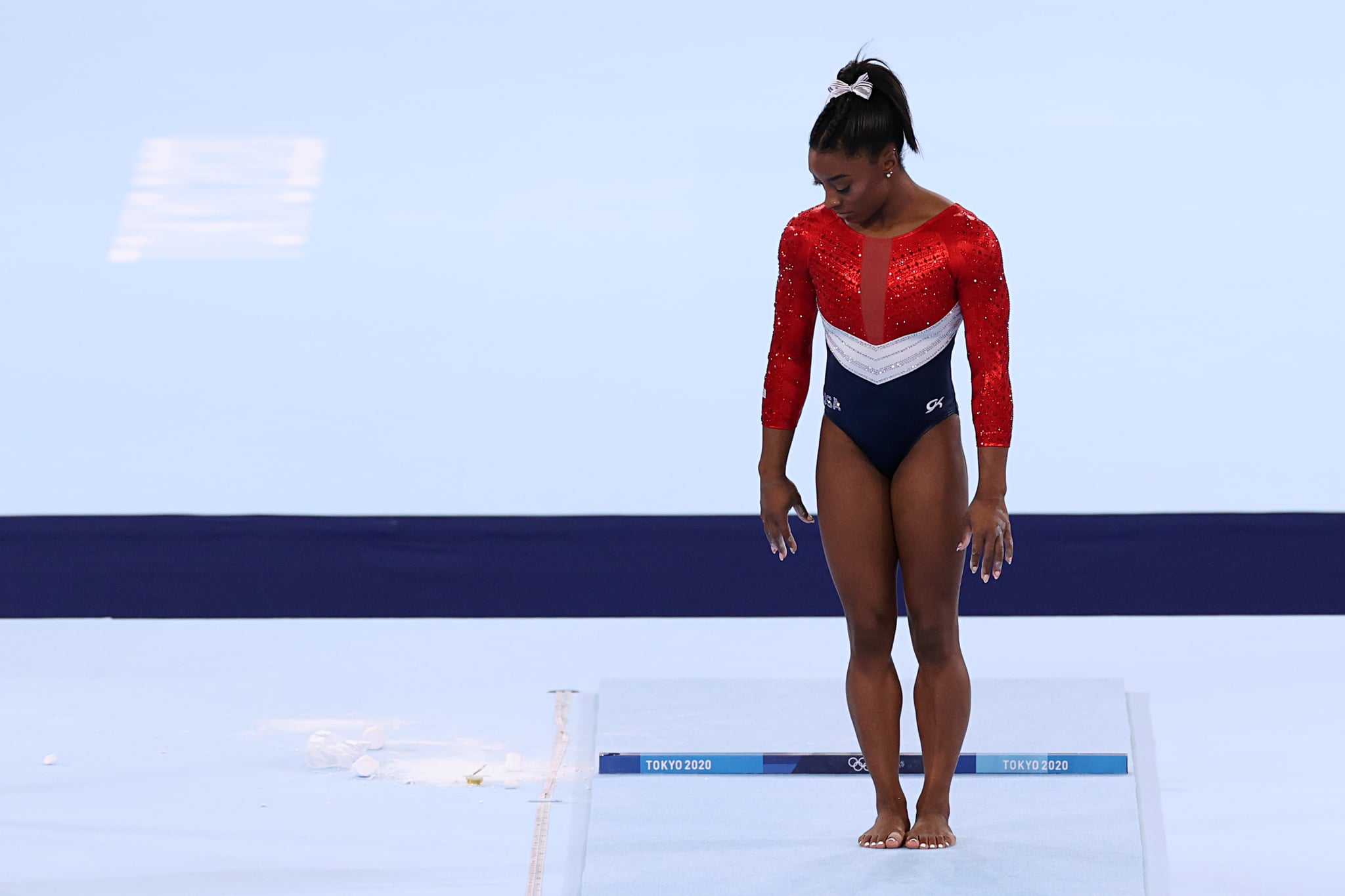 Updated, July 28, 2:40 a.m. ET: After further evaluation following Simone Biles's mental-health-driven exit from the Tokyo Olympics team final in women's artistic gymnastics, she has withdrawn from the all-around final slated for July 29, USA Gymnastics confirmed in a statement. Jade Carey, who finished in ninth place overall and had originally not made it into the all-around final due to the two-per-country-maximum rule, will take her place. She'll be joining Team USA's Sunisa Lee.
Carey, an individual athlete for the US, qualified for the upcoming floor and vault finals, and Biles will be evaluated daily in order to make the appropriate decisions regarding her presence in the event finals she qualified for (she made it through on vault, bars, beam, and floor).
"We wholeheartedly support Simone's decision and applaud her bravery in prioritizing her well-being. Her courage shows, yet again, why she is a role model for so many," the national gymnastics governing body said.
Original post, July 27: Simone Biles withdrew from the women's artistic gymnastics Olympic team final on July 27. Team USA, rotating alongside the Russian Olympic Committee (ROC), began on vault with two solid efforts from Grace McCallum and Jordan Chiles, after which Biles bailed out of her planned Amanar ("bailing out" is a term in gymnastics that means a gymnast backed out of a skill often to prevent injury or due to fear).
More specifically, Biles only did one and a half twists out of her Yurchenko instead of the two and a half twists the vault requires. She landed in a deep squat, stumbled, then presented to the judges. She received a 13.766. The ROC squad led after the first rotation by just over a point and continued to widen the gap until the final rotation to ultimately clinch gold. The Americans battled until the end to claim silver.
Following her vault performance, Biles left the arena with a trainer, returned in warmup attire, and was scratched from the bar lineup. Then, NBC announcers confirmed she would be forgoing the rest of the team competition. Biles, though, stayed on the sidelines with McCallum, Chiles, and Sunisa Lee, cheering them on.
Announcers first reported after the bars rotation that Biles pulled out because of mental struggles she had as opposed to an injury. Though they later said it was medical related and USA Gymnastics confirmed this in a statement on Twitter, Biles did speak to reporters post-meet and clarified that it was in fact due to her mental health.
"No injury, thankfully," Biles said in a Team USA press conference. "That's why I took a step back because I didn't want to do something silly out there and get injured, so I thought it was best if these girls took over and did the rest of the job, which they absolutely did. They're Olympic silver medalists now, and they should be really proud of themselves for how well they did last minute having to go in."
Biles further said that this Olympics have been stressful and named the lack of audience and "a lot of different variables." In an Instagram post after the qualification round on July 25, for instance, Biles had written, "I truly do feel like I have the weight of the world on my shoulders at times."
In her press conference, Biles continued on to say she's "never felt like this going into a competition before." Once warmups concluded, she came out onto the competition floor and realized that she was "not there" mentally and she needed to focus on herself. She also noted that she didn't want to cost the team a medal by forcing herself to going through with the competition.
When asked how Naomi Osaka, who has honored her own mental health this year in the tennis sphere, inspires her and if she has a message for fellow athletes, Biles stated, "I say put mental health first because if you don't, then you're not gonna enjoy your sport, and you're not gonna succeed as much as you want to, so it's OK sometimes to even sit out the big competitions." She said choosing mental health shows how strong of a competitor you truly are.
It's unclear at this time where she stands for the remaining all-around and event finals in Tokyo. When speaking to BBC Sport, she said she'd be back for Thursday's all-around final where she is expected to defend her title from the Rio Games. However, when speaking on the Today show, she said she wasn't sure. "Coming here to the Olympics and being the head star isn't an easy feat," she added, "so we're just trying to take it one day at a time and we'll see."