Michael Jordan and Kobe Bryant Were Rivals and "Close Friends" — See Their Photos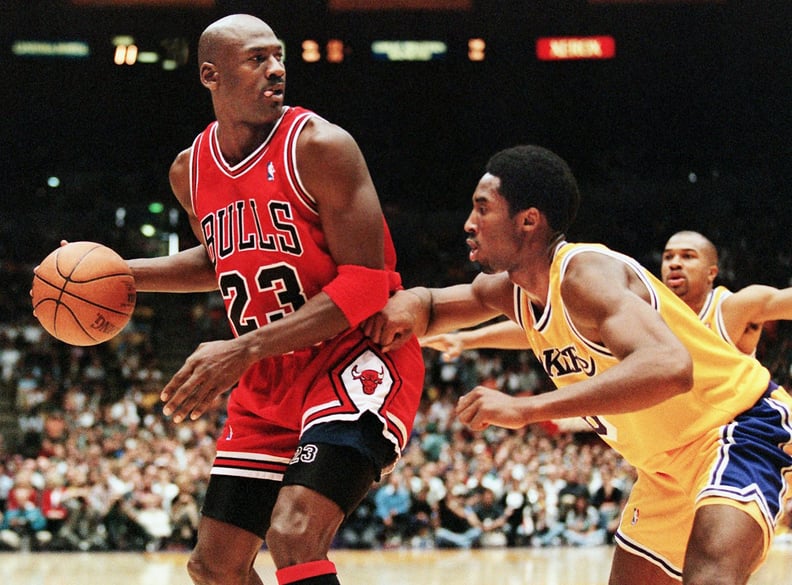 Getty | Vince Bucci / Stringer
The fifth episode of ESPN's The Last Dance (now streaming on Netflix) opens with a veteran Michael Jordan in the locker room of the 1998 NBA All-Star Game, bantering with his Eastern Conference teammates about 19-year-old Kobe Bryant, who would become the youngest player ever to start in the annual matchup. "That little Laker boy's gonna take everybody one-on-one," Jordan says. "He don't let the game come to him. He just go out there and take it." Moments later, as the game is getting underway, Bob Costas introduces Bryant as "the man many have dubbed the next Michael Jordan."
It was far from the last time these two deeply competitive players would be pitted against each other. But despite the comparisons and tensions on the court, the men formed a lasting friendship. "It was a rough couple of years for me to come into the league because at the time, the league was so much older. It's not as young as it is today," explains Bryant, in previously unseen footage filmed prior to his death. "At that point, Michael provided a lot of guidance for me." Bryant credits his "big brother" and mentor for the role he played in his success: "I don't get five championships here without him, because he guided me so much and gave me so much great advice."
Bryant wasn't alone in his admiration. In a tearful eulogy at a memorial service for Bryant and his daughter Gianna in February, Jordan explained that maybe it would come as a surprise to some that the two were friends, "but we were very close friends . . . He was like a little brother." He went on to describe what younger siblings are like within a family: always getting into your things and asking you questions. "At first, it was an aggravation," Jordan joked about his relationship with Bryant — but eventually, he came to love those late-night texts and phone calls, and breaking down the game with someone so passionate about it. "He wanted to be the best basketball player that he could be. And as I got to know him, I wanted to be the best big brother that I could be," Jordan said.
In the end, Bryant's ambition and competitive drive earned Jordan's respect — and fueled perhaps one of the most unlikely friendships in the history of sports. Keep reading to see some of the moments they shared during their legendary careers.