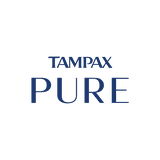 Alongside
Tampax Pure
, we're shining a light on the process of how your tampons are made, and reminding you why the ingredients are so important.
Tampons are often something we tend to take for granted — but when you think about it, they're something we're putting inside our bodies, so why wouldn't we pay more attention to the ingredients each tampon is made from? Just like we're so much more attuned to the ingredients in everything from our food to our skin care, it's high time we put just as much thought into how our tampons are made and exactly what they're made of.
Enter: Tampax Pure, the first tampon brand to provide a completely transparent look into the life cycle of how their organic cotton tampons are made — starting with the cotton field on a West Texas family-owned farm and ending in your home — via a simple scan of a QR code. Tampax is piloting* technology called blockchain; basically, when you scan the QR code on your box of Tampax Pure, an app will show you the exact process your unique box of tampons has gone through. Each moment in the chain has been timestamped and verified, from the exact farm where the cotton was harvested to the signed documents certifying it as organic.
Follow the journey ahead, and scan the code on your box of Tampax Pure tampons to find out more about where your tampons originated.
Find Tampax Pure at your favorite local retailer.
* P&G is piloting this unique technology and it's currently only available for Tampax Pure.
Credits: Editor: Aviel Kanter; Designer: Allie Pakrosnis