Mental Health Experts Reveal 11 Ways to Deal With Holiday Stress So You Can Have a Jolly Holiday
Among the frenzied holiday shopping, hosting parties, keeping your kids occupied for weeks, and spending time with (sometimes contentious) family members, the holidays are downright stressful. It's supposed to be the most wonderful time of the year, but you may find yourself in over your head.
You shouldn't let the stress of the season ruin the holidays for good. Instead, we spoke to mental health experts who explain how to stop holiday stress in its tracks and deal with it as it arises. With these 11 strategies, you'll be able to take a deep breath and actually enjoy this busy time of the year.
01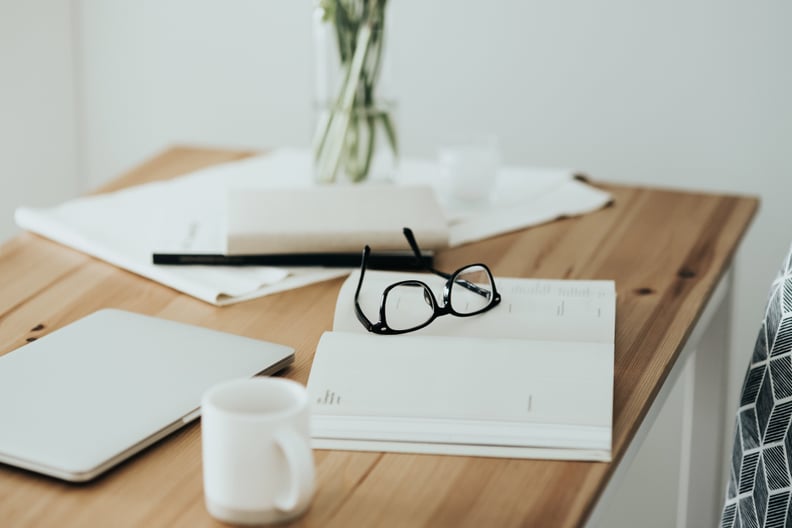 Plan Ahead
If you tend to shop for Christmas gifts on Christmas Eve or wait until New Year's Eve to clean your house for the big party, you're bound to feel frazzled and stressed.
"From saving money for gifts or gatherings to starting shopping early and getting everything you need to prepare for an event in advance, [planning ahead] will help tremendously," licensed psychologist Jesse Matthews, PsyD, told POPSUGAR. "Planning ahead also helps financially so you're not buying everything at once."
02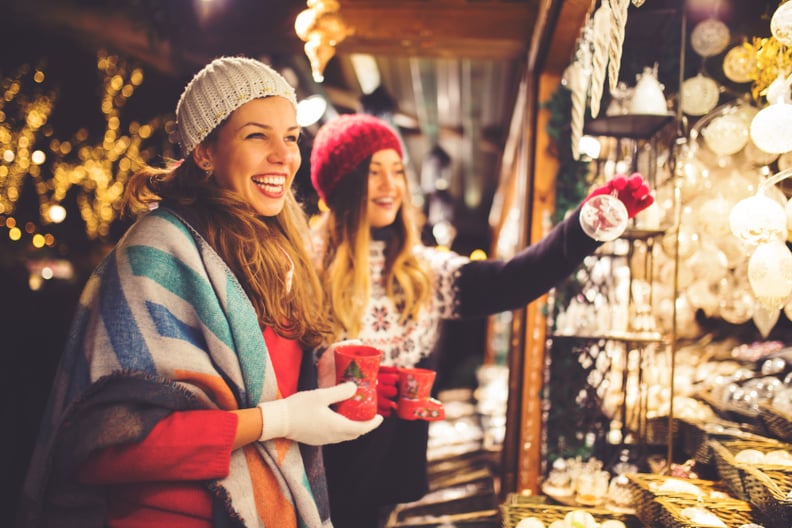 Pace Yourself
During the holidays, you're probably on a time crunch. But it's better to spread your errands out throughout the day or week if possible and make time for each task.
"Adults and children rarely do well when they're rushed," psychiatrists Steven Schlozman, MD, and Gene Beresin, MD, directors at The Clay Center For Young Healthy Minds at Massachusetts General Hospital, told POPSUGAR. "Kids detect the panicked demeanor of their parents, and parents then get irritable when their anxious kids act out, so don't do it all at once."
03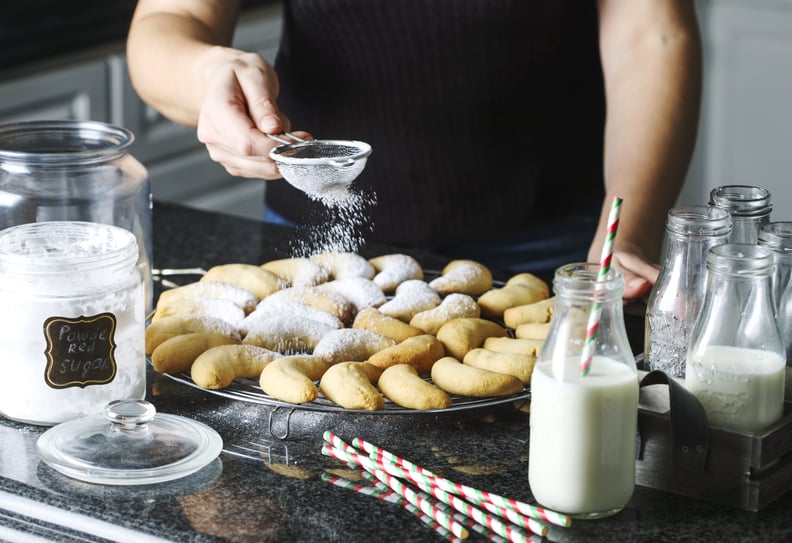 Keep Realistic Expectations
You may be so excited for certain parts of the holiday, but it's important to keep your expectations realistic and plan for all possible scenarios.
"Planning ahead also means anticipating problems and thinking about how you might handle them: annoying friends or family, sticky situations or potentially problematic interactions with someone, or just being ready for inevitable things that will go wrong," Jesse said. "Accepting that things cannot be perfect and preparing yourself can help you to roll with the punches and still enjoy everything, despite imperfection."
04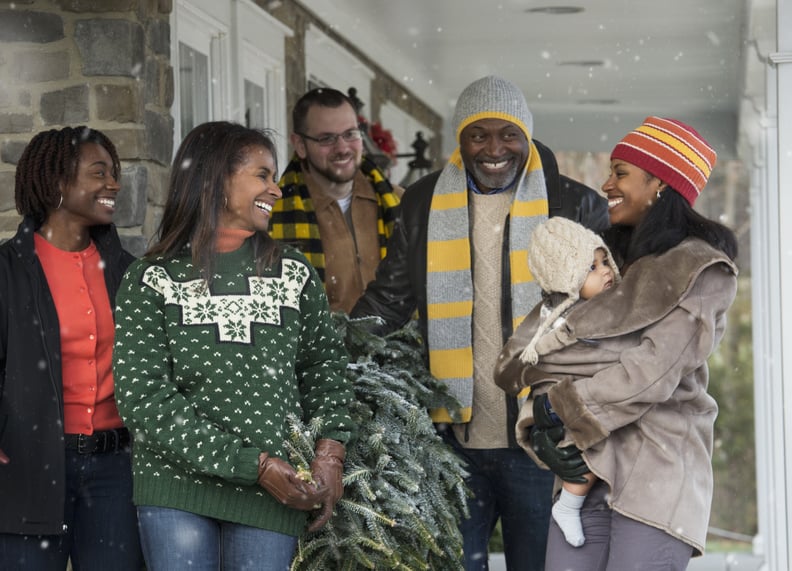 Expect the Unexpected
Similar to keeping realistic expectations, it's important to expect the unexpected. Your schedule should have a buffer in case things go wrong; don't assume that two-day shipping on your gift will actually only take two days or that the weather will be perfect.
"Stress tends to be more stressful when it's unanticipated; when you know it's coming, it's easier to handle," Raffi Bilek, LCSW-C, therapist and director of the Baltimore Therapy Center, told POPSUGAR. "So don't plan on getting to the store without traffic or shopping without waiting in the checkout line. You know these things are likely, if not certain, so gear up for these eventualities."
05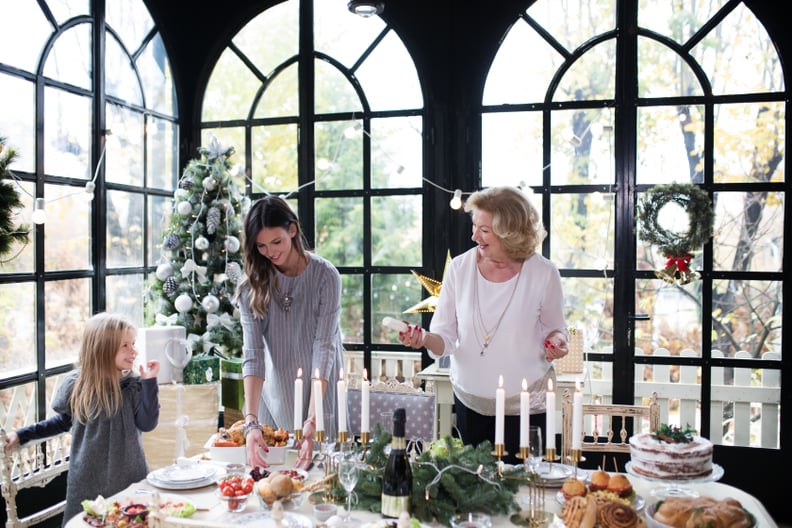 Be Assertive
It's easy to want to take on all the responsibilities at the holidays to avoid inconveniencing people, but that just puts added stress on you and will cause you to resent other family members. Jesse said you should delegate responsibilities as you need them: ask Aunt Linda to bring a side dish or have your cousin help clean up.
"Being assertive may also mean setting boundaries," Jesse added. "If you have a relative who is especially problematic, you might have a frank conversation with him or her in advance about your expectations. I'm not saying these situations are easy, but sometimes they are necessary to ensure that everyone can have a good time."
06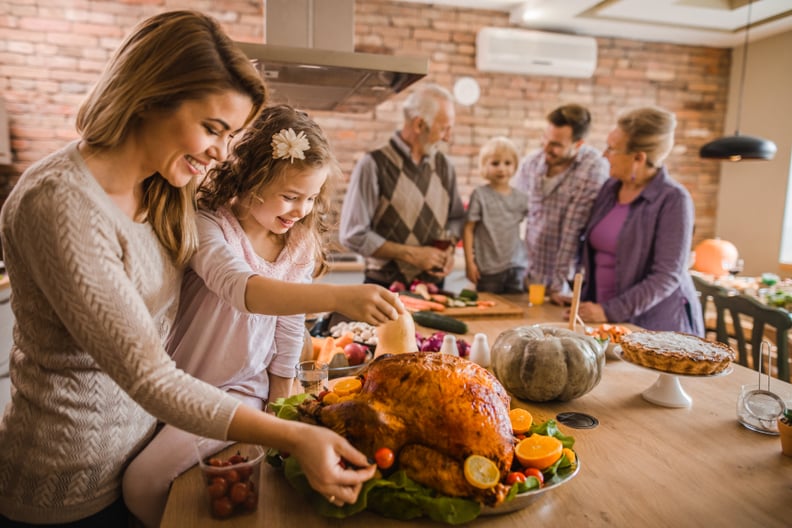 Focus on Gratitude
It's easy to get caught up in the hustle and bustle of the holiday season and forget what's truly important. "Every year has its ups and downs," Steven and Gene said. "The holidays can be an important venue for reflecting on seminal moments in family and personal life and most importantly in relationships." Keep the focus on how grateful you are to be together, despite whatever hardships people may have faced that year.
07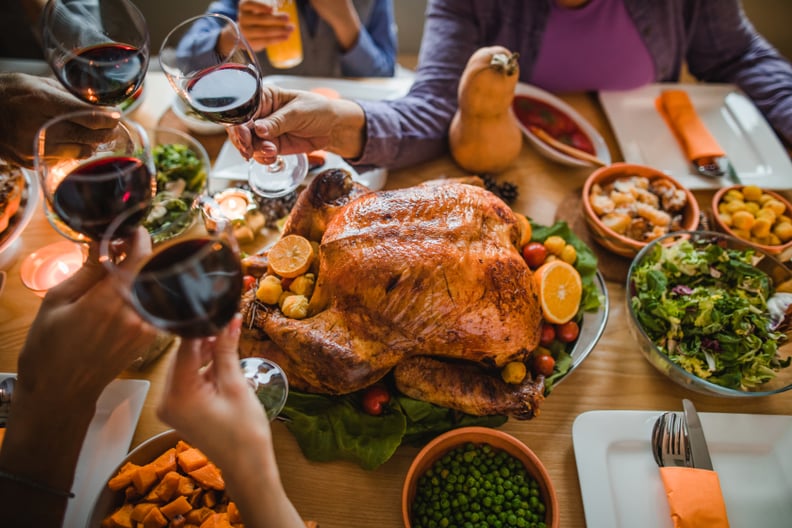 Let Go of the Past
If your holidays are tainted by uncomfortable or traumatic events from past holidays, it may be a difficult time of year. "This is especially the case for families with old and not easily forgotten family conflicts," Steven and Gene said. "While painful memories cannot be erased, dwelling on past grievances without resolution is not likely to be productive; it's far better to acknowledge the pain — after all, the kids and others already know that these are not easy times — than to try and make life in the moment better for all."
08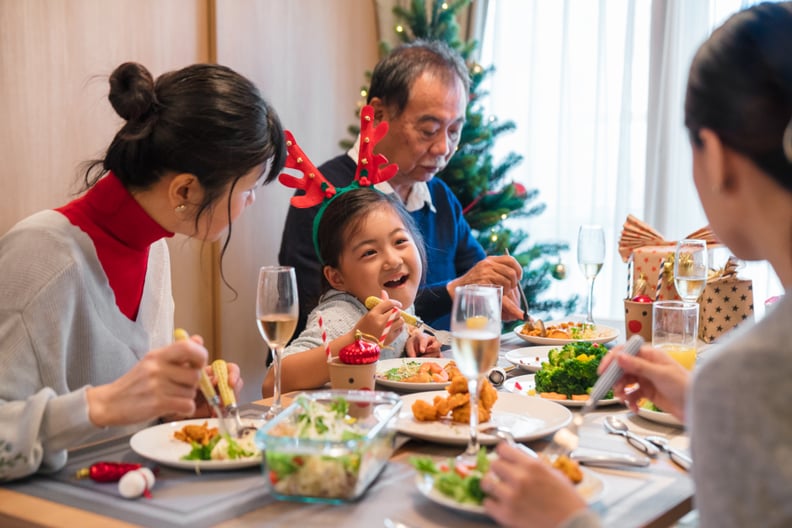 Pick Your Battles
With so much going on, you'll have to pick and choose your battles and what is worth arguing over, especially when it comes to your kids. "The already present frenzy means that most attempts at reprimand will be met with greater than normal emotional responses," Steven and Gene said. "Save your angry moments for the times when things are really going south. Remember that emotions are always raw at the holidays."
09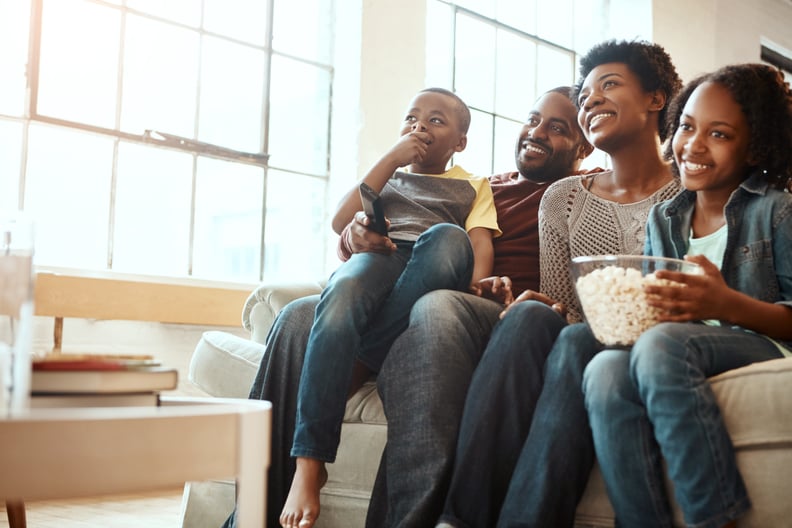 Plan Something Fun
Don't forget to actually enjoy the holiday season! You should make time for fun activities with your family and make it a priority to make new memories. Steven and Gene recommend having a holiday movie night together, playing board or card games, watching old family videos, or baking something creative. These are all memories that will last well beyond the holiday season.
10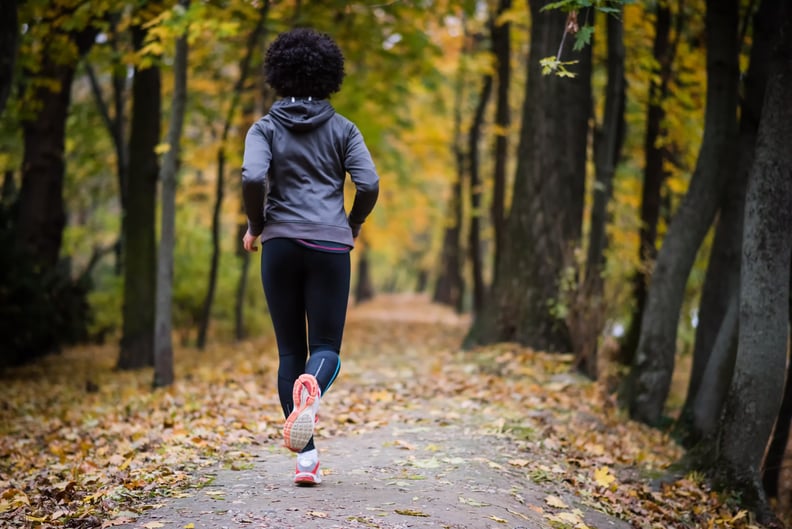 Get a Sweat Sesh In
If you enjoy working out, now is a good time to hit the gym and relieve some stress. Even something as easy as going for a jog in the morning can help you clear your head and refocus.
"Exercise helps burn off frustration and you can feel more like you did before you exhausted yourself with self-blame," clinical psychologist Georgia Witkin, PhD, assistant professor of psychiatry at the Mt. Sinai School of Medicine, told POPSUGAR. "This will also remind you to treat yourself well."
Don't have time to make it to the gym? Try this no-excuses workout you can do anywhere to get in a serious body burn.
11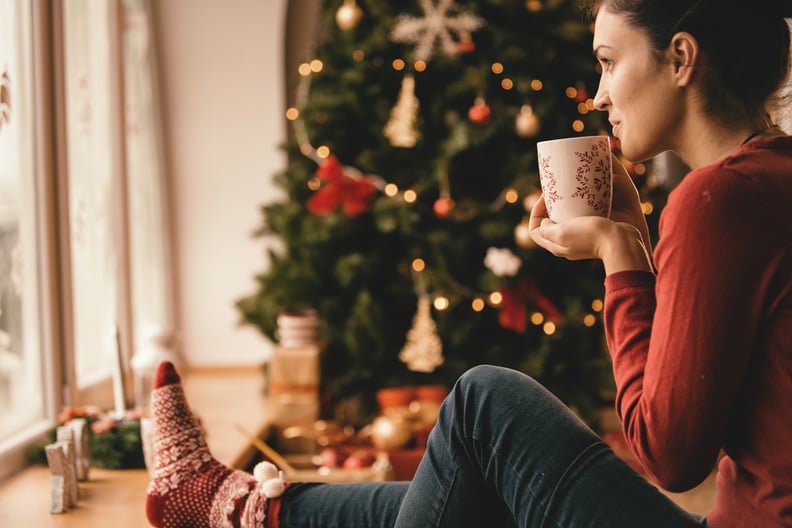 Give Yourself a Break
At the end of the day, you need to cut yourself some slack and take a breather. The holidays are stressful for everyone and there's only so much one person can do. Georgia recommends finding ways to laugh; take 20 minutes to watch a rerun of your favorite sitcom on Hulu or find funny memes online. "Twenty minutes of laughter can help decrease stress symptoms by 50 percent," she said. You don't need to tell us twice to take a break for funny videos!