You've probably heard countless times from your mom, your doctor, or strangers on the internet that you need to eat more vegetables. It's probably true.
The United States Department of Agriculture (USDA) recommends getting at least two to four cups of vegetables per day, but so many of us fall short. A 2022 report by the CDC found that only one in 10 US adults are getting enough vegetables.
The real talk is that upping your produce consumption can be hard. Fresh vegetables can often spoil quickly, be pricey, and — in some cases — not be available at all. But eating vegetables is important for your health, says Samantha Presicci, LD, CPT, registered dietitian at FOND Bone Broth. "They're rich in fiber, which is satiating and supports good gut health, and they're a . . . more nutrient-dense option compared to most packaged snacks on the market," Presicci says.
If you're looking to load up on vegetables in the easiest way possible, the answer might lie in snacks. "Especially when paired with a healthy fat, veggie snacks are an awesome way to stay full and satisfied until your next meal," Presicci says.
Stocking your pantry or fridge with veggie snacks can help you remember to reach for those instead of less-nutritious options when hunger strikes. And pairing veggies with other foods you already love can help you enjoy them even more (getting enough vegetables does not need to mean miserably chewing on raw kale).
If you're bored of munching on plain baby carrots, keep reading for tons of filling, nutritious veggie snack options from dietitians to help you get more of the good stuff. Many also happen to be vegetarian snack options, vegan snack options, and completely customizable to your personal tastes.
— Additional reporting by Maggie Ryan
01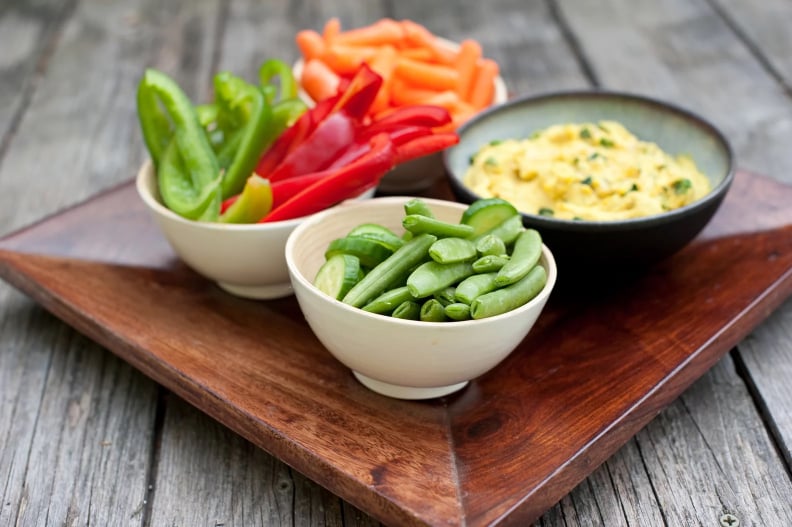 Fresh Vegetables and Dip
"I always recommend fresh veggies whenever possible, so options like carrots, sliced cucumber, zucchini slices, raw broccoli, and tomatoes," Presicci tells POPSUGAR. Pair them with a food rich in healthy fats like guacamole or an avocado-oil- or olive-oil-based salad dressing to keep you full.
Produce that's prewashed, bite-size, and ready to eat makes the easiest veggie snack, so consider keeping choices like snap peas, snow peas, or mini cucumbers in your fridge.
Adrien Paczosa, RD, LD, founder of iLiveWell Nutrition, recommends parsing your fresh veggies into bags or containers during meal prep along with a couple scoops of hummus or yogurt dip. "It's the easiest way to get in some fiber and veggies daily," Paczosa says.
02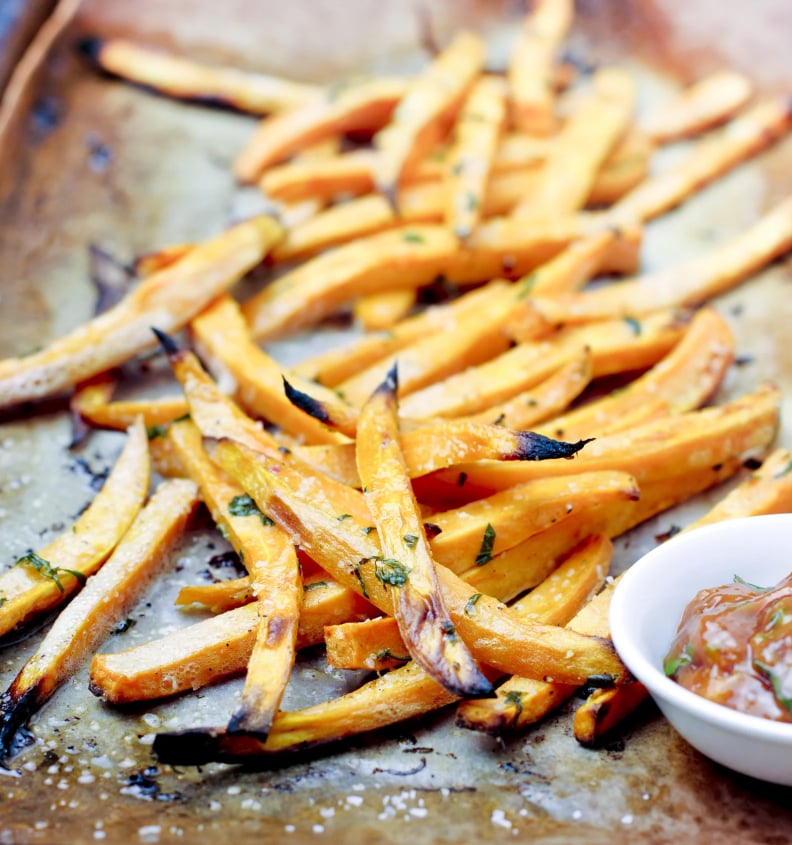 Sweet Potato Fries
The World Health Organization doesn't count starchy foods like potatoes, cassava, or sweet potatoes toward a person's daily vegetable quota; however, the USDA includes sweet potatoes in the tally. Just keep in mind that starchy veggies shouldn't be the only type you consume when trying to up your intake.
Homemade sweet potato fries are an easy way to add veggies to your diet, says Diana Gariglio-Clelland, a registered dietitian at Balance One Supplements, and sweet potatoes are full of vitamins A and C, to boot. Making them yourself helps you control the amount of oil used compared to the deep-fried versions served at restaurants. You can either make baked sweet potato fries or try them in your air fryer.
03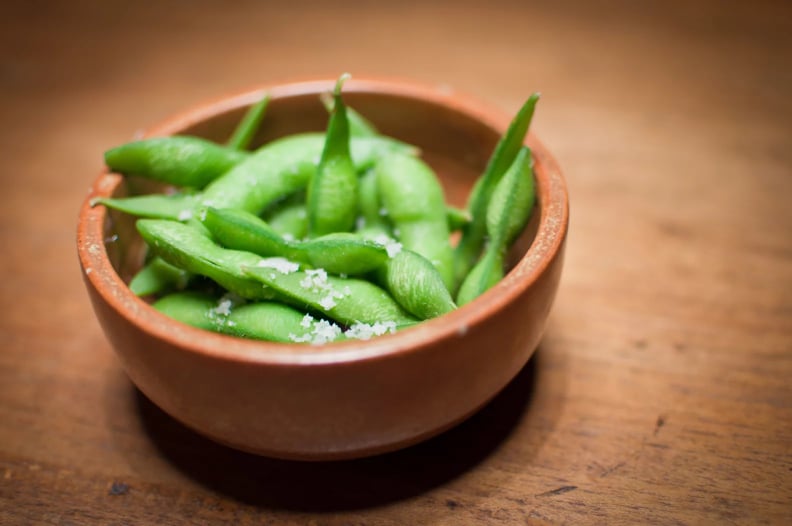 Edamame
Edamame is technically a legume, but there's good news; the USDA considers legumes and pulses — such as beans, peas, and lentils — to be a vegetable subgroup. In other words, yep, they count!
And that's great news, because edamame makes a fantastic veggie snack option. "Just one cup of edamame has 17 grams of protein and eight grams of fiber," says Claire Virga, MS, RDN, of Rooted Wellness. That, plus its unsaturated fat content, "makes it the ideal snack for long-lasting satiety," Virga says.
Jodi Greebel, a registered dietitian at Citrition, recommends heating up some edamame with a pinch of sea salt for extra taste. Even better, you can often buy edamame frozen, so it's easy to keep at home even when you don't have the time or ability to grab fresh produce.
04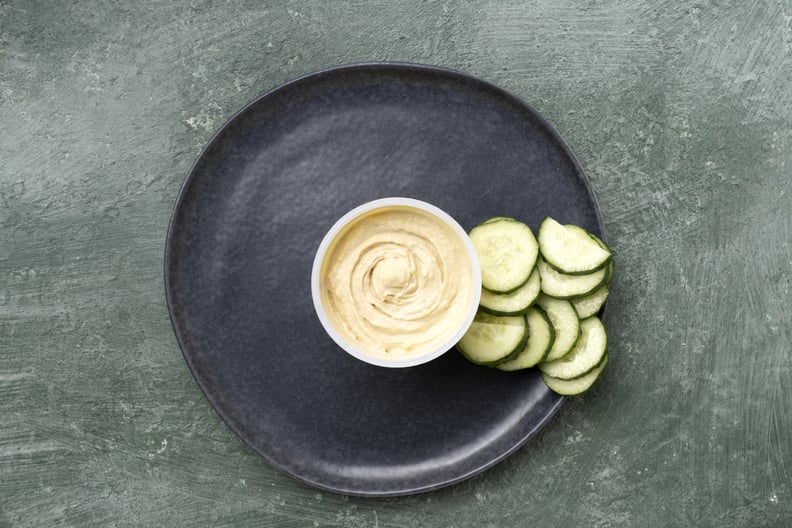 Cucumbers and Hummus
"This is such an easy snack, especially to put out before dinner," Greebel says. The cucumbers are high in water and fiber content, and hummus offers up more fiber, protein, vitamins, and minerals thanks to the main ingredient: chickpeas. Not to mention, when you slice up a cucumber, the small discs are the perfect scooping size for hummus.
05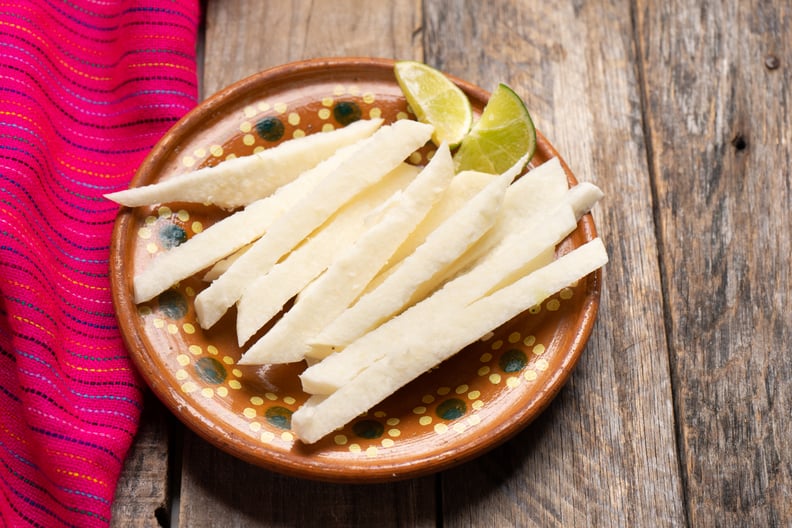 Jicama Sticks and Guacamole
This fresh, crunchy snack is a great alternative to chips and guacamole, says registered dietitian Edwina Clark, head of nutrition at Made For. The jicama provides six grams of fiber and less than 50 calories per cup, while guacamole has healthy fats that keep you full. You can buy premade or make your own guacamole with this recipe.
06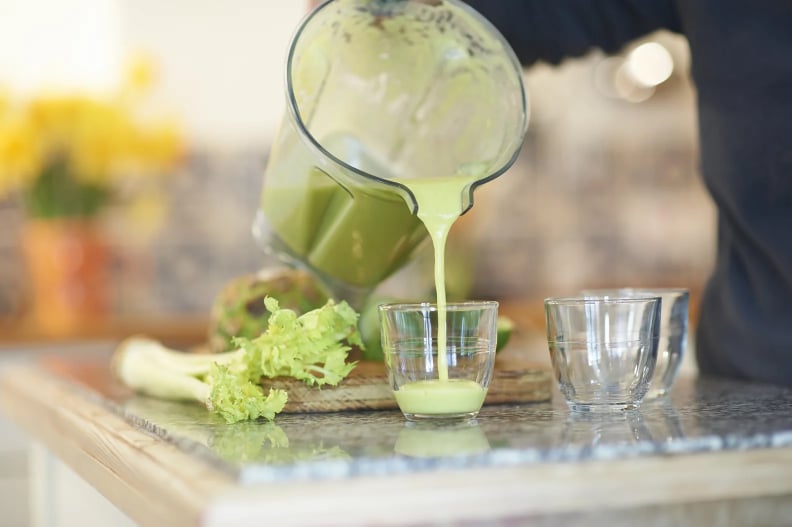 Smoothies
An easy way to get in your veggies? Add them to smoothies, says Chicago-based registered dietitian Amanda Baker Lemein, MS, LDN. She likes adding frozen cauliflower rice to bulk up her smoothies. "This increases the fiber and volume for very few calories but helps keep you fuller for longer," she explains.
You'd be surprised how many veggies you can toss into a smoothie alongside some fruit without tasting them. Try leafy greens (kale, spinach, or chard), zucchini, cucumbers, celery, carrots, avocado, and even white beans or chickpeas to add a boost of protein to your smoothie. Another perk of making a smoothie as a vegetable snack is that you can easily use frozen veggies instead of fresh.
07
Celery and Peanut Butter
There's no need to leave ants on a log behind in childhood. Celery and peanut butter make a great snack for kids — and adults. This classic pairing is a favorite of registered dietitian Lorraine Chu, MS. The celery gives you a crunchy source of fiber, while the peanut butter provides satiating fats.
You can swap the peanut butter for any other nut butter to get a similarly great and nutritious veggie snack — and feel free to take or leave the raisins, depending on your personal preference.
08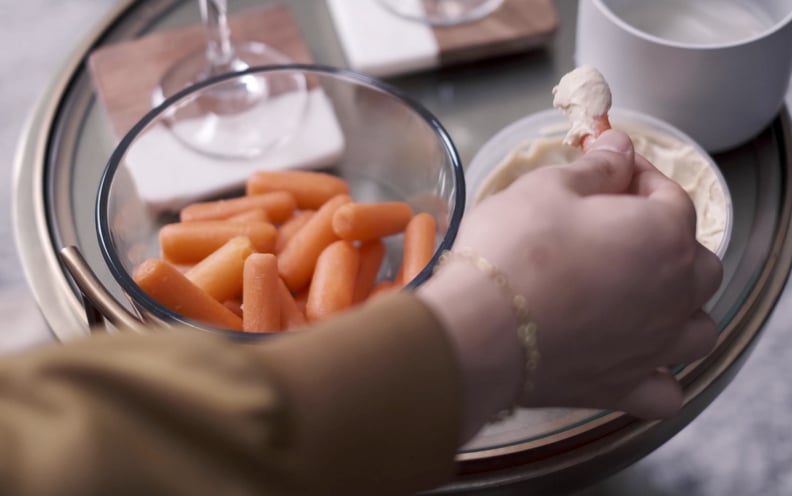 Baby Carrots and Dip
Baby carrots are very versatile, says New York-based dietitian Samina Kalloo, RD. "They can be steamed and eaten as a side dish or dipped into hummus for a more satisfying and nutritionally well-rounded snack," she says. They're sweet, crunchy, and easy to pack for work or school.
Hummus isn't the only dipping option, either. Try making a cottage-cheese-based dip or one with Greek yogurt — both are packed with protein. You can buy a premade dip or make one at home; it can be as simple as tossing some everything bagel seasoning and a drizzle of olive oil and stirring.
09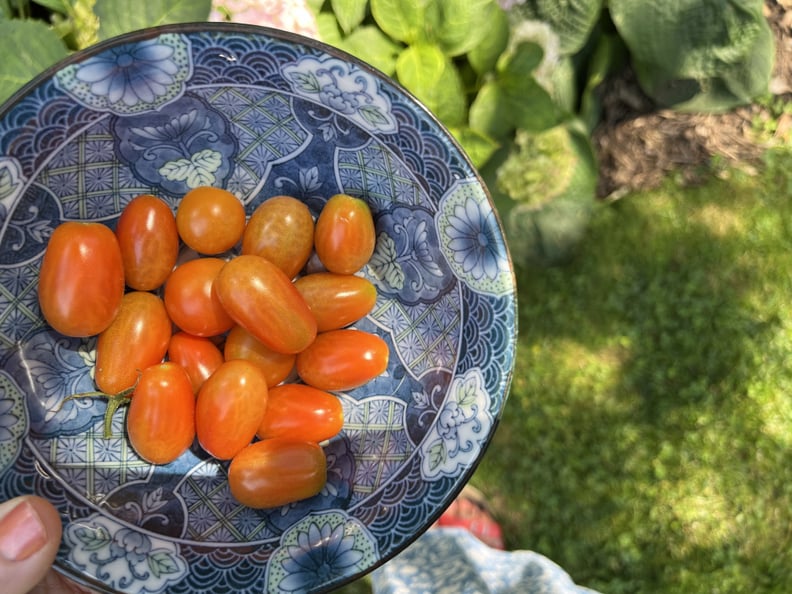 Tomatoes and Cottage Cheese
Yes, tomatoes are technically fruits in the eyes of botanists, but when it comes to nutrition and culinary uses, you can consider them a vegetable, according to the USDA. And that's great news, because Paula Rubello, RDN, has a veggie snack recommendation using tomatoes that sounds so good: she serves up cherry tomatoes with cottage cheese and a drizzle of olive oil and balsamic vinegar.
In addition to scoring you a serving of veggies, "it also provides a good amount of protein from the cottage cheese, which will help you feel satisfied," Rubello says. "Plus, tomatoes are a great source of lycopene, an antioxidant that has many health benefits."
If you don't love tomatoes (or don't have any at the moment), you can try Rubello's veggie snack idea by topping cottage cheese with any number of other vegetables, such as diced purple onion, cucumber, or even leftover cooked ones you have in your fridge.
10
Roasted Veggies
You may think of roasted veggies as a side dish or part of a main course, but roasted veggies are delicious on their own, and you can absolutely snack on them if it strikes your fancy. (If you've ever stolen 10 pieces of crispy roasted broccoli off the tray before serving it to everyone else at dinner, you know exactly what we're talking about.)
Broccoli, cauliflower, carrots, zucchini, bell peppers, and onions all make for great vegetable snacks, says registered dietitian-nutritionist Brittany Poulson. "The roasting process brings out the natural sweetness in the vegetables, making them a delicious and healthy option."
Try these TikTok-viral recipes for smashed broccoli and parmesan carrots, both of which can be served solo or with a dipping sauce.
11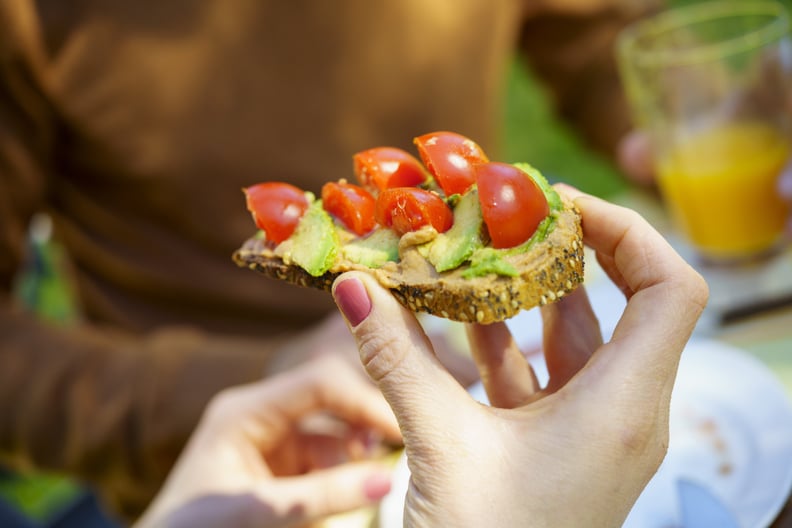 Avocado Toast
Like tomatoes, avocados are also technically a fruit but are counted among the vegetables by the USDA. Avocados are a great source of healthy fats, fiber, potassium, and vitamin E. Fats have a longer transit time through our digestive tract, Taylor Fazio, RD, CDN, a registered dietitian and wellness advisor at The Lanby in New York City, previously told POPSUGAR, which is what makes you feel so full after eating a meal or snack with avocado.
However, because avocados are such a rich source of fats, you don't want this to be the only veggie you're eating (for context, half an avocado will provide about 11 grams of fat, which is about one-sixth of your daily recommended intake). Still, they can make a fantastic part of a veggie snack — especially if you eat them via avocado toast and top it with another veggie, like tomatoes, beets, sprouts, arugula, or cucumbers.
12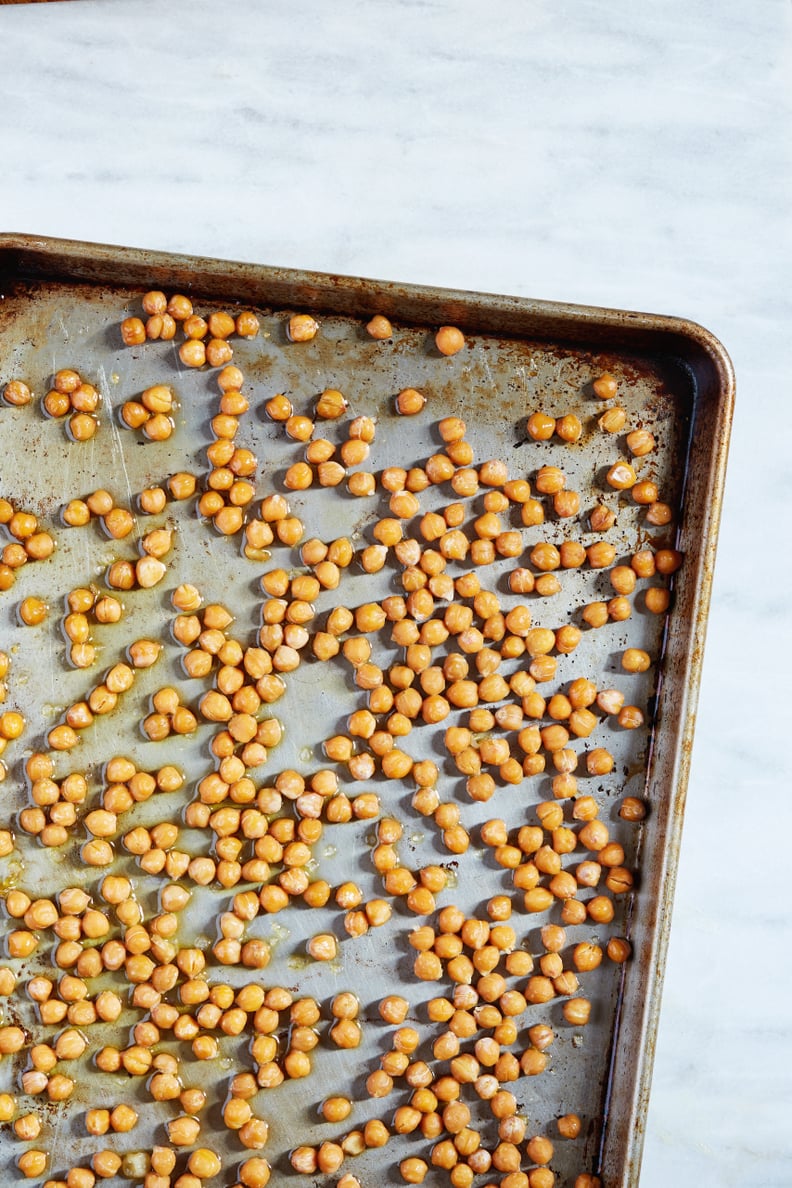 Roasted Chickpeas
Remember when we said legumes and pulses are fair game? That means crunchy, salty roasted chickpeas are totally an option for a veggie snack. Roasted chickpeas are one of the go-to snack recommendations from registered dietitian Emily Tills, MS, RDN. You can buy premade chickpea snacks or roast your own in the oven or air fryer, Tills says. The protein, fiber, and healthy fats will keep you full and give you a nice salty crunch. You can flavor them however you'd like, with za'atar, cinnamon, or even spicy cayenne.